I've been to WDW countless times, and over the years I've developed my list of must-pack items for Disney World. Of course, I bring a day-pack, a water bottle, and a battery to recharge my phone. However, there's something that I always wear at Disney World that makes my day in the parks easier and more convenient, but I don't necessarily think of it as something I need to pack. That's because it's something I wear almost every day, but I've realized it becomes even more essential at the theme parks. That is an Apple Watch, which has become a must-have accessory at Disney World.
Why is an Apple Watch amazing at Disney World? You may not realize it, but an Apple Watch can do most of the things that a MagicBand can do.
In this post, I'll share with you all the reasons why I love wearing a Apple Watch at Disney World, plus share step-by-step instructions on how you can use an Apple Watch like a MagicBand.
Disclaimer: This post contains affiliate links which may earn Guide2WDW a commission on any products purchased at no extra cost to you.
The Power of Disney MagicMobile and Apple Watch
Subscribe to Guide2WDW on YouTube for more Disney World videos. 
Disney MagicMobile is a relatively new feature in the My Disney Experience app. It allows you to link your Disney World ticket to your Apple Wallet on your iPhone, which lets you conveniently use your iPhone as your WDW ticket.
This same functionality extends to your Apple Watch. Yes, that's right. You can load your Disney World ticket directly onto your Apple Watch's Wallet.
But it gets even better. The Disney MagicMobile has a feature called Express Pass. This basically means that your iPhone and Apple Watch are smart enough to detect when they are within proximity of a MagicBand touchpoint. This means you can just raise your Apple Watch to a MagicBand reader like you would a MagicBand, and your Apple Watch will automatically bring up your ticket.
This makes using an Apple Watch at Disney World extremely convenient.
Using an Apple Watch to get into the park entrance
Once you've set up with Disney Magic Mobile, entering the parks at Disney World with an Apple Watch is a breeze. Just put your watch next to the Magic Band reader, wait for the Mickey to light up, and place your finger on the fingerprint reader.
The Mickey Mouse icon should light up green and emit one of the most satisfying chimes ever created.
Tip: If you have any issues with the Apple Watch bringing up your ticket automatically, you can always double press the side button on the Apple Watch to bring up the cards in your wallet. Your Disney MagicMobile ticket will be there. Select it and put your Apple Watch close to the MagicBand reader. This has never happened to me personally, but it's good to know as a backup.
Using an Apple Watch to get into the Lightning Lane
Another use for your Apple Watch is to scan into your Lightning Lane reservations. This works just like going into the park entrance, except there's no fingerprint reader.
Just go up to the entrance of the attraction's Lightning Lane and place your Apple Watch by the Lightning Lane touchpoint. If you have a valid reservation, it will light up green and you'll be on your way to your ride in no time.
Paying for Disney World food and merchandise with an Apple Watch
In recent years, Disney World has added NFC readers to the pay terminals at all of their shops, quick service restaurants, and EPCOT Festival food booths. These terminals accept tap-to-pay credit cards, Google Pay, and Apple Pay — which is supported on your Apple Watch.
If you have Apple Pay set up on your Apple Watch, just double press the side button to bring up your cards. Select the card you want to use, and hold your watch close to the NFC reader at checkout. This way you can have the convenience of tapping your wrist to pay like a Magic Band, but you don't need to have a hotel reservation attached in order to take advantage of it.
How to put your Disney World ticket on your Apple Watch
First you need to put your Disney World ticket onto your iPhone's Wallet. Here's how to do it.
How to add a Disney World ticket to iPhone via Disney MagicMobile.
Step 1: Open the My Disney Experience App
Step 2: Tap the Menu icon (≡)
Step 3: Tap the Disney MagicMobile square
Step 4: Tap Set Up Your Pass
Step 5: Select the pass you want to set up and tap Add to Apple Wallet.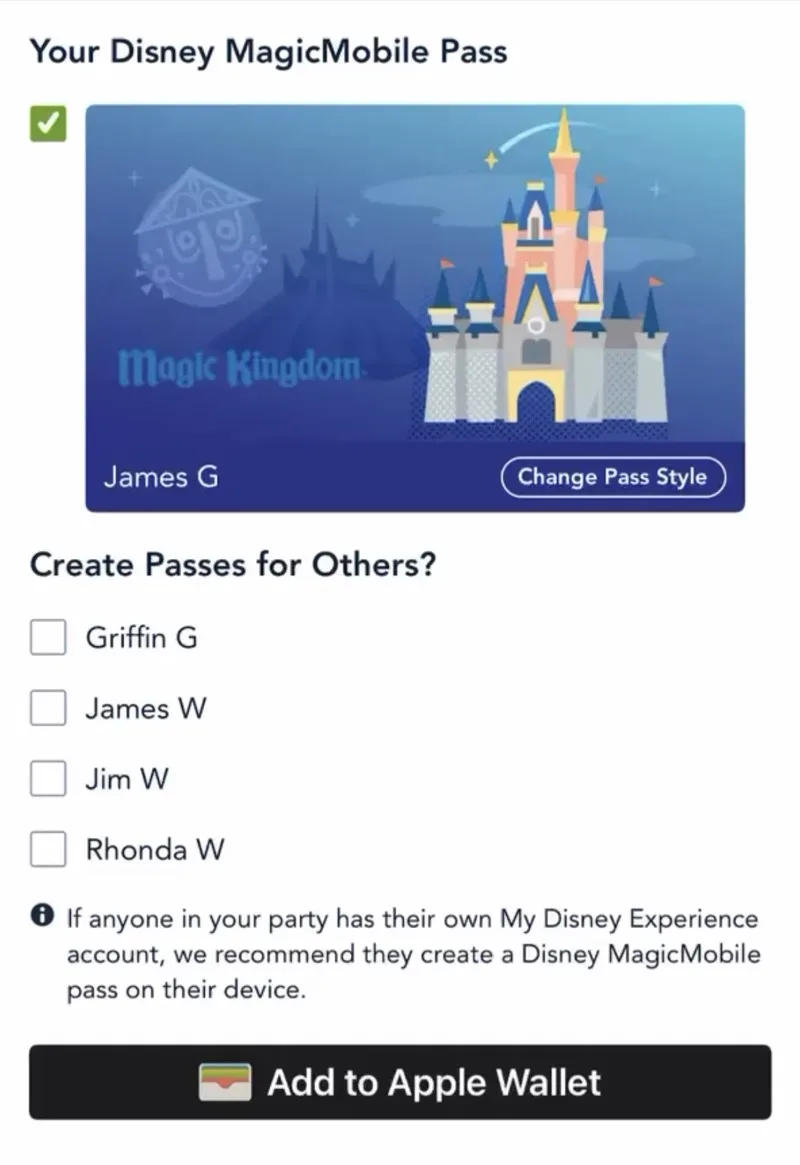 Step 6: The Add Pass to Wallet screen will now show up. Tap Add.
Step 7: If the ticket is for the My Disney Experience account that is logged in, it will be eligible for Express Pass (where it comes up automatically). The app will notify you here if that's the case. Tap Done.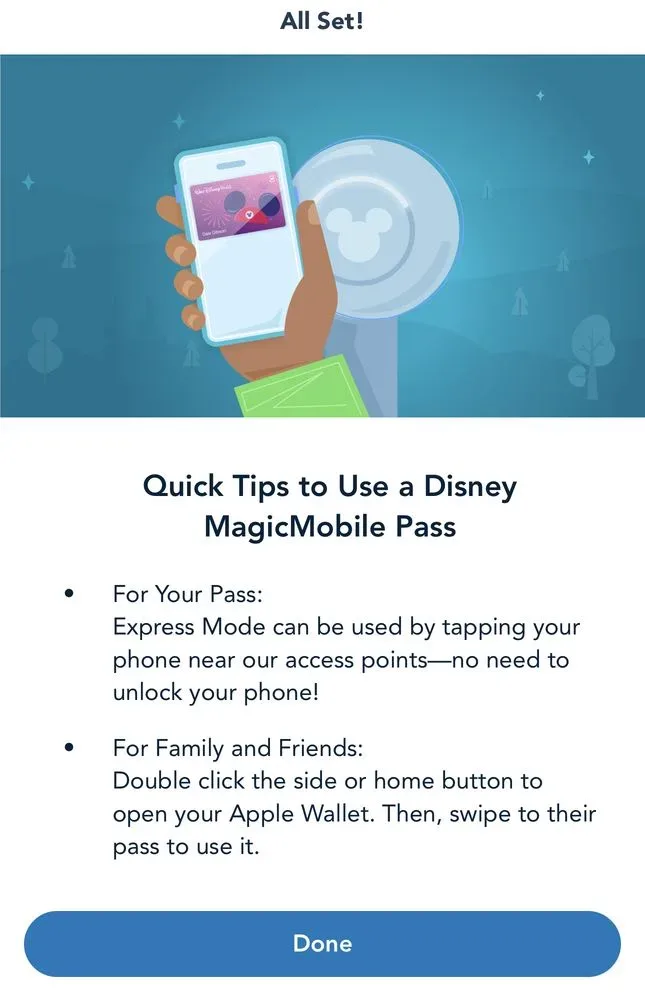 If you also want your Disney World ticket on your Apple Watch, you'll need to follow a few more steps. Your phone or watch may prompt you to add it, but in case you miss that notification, here's how to do it manually.
How to add your Disney MagicMobile Pass to Apple Watch
Step 1: Open the Watch app on your iPhone
Step 2: Go to the Wallet & Apple Pay section (I found it easiest to just search for it in the top search field)
Step 3: Find the Disney MagicMobile Pass in your cards.
Step 4: Tap Add.
Step 5: Tap Next to confirm.
After a few moments, your Disney World ticket will now be on your Apple Watch. You're ready to now use it in the parks.
Other benefits of having an Apple Watch at Disney World
There are plenty of advantages to wearing an Apple Watch during your day at WDW, which are also many of the advantages of wearing an Apple Watch in regular day-to-day usage.
Set stealthy timers for Genie+ 2 hour rule: To maximize Genie+, you need to be able to get Lightning Lane reservations as soon as they are available. Once you've made a Genie+ reservation, you can make your next reservation either when you use that first reservation or once 2 hours have passed, whichever is first. The My Disney Experience app will tell you when you are eligible to make your next reservation, but it won't notify you. So I like to set a timer on my Watch, which I keep on silent. This means it will silently buzz on my wrist once I can make my next Lightning Lane reservation. You could do this with your phone, but the phone's timer defaults to making noise, which could be pretty disruptive on a ride or in a show. I like that the Apple Watch lets me go Stealth Mode for Genie+.
Communicate with my family: One of the best things about the Apple Watch is that it keeps my phone in my pocket for more of the day. I can just glance at notifications on my wrist rather than pulling out my phone and getting sucked into its vortex. This saves my phone's battery life and lets me stay in the moment more, but I can still stay connected with the rest of my traveling party. I can quickly call or message my family from my Apple Watch to find a spot to meet up or find out what ride we're all going on next.
Keep track of steps and calories burned: You will get your steps in at Disney World. It's fun to wear a step tracker to see how many miles I walked during a day at EPCOT. For the record, I've done anywhere between 20,000 – 35,000 steps during a Disney day, or roughly 8-12 miles. That's right, a day at Disney World is like doing a very slow half-marathon, with some rides and Dole Whips thrown in. The Apple Watch is excellent at tracking steps and active calories, so it's really satisfying to see all of my activity rings close while I'm visiting the parks. It also helps me not feel so bad about having that second Mickey Bar.
The Limits of an Apple Watch at Disney World
While the Apple Watch can do most of the things a MagicBand can do, it can't do everything.
The Apple Watch cannot get you into your hotel room at a Disney World resort.
The Apple Watch does not have the new features of MagicBand+, such as lighting up in sync to fireworks or access to the Batuu Bounty Hunters scavenger hunt.
The Apple Watch does not automatically sync with PhotoPass attraction photos on rides like Tron or Seven Dwarfs Mine Train. (Your phone can do it if you have the correct Bluetooth settings in the MyDisneyExperience app, but I've found a MagicBand is the most reliable for this).
You can't use an Apple Watch for the lockers at Tron.
The Apple Watch also has a battery which should last all day, but if you have an extremely long day at the theme parks, there is a chance your battery could die. I always like to have a backup, either by having my ticket on my iPhone or with a MagicBand.
We want to hear from you!
Let us know in the comments below: Do you like wearing an Apple Watch at Disney World?
---
James is a lifelong Disney Parks fan. While at the parks, he loves finding new details, learning more about Disney World history, and taking pictures. His favorite WDW attractions include Rise of the Resistance, Spaceship Earth, and Tower of Terror.
James is a filmmaker and writer based in Atlanta, GA.
All author posts