Disney World has some amazing roller coasters. From blasting off into space to shrinking down to the size of a toy to exploring the Himalayas, no other theme park has such a varied lineup of roller coaster experiences. Disney World has coasters aimed at kids, families, and thrill seekers.
But which Disney World roller coaster is best?
That's what I'm answering today. Considering both the thrills and the theming, I am ranking every Disney World coaster from worst to best. These coasters feature drops, sharp turns, and launches. So hold onto your hats and glasses, and please keep your hands, arms, and legs inside the vehicle at all times.
Update 6-21-22: This list has been updated to add the newest Disney World roller coaster, Guardians of the Galaxy: Cosmic Rewind.
8) Barnstormer – Magic Kingdom
Thrills: 1/5
Theming: 2/5
Barnstormer is made for little kids. The short roller coaster has one hill, and that's it. The theming is a bit bare, but the plane ride vehicle bursting through the Goofy billboard makes for a good photo.
Barnstormer is designed to be a child's first roller coaster. When you consider its intended audience, it's fine. But coaster fans and thrill seekers can easily skip Barnstormer.
7) Space Mountain – Magic Kingdom
Thrills: 3/5
Theming: 4/5
Magic Kingdom, we have a problem… This is shocking to me! When I sat down to write this list, I thought Space Mountain would be towards the top. Not second to last. I love Space Mountain, so I'm probably as upset as you are. This is more a testament to how good the roller coasters are at Disney World, rather than Space Mountain being bad in any way.
The theming carries the ride. The queue creates a sense of otherworldliness, and the light tunnel at the beginning is just perfection. The bulk of the ride is in complete darkness, which creates a feeling of thrilling space adventure. It's the magic trick that is Space Mountain. With top speeds of only 30 mph, Space Mountain feels much faster than it actually is.
If you took the track and placed it outside, Space Mountain would be a forgettable coaster. But the theming makes it something special.
6) Big Thunder Mountain Railroad – Magic Kingdom
Thrills: 3.5/5
Theming: 3.5/5
The placing of Big Thunder and Space Mountain on this list are essentially a coin flip. I find Big Thunder Mountain to be slightly more thrilling than Space Mountain, and I find the theming on Space Mountain to be slightly more compelling than Big Thunder Mountain. They both hold a close place to my heart. There's a chance that it holds a close place to your heart too. For many, these are the first "real" roller coasters they ever went on.
So what gives the Wildest Ride in the Wilderness the edge over Space Mountain? I can't quite explain it, but Big Thunder Mountain is just better at night. You get some of the thrill of riding in the dark, so the ride just feels faster. That's why we have riding Big Thunder at night as one of our Magic Kingdom tips. The wildest ride somehow gets wilder.
5) Slinky Dog Dash – Disney's Hollywood Studios
Thrills: 3.5/5
Theming: 4/5
Slinky Dog Dash surprised me when it opened up. When Disney announced Toy Story Land, it looked like this would just be a poor man's version of Seven Dwarfs Mine Train. It had the same swinging car mechanism, and it was pitched as a family coaster. However, there was no story scene in the middle. Rides at other Toy Story Lands across the world were more on the "well themed carnival ride" end of the spectrum, so my expectations were somewhat low.
I've never been so delighted to be so wrong. Slinky Dog Dash is awesome, and it is surprisingly thrilling. The two-launch coaster had this fully-grown man screaming like a little kid. I think the thrills here are approachable: not too nauseating or too scary. But kids and adults alike have a blast on this coaster, so it makes sense that it's one of the most popular rides at Hollywood Studios.
4) Seven Dwarfs Mine Train – Magic Kingdom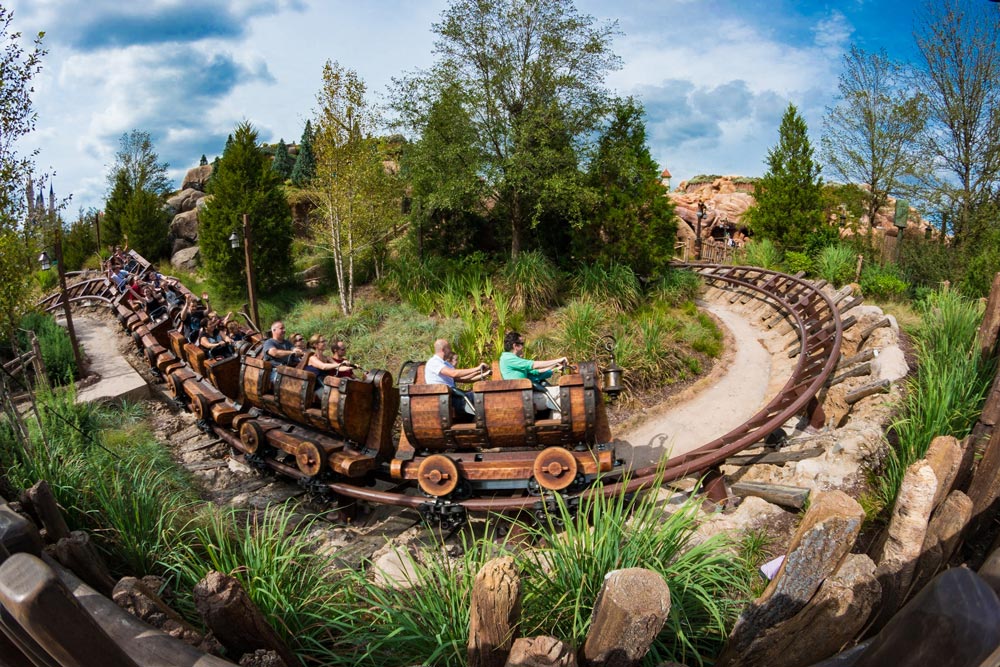 Thrills: 2.5/5
Theming: 5/5
With two and a half hills and a buttery smooth ride, Seven Dwarfs Mine Train is the best coaster for kids at Disney World. But parents won't be mad that they have to ride it too. While not as thrilling as Slinky Dog Dash or as rough as Big Thunder Mountain, the drops on Seven Dwarfs Mine Train are a lot of fun for coaster veterans and newbies alike. They are fast and slick, but they don't feel too tame. Like Slinky Dog, it's an approachable thrill, with the dial turned a bit more toward approachable.
But what sets this ride over the top is the scene in the middle. Your cart slows down as you roll past all Seven Dwarfs in a gem mine. The animatronics bring all of the personality of the original animation into three dimensions. It's a show-stopper that will leave you humming "Heigh Ho" for the rest of the day.
3) Rock 'n' Roller Coaster – Disney's Hollywood Studios
Thrills: 5/5
Theming: 4/5
A 0-55 mph launch? Check. Not one, but two inversions? Check. A super stretch limo? Check A dated pre-show that somehow just adds to the charm of the ride? Definitely check.
Rock 'N' Roller Coaster is Disney World's most intense roller coaster. In fact, it's the only Disney World coaster to flip riders upside down, with a corkscrew and a loop. The ride gets off to a head banging start with a thrilling launch. Like Space Mountain, this indoor coaster is in the dark, with large Hollywood icons and freeway signs lighting the path. And even though Aerosmith isn't nearly as popular as they were when the ride opened, the soundtrack still adds to the experience.
If you have a coaster junkie in your group, Rock 'N' Roller Coaster should be their first stop. I would also bet it won't be their last.
2) Guardians of the Galaxy: Cosmic Rewind – EPCOT
Thrills: 4.75/5
Theming: 4.75/5
EPCOT's first roller coaster is an instant classic. It has Disney World's first backwards launch, and an innovative ride system that rotates you as you ride. Reaching speeds of 50 mph, Cosmic Rewind feels like an amped up version of Space Mountain. The coaster doesn't feature any big drops, but the coaster is so smooth that it feels like you're skating through space. This pairs perfectly with the ride's classic rock soundtrack, which rewards repeat rides since each song gives the ride a different feeling.
Besides being a great coaster, Imagineering has a few additional tricks up their sleeve with this ride. Guardians of the Galaxy has an excellent queue and pre-show, with one jaw-dropping moment that we are a huge fan of. The projection technology is top notch, and there are a couple of impressive set pieces found along the coaster track. It is easily the best thrill ride at EPCOT, and you could argue that it's the best roller coaster at Disney World.
What's keeping it from topping our list? The fact that it's caused so many guests to get sick that Disney has started giving out barf bags, as well as moving trash cans close to the exit. Yes, motion sickness is an issue on Guardians of the Galaxy: Cosmic Rewind. The combination of rotating vehicle and giant projections that you want to stare at is inducing nausea in many guests. We have a lot of tips for how to avoid nausea in our Guardians of the Galaxy Motion Sickness Guide, but these are a lot of hoops for guests to go on a ride that won't make them feel sick.
1) Expedition Everest – Animal Kingdom
Thrills: 4.5/5
Theming: 5/5
Walt Disney Imagineering excels when they can transport you through story, theming, and thrills. When looking at all three of those factors, Expedition Everest is one of Disney's most successful attractions. While Lightning Lane or Single Rider gets you to the ride faster, guests in standby line have plenty to do during their time in the detailed queue. The line sets up the story of the Yeti and your journey into the Himalayas perfectly.
The ride itself is paced perfectly. Your journey up the mountain is rather uneventful, with a slow ascent that builds a sense of mystery and anticipation.
Once you reach the summit, Expedition Everest kicks into full gear and doesn't let up.
You plunge backwards into the mountain. Yes, backwards. Expedition Everest has an ingenious ride system that quickly switches the track so the coaster goes both forwards and backwards. Going backwards into the mountain might be the most thrilling moment in all of Disney World. Once inside, you change directions again and have a brief encounter with the Yeti. The rest of the ride feels like a more grown-up version of Big Thunder Mountain, with more intense hills and faster turns.
Yes, the Yeti animatronic is still broken, but Expedition Everest is so good that it still shines without it. In fact, it's the best roller coaster in Disney World.
The Future of Disney World Roller Coasters
Coaster fans should be even more thrilled this year, because Tomorrowland is getting a huge coaster upgrade with the Tron Lightcycle Run. This ride first opened in Shanghai Disneyland, and it's widely considered to be one of the best and most thrilling roller coasters in any Disney park. Between the Lightcycle vehicles and high speeds reaching 55 mph, this ride will bring major thrills to Magic Kingdom. Tron will open sometime in 2022-2023.
We'll have to see how this roller coaster turns out when it opens. But after hearing glowing reviews from Shanghai, it wouldn't surprise me if Tron ends up towards the top of this list.
Disney World Roller Coaster Stats and Superlatives
The fastest roller coaster in Disney World: Rock 'n' Roller Coaster at 57 mph
The tallest roller coaster in Disney World: Expedition Everest at 199 feet
The biggest drop on a coaster in Disney World: Expedition Everest with an 80 foot drop, where they take your picture
The WDW Park with the most roller coasters: Magic Kingdom with 4 (Space Mountain, Big Thunder Mountain, Seven Dwarfs Mine Train, Barnstormer)
The best Disney World roller coaster for kids: Seven Dwarfs Mine Train
The most intense roller coaster in WDW: Rock 'n' Roller Coaster
The roller coaster with the most Steven Tyler in it: Rock 'n' Roller Coaster
We want to hear from you!
What's your favorite Disney World roller coaster? Let me know in the comments below!
---
James is a lifelong Disney Parks fan. While at the parks, he loves finding new details, learning more about Disney World history, and taking pictures. His favorite WDW attractions include Rise of the Resistance, Spaceship Earth, and Tower of Terror.
James is a filmmaker and writer based in Atlanta, GA.
All author posts