From World Celebration to World Discovery, there's a world of amazing things to do at EPCOT. You can eat, drink, and play around the world all in a single day. You'll go into space and deep under the sea. But what are the best rides and attractions at EPCOT?
Just like I did for all of Magic Kingdom's rides, I'm going to rank every ride and attraction found at Disney World's second theme park. EPCOT has twenty attractions, ranging from Disney World's fastest thrill ride to a series of ultra widescreen films. What is worth skipping at EPCOT? And what should you put on your must-do list? Read on to find out!
This ranked list will be broken up into three categories.
Rides & Attractions You Can Skip at EPCOT – These attractions are mainly movies that are either forgettable or that you can get a similar experience at home.
Good Rides & Attractions at EPCOT – These rides give the theme park its character and charm, but they usually aren't worth a long wait.
The Best Rides & Attractions at EPCOT – These are the essential, must-do rides and shows that best represent the EPCOT experience.
Update 6-16-22: Guardians of the Galaxy: Cosmic Rewind has been added to the ranking.
#21- 19 Rides & Attractions You Can Skip at EPCOT
Located in the Imagination Pavilion in World Celebration, the Disney Pixar Short Film Festival shows a rotating lineup of shorts from the animation studios. Disney and Pixar make brilliant animated shorts, so having this so far down the list is not a knock on any of the amazing artists at each studio. But you can find most of these shorts on YouTube or Disney+. Yes, there's a novelty to seeing it on a big screen, and there are "4D" theater effects, for what it's worth. But when you're paying so much money for a ticket to EPCOT, this doesn't feel like a great use of your time in the park.
The Disney Pixar Short Film Festival just feels like a stopgap attraction that's now been open for over 6 years. This honestly feels like a huge missed opportunity for EPCOT. Captain EO and Honey I Shrunk The Audience deserve a full-fledged replacement.
I would only suggest going here if you need an air conditioned break with kids.
20) Beauty and the Beast Sing-Along Film
You can find this animated film in the France Pavilion, featuring classic songs from Beauty and the Beast and new animated scenes that put a twist on the story. Usually, sing alongs at Disney World are reliable crowd pleasers. The Frozen Sing-Along at Hollywood Studios is a great show for families. However, Beauty and the Beast deserved better. Possibly it's the difference between having live performers on stage vs watching a film. Possibly it's the fact that this film takes time away from the superior Impressions de France. Or possibly it's that the new twist on Beauty and the Beast focusing on LeFou just falls flat. But this isn't one of EPCOT's strongest attractions.
Actually, I think I know why Beauty and the Beast Sing-Along feels lacking. Disney World has so many other great Beauty and the Beast attractions. Magic Kingdom features a whole Beauty and the Beast area in Fantasyland. If you want to see the Beauty and the Beast story told on stage with actors, you can see that at Hollywood Studios. EPCOT's Beauty and the Beast film is far less compelling than either of those options.
19) Awesome Planet
Awesome Planet is a 10 minute film in the Land Pavilion showing off the diverse biomes on Earth. This attraction gets points for being in line with EPCOT's original educational aspirations. However, I can see why technology has helped make some of EPCOT's film offerings feel obsolete. While this is an original film, there's no shortage of beautiful nature films that any of us can instantly watch on demand. From Planet Earth to Disney's own Disneynature movies to 4K HDR nature videos on YouTube, it's so easy to find stunning footage of our stunning planet.
This film runs into the same issue as the Disney Pixar Short FIlm Festival. Unless you are really in need of an air conditioned break or really love nature films, your time is better spent elsewhere in the park.
#18 – 12 Good Rides & Attractions at EPCOT
Journey Into Imagination is the titular ride in the Imagination Pavilion, and it is a shell of its former self. Okay, I promise that the rest of this list will get more positive from here on out. Also, as someone who adored the original version of this ride when I was a kid, I definitely can't divorce myself from the emotions that push this version of the ride lower on the list than it probably deserves to be.
But the original Journey Into Imagination would probably be at the top of this list. It was a massive, sprawling attraction that really delved into the different aspects of imagination, from storytelling to music. And it gave us two of the best original Disney World characters in Figment and Dreamfinder.
The current version of this attraction is just confusing. Instead of focusing on imagination, it focuses on the senses. Yes, sensory input is an important part of sparking imagination, but it makes the attraction feel so limited. Figment is also a huge problem in this ride. In the original version, Figment was much more lovable, as he was in the role of the curious learner as Dreamfinder taught him (and us) about imagination. Figment is much more annoying in the current ride, as he acts as a foil to the stuffy Dr. Channing to show him that imagination is important.
Overall, I really wish Disney would give Figment a ride he deserves. I think there's some incredible things they could do with current technology, like trackless ride systems, that would make EPCOT's most valuable IP even more valuable. (I have a lot of ideas, if you can't already tell. Imagineering, hit me up.)
Basically, this is a fine ride with some neat visual effects along the way. It just barely squeaks into this portion of the EPCOT ride list, as it almost never has a long wait, so it isn't entirely worth skipping. People who didn't go on the original version will probably enjoy it much more than people who did.
17) Canada Far and Wide in Circle-Vision 360
Narrated by Schitts Creek legends Catherine O'Hara and Eugene Levy, Canada Far and Wide gives you 360 degree views of the Great White North. Canada is a massive country, and you'll take a tour from coast to coast.
Personally, I feel like the ultra-wide and 360 degree films in EPCOT avoid the "you can just watch this at home" problem. The presentation of these original films is a totally different experience than what you can recreate at home.
On the downside, these films can feel a little overwhelming, as they literally surround you with massive footage. Also, guests do have to stand for 15 minutes, as there are no seats in the theater. This lets you freely look around and see the views behind you, but it also can have a slight dizzying effect if you are sensitive.
However, with great narration and beautiful footage, this Canadian film is worth your time at EPCOT.
Another 360 degree Circle-Vision movie, Reflections of China takes you on a tour of Beijing, Shanghai, Hong Kong, and the Great Wall of China. Everything I wrote above about Circle-Vision films applies here. The footage is breathtaking, but it could also have a dizzying effect.
Note: Reflections of China will be updated with a new film called Wondrous China sometime during Disney World's 50th Anniversary celebration.
When people talk about "Disney magic," experiences like Turtle Talk with Crush come to mind. This show in the Seas with Nemo and Friends Pavilion is definitely aimed at kids. But Disney is doing some amazing things here with technology and performance.
Even though it's a few years old, Turtle Talk is still totally impressive. The attraction uses an actor who improvises his lines as he voices over Crush, and then the 3D animation is rendered in real time. The effect is a Pixar character who has come to life and feels real.
If you want to see your kid's face light up as a cartoon talks to and reacts to them, then this attraction should be your first stop at EPCOT. Okay, maybe not your first stop, as there are still thirteen more attractions on this list…
"Houston, we have a problem…"
Mission: SPACE didn't make a great first impression. The space travel simulator in World Discovery replaced fan favorite Horizons, so expectations were beyond sky high. The ride promised to deliver the experience of launching into space, g-forces and all. On that front, it delivered possibly too well. Mission: SPACE is arguably Disney World's most intense ride, and many riders found it to be too intense.
Mission: SPACE now offers two versions: a milder Green verstion that removes the simulated g-forces, and the full blast Orange version that is not for the weak stomached.
Even on the mild version, Mission: SPACE is a fun simulator ride, with an impressively detailed ride vehicle that feels like a space craft. However, the promise of interactivity on this ride never really panned out. For a much more successful version of this, head to Hollywood Studios and go on Millennium Falcon: Smuggler's Run.
Board an Omnimover and take a journey under the sea. No, it's not the Little Mermaid ride in Magic Kingdom. Located in World Nature, the Seas with Nemo and Friends takes you on a "new" story with the cast of Finding Nemo. Nemo is lost, again. While this story doesn't have too much going on in terms of originality, it makes up for it inventive scenes and visuals. At a certain point, the characters are projected to make it seem like they are in the real tanks in the Sea Base aquarium.
Is this Disney World's best dark ride? Not by a long shot. But it's still a solid attraction and a great way to enter into the aquarium.
A boat ride through a hydroponics farm doesn't scream exciting. In fact, it might seem downright boring. But Living with the Land is awesome, so don't overlook it. Located in the Land Pavilion, this ride lets guests float by both manufactured and real scenes of nature. The plants in the greenhouses change seasonally, so there's almost always something new to see on this ride. This boat ride is peaceful and educational, in the best ways
While I miss the days of live-narrated rides and the irresistibly catchy "Listen to the Land" theme song, this ride still remains on my must-do list for every Disney World trip. Would I wait a long time for Living with the Land? Probably not. But fortunately that's usually not an issue with Living with the Land.
#11 – 1 – The Best Rides & Attractions at EPCOT
Did you know EPCOT has the second largest aquarium in the United States? Located in World Nature, this is a must-see exhibit. Guests can see dozens of aquatic species, from dolphins to manatees to clown fish. Yes, you'll hear plenty of guests say "Look, it's Nemo!" as you walk by the exhibits. While the tanks are huge, you can see much of what Sea Base has to offer in an hour or two.
If you're looking for a break from the heat, take a midday trip to EPCOT's aquarium. You'll get out of the sun and see some incredible aquatic life while lines are at their longest elsewhere in the park.
Located in the France Pavilion in World Showcase, Impressions de France is our favorite of the EPCOT country films. What gives it a higher ranking than the films in Canada and China? Impressions de France isn't even a 360 degree film. Instead, it's an ultra widescreen presentation at 200 degrees over five screens.
While I personally prefer this to Circle-Vision, that's not why Impressions de France stands above. The score by Buddy Baker is phenomenal. In case you don't know, Buddy Baker is the composer responsible for many Disney properties, including The Haunted Mansion. The score takes Impressions de France to a new level. Without it, it would still be a collection of beautiful footage of French countrysides and cities. However, the score elevates this to the level of cinématographe, to borrow a word from the French.
9) Harmonious
EPCOT's nightly fireworks spectacular on World Showcase Lagoon features projections, water fountains, and pyrotechnics. While Harmonious doesn't quite match the highs of Illuminations: Reflections of Earth, it's still a really good nighttime show to cap off a day at EPCOT.
The message fits with EPCOT's mission, and the soundtrack is spectacular.
Gran Fiesta Tour feels like EPCOT's best kept secret. Part of me is worried that this ride will follow in the footsteps of the PeopleMover. For a long time, that was the best ride with no line. But when everyone figured that out, suddenly it had a line. I have a feeling that is going to happen with Gran Fiesta Tour in the next few years. But the ride deserves to have more fans.
First of all, it is located inside the Mexico Pavilion building, which itself is easy to just walk past. Yes, there is a whole pavilion inside the pyramid. This boat ride starts off with a bang, taking you past diners at the San Angel restaurant. The only other boat ride at a US Disney Park to take riders past a restaurant is Pirates of the Caribbean at Disneyland, and that is an all time classic. So we're off to a good start. The Mexico boat ride just keeps on delivering from there, with delightful and colorful scenes featuring Donald Duck, Jose, and Panchito. There's even a Small World-esque sequence in the middle of the ride.
This is one of our favorite rides for kids and toddlers at EPCOT, but really it's great of all ages.
Sometimes it's hard to be an innovator. When Test Track opened, it was the only ride of its kind, showing off the most state of the art testing processes for motor vehicles. Guests would actually ride in these test vehicles and experience them for themselves. There was a tactile feeling to the different pavements you would ride over or how you would swerve with antilock breaks turned off. The crash-test dummy era of Test Track was awesome… but became quickly dated.
The state of the art went digital, and so too did Test Track. Now guests are invited to test out vehicle designs in the simulator. The ride itself isn't changed, with guests riding in physical vehicles, but now each scene takes place in the digital world. The line now has a pretty fun vehicle creator, but how that translates to the ride doesn't really play out as promised. A screen shows your vehicle's score after each segment of the ride; however, there isn't any connection between how you design your car and what happens on the ride. While the "Tron Track" aesthetics are top notch, the ride feels like it's lost something from that original tactile version. Also, Test Track as an innovator has been surpassed by Radiator Springs Racers in California Adventure, which uses the same ride system to much greater effect.
However, this ride is still a blast. It was EPCOT's first thrill ride, and it still bring a rush of adrenaline as you bank around a turn at 65 mph. Test Track still manages to be approachable for younger guests who might be too intimidated by roller coasters, as the experience of riding in a fast car is familiar.
Test Track is Disney World's fastest ride, and it shouldn't be missed.
The American Adventure is the pinnacle of Disney's animatronic shows. Located in the America Pavilion in the middle of World Showcase, this show tells the history of the United States. Hosted by Benjamin Franklin and Mark Twain, the American Adventure depicts scenes spanning different eras of the US, from the Revolutionary War to the Civil War to the Great Depression. While the show is mainly focused on events prior to World War II, it still does an admirable job of encompassing so much information in an entertaining product.
The American Adventure is remarkable as a piece of theater as well. Sets for different scenes rise out from the stage floor, and the show features a cast of 35 different animatronics. The show is so complex that Disney says it took Imagineers 5 years to complete this attraction, and EPCOT is better off for it.
The theater for the American Adventure is beautiful, and many people will be thankful for the 45 minutes of air conditioning that this attraction offers. But this attraction is so much more than just a place to take a break. It's one of Imagineering's greatest achievements, and it should be part of most people's EPCOT plan.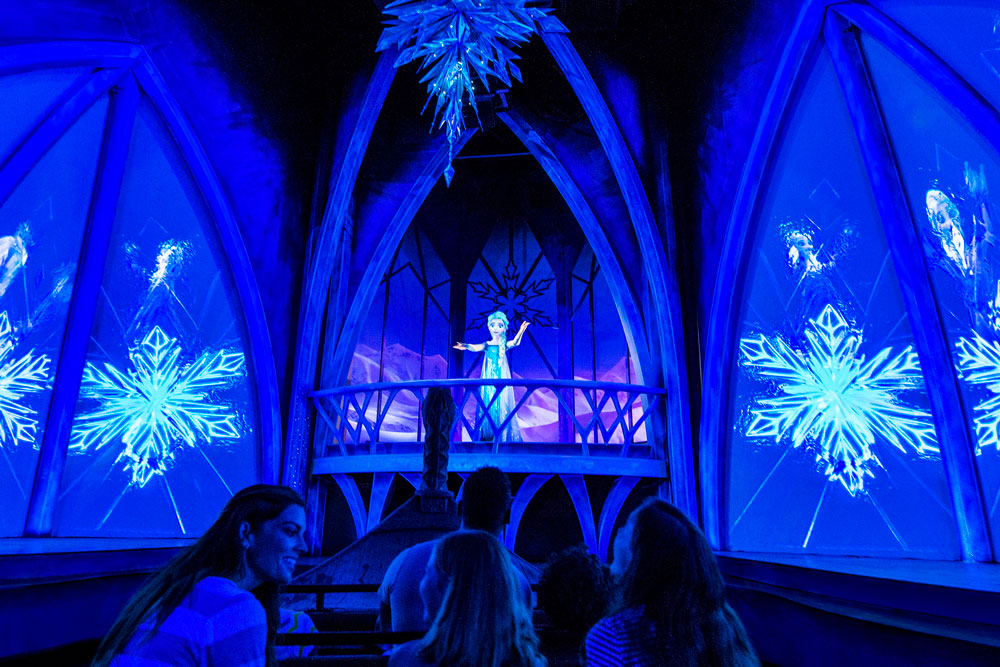 Located in the Norway Pavilion, this boat ride through Arendelle has little to do with Norway. While inspired by Norway, Frozen's Arendelle is a fictional land. This caused a bit of an uproar in the Disney fan community when it was announced that this ride would be replacing Maelstrom. It didn't help that Frozen Ever After would use the same ride system and layout, complete with backwards drop.
Luckily for guests, Frozen Ever After is a great ride. The show scenes are brilliantly depicted with amazing animatronics, and the climactic "back over the falls" moment nicely ties into "Let It Go." For my money, Frozen Ever After surpasses its predecessor. Much like Frozen, this ride is a crowd pleaser and can get some of the longest lines in the park. Try to go on this either right at park opening or get a Lightning Lane to avoid waiting an hour for this EPCOT ride.
World Showcase's newest ride is a complete culinary treat. First of all, it expanded EPCOT's France Pavilion with an area full of delightful details that we expect from Imagineering. While the ride itself is a clone of the version from Disneyland Paris that opened in 2014, it still brings a fresh flavor to EPCOT's ride lineup. This 3D ride has no height requirement, giving the park another massive E-ticket ride that everyone can enjoy.
Remy's Ratatouille Adventure uses a trackless ride system, like those found in Rise of the Resistance or Mickey & Minnie's Runaway Railway. While it isn't quite as successful as those newer rides, it still provides a really fun time. This kitchen caper is fully of larger than life props, zany gags, and unexpected moments.
Take to the skies and float around the world in Soarin'. Located in the Land Pavilion, this ride uses a unique ride system to simulate hang gliding over some of the world's most recognizable landmarks, from the Eiffel Tower to the Taj Majal. Guests are fastened into seats on the ground, and the entire seating apparatus is lifted towards an massive IMAX-style screen. With your feet dangling, you'll experience the gentle thrills of flying high above the earth. While those afraid of heights should steer clear, this ride system is approachable for guests of most ages.
While what you see is amazing, the ride is enhanced through what you hear and what you smell. The soundtrack is top-tier for Disney World, creating an epic sense of adventure. The ride also fills the air with the scents of what you're seeing, so the aroma of roses will hit you as you see the Taj Majal. This combination of serenity and adventure makes for an experience that is almost perfect.
Why almost? The viewing angles vary wildly the further away you get from the center. If you're sitting in the top row and in the center, you'll get a perfect view. But if you're sitting on the edges, the entire screen will look warped, so the Eiffel Tower will look like it's doing a yoga stretch to the side. It's not a great look, and it can increase feelings of motion sickness. As we suggest in The Best Places to Sit on Disney World Rides, it's well worth it to ask a cast member to sit in the top middle section.
While some people prefer the Soarin' Over California version of this attraction, I personally feel that Soarin' Over the World fits EPCOT better than the original ride ever did.
Guardians of the Galaxy: Cosmic Rewind is full of firsts. It's EPCOT's first roller coaster. It's Disney's first backwards launch. And it is Disney World's first Marvel-themed ride. Cosmic Rewind fills a hole in EPCOT's ride lineup that was sorely needed. It's a high-capacity, crowd pleasing thrill ride, with an emphasis on thrills. Test Track brings the speed, but saves its biggest thrills for the final seconds. Mission: SPACE Orange has thrills, but never quite clicked with guests. Cosmic Rewind delivers with an innovative ride system, a throwback soundtrack, and fan-favorite characters.
Guardians of the Galaxy is Space Mountain, brought into the 21st century with next-gen projection technology and much higher speed. The coaster is smooth, evoking a feeling of skating through space. The smoothness might make it more accessible to some guests, but the disorienting combination of rotation and projections has caused Cosmic Rewind to make many guests feel motion sickness. While this ride is a great coaster and has some fun nods to EPCOT's history, there's one first that it doesn't earn: first on our list of the best EPCOT rides.
The EPCOT ball. The golf ball. Whatever you call EPCOT's iconic landmark, it houses the best ride in EPCOT, in my opinion. Guests go on a journey through time to see the history of communication. With scenes in ancient Egypt, Rome, the Renaissance, and the computer age, Spaceship Earth features some of the most impressive animatronic scenes that Disney has ever created.
From the painstakingly detailed scenes to the massive geodesic sphere housing the ride, Spaceship Earth is a complete wonder. While some may have preferred the Jeremy Irons or Walter Cronkite versions, I still truly adore this ride. While the announced revamp that will focus on storytelling has been delayed, I'm hopeful that one of my favorite Disney World attractions will become even more grand and more miraculous.
Grandiose, sweeping, and optimistic, Spaceship Earth is an amazing accomplishment that truly embodies the spirit of EPCOT.
How to Plan an Excellent EPCOT Day
Planning a trip to Disney World? This list is just the beginning. Get in touch with our friends at Vacationeer for free Disney World vacation planning. Their travel agents can help you plan your vacation for no extra cost. They'll make sure you get the most out of your visit to EPCOT and the other WDW theme parks. Plus, they are Disney experts, so they'll have their own recommendations and advice.
Don't miss our Disney World guides, which help you learn the basics of planning a WDW vacation. Our Guide 2 Disney Genie and EPCOT Lightning Lane Guide will help you spend less time waiting in line for EPCOT's best rides and attractions. We also have 50 EPCOT Tips for 2022, plus an in-depth section on EPCOT Rides & Attractions, an EPCOT Character Guide, as well as EPCOT Restaurants and Dining.
Let Us Know Your Thoughts
What's your favorite EPCOT ride or attraction? Let me know in the comments below!
---
James is a lifelong Disney Parks fan. While at the parks, he loves finding new details, learning more about Disney World history, and taking pictures. His favorite WDW attractions include Rise of the Resistance, Spaceship Earth, and Tower of Terror.
James is a filmmaker and writer based in Atlanta, GA.
All author posts