Free and Disney World aren't typically associated with each other. But Disney World has a ton of free things that can make your vacation even more magical. From fun collectibles to unique experiences, we are highlighting 44 freebies at Disney World. These range from free essentials you might not know about to hidden gems that will enhance your WDW vacation.
So if you're looking for a few ways to have some free fun on your Disney World trip, this guide has you covered! Read on for our complete list of all the free things you can find at Walt Disney World.
Update 8-28-2023 – We just added a video of the Best Free Things at Disney World to the Guide2WDW YouTube channel, which you can watch below. We've updated this guide to include more free items at WDW.
The best free things at Disney World – Video
For more Disney World videos, subscribe to Guide2WDW on YouTube.
Free for All Guests
1) Celebration Buttons – If you are celebrating a birthday, anniversary, or any other life accomplishment, go to the Guest Services desk at any of the parks. Tell them what you're celebrating, and the cast member will give you a free special occasion button. For certain buttons, they'll even write your name on it (and usually adorn it with Mickey ears). This is not only a great keepsake from your vacation, but wearing the pin will even get you some attention. Cast members and other guests are bound to tell you "Happy Birthday" or "Congratulations!"
2) Free Ice Water or Cup of Ice at Counter Service Restaurants – Free ice water is essential on a hot Orlando day. Skip the $2.50 bottles of Dasani, head to a counter service restaurant in any of the parks, and ask for a large cup of ice water. This also works for hot water, so you can bring packets of instant coffee with you into the parks.
3) Free International Soda at Club Cool – After almost two years away, Club Cool is back at Epcot. Now located next to Creations Shop, Club Cool offers free samples of Coke products from around the world. This former hidden gem has gained popularity in recent years. Depending on who you ask, trying Beverly is a right of passage or to be avoided at all costs (but pretty much everyone agrees that it's bitter and tastes terrible).
4) Free Drawing Class – Want to learn how to draw a popular Disney character? While this used to be based in Hollywood Studios, there are a now a few options for enjoying a quick 20-30 minute art class at Walt Disney World.
In Animal Kingdom, head to Conservation Station at Rafiki's Planet Watch. There, they offer the 25 minute Animation Experience at Conservation Station throughout the day.
At the Epcot Festival of the Arts, the EPCOT Animation Academy is offered outdoors at the America Gardens Theater.
In the past, the Art of Animation Resort has offered the Teach to Draw class. This has been on hiatus since 2020, but it may return in the future.
At the end of the class, you can keep your drawing as a souvenir. (Or fight back tears as you throw it away. Goofy, why are you so difficult to draw!) This has become a favorite activity for my family while at Disney World.
5) Free Fairy Dust – If you want a bit of magic without having to pay for the whole Bibbidi Boppidi Boutique experience, you can get Bibbidi Boppidi Booped with a sprinkle of fairy dust at the BBB entrance at Cinderella Castle.
6) Free Concerts at Epcot – Throughout the year, Epcot will have free concerts at the America Gardens Theatre, near the American Adventure. With the Garden Rocks Concerts at the Flower and Garden Festival, Eat to the Beat during Food and Wine, and the Candlelight Processional during the Holidays, chances are that there will be a special performance at Epcot while you're staying. Be sure to check the Times Guide for more information.
7) Free Park Maps – At the entry to each park, be sure to pick up a park map, which change seasonally depending on special events and new attractions. I find these to be really great souvenirs, and I love having a collection to see how the parks have changed throughout the years. Many people find these great for scrapbooks or DIY projects (park map coasters anyone?). Tip: If you're worried about keeping a park map in pristine condition, the Disney resort lobbies (and Swan and Dolphin lobbies) will have maps for all the parks. That way you can grab a few and put them in your suitcase without having to carry them throughout the park. Also, if you're super hardcore about avoiding wrinkles, packing a binder or folder might be a good idea.
8) Free Event Booklets – Disney creates custom booklets for special events such as the Epcot Food & Wine Festival or the Epcot Flower & Garden Festival. These are another great souvenir to hold onto. My favorite are the Epcot Food & Wine Festival books that act as your "passport" around World Showcase, so you can get your booklet stamped with each international food booth that you visit. It's a great way to keep track of what you've done at the event.
9) Resort Hopping – You don't have to be staying at a Walt Disney World Resort to visit it. Resort Hopping is one of my favorite things to do outside of the parks. Each resort is so unique. Many of them have stunning lobbies or fantastic restaurants. At a minimum, go to the hotels on the monorail loop: Contemporary, Polynesian Village, and Grand Floridian. These are very easy to get to from the Magic Kingdom. You can visit the other hotels via a bus or the Skyliner. This activity is especially great during the holidays, as many resorts have special decorations and gingerbread displays.
10) Free Transportation – Disney World offers complementary transportation to all guests. You can hop on a Disney bus, monorail, boat, or Skyliner. While the bus is really a way to get from point a to point b, many people enjoy riding on the monorail, boats, and Skyliner in particular. In fact, going on the Skyliner has turned into one of our favorite "rides" at Disney World, and you don't need park admission to enjoy it. Grabbing lunch at a Skyliner resort and then hopping in a gondola has become a favorite off-day activity for us. Find out more in our Guide 2 Disney World Transportation.
11) Free Lei at Disney's Polynesian Resort – If you visit the Polynesian Resort, you can get a beautiful (and complimentary) lei in the lobby.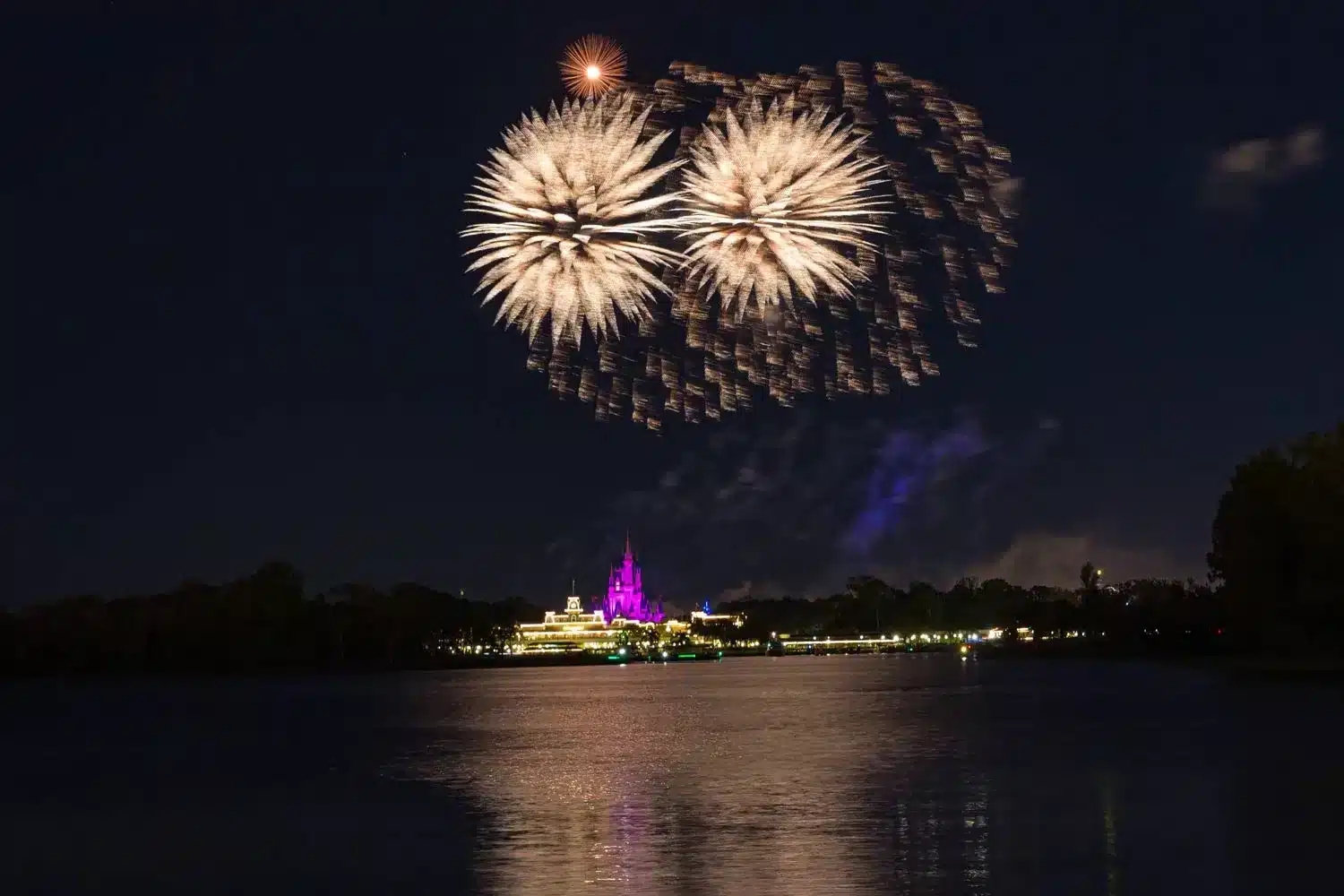 12) Free Magic Kingdom Fireworks Viewing – If you can make your way to the Polynesian, you can watch the Magic Kingdom's fireworks from the beach without having to pay for entry to the park. They even pipe in the music. This is especially great during Mickey's Not So Scary Halloween Party or Mickey's Very Merry Christmas Party, as this is the only way to watch those fireworks without buying a ticket to the party. This also works at the Ticket and Transportation Center (which provides a surprisingly nice view), the Grand Floridian, or the Contemporary's California Grill (although you have to eat dinner there to watch the fireworks).
13) Free EPCOT Fireworks Viewing – If you're at the Boardwalk, head towards the International Gateway (aka back entrance) of EPCOT. Along this path you'll be able to see EPCOT's current fireworks show. Our favorite spot is the bridge near the former ESPN Club. You can also get a good view of Epcot's fireworks from Disney's Riviera Resort at their rooftop restaurant, Topolino Terrace, or at the Gran Destino Tower.
14) Free Electrical Water Pageant Viewing – Want a retro light parade to round out your night at Disney World? Then head to one of the resorts around the Seven Seas Lagoon and Bay Lake to check out this quaint show featuring floats of a dragon, the American flag, and (my favorite) a dancing octopus. The Electrical Water Pageant takes off by the Grand Floridian/Polynesian at around 9 pm nightly and makes its way towards the Wilderness Lodge and Fort Wilderness.
15) Free Birthday Dessert at Disney World Restaurants – Celebrating a birthday or anniversary by dining at a Disney World restaurant? Be sure to mention this to your waiter or waitress. Almost every time we have gone to a restaurant at Disney World or at one of the hotels for a special occasion, they will treat us to either a delicious dessert or a champagne toast.
16) Free Transportation Cards – I didn't know about this fun little souvenir until a Guide2WDW reader informed me. You can collect transportation cards from each of the different types of transportation at Walt Disney World: busses, ferries, and monorails. Just ask the cast members working at the transportation station you are traveling with. Thanks to Corrine White for the tip in the comments!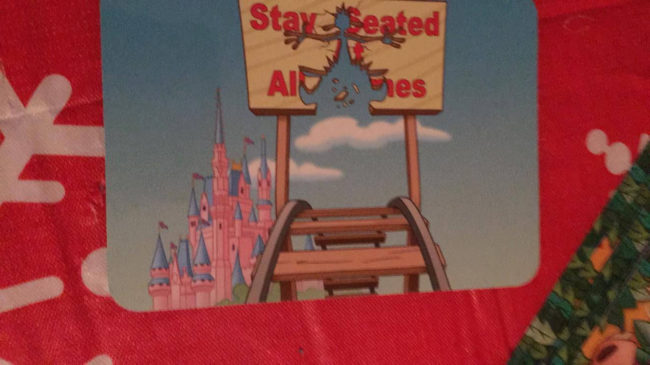 17) Free Timon & Pumba Safety Cards – Another obscure but fun souvenir. Guide2WDW reader Karen let me know via Facebook that you can get cards featuring the illustrations of Timon & Pumba demonstrating park safety at guest services. Karen got hers at Epcot guest services. These illustrations are really cute and funny, and there are 22 cards in a set!
18) Free Character Meet and Greet Photo with a Disney Visa Card – Disney Visa Cardholders are eligible for free digital photo downloads of your meet and greet with a classic Disney character at the Disney Rewards Photo Spot at EPCOT, located near the Imagination Pavilion. There's usually a very short wait, and you can meet with Mickey, Goofy, Pluto, or Daisy. Disney Visa Cardholders can also meet Darth Vader at Star Wars Launch Bay in Hollywood Studios.
19) Free EPCOT Scavenger Hunt – Here's a freeish activity. EPCOT runs multiple scavenger hunts throughout the year, such as Remy's Ratatouille Hide and Squeak or Figment's Brush with the Masters. These usually cost about $10 for a map, and you get a prize at the end. However, one of our favorite EPCOT tips is that you can still play along with the game for free. See if you can find all the different statues throughout the park. You won't get a prize, but it does make for a fun activity as you explore the park.
20) Free Wilderness Explorers Sticker Badges – A great activity for kids of all ages is the Wilderness Explorers in Animal Kingdom. This Up-themed scavenger hunt sends guests all over Animal Kingdom to learn about the wildlife at the park. You are welcome to do this multiple times to collect all 30 sticker badges.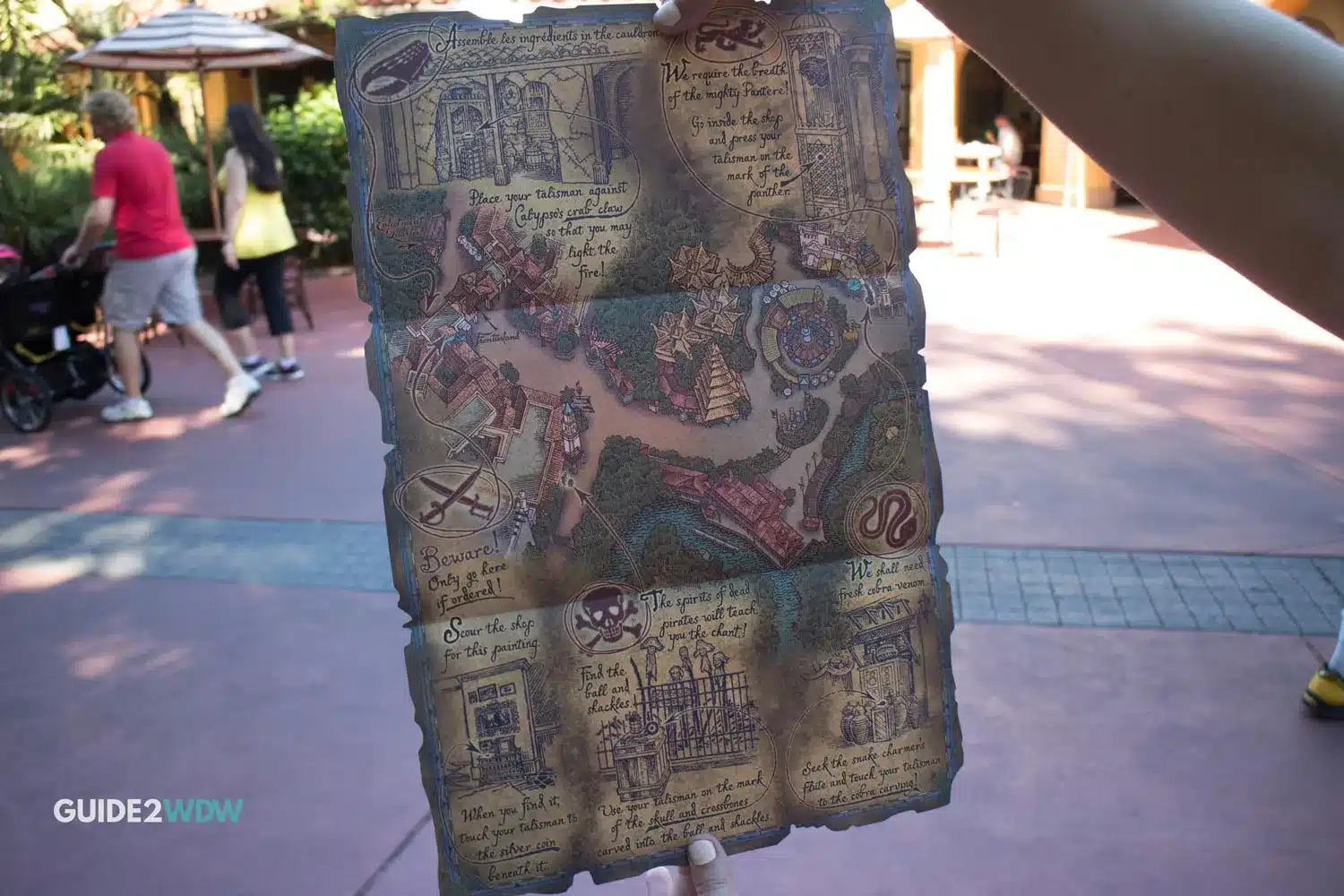 21) Free Treasure Map – A Pirate's Adventure: Treasure of the Seven Seas in Magic Kingdom is another free scavenger hunt that takes you through Adventureland. It features some pretty elaborate maps that you can keep. If you have anyone super into pirates and treasure maps, this is a fun activity and freebie.
22) Free Mickey Mouse or DVC Sticker – Many cast members carry around free Mickey Mouse stickers and will offer them to guests. I was not aware of this until I started traveling to Disney World with my young nephew. Suddenly, I've never seen so many Mickey Mouse stickers. I somehow ended up with about 10 of them on my last vacation. (Not that I'm complaining). Also, note that pretty much every DVC stand will have a roll of stickers for kids.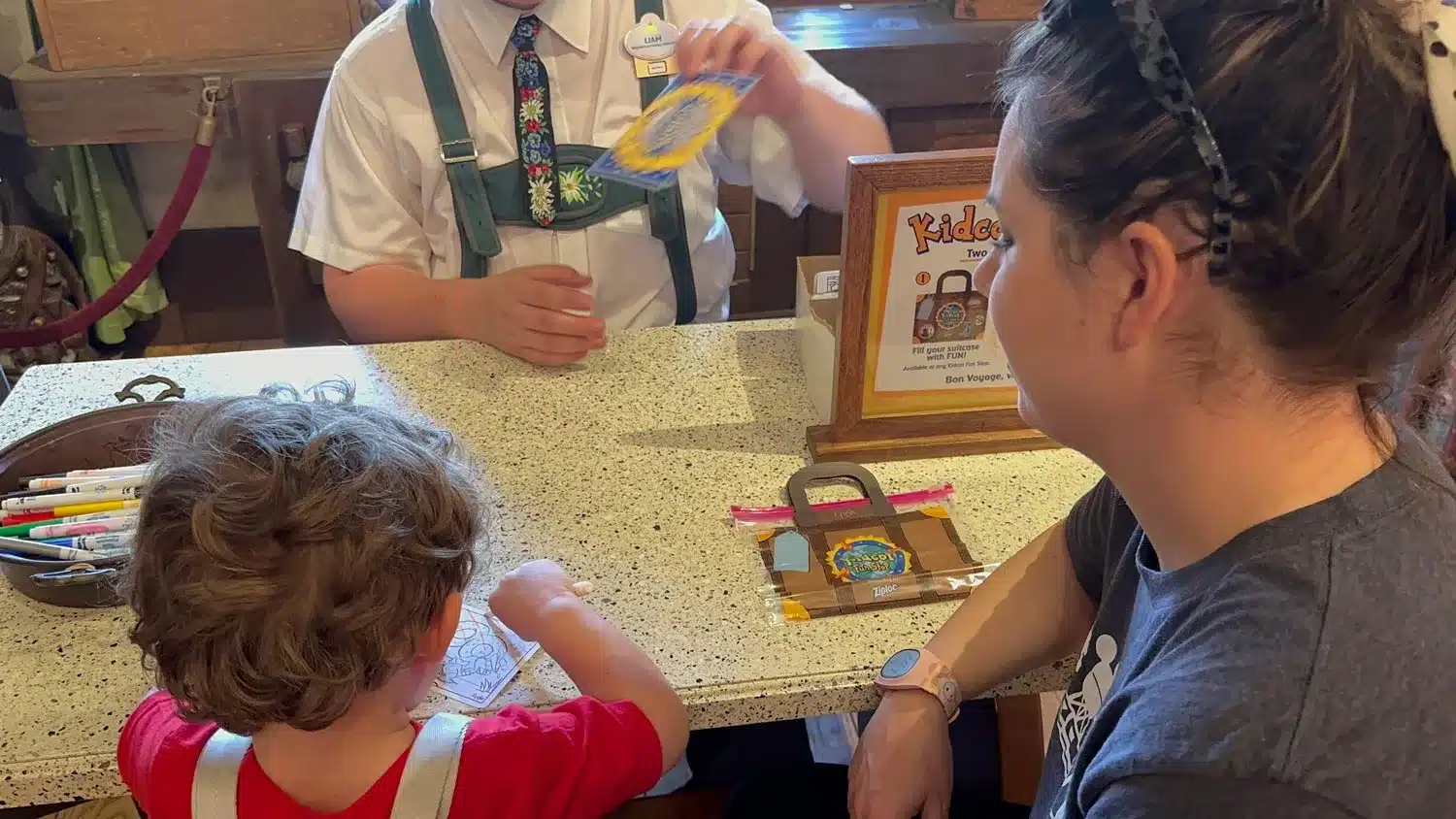 23) Free KidCot Coloring Cards – This one is great if you have a small child at Epcot. Around the World Showcase at Epcot, look out for the KidCOT stations in most of the countries. These stations have markers and collectible coloring cards, each themed to the different countries around Epcot. It's a neat activity, and a free souvenir!
24) Free Wifi – At all parks and Disney World resorts. Stay connected without hitting your data-cap. This is vital, since the MyDisneyExperience app has become such a crucial part of the WDW experience. The Wifi at Disney World has actually gotten quite fast and reliable.
25) Kids Under 3 Get in Free – You do not need to buy theme park admission for children under the age of 3. They get into the Disney World parks for free!
26) Kids Under 3 Eat for Free at Certain Restaurants – At character meals, buffets, and certain other restaurants like Space 220, children under 3 dine for free.
Free Things at Disney Springs
27) Free Coke Meet and Greet – You can meet the Coke Polar Bear at the Coca Cola Store in Disney Springs.
28) Free Parking at Disney Springs – Disney Springs offers ample free parking, including two massive parking garages.
29) Free Live Music – Head to the Waterside Stage to see live performances.
30) Free Lego Racing – Go to the Lego Store and race your creations against other guests. This is a great activity for kids!
31) Free Holiday Scavenger Hunt – During the holidays at Disney World, you can grab a map for the Disney Springs Christmas Tree Trail and try to find all the uniquely decorated trees.
32) Free Soap and Body Scrub Samples at Basin – You can wash your hands and try Basin's different soaps and body scrubs both at their Disney Springs location and their Grand Floridian location.
33) Free Ghirardelli Chocolate Samples – Head to the Ghirardelli Chocolate Shop in Downtown Disney, and you'll see an employee near the entrance with a basket handing out free squares of Ghirardelli chocolate. Samples change season to season, so this is worth repeat visits. One square per guest per visit.
34) Free Sprinkles Cupcake (Birthday) – Sign up for Sprinkles Perks, and you'll be eligible to get a free Sprinkles Cupcake for your birthday at the Disney Springs location. They also sometimes run a promo that gives a free cupcake upon signing up, so you might be able to get two free cupcakes if you're lucky!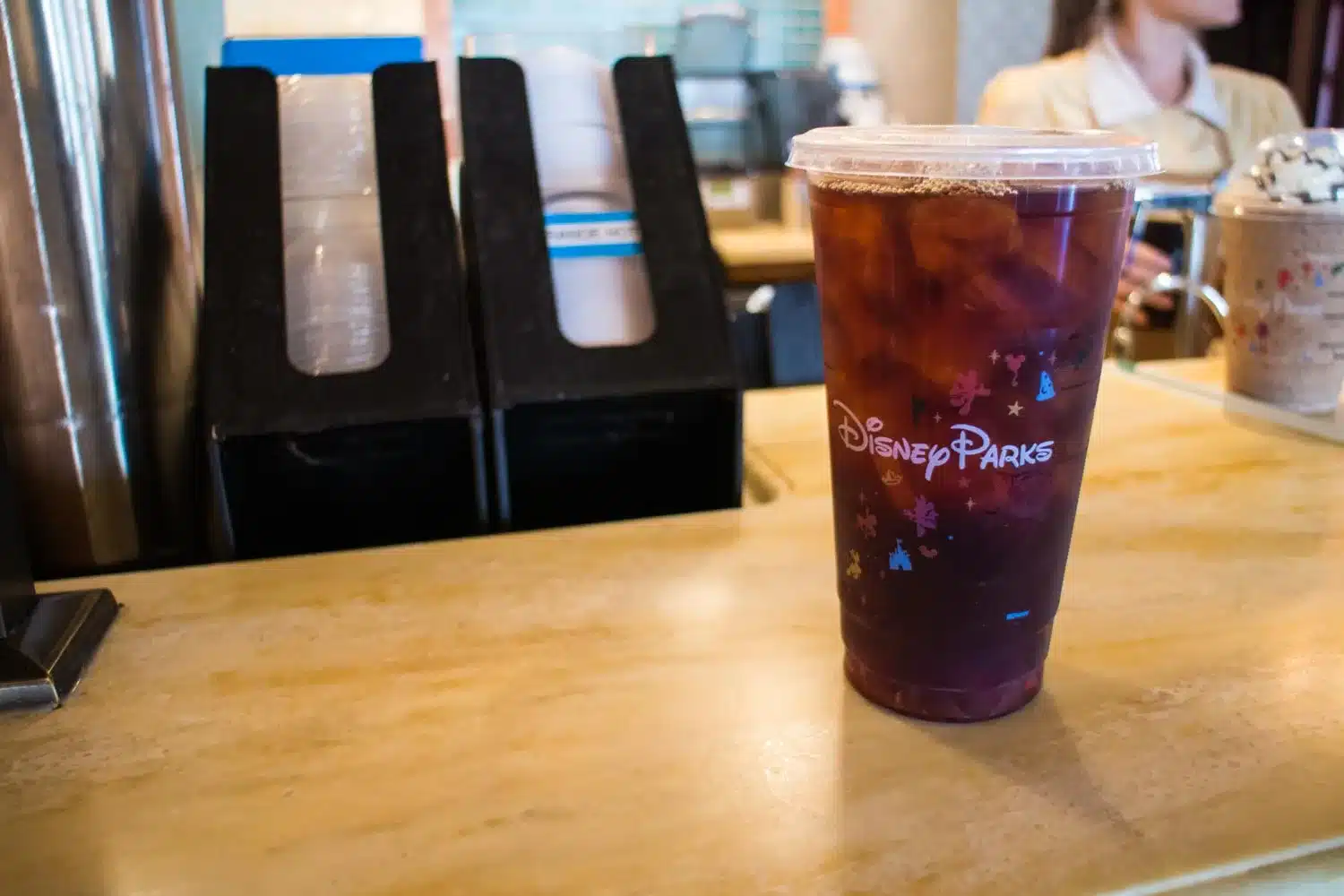 35) Free Birthday Drink at Disney Springs Starbucks – Sign up for Starbucks Rewards, and you'll receive a free drink on your birthday. You can redeem this at the two Starbucks locations at Disney Springs (but not yet inside the parks).
36) Free Birthday Sandwich at Earl of Sandwich – Sign up for Earl of Sandwich's Loyalty Club and you will receive a coupon for a free sandwich on your birthday. You can redeem this at the Disney Springs location. In case it isn't clear yet, going to Disney World on your birthday has its perks!
Free for Annual Passholders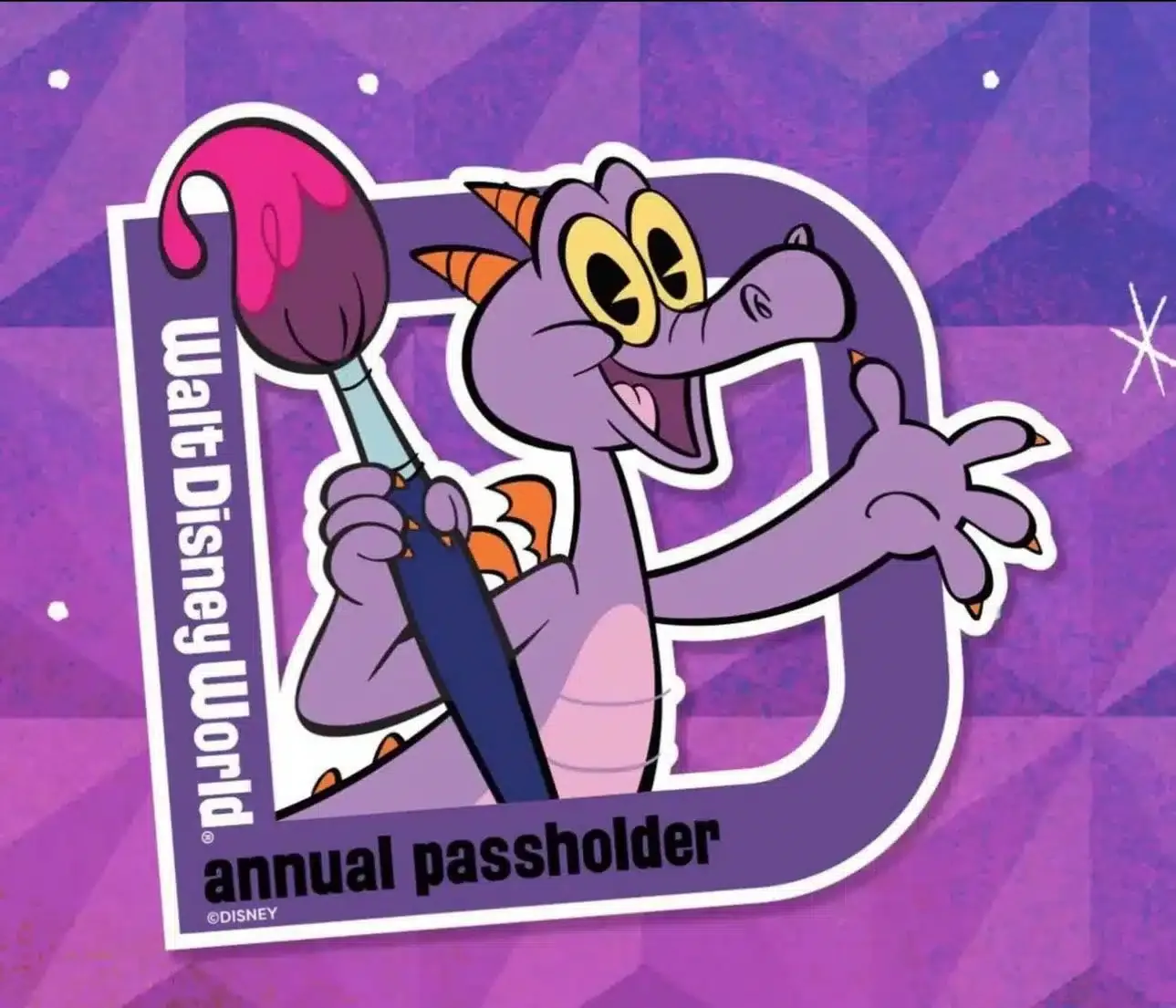 37) Free Character Magnet – Disney will often mail their Annual Passholders a magnet featuring Mickey Mouse, but they also offer limited edition magnets featuring other characters, such as Pluto or Dumbo. Head over to Creations Shop in EPCOT to claim your magnet. Just be sure to bring your Annual Pass and a photo ID.
38) Free Epcot Festival AP Exclusive souvenirs – In the past, Epcot has offered Annual Passholders a special souvenir for attending the Epcot Food & Wine Festival. In 2015, I received a small wine glass with the Epcot Food & Wine logo. Look in the festival booklet for details on future promotions.
39) Free Special Park Entry – Disney designates one or two lanes at each park to be an Annual Passholder line. This has saved us a ton of time during recent visits, and it works for everyone in your party. Just look for the Annual Passholder Mickey logo!
40) Free PhotoPass (Platinum Annual Passholders Only) – If you are a Platinum or Platinum Plus Annual Passholder, PhotoPass is included in your Annual Pass. This allows you to download ride photos or any photo taken by a PhotoPass photographer for free. The integration with Magic Bands and the MyDisneyExperience app makes this a very seamless experience. It's somewhat magical to go on Seven Dwarfs Mine Train and then see your on-ride picture and video automatically show up in the MDE app. This is a huge perk for these Passholders.
Free for Resort Guests
41) Free Theme Park Parking – Guests staying at a Disney World Resort do not have to pay extra to park at Magic Kingdom, EPCOT, Hollywood Studios, and Animal Kingdom. Just scan a ticket or MagicBand linked to your account when you get to the toll plaza at each park, and you can park in the standard parking lots for free. This perk is also available for guests at the Swan, Dolphin, and Swan Reserve.
42) Free Self-Parking at Resorts – After a couple of years of charging for parking at their resorts, Disney World has brought back free self parking for resort guests. This should save guests quite a bit on their hotel bill.
43) Campfire Singalong at Ft. Wilderness – A nightly feature at Ft. Wilderness, the Camp Fire Sing-a-long is a fun time for the whole family, and this is open to all WDW Resort guests. Lasting a little under an hour, the sing-a-long features an appearance by Chip and Dale. Be sure to bring your own marshmallows!
44) Movies under the stars – Many resorts will do nightly screenings of classic Disney and Pixar animated movies, projected on a large screen outdoors. Be sure to check with your resort for the schedule.
As you can see, there are a ton of free things at Walt Disney World to make your vacation more fun, more relaxing, and more memorable. Let me know in the comments below: What are some other cool freebies you've discovered at Disney World?
---
James is a lifelong Disney Parks fan. While at the parks, he loves finding new details, learning more about Disney World history, and taking pictures. His favorite WDW attractions include Rise of the Resistance, Spaceship Earth, and Tower of Terror.
James is a filmmaker and writer based in Atlanta, GA.
All author posts