Get ready to launch into the world of Tron Lightcycle Run, the latest and most thrilling addition to Magic Kingdom's Tomorrowland! For those who have yet to experience this electrifying ride, Guide2WDW is here to help you make the most of your time on this futuristic roller coaster. Specifically, we are going to answer the burning question: "Where should I sit on Tron Lightcycle Run?"
As a Disney World coaster-enthusiast, I am here to share my personal experience on the ride. I just returned from a trip to Orlando, where I rode the coaster several times during its debut week, requesting different rows so I could give my verdict on which seat is best on Tron Lightcycle Run.
Guide2WDW has a list of all the best seats on all of Disney World's best rides, so I had to go through the painstaking task of riding a really fun roller coaster a bunch of times to determine the best row, with scientific precision. Ok, my recommendation on which row is best is mainly based on my personal preferences, but I will give you all the details you need to know to make your own personal decision on where to ride on Tron.
Important Tron Lightcycle Run Info
To help you decide where to sit on Tron Lightcycle Run, let's first introduce you to the ride itself. Tron Lightcycle Run is a roller coaster situated just a short walk away from Space Mountain in Tomorrowland. What sets it apart from other coasters is its unique motorbike-style ride seat, where guests lean forward as they ride, simulating the exhilarating experience of racing a Lightcycle through the digital world of Tron.
The ride has two main parts: a 0-60 mph launch into a giant banked turn outdoors, and an indoor section that showcases a race between you (Team Blue) and Team Orange. The indoor section is dark with sudden dips and banked turns, creating an immersive and thrilling environment. There are no inversions, and the ride lasts for about a minute.
Each train on Lightcycle Run has 6 rows, with two bikes in each row. But which row is best?
The Best Row on Tron: The Back Row
In our opinion, the best row on Tron Lightcycle Run is the back row (Row 6). Here's why we think so:
Enhanced intensity: Tron feels more intense in the back row, and I thought the difference was fairly pronounced and noticeable compared to the front row. Why is this? Due to the dynamics of a roller coaster's movement, the back row experiences a more sudden and abrupt change in motion during turns and drops, creating a more intense sensation for riders. For example, when the coaster train goes over an ascent, the front of the train is slows down a bit and then picks up speed as it goes down a drop. The back of the train speeds up as it reaches the ascent, because the front of the train has already sped up as its dropping down. This causes a brief moment of increased force on the riders in the back row, which can make the experience feel more intense. So overall, the back row experiences increased force and "whip effect" as the train travels along the track.
Best visuals indoors: While the front row has its own unique view, riding in the back row lets you see all of the Lightcycles in front of you. Let's face it: the Lightcycles just look cool, and this is especially true in the indoor scenes. With their glowing wheels, the Lightcycles create an impressive sight that makes you feel like you're right inside the Tron Legacy movie. Seeing the whole train whip through the digital frontier adds a unique visual element that truly enhances the ride.
Accessibility: Another reason why the back row is great is that it is accessible to more types of riders. Some of the Tron Lightcycle Run trains have onre set of accessible seats in the back row, which are similar to normal roller coaster seats with a lap bar. Not everyone is able to use the motorbike-style seats, so it is great that Disney included this option. You can read more about Tron's accessibility options here.
When requesting the back row on Tron, be sure to specify both the row and the style seat you want: Motorbike or Accessible. The cast members are very familiar with the difference and will be happy to accommodate your request.
Tron's Front Row: A Thrilling View
When Imagineering designed Tron Lightcycle Run, they knew that the front row would be the most popular. Once you reach the loading platform, there's an entire line dedicated for Row 1 that spans the entire length of the load station. For comparison, each of the other rows have enough room for 1/6 of the load station and can fit about four people. This makes requesting the front row on Tron very easy. You won't have to wait to the side, as there is ample space in the Row 1 loading line.
So, does Row 1 live up to the hype? Yes. The front row is definitely worth a ride, mainly for its unique view. Row 1 gives an unobstructed view of the track, and because you are leaning forward on the Lightcycle, it really feels like you are flying. As your Lightcycle reaches top speed on the launch, there's a real mental thrill of having nothing in front of you except for the coaster track. The view is especially incredible as you bank around the outdoor turn, and it adds a bit of unpredictability to the indoor section, as you can't quite see which way you're going.
What's better: Tron's front row or back row?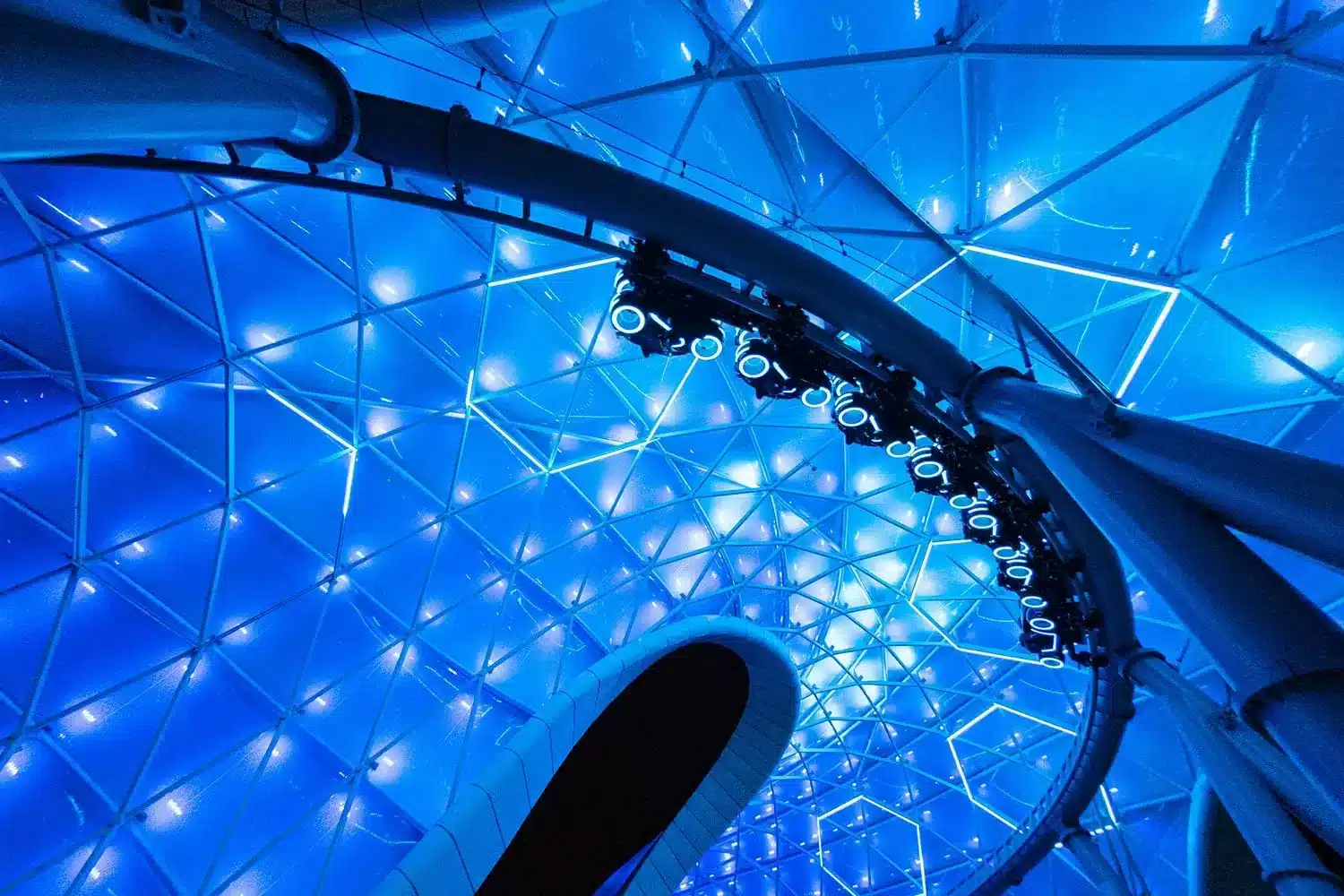 So, what should you pick: front row or back row? You really can't go wrong, as both provide a great experience.
Personally, I give the back row on Tron the edge because it is more thrilling and it is really cool to see the glowing Lightcycles racing in front of you.
However, the front row has an incredible view. And the fact that it feels a little less intense than the back row may be more appealing for you.
Which row is best on Tron for motion sickness?
If motion sickness is a concern for you on Tron, we recommend either the first or second rows. The second row might be slightly better, as having the vehicle in front of you will help you orient yourself in the dark portion of the ride.
However, Tron Lightcycle Run is a very smooth and short ride. I mainly noticed the feeling of speed rather than intense G-forces. So motion sickness is not a significant concern for most guests. For more information, check out our Tron Motion Sickness guide.
Which seat should you pick on Tron Lightcycle Run?
There's no one-size-fits-all answer to the best row on Tron Lightcycle Run. I personally prefer the back row, mainly because it is more intense. Here's a recap of our recommendations.
Back row: Most thrilling and intense ride. Being able to see the Lightcycles in front of you enhances the dark portion of the ride. Accessible seating option.
Front row: Less physically intense seat, but has the most mental thrills due to having nothing in front of you during the launch and indoor portions of the ride.
For motion sickness: request row 1 or row 2.
Ultimately, your choice will depend on your personal preferences and priorities. I definitely recommend requesting either the back row or the front row on Tron. You most likely will only have to wait a couple of extra minutes, and both of these rows provide an enhanced experience.
Here are a few final tips for your adventure into the Grid:
Know how to get on the ride: As a new attraction, Tron Lightcycle Run is using a Virtual Queue at Disney World. There is no regular standby line. You have to either join the Virtual Queue or purchase an Individual Lightning Lane to go on Magic Kingdom's newest ride. You can find out tips on how to join in our Disney World Virtual Queue guide.
Prepare for the unique seating: The motorbike-style ride seat is a unique experience, so make sure to familiarize yourself with the seating process to ensure a comfortable ride. There is a test vehicle in front of the attraction entrance where you can practice getting in the Lightcycle. I explain more about the vehicle type in our Tron Accessibility Guide.
Take in the sights (and lights): Tron Lightcycle Run is a visually stunning attraction. Don't forget to take in the sights, especially at night as the glowing canopy and Lightcycles make for fantastic photo opportunities.
Share your experience: After you've experienced Tron Lightcycle Run, share your thoughts with other Disney World guests in the comments below. Your insights can help others decide which row is best for them and help everyone have an amazing time on this attraction.
So look forward, hold on tight, and get ready for a thrilling ride on the best seats on Tron Lightcycle Run!
---
James is a lifelong Disney Parks fan. While at the parks, he loves finding new details, learning more about Disney World history, and taking pictures. His favorite WDW attractions include Rise of the Resistance, Spaceship Earth, and Tower of Terror.
James is a filmmaker and writer based in Atlanta, GA.
All author posts