"When should we go to Disney World?" That's a question I'm constantly asking myself, along with "How many Mickey Bars can I possibly eat on my next trip?" If you've decided to plan a vacation to the most Magical Place on Earth, you're probably asking yourself the same question. The "when should we go" question, that is (although if you're also asking yourself the Mickey bar question: game recognize game).
It can be a little daunting picking the right time to visit Walt Disney World. You want to pick a time when the weather is nice, the crowds are light, and there's plenty of seasonal events and activities. But also, when you can take time off might not 100% align with when crowd calendars say "Go!"
At Guide2WDW, we have you covered. Based on years of crowd data and our personal experiences, our comprehensive "When to Go to Disney World Guide" is the ultimate resource for planning your dream WDW vacation. From the peak crowds of summer to the enchanting holiday season, we break down the pros and cons of every season to help you make an informed decision that fits your budget, schedule, and preferences.
How to choose when to go to Disney World
There's no one-size fits all answer to the question of when to go to Disney World. The week that works fantastic for my family might be a terrible time to go for you. Everyone has a different schedule, a different tolerance for heat, and a different definition of what "crowded" means.
To figure out the best time for your Disney World trip, think about the following five factors.
When do you have time off? First of all, you should consider when you can actually take time for vacation. Whether you're visiting for a long weekend or you have an entire week off, picking a week where everyone in your family can go is your first order of business.
Know when it's going to be crowded. Nobody likes lines and crowds. So you should definitely figure out when Disney World is going to be crowded. We have tons of info in this guide that will let you know the exact weeks that WDW is historically the most crowded.
Consider the weather. Orlando gets hot, and hurricane season is a thing. In September 2022, Disney World closed for a few days due to Hurricane Ian, which would put a major damper on anyone's vacation. Try to pick a mild month, where temps are lower and rain is less likely.
Seasonal events. Disney World constantly has special events occurring that can help you make magical memories. Every season at Disney World has a different feel to it. This can help you decide when to go if you want to mix things up. For instance, if you visited during the Holiday season on your last vacation, consider going during the Halloween season for some spooky surprises.
Promotions and discounts. Let's be real: a Disney vacation is expensive. But there are plenty of ways to save money. Disney World is constantly running limited time promotions, and everything from park tickets to hotels to even Genie+ has variable pricing based on demand. That means if you plan a trip during the off-season, not only will you encounter lower wait times, but you'll also pay less for your vacation overall.
How far in advance should you plan your Disney World trip?
Part of figuring out when to go to Disney World is considering if you have enough time to plan your vacation between now and when you want to visit.
Ideally, you should start planning your Disney World vacation at least 2 months ahead of time. Personally, we book our vacations anywhere from 90 days to 6 months in advance — and sometimes even further out if we see a good deal come up.
However, we almost always aim to make our vacation plans at least 60 days out. Why?
You also need to make Park Pass reservations. We like to make these around the same time as our dining reservations, so we can coordinate having the right park reservations to go with our dining reservations. At 60 days ahead of time, you can almost always still get any park for any day. If you wait until less than 30 days out, you might have trouble finding Magic Kingdom and Hollywood Studios for certain days. EPCOT and Animal Kingdom tend to have better availability.
Is it still possible to plan a great last minute Disney World trip? Absolutely! We've done it before. Check out our list of the easiest-to-get dining reservations, plus our tips on what to do if you don't have a reservation at Disney World. These are both great resources for planning a WDW vacation with very little lead time.
You can also work with a travel agent like our friends at Vacationeer who will help you get everything booked, including your hotel, dining reservations, Park Passes, and more – for no extra cost to you. They've planned countless Disney World trip both months and just days in advance, so they'll make sure you have a magical time no matter how far in advance you are planning your trip.
When is Disney World the most crowded?
Spring Break, the Holidays, three day weekends. The times when most Americans have breaks from work and school are typically the most crowded times at Disney World.
After visiting Disney World for decades and studying years of crowd data from Thrill-Data.com, there are some definite patterns for when crowds show up in force at WDW.
Presidents' Day Weekend – Four score and seven years: that's what the wait time for Seven Dwarfs Mine Train will feel like this weekend. You may have heard to visit Disney World in February since it's the off season. But February is actually a pretty crowded month, thanks in part to Presidents' Day Weekend. The weeks surrounding this national holiday are two of the most crowded weeks of the year at WDW. Plus, runDisney also hosts the Princess Half Marathon at this time.
Spring Break – Several weeks throughout March, Spring Break crowds arrive ready to party at Disney World's theme parks.
Summer – Starting Memorial Day Weekend through the beginning of August, families visit Disney World for summer vacation. These months are actually not quite as crowded as the other times on this list, as the summer heat has helped to keep some people away. But this is still among the busiest times of the year.
Thanksgiving Week – While Thanksgiving used to be a great time to visit Disney World, it's now one of the busiest weeks of the year. Expect a side of long wait times with your turkey if you visit this week.
The Holidays – Tis the season for crowds at Disney World. From the middle of December through New Year's Day, expect to encounter some of the busiest days at Disney World. This is especially true the week between Christmas Day and New Year's Eve.
There are a few events that can also attract crowds and inflate wait times at Disney World
EPCOT Festivals – EPCOT runs four festivals a year: Festival of the Arts, Flower and Garden, Food & Wine, and Festival of the Holidays. EPCOT gets really busy whenever these events start, as well as weekends throughout the festivals — Food & Wine Festival, especially.
runDisney race weekends – unless you plan on running in one of the runDisney events, try to avoid Disney World on these weekends. The parks are overrun with very healthy and accomplished people, and it's hard to get in line before them: they're fast!
New attraction openings: Whenever a new attraction opens at Disney World, expect an influx of crowds that initial day or week. We expect crowds to be sky high when Tron opens and both Happily Ever After and EPCOT Forever return in the beginning of April.
You can find out more in our article about The Busiest Weeks of the Year at Disney World. If you can only visit Disney World during one of these times, be sure to check out our article on How to Beat the Crowds at Disney World and our Disney World Time Saving Tips, so you can maximize your time in the parks.
When is Disney World the least crowded?
If your schedule allows for it, try to pick a week where crowds are light at Disney World. Typically, you'll find that lines are shorter, tickets are cheaper, and deals are more plentiful. The only downside to visiting during the off-season is that Disney will usually schedule ride refurbishments or pull back on in-park entertainment when crowds are at their lowest.
Here are the least crowded times to visit Disney World:
Certain weeks in January: The first month of the year usually has some great days to go to WDW, especially the week following the New Year's Day holiday when most of the world is getting back to school and work. Two major exceptions to this are the WDW Marathon Weekend and Martin Luther King Jr. Day Weekend, which are both very crowded.
Late-April to Mid-May: There's a bit of a lull between Spring Break and Summer Break. This is a great time to go to Orlando, because you can experience the parks with pretty reasonable weather and good wait times.
Mid-August through early October: Once school is back in session in the late summer and early fall, Disney World has its lowest wait times of the years. Orlando also has its hottest days of the years, and there's the biggest risk of a hurricane blowing through. If you don't mind the heat and chance of rain, this can be a great time to go.
End of October / Early November: Crowds pull back around Halloweentime. While crowds aren't quite as low as August, September, and early October, this can be a better time to go for two reasons: First of all, the weather cools off a bit. It can still get hot, but it's much more manageable. Secondly, if you time your vacation right, you can see both Halloween decorations and Christmas decorations at Magic Kingdom.
Late November / Early December: There's a few weeks between Thanksgiving and Christmas that are absolutely awesome to visit Disney World. You can experience all of the Holiday decorations and festivities without dealing with the massive crowds. Wait until the week after Thanksgiving, and you can simply have a wonderful Disney time during the holidays.
You can read more about the best times to go to Disney World this year in these articles:
What days should you go to which Disney World theme park?
Even once you've picked the perfect week to visit Disney World, you still need to do a bit more planning. You need to decide which park you want to visit each day of your trip. This is an essential step in planning a WDW vacation, thanks in large part to the Park Pass reservation system.
However, planning which days of the week you want to visit each park comes with a huge advantage if you do it right. You can pick the days when each park is the least crowded.
We've reviewed years of wait time data, and here are our conclusions:
Monday is the most crowded day at Disney World, especially at Magic Kingdom and EPCOT. Mondays are a bit better at Hollywood Studios and Animal Kingdom, but it may be an even better idea to spend your Monday at a water park or Disney Springs instead of going into a theme park.
Tuesdays are also pretty crowded, especially at Hollywood Studios.
Wednesday is another crowded day at Magic Kingdom, due to Extended Evening Hours. Wednesday is a great day to visit any of the other theme parks.
Thursday is our favorite day for Magic Kingdom and Hollywood Studios.
Friday is great at Magic Kingdom and EPCOT.
Saturday is a surprisingly great day at all of the theme parks, especially Hollywood Studios and Animal Kingdom.
You can have a Sunday Funday at Magic Kingdom and EPCOT.
These are just overall takeaways. Crowd patterns shift from month to month, and even week to week. We have much more information and advice for each park in each of our Best Days to Visit sections:
When does Disney World have special events?
Disney World's special events add magic and wonder to any vacation. Seasonal celebrations like the EPCOT festivals, Mickey's Not-So-Scary Halloween Party, and Mickey's Very Merry Christmas Party immerse you in themed decor, fantastic entertainment, and limited-time food. These experiences can let you experience Disney World like never before.
Here are all the events happening at Disney World throughout the year. For specific dates and details, check out our Disney World Events page.
Disney World Weather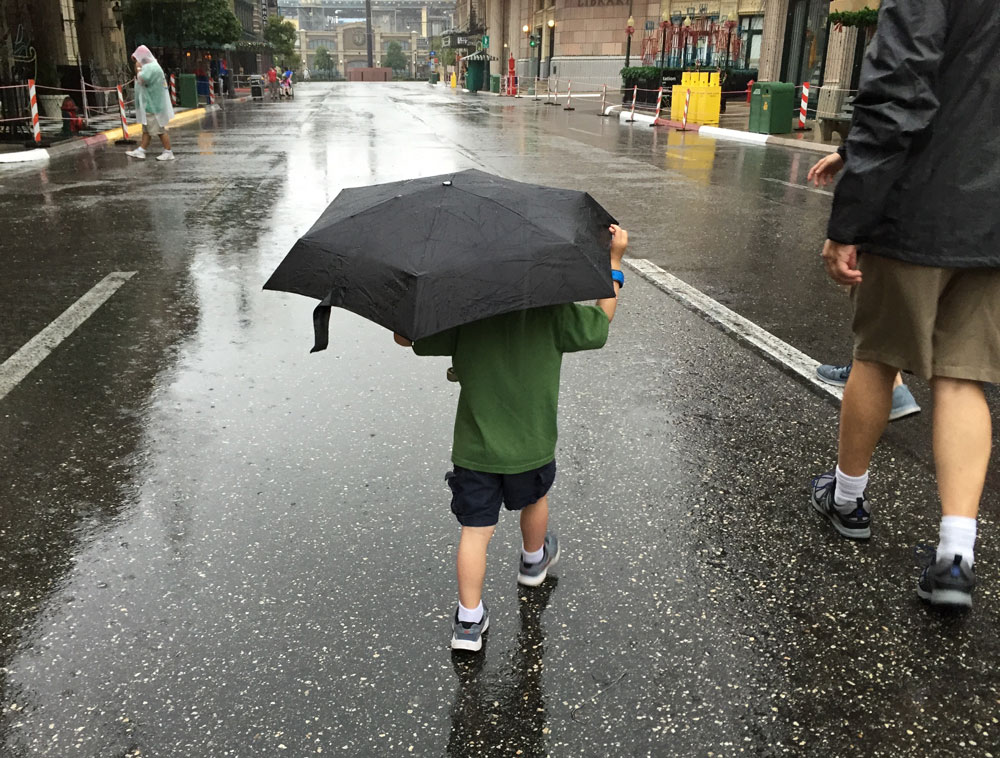 When planning your Disney World vacation, it's important to not only think about crowds. Also consider the weather throughout the year. Orlando, Florida's hottest and most humid months are summer and early fall, with temperatures often in the 90s and frequent afternoon thunderstorms. For the most pleasant weather, visit late fall, winter, or early spring. Mornings and evenings can be chilly, so pack a jacket.
As we share in our Best Months to Visit Disney World article, here are the average temperatures by month for Disney World, according to Weather Spark.
| | Average High | Average Low |
| --- | --- | --- |
| January | 71° | 52° |
| February | 75° | 56° |
| March | 80° | 61° |
| April | 84° | 66° |
| May | 88° | 72° |
| June | 89° | 75° |
| July | 90° | 75° |
| August | 90° | 76° |
| September | 86° | 72° |
| October | 80° | 64° |
| November | 75° | 58° |
| December | 71° | 53° |
How to make anytime the right time to visit Walt Disney World
When planning your trip to Disney World, try to pick a time that features a mix of low wait times, good weather, and a fun seasonal event to make the most memorable vacation possible.
But even if you can't visit when wait times are at their lowest or the weather is perfect, Guide2WDW is here for you to make sure you have the best vacation possible. We have a ton of free guides and tips, such as our Disney World Lightning Lane Guide so you can maximize your time while in the parks.
No matter what time of year you're visiting, you should consider working with a travel agent for free vacation planning. We recommend our friends at Vacationeer. They specialize in all-things Disney, and they can help you get coveted hotel rooms, dining reservations, discounts with no extra cost to you.
Don't miss the other entries in our When to Visit Disney World Guide.
---
James is a lifelong Disney Parks fan. While at the parks, he loves finding new details, learning more about Disney World history, and taking pictures. His favorite WDW attractions include Rise of the Resistance, Spaceship Earth, and Tower of Terror.
James is a filmmaker and writer based in Atlanta, GA.
All author posts