The 175 Best Disney World Tips for 2023
Going to Disney World in 2023 can be magical… and daunting. A Disney World vacation is a big purchase for any family. Between airfare, hotels, tickets, food, and souvenirs, most families will spend thousands of dollars on their WDW vacation. That's why some people can find it stressful to plan a Disney trip. Fortunately, Guide2WDW is here with our 175 Best Disney World Tips & Tricks for 2023.
We've curated hundreds of Disney World tips on our site over the last 20 years. From quick bits of advice to clever hacks to must-know info, these tips will help you maximize your time, save money, and have more fun at Disney World. In fact, we have over 400 Disney World tips across our tips pages.
This article features the tips that we consider to be the most vital to know. If you're planning a Disney World vacation, this is a great place to start. You can go more in-depth with our other tips pages, as well as our Disney World Guides.
Our 175 Best Disney World Tips & Tricks are divided into categories, each with a page with even more tips and tricks.
The Best Disney World Tips – General Tips & Tricks
The Best Disney World Tips – General Tips & Tricks
1) How to Rope Drop at Disney World. Rope dropping the Disney World parks is one of the best ways to enjoy short wait times during your vacation. What does Rope Drop mean? This refers to already being at the park when the attractions open, and WDW Cast Members "drop" the rope that keeps guests from getting further into the park. The best way to Rope Drop is to actually get to the park at least 30 minutes before opening. Disney World's theme parks will let guests in early and queue up in front of the most popular attractions. In some cases, the rides start operating a few minutes early. If you get to the park exactly at opening, you'll be well behind guests who took advantage of rope drop procedures at WDW.
2) Take a Break in When Lines are the Longest. Disney World lines are shortest in the morning and evening, and lines are longest in the afternoon. This coincidentally happens to be the hottest part of the day. The middle of the day is a perfect time to take a break: make a reservation for a leisurely lunch, enjoy one of the air conditioned shows at the parks, or head back to your hotel for a nap and a swim. You'll feel much more energized for the rest of your day.
3) Plan a break day in the middle of your vacation. With so much to do at Disney World, you can easily pack every day within a week with activities and meals. However, a WDW vacation is a marathon. Each day, you will take 20,000-40,000 steps, and you can spend 10-12 hours inside the theme parks. This can be exhausting. So, in addition to taking a break each day, we recommend taking a break day in the middle of your trip. Enjoy your hotel's amenities or take a trip to Disney Springs.
4) You don't have to leave immediately at park closing. If you're in line for a ride as the park closes, you'll still be able to go on the ride. Also, the shops on Main Street stay open an hour after park closing. So you don't need to rush out of the park right at closing. In fact, we love to take our time going down Main Street at night, as it's a relaxing way to cap off the day. Here's more on why you can stay inside Disney World parks past closing.
5) Get your button on! Disney World offers complementary buttons for birthdays, first visits, anniversaries, honeymoons, or any celebration. Not only is this a nice souvenir, but if you wear your button, a Cast Member will sometimes give you special attention if you're lucky — anything from a friendly personalized greeting to a free dessert. You can get these buttons at Guest Services in each park, at a checkout counter at some Disney World stores, or at the front desk of a Disney hotel.
6) Don't wait in a long line for your Celebration Button. Don't spend a ton of time in line at Town Hall to get your personalized button. At Magic Kingdom, there's a cart outside Town Hall with free buttons, and a much shorter wait. Disney shops and the front desk at your hotel are also better bets for short waits, although they may not have some of the more specific buttons.
7) Other Freebies at Disney World. Free may not be the word you think of most when it comes to Disney World, but there are actually a ton of great extras you can get for free during your vacation. From stickers to scavenger hunts to art classes, Disney World has a ton of free experiences and souvenirs. Check out our full list of the Best Free Things at Disney World for a complete list.
8) You can request the front row or back row on certain rides. If you want to feel the most intense ride on Big Thunder Mountain, request the back row. If you want the best view of Seven Dwarfs Mine Train, request the front row. Cast members will accommodate these requests, although you may have to wait a few minutes longer. Find out where else this makes a difference in The Best Places to Sit on Disney World's Best Rides.
9) Download the Disney World app, and make sure it's up to date. If you want to get the most out of your Disney World vacation, you'll need to have the latest version of the Disney World app: My Disney Experience. It's where you can make and manage reservations, use Genie+ and Lightning Lane, and find park maps. If you've never downloaded it before, you can get it from the Apple App Store for iPhones and other iOS devices, or the Google Play store for Android phones.
10) Pack an extra battery. A portable power bank that can charge your phone is a must-pack item for Disney World. Because your phone can act as your park ticket and manage your entire WDW vacation, you'll want to make sure it can last the whole day. Between using My Disney Experience and taking pictures, a day at Disney World is a killer on your battery. We recommend this battery, which is small enough to fit in your bag, but can charge multiple devices on one charge.
11) Find wait times. Knowing the wait times at Disney World can help you determine what you should do next in the parks. You can find a live reporting of wait times in the My Disney Experience app. Press the Map pinpoint button to pull up a map with the current wait times. It's the second icon from the left on the bottom menu in the app. You can also click "Show List" on the top right corner to change from the map view to a list view. Wait times will also be posted at Tip Boards throughout the parks.
12) Always ask for PhotoPass Magic Shots. PhotoPass is a great way to get pictures with your favorite characters or in front of Disney World's iconic features. But did you know that there's a way to get even more magic out of your Disney pictures? When getting your picture taken from a PhotoPass photographer, always ask if they can do a Magic Shot. This is a special picture where Disney will add in a fun element. You might suddenly have balloons in your hand, or Tinkerbell might show up on your shoulder. These special shots are location specific: You can pose with Grogu in Galaxy's Edge, or you can see a Banshee flying over your picture at Pandora. Sometimes the PhotoPass photographer will offer up a magic shot pose on their own, but the best way to get the most magic shots is to always ask your photographer if they are doing any special or magic shots. They are almost always happy to oblige (unless there's a technical reason), and you will end up with some very unique vacation photos.
13) No Plastic Straws. Disney World has gotten rid of all plastic straws in favor of paper straws. Great for the environment. Terrible for sipping on a smoothie. Avoid the pain of having a paper straw disintegrate one minute into getting your Joffrey's Iced Coffee by investing in a set of reusable silicone straws or metal straws. These are eco-friendly and will save you a lot of frustration as you dine around the World Showcase.
14) Never pay for water bottles at Disney World. Counter service restaurants will always give you a free cup of ice water. You don't have to purchase anything. Just ask.
15) You must make Park Pass reservation. Going to Disney World has changed significantly over the past few years, and the biggest change is the Park Pass reservation system. Park Pass Reservations are required for entry into the park in addition to theme park tickets. You need to make a reservation for every day of your trip, and your reservation will be for a specific park. If you have a single park per day ticket, that will be the only park you can visit that day. If you have a Park Hopper ticket, your reservation determines which park you must enter first. Find out more about Park Pass Reservations here.
16) BYOP: Bring Your Own Poncho. If you are planning to go to WDW during the summer, be prepared for afternoon and evening showers. It's a good idea to bring your own poncho. Of course, you can buy a poncho at Disney World, but those can sell for $10 each. Amazon sells a poncho pack of 10 for around $13-15, a huge savings over spending $40-$50 for your whole family at WDW.
17) Disney World's Best Rides. If you've never been to Disney World, the amount of things to do can be overwhelming. There's just too much to do for one vacation. So don't miss out on the best rides. We have a ranked list of every attraction in each park. These lists will help you pick which rides to prioritize, from quintessential classics like Haunted Mansion and Spaceship Earth to jaw-dropping new rides like Star Wars: Rise of the Resistance and Guardians of the Galaxy: Cosmic Rewind.
18) Must Know Lingo. When you go to Disney World enough, you'll find yourself saying odd phrases. Here are some of the specific terms that Disney World uses and what they mean.
ADR: This stands for Advanced Dining Reservation. It means a reservation at a table service restaurant at Disney World.
Lightning Lane: This is the term for the priority line that has a shorter wait. This used to be called the FastPass line.
Virtual Queue: Disney World uses a Virtual Queue for new rides during their opening period. It's a line that you join via the My Disney Experience app, and then you will be alerted on your phone when it's time to go on the ride. You can read all about this in our Disney World Virtual Queue Guide.
Standby Line: This is the regular line, where you get in the back of the line and wait until it's your turn to get on the ride.
DVC: Disney Vacation Club, which is Disney's version of a timeshare.
MDE: Short for My Disney Experience, which is the Disney World app.
AP: Annual Passholder. APs are guests with annual passes to WDW.
Magic Kingdom Tips
19) A popular place to head first at Magic Kingdom. If you're set on riding Seven Dwarfs Mine Train or Peter Pan's Flight, these are good rides to do right at rope drop. They are two of the most popular rides in the entire theme park, and lines can get long very early in the day. The back left of the park is Frontierland, where you can find Splash Mountainand Big Thunder Mountain Railroad. These are two extremely popular rides that you can get on with almost no wait first thing in the morning. Thanks to Diane for submitting this tip!
20) Use the Resort Monorail when leaving. When everyone is leaving the Magic Kingdom, the monorails tend to get very crowded. Most people head toward the Transportation and Ticket Center monorail, which takes you directly to the Magic Kingdom Parking Lot. This is the first monorail to the right, and it's always crowded. Just past that is the Resort Monorail. Use the resort monorail! The first stop is the Contemporary, but but stay on! The second stop is the Transportation and Ticket Center. This way is a lot faster, and you don't have to deal with all the crowds.
21) Do not visit Magic Kingdom on a Monday.It is packed! For many people, Magic Kingdom is the first park they go to, which makes the days or day after most people arrive typically very crowded. Tuesdays, Wednesdays, and Thursdays are always better for the Magic Kingdom. Instead, visit one of the other three parks on Monday, as they will be much less crowded.
22) Ride Big Thunder Mountain Railroad at night.I'm not sure exactly what the scientific reason is, but Big Thunder feels more thrilling at night. The experience is just enhanced, and it almost feels like going on a different ride.
23) A Haunted Mansion line trick. Here's where to stand in the stretching room on Haunted Mansion. This is the room with "no windows and no doors" that has all the painting that stretch. You'll enter this from a room with a fireplace and a creepy portrait. As you enter, stick to the side closest to the fireplace. There are actually two stretching rooms side by side, and the exit is always between them. This will help you board the ride faster. The other way to find this spot is to stand directly under the painting of the woman holding a parasol on a tightrope.
24) A strategy for riding all the Magic Kingdom Mountains.  If you're a thrill seeker, getting on Space Mountain, Splash Mountain, and Big Thunder Mountain in a single day is an accomplishment. One strategy would be to go to Frontierland at the very beginning of the day and go on Splash and Big Thunder back to back. They are located next to each other, and this part of the park will be less crowded. If you purchase Genie+, then make your first Lightning Lane reservation for Space Mountain. If you don't have Genie+, Space Mountain will still have moderate wait if you book it across the park, or hit up Space Mountain after the fireworks at night for a shorter wait.
25) Head to Frontierland for less crowded parade viewing.  Most people line up for the parade or character cavalcades along Main Street, which runs from the Town Square to Cinderella Castle.
26) Looking for a first roller coaster for your child?  The Barnstormer in Storybook Circus is Disney World's mildest roller coaster. It features just one lift hill. Another option is Seven Dwarfs Mine Train, which features two lift hills, plus a mini drop right at the beginning. The scene inside the mine features all of the dwarfs as animatronics, which might help kids from feeling too scared. Big Thunder Mountain has three hills and is probably too intense for most kids to have as their introduction to roller coasters.
27) See premium Christmas entertainment without paying extra. Magic Kingdom's Christmas Party is an extra fee event, featuring special holiday fireworks and a Christmas parade. If you want to see these without buying a ticket for the special event, visit Magic Kingdom from Dec 23 – Dec 31. Disney typically runs the holiday parade and fireworks for all guests on these dates, but check the Disney World app to confirm showtimes.
28) Pay attention to holiday party dates.  During the fall and winter, Magic Kingdom hosts two ticketed parties: Mickey's Not So Scary Halloween Party and Mickey's Very Merry Christmas Party. These are held on select nights, and they close the park at 7 pm for non-party goers. If you are visiting Magic Kingdom September-December, pay attention to the dates of the parties. If you don't have a park hopper, be sure to visit Magic Kingdom on a day that the party doesn't occur, as you will have much less time to visit the park.
29) Find out when the parades and fireworks are scheduled:  Knowing when the parades and fireworks are scheduled to happen is vital for planning your day at Magic Kingdom. This is true even if you have no interest in watching either of these entertainment offerings. Both the fireworks and parade cause a ton of traffic on Main Street, USA, which is where you enter and exit the park. Don't plan on arriving or leaving the park during these shows, as it will be a pain to navigate the crowds. You can find out the parade and fireworks times in the My Disney Experience app or on the times guide that they give out at park entrance.
Find our full list of Magic Kingdom Tips here: 50 Magic Kingdom Tips for 2023
EPCOT Tips
30) EPCOT actually has two entrances.  Most people know about EPCOT's main entrance, which is located in the front of World Celebration by Spaceship Earth. However, many guests don't realize that EPCOT has a second entrance in the back. EPCOT's International Gateway entrance is located between the United Kingdom and France Pavilions. You'll head through the World Gateway if you're using the Skyliner, or if you are coming from one of the EPCOT area resorts by boat or by foot.
31) You can walk to EPCOT. I love to stay at one of the EPCOT area resorts, because they are all a short walk to the International Gateway entrance. You can walk to EPCOT from any of these resorts:
Boardwalk
Yacht Club
Beach Club
Swan & Dolphin
You can even walk from Hollywood Studios, although that is a bit of a longer stretch. You can read more about the different ways to enter the park in How to Get to EPCOT.
32) Avoid Festival Weekends. EPCOT now runs festivals throughout the year. These are extremely popular with locals, especially the Festival of the Arts, the EPCOT Flower & Garden Festival, and the EPCOT Food & Wine Festival. EPCOT is mobbed on Fridays and the weekends during these events. If you're visiting during these times, stick to Monday – Thursday. If you visit on Friday-Sunday, try to only go in the mornings to avoid crowds.
You can find out the dates for EPCOT Festivals on our Disney World Events page.
33) Avoid runDisney Race Weekends. runDisney hosts its Post-Race Party at EPCOT. While the party starts at 10 PM, runners and their guests can enter the park as early at 5 PM. EPCOT will be packed with people who are extremely motivated and looking to carbo-load after the big race.
You can find out the dates for runDisney races on our Disney World Events page.
34) Become a World Showcase explorer.  When you're at the World Showcase at Epcot, explore every inch of every country. You'll find so many fun things just off the beaten path, most without any sort of line.
35) Don't miss Mexico!  Mexico's pavilion is actually located indoors, and it is beautiful inside! Some guests actually don't know that the pyramid is the entrance to the Mexico pavilion. Inside, you'll find a fun boat ride called the Gran Fiesta Tour starring the Three Caballeros. There's also Cava del Tequila,  a small tequila bar that serves up the best margaritas at Disney World
36) EPCOT has an amazing aquarium. The Seas with Nemo and Friendspavilion in World Nature is actually the second largest aquarium in the United States. You can see dozens of species of aquatic life, from manatees to dolphins.
37) How to ride Guardians of the Galaxy: Cosmic Rewind.  There are currently two ways to ride EPCOT's new roller coaster. You can join the virtual queue at 7 am or 1 pm (or 6 pm on certain days for guests eligible for Extended Evening Hours). Currently, the 1 pm virtual queue allotment is easier to join than the 7 am opening. Read all about how to join the virtual queue at Disney World here . The other way to ride Cosmic Rewind is to purchase an Individual Lightning Lane . Be sure to purchase that early in the day, as Lightning Lane does sell out for this attraction.
38) Don't get on the wrong line in Mission: SPACE.  Mission: SPACE actually has two different ride experiences. There's the Green Mission, which is a mild simulator. Then there's the Orange Mission, which spins you in a centrifuge to simulate the g-forces of taking off in a rocket. Orange Mission is extremely intense . While there is a lot of signage to tell you the difference, but just be sure to know which experience you're in for.
39) The best place to sit on Soarin'.  Soarin' is an amazing attraction, but some seats are way worse than others. If you sit on the bottom and to the side, the screen will look warped, and you'll see other guests' feet in your face. Be sure to sit in the middle section on the top row. This is Section #2. Just ask the cast member that you want to sit in the top middle, and they'll know what to do. You might have to wait a little longer, but it's worth the extra wait for a pristine Soarin' experience.
40) Get free international Coke samples.  At Club Cool at Epcot , you can sample Coca Cola products from around the world for free. This is a great way to get a cool refreshing treat for free, and it's one of the best free things at Disney World.  But be warned: Try Italy's Beverly at your own risk. It is extremely bitter.
41) A quick and delicious lunch in the UK.  Fish and chips are an iconic staple of British cuisine. They are excellent at the United Kingdom at Epcot — but don't go in the Rose and Crown Pub . Try Yorkshire County Fish Shop , the food stand located right next to it (towards France). It's a cheaper and faster option, which leaves you more time to experience Epcot!
42) Get your Festival Passport stamped.  On the first day you go to EPCOT, get a Festival Passport at the park entrance. This will include all the menus for each food booth, as well as details on special activities going on throughout the theme park.
43) A tray is your friend at the EPCOT festivals.  Going to Epcot during one of the many festivals that features food booths? A tray can be a very handy item, especially if you order multiple items at a booth. You could bring your own from home, or purchase one at a Festival gift shop. But here's a tip for a free tray: Yorkshire County Fish and Chips gives out trays with their meals. Have Fish and Chips for lunch, save the tray, and enjoy more convenient dining at the Food Festival booths for dinner.
44) You can do the scavenger hunt for free. The EPCOT Festivals often feature a scavenger hunt throughout the World Showcase. For a fee, you get a map with stickers. When you complete the map, you can turn it in for a small prize. This is an awesome activity for families to do as they go through the World Showcase, but you don't actually need to pay to play the game. Just look out for the special item located in each country. Look out for Figment hiding in each pavilion during the Festival of the Arts. During the Flower & Garden Festival, look for Character Eggs. And seek out Remy during the Food & Wine Festival.
You won't get a prize this way, but you can still have fun finding the hidden characters.
45) Pay attention to the direction of the wind for Harmonious. When choosing a spot to watch EPCOT's fireworks, be sure to take the wind into account. A prime spot on the water along World Showcase Lagoon is worthless if the wind is blowing in your face. All you'll see is smoke.
Head toward where the wind is blowing from so that the smoke from the fireworks will blow away from you as you watch the show.
46) The best Harmonious views. Harmonious features a giant screen in the middle of the World Showcase lagoon. While you can watch the show from anywhere around World Showcase, you'll get a better experience watching from the pavilions that face the screen head on, like Italy and Japan.
The area at the front of the World Showcase between Canada and Mexico is also prime viewing. There's a large viewing area between the Disney Traders and Port of Entry shops.
Find our full list of EPCOT Tips here: 52 EPCOT Tips & Tricks for 2023
Hollywood Studios Tips
47) Hollywood Studios Rope Drop Strategy. You have two main options when it comes to Hollywood Studios rope drop. This strategy will work best if you are a Disney World Resort or Good Neighbor Hotel guest and have access to Early Morning Entry. Arrive to the park at least 45 minute-1 hour before park opening, because Early Morning Entry lets you get on rides 30 minutes prior to opening. Either head toward Rise of the Resistance or Slinky Dog Dash, as those are the two most popular rides in the park. Don't worry if the line looks long at this point, because they won't start filling the actual queue until around 30-35 minutes before the listed opening time. After those major rides, either head to Millennium Falcon or Mickey & Minnie's Runaway Railway as your second ride.
48) A backup plan for Rise of the Resistance. If you rope drop Rise of the Resistance and the ride is broken down, Millennium Falcon: Smuggler's Run is a good alternate option since it is so close.
49) 13 is a lucky number at Tower of Terror. If you're superstitious, 13 can be a spooky, scary number. But if Disney's Hollywood Studios, 13 can be a green light to go on one of Disney World's best rides with no wait. At Tower of Terror, if there's a posted wait time of exactly 13 minutes, it's code that there's almost no wait at all. When there's a 13 minute wait posted, it usually means you can walk straight through the line and into the pre-show room almost immediately, so a 13 minute wait may actually mean a 5 minute wait or shorter. This is a fun way that Disney adds theming even to the wait times, and it's a nod to Disney World pros that they should put a dead stop to their current plans and go on this spooktacular rides.
50) Get a Toy Story Midway Mania High Score: Get your score up on Toy Story Midway Mania. On each screen you can open up special scoring areas if you hit certain items:
Hamm's screen – shoot the horse in the barn and then hit the mice. Get them all and lots of mice appear. Alternatively, just keep shooting the fox and the hens in the corner, then hit the pigs right above it and the cat that appears behind the pigs (it eventually is worth 2000).
Volcano screen – hit the lava (1x, then 2x, then 3x). Then hit the meteors in both corners (3x). Hit the red balloon in the center of the meteors that comes down to score big.
Army screen – hit the two plates that fly up from the valleys on either side of the center. A tank will appear and throw plates worth 5000 each – and 4 plates worth 2000 each appear on both sides.
Alien screen – hit the 7 aliens before they pop back up (in the center of the screen). Then shoot into the mouth of the big alien that appears – initially worth 100 each, but eventually worth 2000 each.
Old West screen – open up all the targets and then close them all. Then all the targets open up with 2000 points each.
Moving to the mine car: shoot the two 500's and a 2000 appears.
Mine cars – don't forget to get the bats above the cars (1000 then 5000). Also, hit every car and the last ones are worth 5000.
My personal best is a little over 300,000 doing the above. I see people who score over 500,000, but I am not that good. Read more about my strategy for a high Toy Story score here.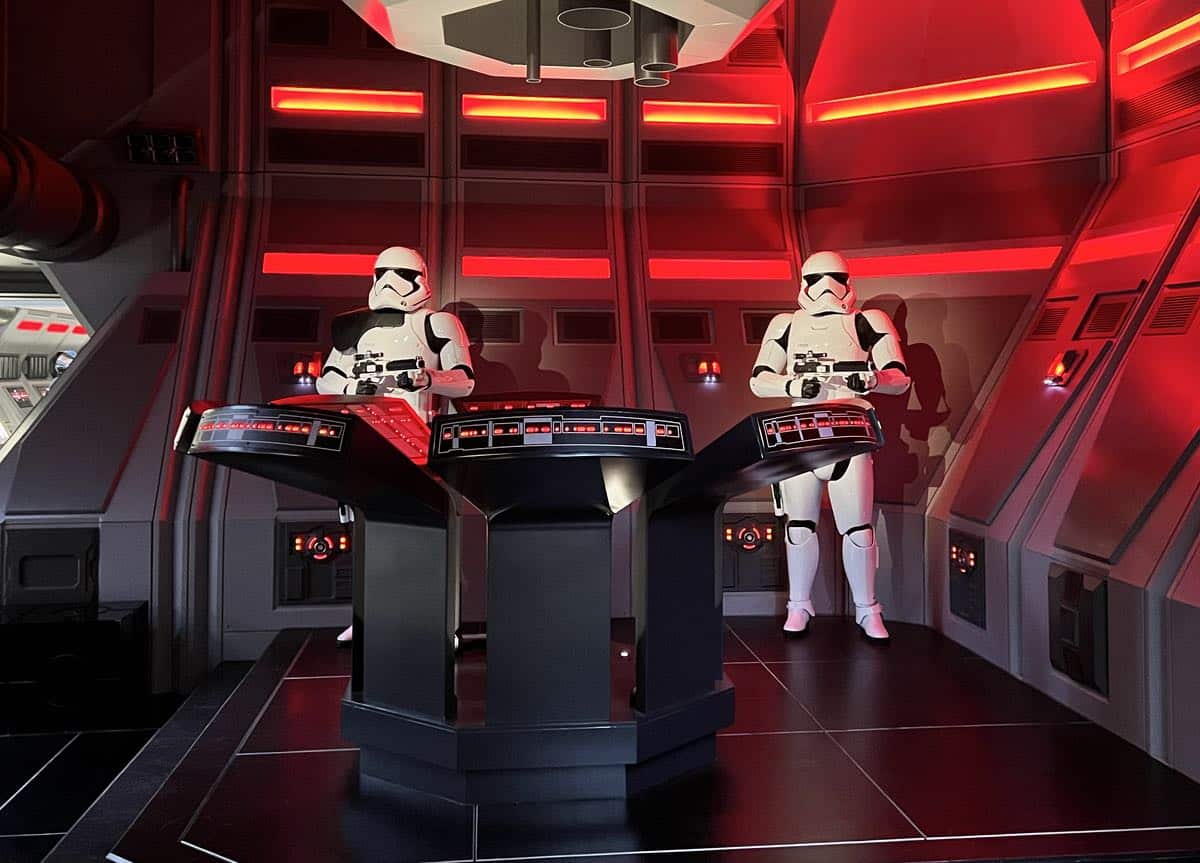 51) Worried about the intensity of Star Wars: Rise of the Resistance?  Star Wars: Rise of the Resistance has unexpected turns, some swift movement, and even a small drop. However, the ride is very approachable, even for guests who don't like thrill rides or suffer from motion sickness. You can read a full ride description in our Rise of the Resistance Motion Sickness Guide .
52) Rise (and shine) of the Resistance. Individual Lightning Lane for Rise of the Resistance sells out very quickly, sometimes before reservations open up for non-resort guests at park opening. If you want to buy a Rise of the Resistance Individual Lightning Lane, be sure to do so as early as possible.
53) Be prepared to fly the Millennium Falcon. Millennium Falcon: Smugglers Run is basically a giant video game, and it features three distinct roles: Pilot, Gunner, and Engineer. How smooth your ride goes depends on how well you perform in your role. Check out our Millennium Falcon: Smuggler's Run guide for tips on how to best fly the fastest hunk of junk in the galaxy.
54) Get reservations, you must. Three of the marquee experiences at Star Wars: Galaxy's Edge pretty much require a reservation. Oga's Cantina is one of Disney World's hardest to get dining reservations, and it's one of our favorite bars at Disney World.  Savi's is a premium experience where you build your own lightsaber. The Droid Depot lets you build a remote control R2 or BB unit droid. While walk-ups will sometimes be accommodated, it's highly recommended to make a reservation ahead of time.
55) Oga's Cantina stays open late. Oga's Cantina actually has operating hours through an hour after park closing. So party the night away with DJ Rex!
56) Use the Datapad for More Fun. Before you go to Hollywood Studios, download the Play Disney Parks app. The Star Wars Datapad is a game within the app that turns Galaxy's Edge into a giant scavenger hunt. Completing missions within the app will trigger special effects in the land, and you'll learn more about the story behind the characters and shops you visit.
57) Looking for a quick and affordable meal? The Ronto Wrap at Star Wars Galaxy's Edge is an awesome quick bite. It's easy to eat on the go, it's very filling, and it's cheaper than most meals at quick service restaurants. They also offer breakfast and plant-based versions.
58) Slinky Dog Dash is surprisingly intense! With two launches, Slinky Dog Dash is actually a bit more intense than it looks. If your child has no issues with Seven Dwarfs Mine Train or Space Mountain, Slinky Dog Dash is probably an appropriate thrill level for them. If other coasters give your child issues, don't be fooled by the Toy Story theming.
59) What to do with kids at Hollywood Studios. With so many thrill rides and rides with height requirements , you may think that you can skip Hollywood Studios if you have kids. In fact, there's a ton to do at Hollywood Studios that's kid-friendly. Make Mickey & Minnie's Runaway Railway your number one priority, as it can get long lines. Toy Story Mania and Alien Swirling Saucers are also great rides that are approachable for littler kids. Then focus on the shows and entertainment at Hollywood Studios, such as Lightning McQueen Racing Academy and the Frozen Sing Along. Many of these attractions will have shorter waits because most guests will be focusing on the bigger rides.
Find our full list of Hollywood Studios Tips here: 34 Hollywood Studios Tips & Tricks for 2023
Animal Kingdom Tips
60) Take time to explore at Animal Kingdom. Animal Kingdom was designed with a different philosophy than Disney World's other theme parks. The entire park was designed to cater to your sense of discovery and adventure. While AK has enough big rides to satisfy theme park fans, I find that this park is best taken in through spontaneous exploration. Yes, you should plan your day around the big attractions. But also take time to explore the walking trails and take in the intricate details.
61) Pay attention to Animal Kingdom's closing time. Animal Kingdom used to close much earlier than other Disney World parks. When Pandora: The World of Avatar opened, Animal Kingdom's operating hours got extended into the evenings. However, Animal Kingdom still tends to close the earliest of all of Disney World's theme parks. Keep this in mind as you plan your vacation, especially if you're park hopping  to Animal Kingdom.
62) Animals are most active in the mornings. Another reason why it's great to visit Animal Kingdom early in the mornings is that the animals tend to be the most active then. The animals will be eating, roaming, and playing earlier in the day. In the afternoon, many animals will seek shade or shelter if it's a hot day.
63) Hotter and more humid at Animal Kingdom. Speaking of the heat, the final reason why going to Animal Kingdom early in the day is that this park feels hotter than the other parks. Animal Kingdom has denser vegetation than the other parks, so it has a rainforest-esque effect that blocks breezes and holds in humidity. So be prepared! Wear cool clothes, pack a reusable water bottle, and bring a Frogg Togg cooling cloth.
64) Wear good walking shoes! While good walking shoes are a must-pack item for Disney World in general, it's especially true at Animal Kingdom. Many of the paths at Animal Kingdom were designed to be uneven to mimic nature. Unfortunately, a side effect of this realism is that walking around AK can be unforgiving to your feet. Wear shoes with good support as you hike around the Kingdom.
65) One of Animal Kingdom's best rides is different at night. Kilimanjaro Safaris offers a nighttime version, with special lighting and different animals wandering the savanna. If you've only been on Kilimanjaro Safaris during the day, visit it at night. It feels almost like a different ride.
66) Where to find Animal Kingdom's secret animal path.  As you are on your way to Harambe Village at Animal Kingdom, keep your eye out for the last path to the right after the Tree of Life and before the bridge to Africa. This is Animal Kingdom's "secret path." The front of path is filled with a lot of vegetation so you might have to look hard. Yes, it is open to the public. Follow the path for a close look at the Tree of Life and for some great photo spots. Not many people know about this path so you will have a lot of time to yourself and will not be interruptions when you are taking photos.
67) An entertaining spot to watch monkeys swing around.  One of my family's favorite places to stand and watch animals is near the entrance of Kali River Rapids. There's a large habitat where a family of monkeys will swing around and play.
68) Where to find Starbucks at Animal Kingdom.  Looking for coffee at Animal Kingdom? Once you enter the park, veer left and walk towards Africa. The Creature Comforts  cafe is a full Starbucks location.
69) Get into the park early with breakfast reservations. Guide2WDW reader GiraffeGirl126 shares this tip for making the most of mornings at Animal Kingdom.
When going to Animal Kingdom, make sure you make reservations for breakfast for before the park opens. That way you get into the park way early and get first in line onto awesome rides.
70) Sip by the water at Nomad Lounge. Nomad Lounge is one of our favorite bars at Disney World.  They offer awesome appetizers, creative cocktails, and an amazing place to sit by the water and relax.
71) You can use a Landry's Select Card at Yak and Yeti.  Yak and Yeti is another great option for table service dining at Animal Kingdom. This restaurant is owned and operated by Landry's, which also operates Rainforest Cafe, T-Rex Cafe, Morton's, Bubba Gump's, and many more restaurants. With a Landry's Select Card , you can earn points for dining that you can redeem at locations like Yak and Yeti. You also will get a $25 gift on your birthday.
Find our full list of Animal Kingdom Tips here: 28 Animal Kingdom Tips & Tricks for 2023
Disney Genie and Lightning Lane Tips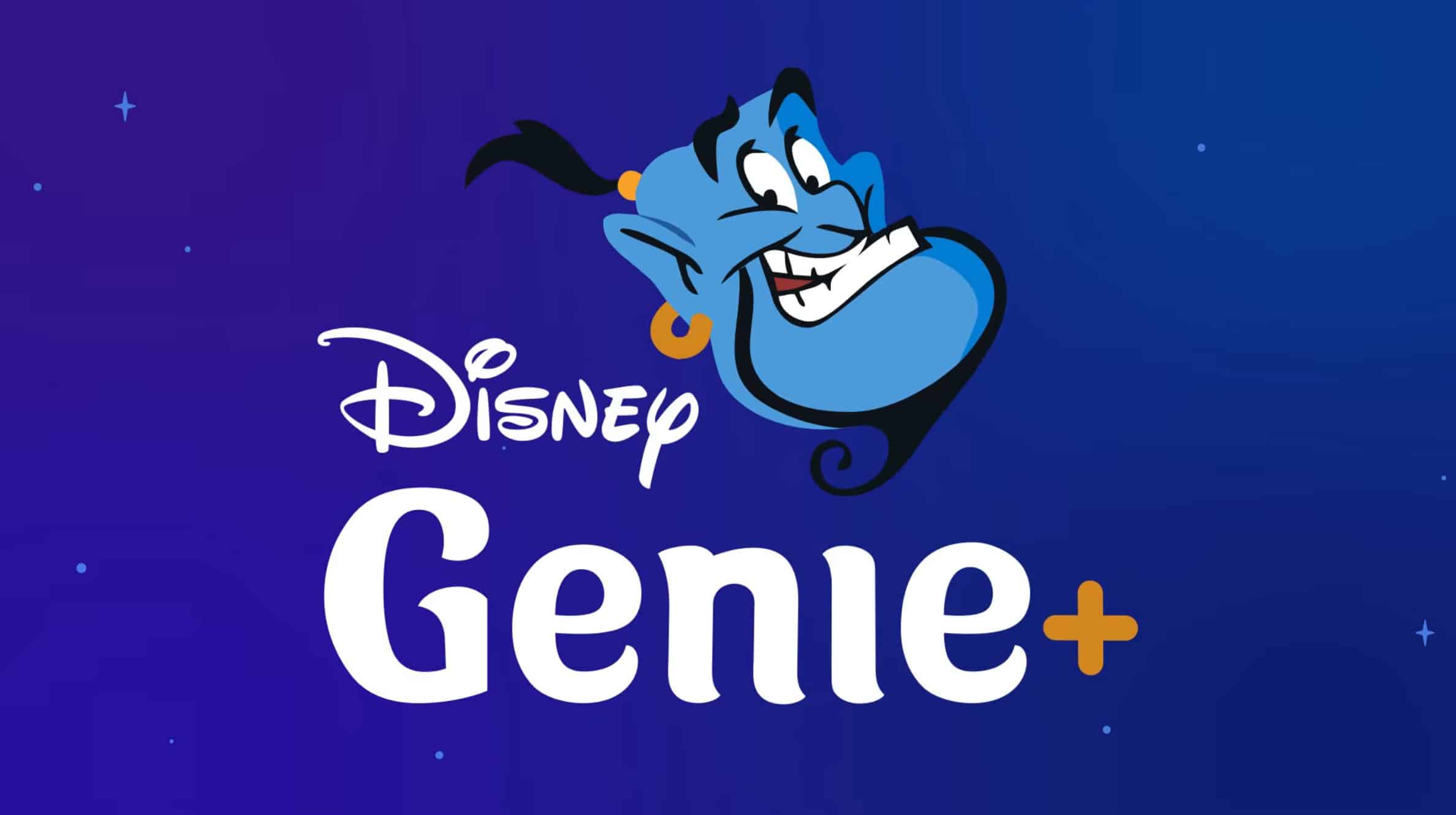 72) Know the differences between Genie, Genie+, and Lightning Lane. We have a full explanation of Genie+ and Lightning Lane here, but here's a quick breakdown of the different terms associated with Disney's paid line skipping service.
Disney Genie: A free service in the My Disney Experience app with suggestions for what to do in the parks.
Genie+ (Genie Plus): A $15/day paid service that gives you one-at-a-time access to the Lightning Lane at certain attractions.
Lightning Lane: A priority line with a significantly shorter wait.
Individual Lightning Lane: At Disney World's most popular attractions like Rise of the Resistance, you must pay an a la carte fee to access the Lightning Lane. These are Individual Lightning Lane attractions, and they are not included in Genie+.
73) Genie+ supports Park Hopping. When you purchase Genie+, it covers every park you visit that day. You do not have to purchase the service per park.
74) Lightning Lane has a grace period. Running a bit early or late for your Lightning Lane reservation at Disney World? No worries. Like FastPass+, Lightning Lane offers a grace period buffer outside of your reserved time slot. The Lightning Lane grace period lets guests be 5 minutes early or 15 minutes late to their Lightning Lane reservation. If you have a Haunted Mansion Lightning Lane timeslot for 12 pm – 1 pm, that means your actual window is 11:55 am – 1:15 pm. This extra 20 minutes can help you plan accordingly if you have overlapping reservations. This applies to both Genie+ Lightning Lane and Individual Lightning Lane Selections.
75) Understand the Genie+ 120 minute rule. As we explain in our How to Maximize Genie+ guide, the 120 minute rule is probably the most important thing to understand in order to get the most out of Genie+. When you make a Genie+ Lightning Lane selection, you can make your next selection either 120 minutes after you made your reservation OR as soon as you scan in for that reservation. You can also make a new selection if you cancel your Lightning Lane reservation or if that reservation expires.
76) You can only use Lightning Lane once per ride each day. You can't use the Lightning Lane at a certain ride more than once per day. So if you've used Lightning Lane at Space Mountain, you have to use the standby line if you want to ride it again.
77) Purchase Genie+ before 7 am. Genie+ reservations open for all guests at 7 am. You must purchase Genie+ on the same day that you will use it, and purchases become available at 12:01 am each day.
78) Be ready at 7 am. All guests can make Genie+ reservations starting at 7 am, which means that you need to have your My Disney Experience app open before 6:59 am. The most popular Genie+ rides like Slinky Dog Dash and Remy's Ratatouille Adventure can run out of available slots really quickly, so be ready to make your Lightning Lane reservations as early as possible.
79) Check again at 7:17 am. Genie+ timeslots seem to magically refill at 7:17 am. If you missed out at 7 am, try refreshing again around 7:15-7:17 am to get a better Lightning Lane reservation.
80) Know your Lightning Lane priorities. While many attractions feature Lightning Lane, some will save you much more time than others. For example, a Lightning Lane reservation on Slinky Dog Dash can easily save you over an hour in line, while a Lightning Lane for Muppet Vision 3D will save you almost no time at all. Know which Lightning Lane attractions to prioritize with our park-by-park Lightning Lane guides:
81) Set your LL Priorities as your Top Picks When you sign up for Disney Genie, you'll be asked what your Top Picks are in each park. This lets Disney Genie know your preferences and give you smart suggestions throughout the day. But for power-users, there's an even more useful way to use Top Picks. The Tip Board section of Disney Genie lists all attractions alphabetically, but it places your Top Picks at the top of the list. The Tip Board section is also where you will be booking your Lightning Lane reservations. You can save yourself a lot of scrolling and put the attractions that you're most interested in getting Lightning Lane reservations for as your Top Picks. That way when you scroll to refresh the Tip Board, you'll see the updated Lightning Lane slots for the attractions you're interested in first. This tip could be the difference between snagging that elusive Mickey & Minnie's Runaway Railway Lightning Lane slot and missing out.
82) What happens if your Individual Lightning Lane attraction is down. If you purchase an Individual Lightning Lane four return window will automatically be extended to the end of the day. So keep checking the official Disney app to see if the ride reopens. This information can be found in the Disney Genie Tip Board or the park map in the app. If you are able to go back onto the attraction at a later time, then just arrive at the Lightning Lane entrance. There might be a mini-rush to get in line as soon as the ride reopens, so if you have time, you might want to wait a little bit for the initial glut of guests to die down to have the shortest wait time possible.
What if the ride doesn't reopen for the rest of the day? Unfortunately, you won't be able to go on the ride with your Lightning Lane reservation. Fortunately, you will be automatically refunded, but only if the ride doesn't reopen for the rest of the day.
What if you can't go on the ride once it reopens? This is a trickier situation. If there's a reason that you can't make it to the Individual Lightning Lane attraction after it reopens, such as a dining reservation, or you left the park and you couldn't come back, you will need to go to Guest Relations. They will be able to give you a refund, but it won't be automatically triggered.
For more Disney Genie and Lightning Lane Tips, check out our Guide 2 Disney Genie, Guide 2 Lightning Lane, and Genie / Lightning Lane Tips.
Disney World Dining Tips
83) You can buy just an entree with no sides. Save money at Disney World counter service restaurants throughout the parks by requesting the entree without the sides. They normally don't list this as an option on the menu, but they will do this. By ordering a sandwich without the fries, you can often save over $2!
84) You are allowed to bring food into the parks. Guide2WDW reader Arlen shares a tip for saving some money while dining in the parks:
"We pack our lunch in the morning and place it in collapsible cooler along with enough cold water bottles for our family. Then we take the cooler with us to a Disney World park and place it into a locker at the beginning of the day. We provide our own lunches to save money so we don't feel bad spending at dinner at a Disney restaurant later on."
85) Make dining reservations as early as possible. The most in-demand reservations at Disney World will run out within minutes of becoming available. So when do dining reservation open up at Disney World?Advanced Dining Reservations open at 5:45 am EST 60 days ahead of time via DisneyWorld.com or the Disney World app.
86) Certain resort guests can make dining reservations even earlier. Official Disney World resort guests and guests at Good Neighbor Hotels can make reservations for their entire vacation starting 60 days ahead of the first day of their trip. So if you're staying 10 days at Disney World, you can make a reservation for the last day of your trip 69 days ahead of time. Plus, you only have to get up early to make reservations one day, since you can make the reservations all in one session.
87) Make reservations online.  Reservations for Disney World restaurants open at 5:45 am online, but the reservation phone line doesn't open until 7 am. If you're trying to snag one of those hard to get reservations, they might be sold out by the time the 407-WDW-DINE phone line opens.
88) Reservations have a no-show fee.  You will be charged $10 per person for any dining reservations that you don't use. Be sure to cancel 24 hours ahead of time in order to avoid this charge. You can easily cancel reservations via the Disney World app.
89) Know which reservations to prioritize. Restaurants like Space 220, Be Our Guest, Le Cellier, and Ohana are some of the hardest reservations to get at Disney World. These restaurants are so popular for a reason: they're great! Check out our full list of The Hardest Reservations to Get at Disney World to know which reservations you should try to get first.
90) If at first you don't succeed, refresh, refresh again. People are constantly changing their Disney World plans, so dining reservations can open up at any time. If you weren't able to book a must-do restaurant, keep checking the My Disney Experience app to see if any spots open up. You may get lucky, especially between 24-48 hours ahead of time. Guide2WDW reader Aida shared their experience:
"If you really want a reservation, keep checking DisneyWorld.com or the Disney World app up until the day before to check for availability. I checked today for the Cinderella breakfast and got a reservation for next Wednesday, exactly what I wanted. ? People who made an ADR two months ago are now canceling their reservations."
91) Familiarize yourself with the Virtual Walk-Up Wait List.  If you don't have a reservation but would prefer a sit down meal, certain WDW restaurants have a walk-up list you can join via the My Disney Experience app, under the "Check Dining Availability" section. You do need to be within a certain physical proximity to the restaurant to join the wait list. You can read more about this in our guide on what to do if you don't have reservations at Disney World .
92) Always use Mobile Order when available. Many counter service restaurants offer mobile order via the My Disney Experience app. This is a great time saver, especially since you can plan out and order your lunch or dinner while you're waiting in line.
93) Mobile Order Speed Trick. Click "I'm here" as you're heading to the restaurant. Many times I'll do this, and the food will come out just as I arrive. Otherwise, you may have to wait a few minutes for your order to be prepared.
94) Skip the Starbucks Line. Look, we love Starbucks, and we especially love that you can get Starbucks at each WDW park. But the lines can be crazy long, especially first thing in the morning when all the ride lines are shortest. Instead, seek out a Joffrey's coffee kiosk. While Disney World's non-Starbucks coffee offerings used to be abysmal, Joffrey's coffee is actually really good. We're particularly fond of the Cold Brew on hot days.
95) Consider Dining Packages for shows you really want to see.  Disney offers dining packages for shows such as Harmonious or Candlelight Processional. These are typically pre-fixe meals that cost a little bit extra for seating in a reserved section for these nighttime spectaculars and shows. If you want a great seat for a WDW show but don't want to wait over an hour to secure it, these dining packages are a great choice.
96) Get to Trader Sam's before it opens.  Trader Sam's Grog Grotto at Disney's Polynesian Resort is our favorite bar at Disney World.  However, it can be hard to get into the tiki-themed bar, especially later at night. Our trick is to show up right before opening. Either we'll get in, or get our names on the waitlist for a short wait. Trader Sam's will text you once your wait is up.
97) Resort restaurants offer great views of fireworks.  California Grill, Ohana, Narcoossee's each have fantastic viewing for Magic Kingdom fireworks, plus they pipe in the music. Topolino's Terrace at Disney's Riviera and Toledo at Gran Destino Tower both offer views of EPCOT and Hollywood Studios fireworks. You can also see Magic Kingdom from Topolino's Terrace.
98) Great dining options walking distance from EPCOT. If you don't mind leaving the park for a little while, head out the World Showcase entrance (between UK and France) and go to the Boardwalk. There are many great dining options, including the Boardwalk Bakery, one of our favorites!
99) Character meals can be worth the cost due to special interactions. Guide2WDW reader David found character meals to be a great way to interact with characters without a wait.
"If you want to see, take pictures, or otherwise interact with Disney characters, I highly recommend that you schedule a character meal. We did breakfast at both Magic Kingdom and Animal Kingdom. Although pricey, we got into the parks before other people, ate, interacted and took pictures of at least 5 characters at each venue. This will save an indeterminable amount of time waiting in line elsewhere in the park."
Find our full list of Dining at Disney World Tips here: 54 Disney World Dining Tips & Tricks for 2022
Disney World Money Saving Tips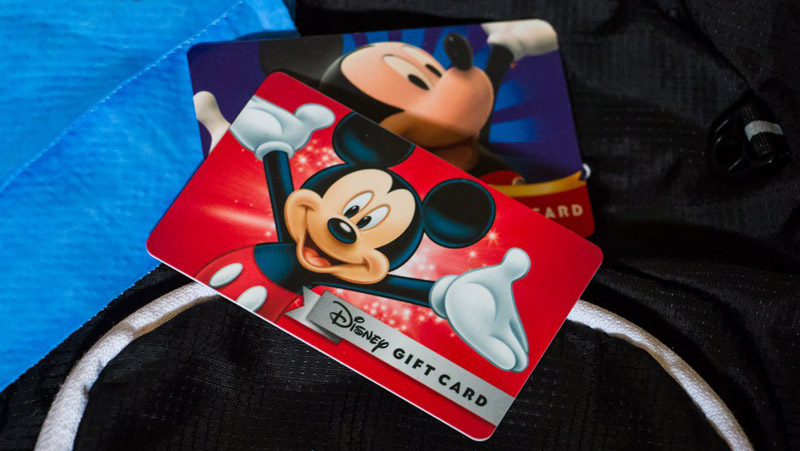 100) Work with a Travel Agent. One of the best, and easiest, ways to save money on your Disney World vacation is to work with a travel agent. They sometimes have access to offer codes and discounted room blocks that can help you save big on your WDW trip. Plus, they can help with the nitty gritty details like making dining reservations for no charge to you. We recommend our friends at Vacationeer.  They are Disney World experts who know tips and tricks like these to help you save big on a WDW vacation.
101) Save big with Disney Gift Cards. Did you know that you can use Disney Gift Cards on almost everything at Walt Disney World? Food, merchandise, tickets, and even Disney hotels can be paid for with Disney Gift Cards. There are several ways to buy Disney Gift Cards at a discount.
102) Keep Track of and Combine Your Disney Gift Cards  – You can tie all of your Disney Gift Cards to your Disney account on the DisneyGiftCard.com  site. This is an official site from Disney where you can enter in your card information and transfer balances between cards. This is necessary if you're paying for a Disney vacation package online, as you can only use one gift card as a payment method.
103) Should you get a Disney credit or debit card? Both the Disney Visa Credit Card and Debit Card have many perks, including exclusive discounts on vacation packages. If you make purchases with your Disney Visa card at Disney World, you'll save between 10-20% off of merchandise, food, tours, and more. We personally recommend the entry-level Disney Visa Credit Card, which has no annual fee but still includes most of the big discounts. You can read more about the Disney Visa Credit Card perks here and Disney Visa Debit Card perks here.
104) Pick Your Start Date Carefully. If your dates are flexible, you can save a pretty significant amount of money by choosing the cheapest day to arrive at Disney World. Disney World's tickets have variable pricing based on the first day you'll use your ticket. To illustrate, here are the prices per day for a 5-day ticket in July 2022.
The tickets range from $99 per day to $107 per day depending on the day you arrive. For a 5-day ticket, that's the difference of up to $40 per ticket. For a family of four, that's a difference of $160 between starting your vacation on the cheapest day and starting on the most expensive day of the month. Hotels will also have variable pricing per day. If you have flexibility in your travel plans, test out which travel dates will work best for your Disney World vacation. Doing a little bit of research can save you hundreds of dollars.
105) Cast Members will always trade pins with you.  Even if you do buy your own cheaper and smaller pins at home before taking a trip to Walt Disney World, Cast Members will always trade with you. Don't feel bad for buying a bunch of cheap pins off of eBay and then trading them with a CM: they don't even buy their pins. They are provided to CMs by management, and those pins are free anyhow. I have personally seen the stacks of pins in the back offices of most parks and Cast Members just pick out of a big box.
106) Save big at the Disney World Outlets. There are two Disney Store outlets in the Orlando area that carry park merchandise. We've been there a few times, and we've found the items they have in stock to be great! We've even found some items that were still on sale in the parks at a deep discount. This is a great way to get save money on shirts, bags, Vinylmation figures, and pins. Read more about one of our trips to the Disney Character Warehouse Outlet in Orlando here.
107) Always ask if a store offers a discount. Between Annual Passholder, Disney Visa, AAA , D23, DVC, and military, there are a lot of different discounts to keep track of. The best way to make sure you aren't missing out on a discount on merchandise is to ask the cast member if the store offers discounts at check out.
Check out more in-depth money saving tips in our How To Save Money on Disney Merchandise Guide.
108) Which grocery store should you visit? Making a grocery run at the beginning of your Disney World vacation can save you in the long run, as groceries will make for much cheaper snacks and meals versus the parks and resorts. But which grocery store should you shop at? Guide2WDW readers Roger and Denise recommend Publix.
"The best grocery store to shop at in the WDW area is Publix – much better prices than Gooding's. Take a right out of the main gate and go about two miles and look for the green Publix sign. I talked to the locals and that is where they go. They call Gooding's the tourist's grocery store."
109) Get birthday freebies.  Speaking of birthdays, our Best Walt Disney World Freebies guide includes a whole list of free things you can get for your birthday. You can get a free meal at Shula's Steakhouse at the Dolphin Resort, a free drink at Starbucks in Disney Springs, a free cupcake at Sprinkles, and more.  – Birthday Rewards – Shula's, Starbucks, Sprinkles,
110) Consider a Good Neighbor Hotel  – While there are many perks to staying at a Disney World Resort, they come with a cost. Good Neighbor Hotels  offer similar perks such as free transportation, Early Morning Entry, and proximity to the theme parks at a fraction of the price. Additionally, you can use hotel reward points at many of these locations.
111) You can use Marriott Bonvoy Points at the Walt Disney World Swan, Dolphin and Swan Reserve hotels.  Located walking distance from EPCOT and Hollywood Studios, the Swan, Dolphin, and Swan Reserve hotels are not actually run by Disney. They are owned and operated by Marriott. If you have Bonvoy points, you can redeem them for nights at these hotels. They have very similar perks to official Disney World Resorts, including Extended Evening Hours,  which is only reserved for Disney Deluxe Resort and Deluxe Villa guests.
112) Sometimes it is worth it to get an Annual Pass, even if you are only visiting once in the year.  Annual Passholders receive discounts on resorts, food, merchandise, and much more. Plus, the Annual Pass gives you the freedom to visit the parks for only a few hours in the day without worrying about wasting on of the days on your ticket. If you haven't considered a Disney World annual pass before, take a look at your WDW vacation plans. It might actually save you money.
Find our full list of Money Saving Disney World Tips here: 50 Money Saving Tips for Disney World in 2023
Disney World Vacation Planning Tips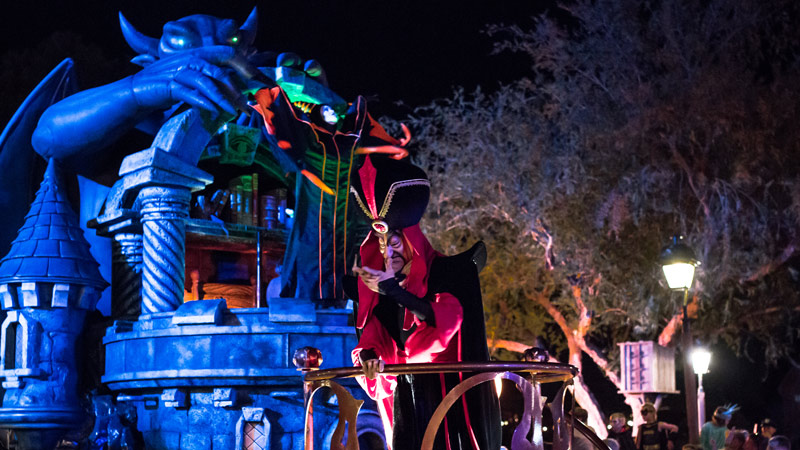 113) Pick the best time of year to visit.  There are four main factors you should consider when picking a time to visit Disney World: When you have time off, crowds, weather, and special events. Ideally, you want to find a time of year when crowds are low-to-moderate, the weather is not blistering hot, and when your schedule allows you to visit. If you're debating between which time of year to go, it's good to consider if Disney World has any special events. For example, I love visiting in October because Magic Kingdom has its Halloween party, and EPCOT has its Food & Wine Festival. Read on for more tips on when to go to Disney World.
114) Pick the correct amount of days to go into the parks.  How long you should go to Disney World is a hotly debated topic. For a complete Disney World experience, we recommend going into the parks for 5-7 days. This is a sweet spot for getting a lot done within a week, while giving some wiggle room for taking breaks. For more details on how to decide your vacation length, check out our article How Long Should You Stay at Disney World
115) Make a daily plan before you go. Before you head to Orlando, make a plan for the big things you want to do each day. You can get as detailed as you like, but the minimum you should figure out is the following:
Which park or parks are you visiting each day – remember, you'll need Park Pass reservations
Which dining reservations do you have for the week.
Are there any experiences that require extra tickets or reservations you want to do? These include Magic Kingdom holiday parties, building lightsabers at Savi's in Star Wars: Galaxy's Edge, and building droids at Galaxy's Edge.
116) Pick 1-2 parks to visit each day. When Park Hopping, keep in mind that it can take up to an hour to get from one park to another. Considering Park Hopping opens at 2 PM, it can be a challenge to visit more than 2 parks in a day. You can definitely go to all four parks in one day, but for most days, we like to pick one or two parks to visit. This keeps travel time and fatigue to a minimum.
117) Avoid the most crowded times of year. Disney World is absolutely slammed the week between Christmas and New Year's Day. Expect the heaviest crowds of the year during this time. Guide2WDW reader Ruth shared her experience visiting during this week.
I visited December 26-December 30. I would never visit again during the Christmas Season: the lines and parks were unbearable! But I still managed to steal some time for enjoyment. If you're visiting during that time, just be sure to set your expectations accordingly!
118) Buy a Frogg Togg for hot weather. Let's face it, Orlando is hot for most of the year. One of our favorite items to pack for Disney World is a Frogg Togg chilling towel. Just add some water, place it around your neck, and cool off.
119) Pack good walking shoes. Another item we always pack for our Disney World vacations is a good pair of shoes to walk in. You will be taking 20,000-40,000 steps during each day of your WDW vacation. Do yourself a favor and pack shoes that are comfortable and give you good support for walking.
120) Don't Overload on ADRs. Advanced Dining Reservations are great to have, but you can have too much of a good thing. Table service meals at Disney World take time, and having a reservation will force you to be at a certain place at a certain time. The maximum dining reservations we like to plan is an average of one per day. If you have to book two ADRs in one day, balance it out with a day with no ADRs. Save time and money by not doing too many table service meals — unless that's your favorite thing at WDW, of course!
121) Make ADRs for right before park closing. Guide2WDW reader Andrew shares a brilliant way to maximize your time in the park with a dining reservation.
When making an Advanced Dining Reservation (especially during non-peak seasons), you should try making one as late in the day as possible. In many cases, priority seating is available around the time a park is closing. For example, when we were at the Disney's Hollywood Studios, it was closing at 7 pm, yet we got priority seating at the Brown Derby at 6:50. That allowed us to spend more time at the attractions, and by the time we left the park, we were almost alone as we walked to the exit and there were no crowds waiting to leave the parking lots.
Also keep in mind that some locations, like Oga's Cantina, actually have reservations available for after park closing.
122) Consider Park Pass and Park Hopping Rules for your dining reservations.  If you have a dining reservation at a restaurant inside the parks, make sure you also have a valid Park Pass reservation. You need a Park Pass reservation to be able to enter the park. If you have a Park Hopper ticket, be sure that any reservations for before 2 PM are at the park you have a Park Pass for. You can enter another park starting at 2 PM, so if you have a Hollywood Studios Park Pass but you get a 3 PM reservation for Be Our Guest, you will be still able to dine at the Beast's castle. If that reservation was at 1 PM, you would need to have a Magic Kingdom Park Pass in order to use your reservation.
123) Which rides to avoid if you are worried about motion sickness. Certain rides like Mission: SPACE Orange and Guardians of the Galaxy: Cosmic Rewind are notorious for causing motion sickness. However, motion sickness is very personal and subjective. Odds are you have an idea of what types of rides might give you issues. In our Disney World Motion Sickness Guide , we have every attraction categorized so you'll have a better idea of what you might want to avoid when you visit WDW
124) How to Plan a WDW trip if you hate planning. Our advice to people who hate planning: work with a travel agent. They will do the planning for you! Otherwise, here's the bare minimum you need to do for your Disney World trip:
125) Set Your Alarm for Before 7 AM – 7 am is a very important time for Disney World guests. With virtual queues, Genie+, and Lightning Lane, you'll want at least one person from your party up before 7 am with the MyDisneyExperience app open to be able to plan your day.
If you want Genie+, you should purchase it before 7 am. It becomes available at 12:01 am each day.
Here's everything that becomes available for your Disney World day starting at 7 am:
First draw for Virtual Queues open up at 7 am for all guests. Currently, a virtual queue is used at Guardians of the Galaxy: Cosmic Rewind. If you miss the 7 am draw, more virtual queue spots open up at 1 pm (and 6 pm for Deluxe Resort Guests on Extended Evening Hour nights). You can read all the details you need to know in our Disney World Virtual Queue Guide.
Genie+ Lightning Lane access becomes available for all guests at 7 am. You'll be able to make your first Genie+ Lightning Lane reservation of the day starting at 7, so this will be your best shot at getting early Lightning Lane access to a popular ride like Slinky Dog Dash or Millennium Falcon: Smuggler's Run.
Individual Lightning Lane Selections become available for purchase for resort guests at 7 am. Not included in Genie+, these are a la carte Lightning Lane purchases available at the two most popular rides in each park – Seven Dwarfs Mine Train in Magic Kingdom, Guardians of the Galaxy at Epcot, Rise of the Resistance at Hollywood Studios, and Flight of Passage at Animal Kingdom. You can pick which time of day you'd like to purchase your Lightning Lane reservations, and you can purchase up to two per person per day.
126) Divide and conquer with MDE: If you have multiple people who are up and have the MyDisneyExperience app open, designate one person to focus on Virtual Queues, one person to focus on Genie+, and one person to focus on Individual Lightning Lane Selections. If you are the only person setting all the plans for your party, we would recommend prioritizing Virtual Queue (if the attraction is one of your must dos), Genie+, then Individual LL selections, in that order.
127) Make sure to charge your devices every night.  Your cell phone and MagicBand+ will most likely be very low battery at the end of the day. Be sure to pack a charging hub and plenty of charging cables for your hotel room, and plug in your devices at the end of the night.
Find our full list of Disney World Vacation Planning Tips here: 42 Disney World Trip Planning Tips for 2023
Tips for Taking Kids to Disney World
128) Kids under 3 get into Disney World for free.  You may not know that you do not have to pay for your child to get into Disney World if they are under 3. You don't need to bring proof or a birth certificate — Disney uses the honor system.
129) Don't miss the Baby Care Centers  – Each park has a baby center, and it can be relatively easy to overlook. However, these spaces are great for parents with babies and toddlers. They have full changing stations that are much nicer than the changing stations in the restrooms. They also have high chairs and other amenities if you need a quieter place to take care of your little one's needs. Read all about Disney World's Baby Care Centers here , including maps for where to find them in each park.
130) Know the height requirements and your child's height!  Many rides at Disney World feature a minimum height requirement. Check out our list of the height requirements at Disney World  to know which rides your child will be able to go on. These rides will also have height measurement checks outside the entrance in case you're not sure of your kid's exact height. It is very important that you don't try to sneak on a kid who isn't tall enough, because these height requirements are for their safety!
131) A tip that some people don't know about is Rider Swap. Rider Swap lets everybody in your party experience rides with height limits without the person or people who watched your kid having to wait extra in line. This works if a child either doesn't meet the height requirement or  just if they don't want to go on the ride. From Disney: "If a Guest doesn't meet the boarding requirements or doesn't wish to experience a particular attraction, it's not a problem for family and friends who do! With Rider Switch, one adult or supervising Guest (14 years or older) can wait with non-riders while the rest of the party enjoys the attraction. Then, they simply switch roles to allow the supervising Guest to experience the attraction without waiting in the regular queue again." Simply approach the cast member at the entrance of the ride and say that you're interested in Rider Swap, and they will take care of you. This also works on rides that have Individual Lightning Lane like Seven Dwarfs Mine Train or Avatar: Flight of Passage.
132) Typically, kids menus will always feature a familiar option. Some Disney World restaurants feature cuisine that may be unfamiliar to you, ranging from African to French to Norwegian. You may think you need to avoid these options if one of your kids is a picky eater, but don't worry! Kids Menus at Disney World almost always feature a familiar option for American children, such as mac and cheese, pizza, or chicken tenders. Disney tries to include familiar options so families have an easy time dining at their restaurants.
133) Know where characters are at every park. Each Disney World park features different meet and greets and character encounters. You can find a list of characters within the My Disney Experience app. We also have a park by park character guide that lets you know where to find every character, from Mickey to Kylo Ren.
134) Pack a costume.  Guests under 14 years old are allowed to wear costumes inside the parks. This is a fun way to add a little extra magic to your kid's Disney World vacation. Plus, getting your little Cinderella's picture taken with the "real" Cinderella makes for an amazing photo-op. For guests 14 and older, costumes can be worn at Halloween and Christmas events, and some outfits inspired by Star Wars are allowed.
135) Plan on giving your kids chances to run around.  Don't only focus on the rides! There are tons of activities that don't require lines that also give your kids a chance to get their wiggles out. Look out for the playgrounds in each park: Magic Kingdom has a Casey Jr themed splash pad  and Tom Sawyer Island.  EPCOT has an outdoor playground and indoor play areas near the exit of Mission: SPACE and Journey Into Imagination. Animal Kingdom has a paleontological dig-themed playground called The Boneyard .
136) Proximity to the parks makes a huge difference with kids . It becomes easier to take a midday break or take your toddler back to the hotel room for a nap if you are close to the parks. If you can afford it, consider one of the monorail resorts that are extremely close to Magic Kingdom , or one of the resorts within walking distance of EPCOT and Hollywood Studios .
137) Looking for a ride share option that includes car seats?  Minnie Vans have up to two car seats per van, and they service all Disney World properties. Find out more about Minnie Vans at Disney World here
138) Make your park reservations wisely. Disney World requires Park Pass reservations in addition to your park tickets in order to get in. Park Pass reservations dictate which park you can visit, or the first park you enter in the day if you have a Park Hopper ticket. While Magic Kingdom is the most kid-friendly park, if your kid is a Star Wars super-fan, they'll want to spend more time in Hollywood Studios. Know the properties found in each park to best plan out your vacation. Here's a quick list:
Magic Kingdom: Disney Princesses, Mickey Mouse, Dumbo, the Mountain rides, Jungle Cruise, Tiki Room,
EPCOT: Frozen, Ratatouille, Guardians of the Galaxy
Hollywood Studios: Star Wars, Toy Story, Disney Jr
Animal Kingdom: Avatar, Finding Nemo, Lion King
139) Don't leave valuable items in your stroller! While it's tempting to use your stroller storage for everything, it's unfortunately not a good idea to leave anything valuable in your stroller at Disney World. We've had items and the whole stroller stolen before. It's rare, but it can happen. Don't leave anything in your stroller that would tempt would-be thieves.
140) Know stroller size limits at Disney World. Stroller can be a maximum of 31″ wide and 52″ long. Many strollers fit within these limits — including double strollers.
141) Skip the stroller wagon.  Stroller wagons are not permitted at Disney World.
142) Put an identifier on your stroller – Want to avoid losing track of your stroller after you park it in the sea of other strollers? Tie a colorful bow on the handle of your stroller, which will make it much easier to spot. This helps especially because Disney World cast members will regularly move strollers around to accommodate for guest flow.
143) Make sure your stroller can fold up easily. You'll need to be able to fold up your stroller to get on Disney transportation, such as buses, monorails, and the Skyway. It's one reason we love the Britax B-Lively, which has very easy and quick folding.
144) Pack a rain cover for your stroller.  In Orlando, it's almost guaranteed that there will be rain during your vacation. A stroller rain cover  is a great item to pack in your suitcase. They don't sell these at the parks, and you'll be so glad that you have one. We made the mistake of not packing one, and it took days for our soggy stroller to fully dry.
145) A strategy for limiting impulse purchases. Guide2WDW reader Patti shares a way to avoid buying a ton of souvenirs, and preventing kids from constantly asking for new toys while at Disney World.
"We tell our boys we only buy souvenirs on the last day of our Disney World trip. They can look the whole time we are there, but by the time it's OK to buy they know what they really want, and it prevents the gimmies during the whole vacation, which can add up."
146) Where to find free stickers at Disney World.  Don't just blow by the DVC kiosks. Ask the cast member there for a sticker for your kids. It usually is a Mickey Mouse sticker.
147) Sign up for Wilderness Explorers.  One of our favorite activities for kids at Disney World, Wilderness Explorers  is a free scavenger hunt that takes you all across Animal Kingdom. You are given a booklet with a map of the park, and you must go to different Wilderness Explorer stations to earn merit badge stickers. It's a fun, educational way to engage anyone with a curious mind as you explore the massive theme park.
Find our full list of Tips for Taking Kids to Disney World here: 50 Disney World Tips for Parents Taking Kids in 2023
Disney World Resort Tips
148) Should you stay on property or off property?  Walt Disney World property is huge, and there are both official Disney resorts and third party hotels that would be considered on-property. If you are going to Disney World for the majority of your Orlando vacation, you should definitely stay on Disney World property. You'll have plenty of options covering a variety of price points on WDW property — everything from a Holiday Inn to the Four Seasons. However, if Disney World is just one of your destinations, you may want to consider staying somewhere else in Orlando. You may be able to save some money that way.
149) Know what your resort is close to. You may think that just because you're staying on Disney World property, you'll be close to everything. That isn't quite the case. Walt Disney World is massive, and the parks are spread apart. For example, if you stay at the Contemporary, you could walk to Magic Kingdom or take the monorail to EPCOT (with a transfer at the TTC). If you stay at the Boardwalk Resort, you could walk to either EPCOT or Hollywood Studios, or take a short boat ride to each park. If you stay at the All Star Resorts, you will need to take Disney's busses, drive, or buy a ride share to get to any of the parks. Check out our Disney World Transportation Guide to find out exactly how to get to each park from each resort.
150) Ask if upgrades are available. Guide2WDW reader Bruce shares why it never hurts to ask for an upgrade. He got upgraded to a nicer resort without having to pay much more.
"I recently booked a 10 day trip to WDW for our July visit. I made reservations at the Caribbean Beach through Disney directly. With a little prodding I was upgraded to the Polynesian for almost the same price as the Caribbean Beach (I'm paying about $25.00 more per night). The nice WDW representative said that you have to ask if invitational upgrades are available, they won't offer it to you unless asked. These "invitations" aren't always available, but if they are they'll bump you up one class of Resort: Value to moderate or moderate to deluxe. It never hurts to ask!"
151) Stay at DVC resorts for less by "renting" someone's DVC points. Buying a DVC isn't the only way to enjoy staying at a DVC resort. DVC members will sell points they aren't using for one-time stays through sites like David's Vacation Club Rentals. You can find rooms at Disney World Deluxe Villa Resorts for much cheaper than booking directly through Disney by going this route.
152) Know your hotel's amenities. Disney World hotels feature a ton of great amenities and activities that are well worth checking out during your vacation. From highly-themed pools to world class restaurants to outdoor movie nights, be sure to find out everything you can do at your hotel. We highly recommend taking breaks throughout your WDW vacation to enjoy what your hotel has to offer.
153) Chip and Dale Campfire Sing-a-long. One of the best activities at any Disney World resort for families is the Chip and Dale Campfire Sing-a-long at Fort Wilderness. You can roast marshmallows, sing songs around a campfire, and meet Chip and Dale. The evening also includes an outdoor movie.
154) Resort Hopping is a fun and free activity.  Not everything at Disney World has to cost you lots of money. If you would like a great activity that is inexpensive, try Resort-hopping! If you stay on property, then you have unlimited access to all the Disney resorts. All the resorts are unique, and it's worth checking out each hotel's lobby. Take the time to Resort-hop and scope where your next stay might be. You might have some fun along the way!
155) Extra Hours are one of the best Disney World Resort perks.  When choosing your Disney World Resort, strongly consider a resort that has access to extra hours. Both Early Morning Entry and Extended Evening Hours are great ways to experience shorter lines for popular WDW rides.
156) MagicBands are leveled up at Disney World Resorts. If you are staying at a Disney World Resort, you can use your Magic Band as your room key. Also, you can use your Magic Band to make purchases at the resort and in the parks. These purchases will be charged to your room.
157) Resort Guests can buy discounted MagicBands. Disney World Resort Guests can purchase MagicBands at a discount before their vacation. This discount is typically $10 per band. Once you have your reservation linked to your Disney World account, open the MyDisneyExperience app, select My MagicBands and Cards, and then you can order discounted MagicBands to have shipped to you before your vacation.
158) Free Luggage Tag. While Disney World used to send Resort Guests a pre-vacation package that included some goodies, including a Luggage Tag. While Disney no longer mails this to guests, you can still get a free luggage tag from your hotel. Just go to the front desk and ask for a luggage tag for a fun freebie.
159) Take advantage of merchandise delivery. Don't lug your merchandise purchases all around the parks all day. If you are staying at a Disney World Resort, you can have merchandise you purchase from the gift shops shipped to your resort free of charge. You will be able to pick up your items from your hotel's store.
Find our full list of Disney World Resort and Hotel Tips here: 40 Disney World Resort Tips for 2023
Time Saving Disney World Tips
160) Go left.  Many attractions have two lines – a right line and a left line. If you cannot see the end of the line, choose the left line. It's usually shorter, as most people will subconsciously pick the right line.
161) Use Lightning Lane. The replacement for FastPass, Lightning Lane is a way to pay to go into a much shorter line at dozens of Disney World attractions. It can be well worth the money, if you know how to use the system. Check out our Guide 2 Disney Genie and Guide 2 Lightning Lane at Disney World for a complete rundown of how to save hours in line during your WDW vacation.
162) Use the Single Rider Line. If you don't mind riding alone or being split up from your party, try using the Single Rider line at Test Track, Rock 'n' Roller Coaster, Millennium Falcon: Smuggler's Run, and Expedition Everest. Disney uses this line to fill in empty seats on these rides. Your party will go through the line together, but most likely will go on the ride separately. However, your wait time will be dramatically reduced.
163) Rides operate past closing time.  If you want to ride a popular ride, but couldn't get a Lightning Lane reservation and the standby lines are too long during the day, get in line right before park closing. Two reasons for this. 1: Disney policy is that anyone in line at park closing gets to ride , even if they don't get on the ride until after the official closing time, and 2: there will be very few Lightning Lane riders entering (none after closing), so the actual wait time will be MUCH shorter than the posted standby time.
164) Save shopping for after park closing. Many Disney World shops stay open one hour after park closing. So you can save your last minute shopping to the very last minute and not miss any late night rides, when the lines are shortest.
165) Confirm Your Virtual Queue Party. Ever since Disney World debuted a virtual queue for Rise of the Resistance, they have tweaked the process for securing a boarding pass. Within the MyDisneyExperience app, you can now confirm your party up to 1 hour before the virtual queue opens up. You can do this by going to the menu in the app (bottom right button with three lines), tapping "Virtual Queues," clicking "Join Virtual Queue," then clicking "Confirm Your Party." You can select all of the guests linked to your account that you will be securing a boarding group for. This will make it easier to join the virtual queue with the correct group selected, and you can avoid having to waste precious seconds by deselecting a guest who isn't eligible. If you've linked your Disney World account to a lot of different family members and friends like I have, this will make a big difference.
It should be noted that while the ability to confirm your party opens up 1 hour before the virtual queue opens (so starting at 6 am for the 7 am queues at Disney World), you don't have to get up at 6 am to confirm you party. You have all the way up until the virtual queue opens up to confirm your party, so you can wait until 10 minutes before to confirm.
Read more about how to use the Virtual Queue at Disney World here.
166) Consider using Ride Share. You can use Lyft and Uber to get around Disney World, and it can save you a lot of time compared to Disney's busses. Disney has a fleet of ride share vehicles called Minnie Vans that you can order through Lyft, but both Lyft and Uber have cheaper options. When you consider resort and theme park parking prices, taking ride share vehicles can make financial sense versus renting a car.
Find our full list of Time Saving Tips here: 23 Time Saving Disney World Tips for 2023
Disney Springs Tips
167) You can use OpenTable at certain Disney Springs restaurants. Some Disney Springs restaurants accept OpenTable for reservations, including Wine Bar George, STK, Splitsville, and Planet Hollywood.
168) Use your AAA card at Earl Of Sandwich in Disney Springs and get 15% off your total. It's not advertised there, so you need to show them your card when you are paying. This is better than the 10% discount for Annual Passholders.
169) Join the Earl of Sandwich eClub. You get a free brownie for signing up, and a free sandwich coupon for your birthday. This is a great way to get a free lunch at Disney Springs if you are visiting WDW around your birthday.
170) Consider home shipping at Disney Springs. When you do major shopping at Disney Springs, have them ship it home for you. It will cost from $12 on up, but then you don't have to pay taxes on your purchases when you ship it out of state.
171) Disney Springs has a pedestrian bridge. There are several hotels within walking distance of Disney Springs, including the B Resort and Holiday Inn. Take advantage of the pedestrian bridge to get into Disney Springs safely.
172) Disney Springs has free parking. Unlike Disney parks and resorts, Disney Springs has free parking. There are two massive parking garages, and it usually is no problem finding a spot.
173) Make Your Own Lego Minifigure at the Lego Store. You can find one of Disney World's more unique — and affordable — souvenirs at Disney Springs. For about $12, you can design your own Lego Minifig, including a fully customizable shirt with graphics.
174) The Disney World Dining Plan is actually accepted at many of the restaurants at Disney Springs, including Jaleo, Wine Bar George, Morimoto Asia, Blaze Pizza, and Raglan Road. If you're on the dining plan, lunch or dinner at Disney Springs could be a good idea. (Note: The Disney World Dining Plan is currently paused, but is expected to return at some point in the future)
175) Where to use leftover snack credits. When my husband and I go to Disney World, we never use up our dining plan's snack credits. We don't mind the taste of Orlando's water, and with free water from the counter service restaurants, we don't 'waste' credits on soda pops. Generally, after the first day, we're over-caloried so we just don't use those snack credits. On the last day, we take all our leftover credits to Goofy's Candy Company in Disney Springs and load up on packaged goodies that fit just fine in our carry-on luggage. We've even gotten wrapped sandwiches from the Earl of Sandwich to take with us to the airport with extra counter service credits! (Note: The Disney World Dining Plan is currently paused, but is expected to return at some point in the future)
Find our full list of Disney Springs Tips here: Disney Springs Tips
Disney World Tips by Category
Be Sure to Also Check Out