53 EPCOT Tips for 2023
Visiting EPCOT? Here's our complete list EPCOT tips that will help you have an excellent time visiting the World Showcase. We have 53 tips that will be a quick guide to help you plan your day at Disney World's second oldest theme park. The tips are divided into several categories.
EPCOT Planning and Touring Tips – Some strategies for how to plan and tackle your day at the park.
Tips for what to do at EPCOT – EPCOT is full of hidden gems. Let's uncover them
Tips on when to visit EPCOT – Find out the best days of the week to visit, and which days to avoid.
Tips for Rides and Attractions – Get ride-specific tips, ranging from tricks on how to save time in line to recommendations on where to sit.
Lightning Lane & Genie+ Tips – Find out how Disney's paid line skipping service will affect your day at EPCOT.
EPCOT Dining Tips – Find out which restaurants are in the most demand.
Fireworks Tips – The best viewing spots for Harmonious, as well as alternative locations.
Tips for Visiting EPCOT with Kids – Going to Magic Kingdom with a little one? Don't miss these kid-specific tips.
Tips for Holidays at EPCOT – Find out how to celebrate at EPCOT.
Update August 16, 23: Added tips for Space 220, Guardians of the Galaxy: Cosmic Rewind, and more
EPCOT Planning and Touring Tips

1) EPCOT actually has two entrances. Most people know about EPCOT's main entrance, which is located in the front of World Celebration by Spaceship Earth. However, many guests don't realize that EPCOT has a second entrance in the back. EPCOT's International Gateway entrance is located between the United Kingdom and France Pavilions. You'll head through the World Gateway if you're using the Skyliner, or if you are coming from one of the EPCOT area resorts by boat or by foot.
2) You can walk to EPCOT. I love to stay at one of the EPCOT area resorts, because they are all a short walk to the International Gateway entrance. You can walk to EPCOT from any of these resorts:
Boardwalk
Yacht Club
Beach Club
Swan & Dolphin
You can even walk from Hollywood Studios, although that is a bit of a longer stretch. You can read more about the different ways to enter the park in How to Get to EPCOT.
3) You can get closer parking on some afternoons. If you are parking in EPCOT's parking lot in the morning, you'll have to follow the directions of cast members who will direct you to your spot. But in the afternoon, spots will open up throughout the parking lot, and it's more of a free-for-all. Thanks to Guide2WDW reader Ellen for submitting this tip:
We went to Epcot in the afternoon. There were no parking guides to tell you where to park, so we cruised up to the front to see if anyone has left and grab a close spot. We went to Epcot between 3-4 two afternoons-and parked front row both times. This should work for all parks if the parking guides are done for the day.
4) The whole park doesn't always open at opening. While other WDW parks have hours that vary more, EPCOT's hours are almost always 9 am – 9 pm. However, not everything opens right at 9 am. World Celebration, World Nature, and World Discovery open at 9 am. The World Showcase is open to explore, but only major attractions like Remy's Ratatouille Adventure and Frozen Ever After are running at park opening. The rest of World Showcase opens at 11 am. Check the Disney World app for the most up to date operating hours for each attraction or restaurant to plan out your day.
Update: EPCOT's hours have just been shifted to 8:30 am – 9 pm starting in March 2022, with the entire park opening at 8:30. Just keep in mind that park hours are subject to change.
5) How to find out wait times at EPCOT. EPCOT has digital tip boards located throughout the park, which will show up-to-the-minute wait times. If you have a smartphone, be sure to download the Disney World "My Disney Experience" app. This way you can check on wait times from your phone, even before you enter the park.
Tips on When To Visit EPCOT
6) Avoid Festival Weekends. EPCOT now runs festivals throughout the year. These are extremely popular with locals, especially the Festival of the Arts, the EPCOT Flower & Garden Festival, and the EPCOT Food & Wine Festival. EPCOT is mobbed on Fridays and the weekends during these events. If you're visiting during these times, stick to Monday – Thursday. If you visit on Friday-Sunday, try to only go in the mornings to avoid crowds.
You can find out the dates for EPCOT Festivals on our Disney World Events page.
7) Avoid runDisney Race Weekends. runDisney hosts its Post-Race Party at EPCOT. While the party starts at 10 PM, runners and their guests can enter the park as early at 5 PM. EPCOT will be packed with people who are extremely motivated and looking to carbo-load after the big race.
You can find out the dates for runDisney races on our Disney World Events page.
8) Avoid First Few Days of Festivals. Each EPCOT Festival brings a slew of new things: new food items, new souvenirs, and new popcorn buckets for people to obsess over. On the first day or two of an EPCOT Festival, crowds will be larger, as locals and Disney bloggers will descend upon the park.
Tips for What to Do at EPCOT
9) World Showcase has unique "shoportunities." Each of the World Showcase pavilions offer a wide variety of unique souvenirs. One of our favorites is the Mitsukoshi store in Japan. Thanks to Guide2WDW reader Karen for submitting this tip:
On the lower level of the Japan pavilion at Epcot's World Showcase, be sure to check out Mitsukoshi, a great store selling candy, chopsticks, toys, etc. The last time we were in the store, there was a stand where you could choose an oyster with a pearl in it. The cast member would clean it for you and put it in a cute box. Our daughter loved it. She felt like she had found a buried treasure!
10) Make time for the tea shop in the UK. The United Kingdom pavilion also has a great tea shop, which sometimes offers guided tours of the beautiful tea gardens. Plus, you'll find some great souvenirs there. Guide2WDW reader Sam shared this tip:
The most delightful tea shoppe exists in the United Kingdom pavilion at Epcot. Don't miss the imported crackers & cookies, and candy! You'll also find fun tea accessories (like cutting boards and aprons), and some really nice (and reasonable) jewelry. Nice souvenirs that don't scream WDW.
11) Become a World Showcase explorer. When you're at the World Showcase at Epcot, explore every inch of every country. You'll find so many fun things just off the beaten path, most without any sort of line.
12) Don't miss Morocco. Morocco at EPCOT can be overlooked, as it doesn't have an attraction anchoring the pavilion. Also, its restaurant is not the most popular in the theme park. But passing Morocco by would be a mistake! It is one of the best designed pavilions in EPCOT, and it is so much fun to explore.
13) And don't miss Mexico either! Mexico's pavilion is actually located indoors, and it is beautiful inside! Some guests actually don't know that the pyramid is the entrance to the Mexico pavilion. Inside, you'll find a fun boat ride called the Gran Fiesta Tour starring the Three Caballeros. There's also Cava del Tequila, a small tequila bar that serves up the best margaritas at Disney World.
14) Seek out the live entertainment. To really enjoy Epcot to its fullest, do your best to catch the little shows they give outside of every country's pavilion at the World Showcase. It totally enhances your experience, and even kids love the entertainment! These shows can help kids get into the whole concept of the World Showcase and help them enjoy this park too.
Check out a full list of World Showcase's live entertainment here.
15) EPCOT has an amazing aquarium. The Seas with Nemo and Friends pavilion in World Nature is actually the second largest aquarium in the United States. You can see dozens of species of aquatic life, from manatees to dolphins.
EPCOT Ride and Attraction Tips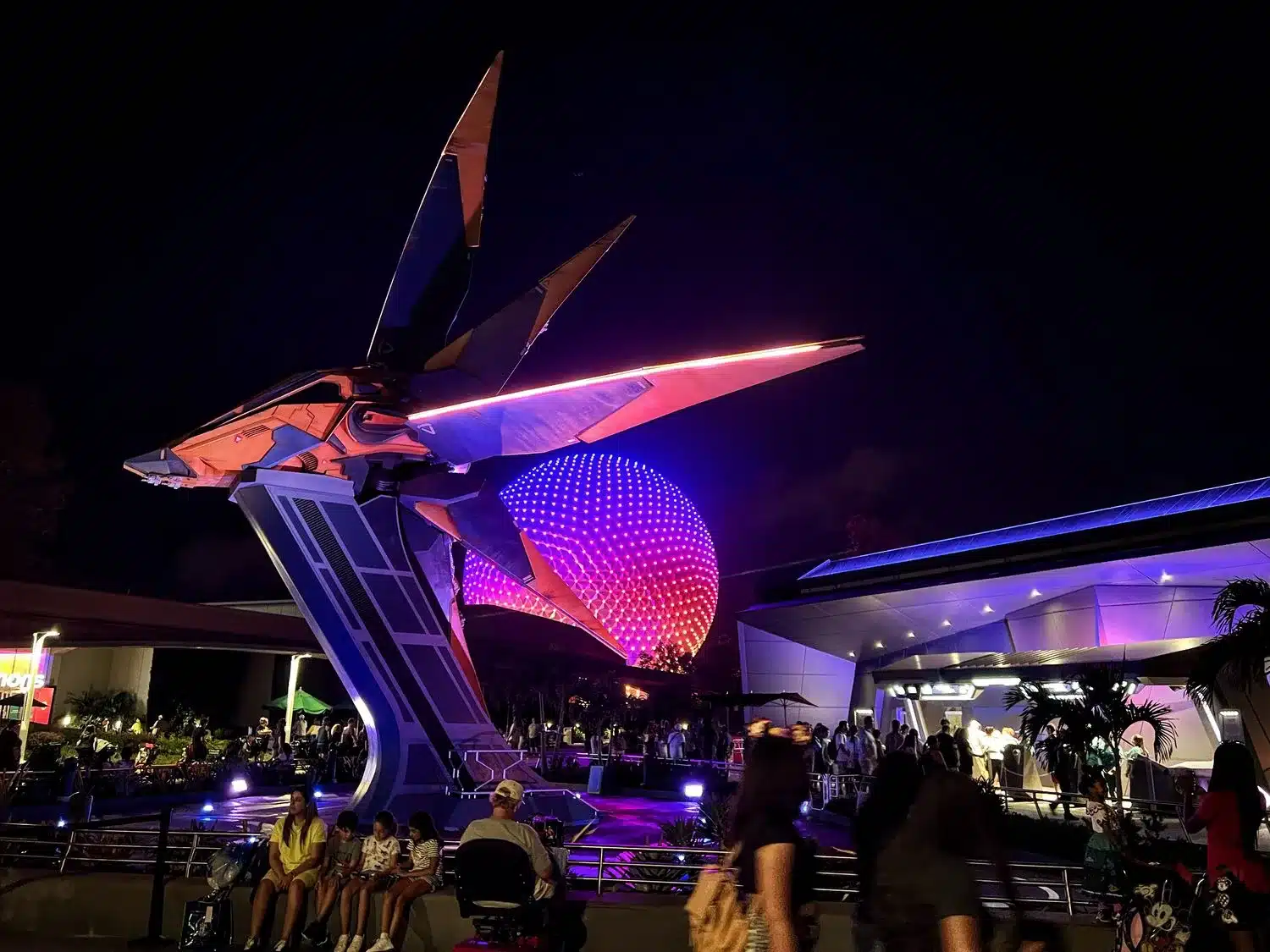 16) Know EPCOT's most popular rides: Remy's Ratatouille Adventure, Frozen Ever After, Test Track, and Soarin' have the longest rides in the park. Lines will be shortest at the beginning of the day and the end of the day.
17) How to ride Guardians of the Galaxy: Cosmic Rewind. There are currently two ways to ride EPCOT's new roller coaster. You can join the virtual queue at 7 am or 1 pm (or 6 pm on certain days for guests eligible for Extended Evening Hours). Currently, the 1 pm virtual queue allotment is easier to join than the 7 am opening. Read all about how to join the virtual queue at Disney World here. The other way to ride Cosmic Rewind is to purchase an Individual Lightning Lane. Be sure to purchase that early in the day, as Lightning Lane does sell out for this attraction.
18) Worried about motion sickness on Guardians of the Galaxy: Cosmic Rewind? Request rows 5 or 6 (middle of the coaster train), and sit on the left hand side. Also, try to keep your attention on where the track is headed rather than focusing on the projections. You can read more about this in our Guardians of the Galaxy: Cosmic Rewind Motion Sickness Guide.
19) The best row to sit on Guardians of the Galaxy: Cosmic Rewind. The vehicle on Guardians of the Galaxy: Cosmic Rewind has 10 rows. If you want the most intense ride, request row 9 or 10. Most people prefer row 9 as you'll have a clearer view of the cosmic action in front of you.
20) Cool off around the World Showcase. The American Adventure has a 29-minute runtime. This is my favorite spot to take a break in EPCOT, and not just for the air conditioning or seats. The show is genuinely great.
EPCOT's films like Impressions de France, Reflections of China, or O Canada are also good options to get out of the sun for a few minutes. However, they don't have as long of run times, and you will have to stand.
21) Get a great view at The American Adventure. Guide2WDW reader Jeremy shared a tip on his favorite spot to watch EPCOT's animatronic show.
One of the best views for The American Adventure is right up front. Everyone will push for the middle, but the best seat is front and center. You will see every movement and expression made by the characters, and the movie portions are near the back of the stage, so it doesn't feel like you're sitting too close. Unless there are major crowds at Epcot, no one will be sitting around you.
22) Take advantage of Single Rider at Test Track. If the line for Test Track is long, and your party doesn't mind being separated, go through the Single Rider line. You will all go through the line together, but skip the car design portion. When it is time to get on a car, they fill you in one by one into the empty 3rd seat when 2 people sit. Sitting in different cars (usually one behind the other) can be a small price to pay for this time-saver! And sometimes, two of you will even end up in the same car!
23) Don't get on the wrong line in Mission: SPACE. Mission: SPACE actually has two different ride experiences. There's the Green Mission, which is a mild simulator. Then there's the Orange Mission, which spins you in a centrifuge to simulate the g-forces of taking off in a rocket. Orange Mission is extremely intense. While there is a lot of signage to tell you the difference, but just be sure to know which experience you're in for.
24) The best place to sit on Soarin'. Soarin' is an amazing attraction, but some seats are way worse than others. If you sit on the bottom and to the side, the screen will look warped, and you'll see other guests' feet in your face. Be sure to sit in the middle section on the top row. This is Section #2. Just ask the cast member that you want to sit in the top middle, and they'll know what to do. You might have to wait a little longer, but it's worth the extra wait for a pristine Soarin' experience.
Here's more of the best places to sit on Disney World's best rides.
EPCOT Genie+ and Lightning Lane Tips
25) Is Genie+ worth it at EPCOT? With a relatively small lineup of rides included, Genie+ will save you time on Frozen Ever After, Test Track, and Soarin', and possibly Mission: SPACE. If you're just visiting EPCOT for the day and these rides aren't your biggest priority, save some money and skip purchasing Genie+.
26) Which rides to prioritize with Genie+ at EPCOT. As they're three of the most popular rides in the park, Remy, Frozen, or Test Track would be our first pick, with Soarin' being the fourth priority. Get our full list of Genie+ ride priorities in our EPCOT Lightning Lane Guide.
EPCOT Dining Tips
27) Know which restaurants have the hardest to get reservations. Right now, you will want to try to book Space 220 and Le Cellier as early as possible. Here's how early you can make dining reservations at Disney World.
To avoid foodie FOMO, check out more of the hardest to get dining reservations at Disney World.
28) Space 220 does have a waitlist! Even though Space 220 isn't listed as one of the restaurants with Walk-Up Waitlist availability in the Disney World app, I got a great tip on our Guide2WDW Instagram from Sarah Joy. You can get an available time slot by walking up right when Space 220 opens. Here's what Sarah said:
"Yep!! Same thing works for Space 220! Talking to someone works! We walked up when they opened for the day around 11-11:30, and there were maybe 5 people ahead of us. When it was our turn, they gave us a couple of different time slots to choose from. Way too easy!! Had dinner there that night."
29) Know which easy-to-get reservations are actually worth it at EPCOT. EPCOT has a deep lineup of great restaurants, so getting a reservation at a place with great food isn't too hard. Some of our favorite options are Chefs de France, Tutto Italia, and Biergarten.
Don't miss our entire list of the easy dining reservations actually worth getting at Disney World.
30) Get free international Coke samples. At Club Cool at Epcot, you can sample Coca Cola products from around the world for free. This is a great way to get a cool refreshing treat for free, and it's one of the best free things at Disney World. But be warned: Try Italy's Beverly at your own risk. It is extremely bitter.
31) Don't miss the bakery in France. Les Halles Boulangerie & Patisserie has delicious macaroons, strawberry tarts, and other great treats. Sometimes the line is long but it is well worth the wait!
32) A quick and delicious lunch in the UK. Fish and chips are an iconic staple of British cuisine. They are excellent at the United Kingdom at Epcot — but don't go in the Rose and Crown Pub. Try Yorkshire County Fish Shop, the food stand located right next to it (towards France). It's a cheaper and faster option, which leaves you more time to experience Epcot!
33) Head out of the park to the Boardwalk. If you don't mind leaving the park for a little while, head out the International Gateway entrance (between UK and France) and go to the Boardwalk. There are many great dining options, including the Boardwalk Bakery, one of our favorites!
34) Use Mobile Order to save time at Quick Service Restaurants. Mobile Order is one of our favorite ways to save time at Disney World. Regal Eagle Smokehouse, Sommerfest, and Yorkshire County Fish Shop all offer mobile order at EPCOT.
35) Know where to find Starbucks at EPCOT. The Starbucks used to be located in the Fountainview Cafe, to the right just past Spaceship Earth. However, Starbucks now has a new home, inside the Connections Cafe & Eatery. This is toward to the left after you enter the park, just past Spaceship Earth.
EPCOT Festival Tips
36) A tray is your friend at the EPCOT festivals. Going to Epcot during one of the many festivals that features food booths? A tray can be a very handy item, especially if you order multiple items at a booth. You could bring your own from home, or purchase one at a Festival gift shop. But here's a tip for a free tray: Yorkshire County Fish and Chips gives out trays with their meals. Have Fish and Chips for lunch, save the tray, and enjoy more convenient dining at the Food Festival booths for dinner.
37) Set a budget. Most of the items at the food booths at each EPCOT Festival are between $3-$9, but snacking around the world can get expensive fast. If you don't want to shock your bank account too much, it's a good idea to set a budget for the EPCOT Festivals in advance. Furthermore, you can purchase a Disney Gift Card with your budgeted amount on the card to make sure you don't overspend. Plus, if you use our Disney Gift Card hack, you can easily save between 5-20% on your food booth purchases.
38) Get your Festival Passport stamped. On the first day you go to EPCOT, get a Festival Passport at the park entrance. This will include all the menus for each food booth, as well as details on special activities going on throughout the theme park.
39) Annual Passholders get freebies at each festival. In the past, we've gotten everything from wine glasses to commemorative coins. Be sure to check the Festival Guidebook to see where you can redeem you Annual Passholder gift.
40) You can do the scavenger hunt for free. The EPCOT Festivals often feature a scavenger hunt throughout the World Showcase. For a fee, you get a map with stickers. When you complete the map, you can turn it in for a small prize. This is an awesome activity for families to do as they go through the World Showcase, but you don't actually need to pay to play the game. Just look out for the special item located in each country. Look out for Figment hiding in each pavilion during the Festival of the Arts. During the Flower & Garden Festival, look for Character Eggs. And seek out Remy during the Food & Wine Festival.
You won't get a prize this way, but you can still have fun finding the hidden characters.
EPCOT Fireworks Tips
41) Pay attention to the direction of the wind. When choosing a spot to watch EPCOT's fireworks, be sure to take the wind into account. A prime spot on the water along World Showcase Lagoon is worthless if the wind is blowing in your face. All you'll see is smoke.
Head toward where the wind is blowing from so that the smoke from the fireworks will blow away from you as you watch the show.
42) Dine while you watch the fireworks. Rose & Crown and Spice Road Table offer a Harmonious dining package, which gives you prime viewing of the fireworks. But several restaurants offer great views without having to pay extra for the package meal. La Hacienda de San Angel and Cantina de San Angel are two good options in the Mexico pavilion.
43) Spots where you can avoid crowds during EPCOT's fireworks. There are still plenty of spots around World Showcase that give a great view but don't quite have a direct view of the circular screen. Look for spaces around the United Kingdom and France pavilions, or between Norway and Mexico. These will not be quite as crowded as the popular spots listed above.
44) Watch the fireworks from outside the park. If you don't care about the projections or water effects, you can get a good view of the fireworks from just outside of the park. Go to the bridge by the Boardwalk. It's a great spot to watch the fireworks light up the sky!
Tips for Visiting EPCOT with Kids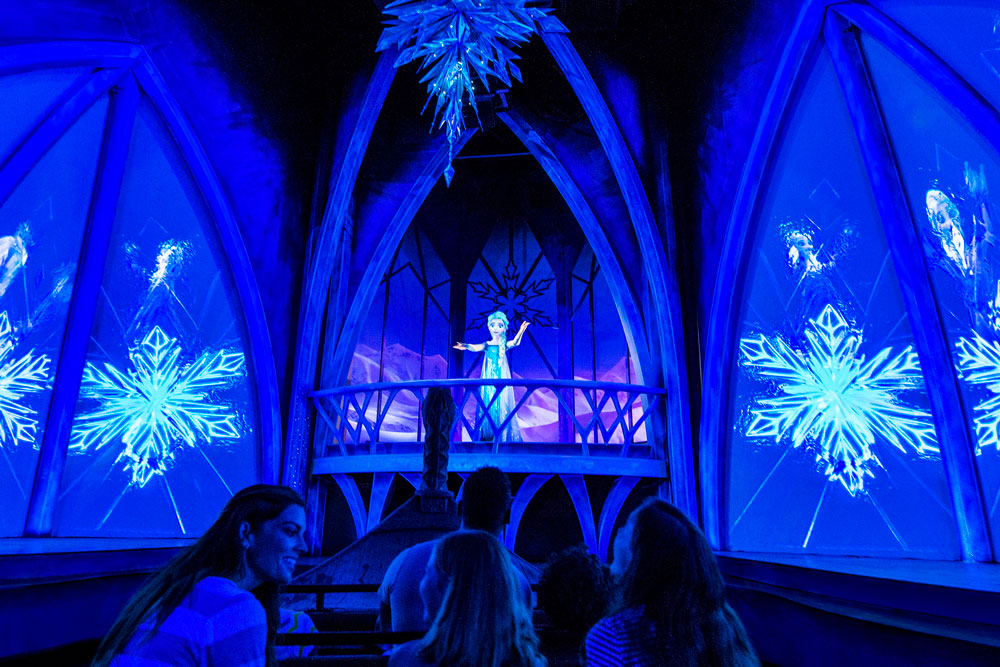 45) Look out for the KidCot stations in each country. They have activities and collectibles themed to each World Showcase pavilion.
Guide2WDW reader Clarence shared how her kids had a blast in the World Showcase.
In Epcot, the kids loved collecting stamps for every country visited. When we went there, they got to decorate a mask in Italy, and proceed to go to all the countries. It does take the whole day to do this, since there are a lot of things to see in each country.
46) The best rides for kids at EPCOT. While EPCOT has a reputation for being a more adult theme park, there are a ton of great rides for kids. Frozen Ever After, Gran Fiesta Tour, and Remy's Ratatouille Adventure are all family-friendly kid pleasers.
47) EPCOT has a ton of playgrounds. If your kid needs to get their wiggles out, EPCOT has you covered. There's a playground located near Creations Shop. Also, the after-ride areas for Journey Into Imagination and Mission: SPACE both have interactive play areas.
You can read more about these activities and more in our EPCOT Toddler Guide.
48) Look for characters in their related countries. Many characters will make appearances in the countries that they are associated with. So look for Belle in France, Snow White in Germany, Mary Poppins in England, and Anna and Elsa in Norway. Get the full list of characters in our EPCOT Character Guide.
49) The best restaurants for picky eaters. Picky eaters and international cuisine don't typically go hand in hand. If your little one has a limited diet, head to Regal Eagle Smokehouse for barbecue chicken or a cheeseburger. Sunshine Seasons in the Land Pavilion also has a massive menu with familiar items like mac and cheese and pizzas.
50) Collectible cards at Space 220. Each kids meal at Space 220 comes with a pack of collectable cards. Each pack comes with 5 cards, which feature artwork depicting life in space and facts about space exploration, food in space, and innovations in space technology.
Everyone who orders a kids meal or a mocktail at Space 220 gets a pack of trading cards. #epcot #WaltDisneyWorld pic.twitter.com/dbXfTYPngC

— Brooke Geiger McDonald (@BrookeGMcDonald) September 20, 2021
Tips for the Holidays at EPCOT
51) They go all out at EPCOT for the winter holidays. During November and December, EPCOT holds their Festival of the Holidays. Besides park decorations and seasonal food, this festival features storytellers who share Christmas and other holiday traditions in each country.
52) Don't miss the Candlelight Processional. One of our favorite Christmas traditions at EPCOT is the Candlelight Processional. During the Festival of the Holidays, a celebrity narrator tells the traditional Christmas story while accompanied by a live chorus and orchestra. It's a grand spectacle, although it is very oriented around the holiday of Christmas. Skip if that doesn't interest you.
53) Get in early to see New Year's Eve Fireworks. EPCOT typically has a massive fireworks show that counts down to midnight on New Year's Eve. The park can reach capacity on this day, so if you want to see these fireworks, make sure you get into the park early enough. There are also dance parties around the park to keep guests entertained.
How to Plan an Excellent EPCOT Day
Planning a trip to Disney World? These tips are just the beginning. Get in touch with our friends at Vacationeer for free Disney World vacation planning. Their travel agents can help you plan your vacation for no extra cost. They'll make sure you get the most out of your visit to EPCOT and the other WDW theme parks. Plus, they are Disney experts, so they'll have their own recommendations and advice.
Don't miss our Disney World guides, which help you learn the basics of planning a WDW vacation. Our Guide 2 Disney Genie and EPCOT Lightning Lane Guide will help you spend less time waiting in line for EPCOT's best rides and attractions. Plus, we have an in-depth section on EPCOT Rides & Attractions, an EPCOT Character Guide, as well as EPCOT Restaurants and Dining.
Let Us Know Your Thoughts
What's your favorite tip for EPCOT? Let me know in the comments below!