52 Magic Kingdom Tips for 2023
Visiting Magic Kingdom? Our complete list Magic Kingdom tips will help you go from WDW newbie to vacation hero. We have 52 tips that will be a quick guide to help you plan your day at Disney World's most popular theme park. The tips are divided into several categories.
Planning and Touring Strategies – These are general tips for how to plan and tackle your day at the park.
Tips on when to visit Magic Kingdom – Find out the best days of the week to visit, and which days to avoid.
Tips for Rides and Attractions – Get ride-specific tips, ranging from tricks on how to save time in line to recommendations on where to sit.
Lightning Lane & Genie+ Tips – Find out how Disney's paid line skipping service will affect your day at Magic Kingdom
Parade Tips – The best viewing spots and how to avoid crowds.
Fireworks Tips – The best viewing spots, as well as alternative locations.
Magic Kingdom Dining Tips – Find out which restaurants are in the most demand and where to find iconic Disney World snacks like the Dole Whip.
Tips for Visiting Magic Kingdom with Kids – Going to Magic Kingdom with a little one? Don't miss these kid-specific tips.
Tips for Holidays at Magic Kingdom – Find out when Magic Kingdom will be transformed for Halloween and Christmas.
Update 05-30-2023: We've updated our Magic Kingdom tips to include new information about Tron Lightcycle Run and the Virtual Queue.
Planning and Touring Strategies
1) Know your Magic Kingdom must-dos before you go: With the most rides and attractions of any theme park at Disney World, there's almost no way to do everything at Magic Kingdom within a day or two. Even on a long vacation, it would be exhausting to try to do everything this theme park has to offer. So figure out what your priorities are before you visit. Check out our ranked list of the Best Rides & Attractions at Magic Kingdom to help get started.
2) Find out when the parades and fireworks are scheduled: Knowing when the parades and fireworks are scheduled to happen is vital for planning your day at Magic Kingdom. This is true even if you have no interest in watching either of these entertainment offerings. Both the fireworks and parade cause a ton of traffic on Main Street, USA, which is where you enter and exit the park. Don't plan on arriving or leaving the park during these shows, as it will be a pain to navigate the crowds.
You can find out the parade and fireworks times in the My Disney Experience app or on the times guide that they give out at park entrance.
3) Get to the park at rope drop, aka as early as possible. Rope drop is an important term to learn. Getting to Magic Kingdom "at rope drop" means being in the park before posted opening time. Guests can actually enter the park 30-45 minutes before park opening. The rides won't be operating yet, but early and eager guests will be ready to head to their favorite rides as soon as cast members "drop the rope" corralling guests at park opening.
4) A popular place to head first at Magic Kingdom: If you're set on riding Seven Dwarfs Mine Train or Peter Pan's Flight, these are good rides to do right at rope drop. They are two of the most popular rides in the entire theme park, and lines can get long very early in the day.
5) Head to the back left of the park at opening (in 2024): Here's a strategy that we have recommended for years, but we are temporarily recommending holding off because Splash Mountain is currently closed and being transformed into Tiana's Bayou Adventure. Unless Big Thunder Mountain is one of your biggest priorities, we'd suggest holding off on this strategy until the log flume ride is reopened in 2024.
Most people will instinctually head to the right side of the park  first and hit up Tomorrowland. Or they'll be drawn toward the castle and go to Fantasyland in the center. Far fewer guests will go to the left hand side of the park first.

The back left of the park is Frontierland, where you can find Tiana's Bayou Adventure and Big Thunder Mountain Railroad. These are two extremely popular rides that you can get on with almost no wait first thing in the morning.
Thanks to Guide2WDW reader Diane for submitting this tip!
6) Lines die down late at night. The early bird gets the worm at Magic Kingdom, but so does the night owl. Many guests will leave immediately after the fireworks, which typically are scheduled between 8 and 9:30 pm depending on the season. The park will be much emptier after these large crowds leave.
7) The early / late strategy. Lines are shortest for the two hours after the park opens in the morning, and the time after the fireworks at night. One of our favorite strategies for visiting Magic Kingdom is to visit in the morning, take a break in the afternoon, and return in the evening. This is a great way to avoid the afternoon heat and crowds.
8) You don't have to leave immediately at park closing. If you're in line for a ride as the park closes, you'll still be able to go on the ride. Also, the shops on Main Street stay open an hour after park closing. So you don't need to rush out of the park right at closing. In fact, we love to take our time going down Main Street at night, as it's a relaxing way to cap off the day.
Here's more on why you can stay inside Disney World parks past closing.
9) Find places to take a break. If you're ever wanting to relax/take a moment to get away from the crowds, go stand on the boardwalk on the river right behind the Turkey Leg and Churro stands in Frontierland. It's super relaxing and has a beautiful view of Rivers of America and Tom Sawyer Island. Thanks to Abbey for submitting this tip!
10) Use the Resort Monorail when leaving. When everyone is leaving the Magic Kingdom, the monorails tend to get very crowded. Most people head toward the Transportation and Ticket Center monorail, which takes you directly to the Magic Kingdom Parking Lot. This is the first monorail to the right, and it's always crowded.
Just past that is the Resort Monorail. Use the resort monorail! The first stop is the Contemporary, but but stay on! The second stop is the Transportation and Ticket Center. This way is a lot faster, and you don't have to deal with all the crowds.
For more info like this, check out our Magic Kingdom Transportation Guide.
Tips on When to Visit Magic Kingdom
11) Do not visit Magic Kingdom on a Monday. It is packed! For many people, Magic Kingdom is the first park they go to, which makes the days or day after most people arrive typically very crowded. Tuesdays, Wednesdays, and Thursdays are always better for the Magic Kingdom. Instead, visit one of the other three parks on Monday, as they will be much less crowded.
12) Pay attention to holiday party dates. During the fall and winter, Magic Kingdom hosts two ticketed parties: Disney After Hours Boo Bash and Disney Very Merriest After Hours. These are held on select nights, and they close the park at 7 pm for non-party goers. If you are visiting Magic Kingdom September-December, pay attention to the dates of the parties. If you don't have a park hopper, be sure to visit Magic Kingdom on a day that the party doesn't occur, as you will have much less time to visit the park.
Tips for Rides and Attractions
13) You can request the front row or back row on certain rides. If you want to feel the most intense ride on Big Thunder Mountain, request the back row. If you want the best view of Seven Dwarfs Mine Train, request the front row. For the best seat on Tron Lightcycle Run, we recommend either the front row or the back row. Cast members will accommodate these requests, although you may have to wait a few minutes longer. Find out where else this makes a difference in The Best Places to Sit on Disney World's Best Rides.
14) Know the ins and outs of the Virtual Queue for Tron. Unless you want to spend money on Individual Lightning Lane, you'll need to join the Virtual Queue to ride Tron Lightcycle Run. We have a full in-depth guide on how to use Disney World's Virtual Queue system, including the fastest way to join. Here's the TLDR rundown:
The Virtual Queue opens at 7 am and 1 pm daily. It opens on Extended Evening Hours days at 6 pm for eligible guests (this is usually on Wednesdays at Magic Kingdom).
Starting 5 minutes before, make sure you're logged in and confirm your party.
You'll want to rapidly refreshing the Virtual Queue page starting 30 seconds – 1 minute before.
We recommend tapping to refresh over pulling to refresh.
Be sure to subscribe to the Guide2WDW YouTube Channel for more Disney World tips, tricks, and advice.
15) What to do if you forget your locker number on Tron. On Tron Lightcycle Run, you have to put all of your items in a locker. There is a small compartment on the ride that can fit a smartphone. However, what do you need to do if you forget your locker number? Look out for the touchscreen between sets of lockers. You can scan your Magic Band, ticket, or locker card and it will tell you which locker number you have.
16) Go on Haunted Mansion if it has a 13 minute wait! If there's a posted wait time of exactly 13 minutes, it's code that there's almost no wait at all. This usually means you can walk straight through the line and into the stretching room almost immediately, so a 13 minute wait may actually mean a 5 minute wait or shorter.
This is a fun way that Disney adds theming even to the wait times, and it's a nod to Disney World pros that they should put a dead stop to their current plans and go on these spooktacular rides.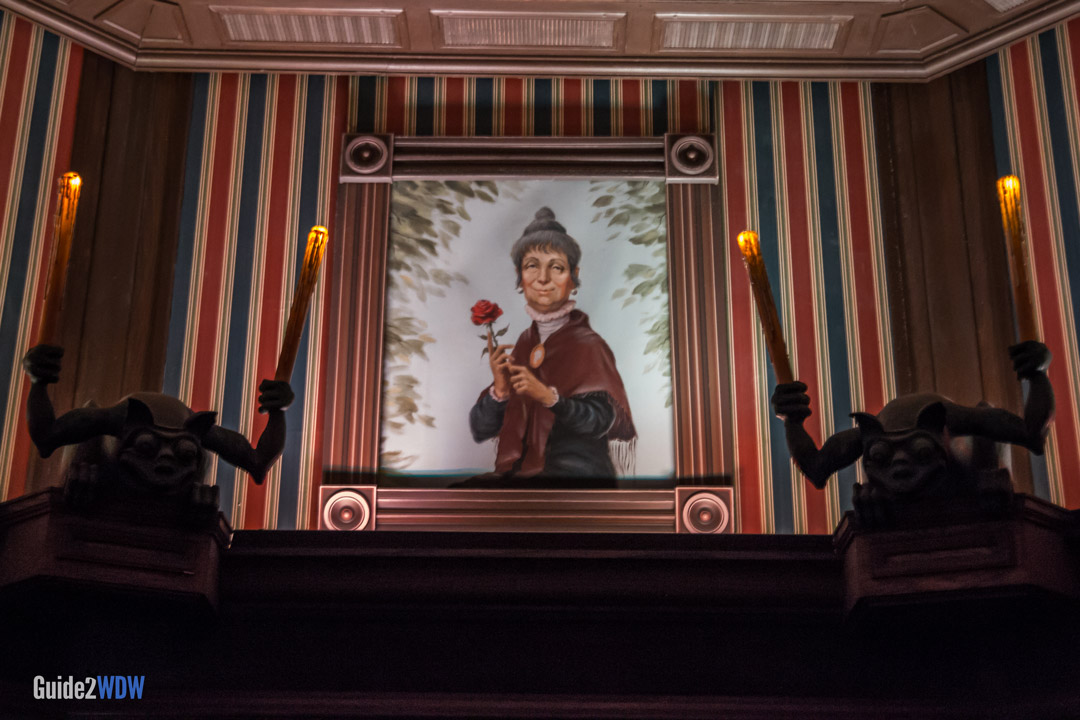 17) A Haunted Mansion line trick. Here's where to stand in the stretching room on Haunted Mansion. This is the room with "no windows and no doors" that has all the painting that stretch. You'll enter this from a room with a fireplace and a creepy portrait. As you enter, stick to the side closest to the fireplace. There are actually two stretching rooms side by side, and the exit is always between them. This will help you board the ride faster.
The other way to find this spot is to stand directly under the painting of the woman holding a parasol on a tightrope.
18) Ride Big Thunder Mountain Railroad at night. I'm not sure exactly what the scientific reason is, but Big Thunder feels more thrilling at night. The experience is just enhanced, and it almost feels like going on a different ride.
19) Use The Hall of Presidents to cool off. With a 23 minute runtime, the Hall of Presidents is a great way to take an air-conditioned break in the middle of the day. Guide2WDW reader Steve says,
"There is rarely a long line, it's air conditioned, and honestly it's a great show! My 9-year-old loved it!"
20) Main Street Vehicles only run in the morning. Head to these vehicles that run between Town Square and Cinderella Castle early if you want to ride them.
21) Tom Sawyer Island closes before dark. Tom Sawyer Island is a great place to explore for an hour or so, but be sure to visit it before the sun goes down.
22) Miss Sorcerers of the Magic Kingdom? Here's an alternative to Magic Kingdom's beloved and retired interactive card game. Try A Pirate's Adventure – Treasure of the Seven Seas in Adventureland. This interactive game sends you on missions throughout Adventureland, in a similar way to Sorcerers.
23) Don't want to get soaked on Tiana's Bayou Adventure (open in 2024)? The left side of the back of the log flume tends to provide the driest ride. However, as it is a log flume ride, you still might get very wet, so it could be wise to pack a change of clothes or socks.
24) Score high on Buzz Lightyear's Space Ranger Spin. In the first room, aim for the left arm of the left robot for 100,000 points, and when you are on Planet Z and you see Zurg, hit the bottom target of his space scooter for 100,000 points. Thanks to Dan for submitting this tip.
25) Watch out for the camels by Magic Carpets of Aladdin. They spray water on unsuspecting guests. Just give the camels a wide berth and you'll be okay.
26) A strategy for riding all the Magic Kingdom Mountains. If you're a thrill seeker, getting on Space Mountain, Splash Mountain, and Big Thunder Mountain in a single day is an accomplishment. One strategy would be to go to Frontierland at the very beginning of the day and go on Splash and Big Thunder back to back. They are located next to each other, and this part of the park will be less crowded. If you purchase Genie+, then make your first Lightning Lane reservation for Space Mountain. If you don't have Genie+, Space Mountain will still have moderate wait if you book it across the park, or hit up Space Mountain after the fireworks at night for a shorter wait.
Lightning Lane and Genie+ Tips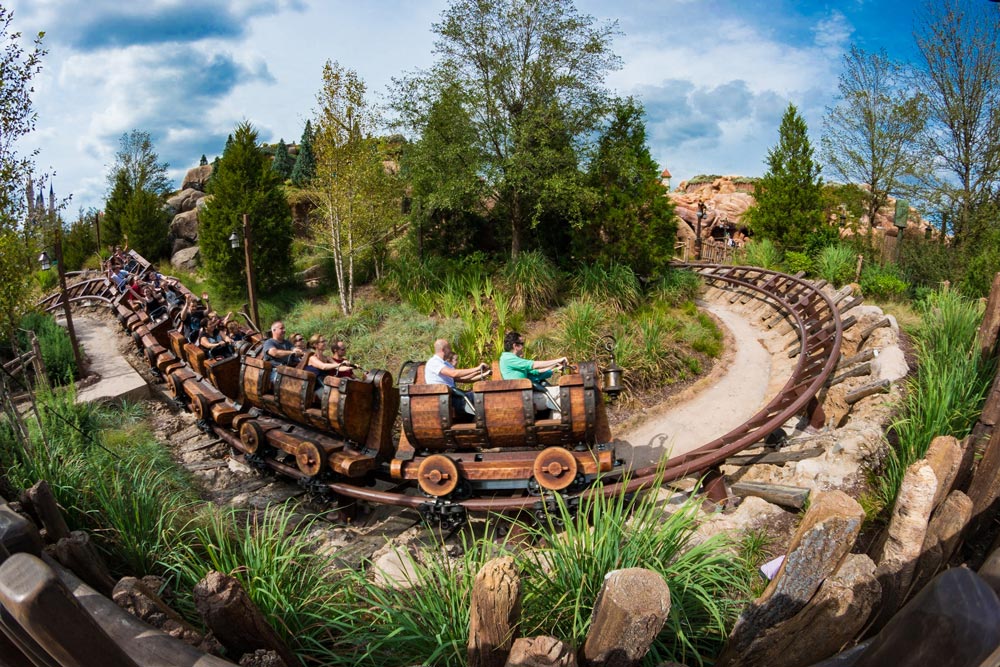 27) Want to skip the lines? Consider purchasing Genie+, which gives you front of the line access to certain rides through a special entrance called Lightning Lane. We think that Genie+ is the best value at Magic Kingdom because of the strong lineup of attractions. You can find out all about in our Guide 2 Disney Genie.
28) Which rides should you prioritize with Genie+ at Magic Kingdom? Genie+ will save you the most time on rides like Space Mountain, Peter Pan's Flight, and Jungle Cruise. Check out our full list of Genie+ ride recommendations in the Magic Kingdom Lightning Lane Guide.
29) Want to skip the line at Seven Dwarfs Mine Train or Tron? You'll have to pay extra. These are Individual Lightning Lane attractions, which is not included in Genie+. Lightning Lane access for these attractions are sold on an a la carte basis. You don't need to buy Genie+ in order to buy an Individual Lightning Lane for Seven Dwarfs Mine Train. Find out all about how Individual Lightning Lane works here.
Parade Tips
30) Know the parade route. The parade route in Magic Kingdom starts just by Splash Mountain in Frontierland, runs through part of Liberty Square, then passes Cinderella Castle and goes down Main Street. It ends in Town Square.
31) Head to Frontierland for less crowded parade viewing. Most people line up for the parade or character cavalcades along Main Street, which runs from the Town Square to Cinderella Castle.
32) Get a great view at Liberty Tree Tavern. If you plan to eat at the Liberty Tree Tavern at Magic Kingdom, try and plan your lunch so that you are done 20 minutes before the parade starts. Just step out onto the porch for a great view: it's located right on the parade route and is elevated. Thanks to John and Karl for submitting this tip.
33) A prime viewing spot for the parade at Magic Kingdom. I just recently went to Disney World and I found that the best place to sit for the parade is on the balcony of the Magic Kingdom's train station, right as you enter the park. Try to get there at least half an hour before, because this is a popular spot. People take the chairs and tables that are up there. If you sit there, you have a great vantage point for the parade. Thanks to Larry for submitting this tip.
34) Use the shops to navigate parade crowds on Main Street. During a parade at Magic Kingdom, if you want to avoid the crowds on the sidewalk – walk through the shops as much as possible. You can walk almost all of Main Street inside if you stay on the left hand side as you look at the Castle (the side with the Emporium gift shop).
35) Wait times can dip during the parade. The lines to a lot of rides get shorter around a half hour before a parade, as people start lining along the parade route. If you have already seen the parade (or don't care to see it), this is a good time to ride the most popular attractions. This tip doesn't apply to Character Cavalcades as much.
36) Get a shorter parade experience with Cavalcades – Character Cavalcades are mini parades, usually with one to three cars and a handful of characters. These happen frequently throughout the day, and you usually don't need to line up too far ahead of time for them. This is a great way to scratch that parade itch without dedicating an hour of your day to watching Festival of Fantasy.
Check out the full list of Cavalcades in our Magic Kingdom Character Guide.
Fireworks Tips
37) The best viewing spot for Magic Kingdom's fireworks. We strongly recommend viewing the fireworks in Magic Kingdom in the hub or on Main Street. Because the Happily Ever After fireworks combine projections on Cinderella Castle with pyrotechnics, getting a good view of both the castle and the sky is crucial. Just where the hub meets Main Street is an ideal spot for this view. In other words, if the hub was a clock and Cinderella Castle was the 12, you want to be standing at the 6.
If you head further back on Main Street, you'll find easier spots to grab right before the fireworks start without having to wait for a long time. Plus, you'll have a good view of the projections along Main Street.
38) There are lots of great places other than Main Street to watch the fireworks. Main Street might offer the best views, but it also will have the biggest crowds. If you only care about seeing the fireworks and don't care as much about the projections on the castle, check out our list of The Best Places to Watch Magic Kingdom's Fireworks, which includes many locations other than Main Street.
39) Watch the fireworks without going inside the park. The Contemporary's California Grill offers its diners an amazing view from the top of the Contemporary, which is a definite bonus to getting a great meal. What about a couple of options that don't require you to pay any money? The beach at the Polynesian offers a great view over the water of the fireworks, and, like the California Grill, they will play the music from the fireworks. Lastly, the by the ferry docks at the Transportation and Ticket Center is actually a great place to see the fireworks, and this option has the fewest crowds. If you time it right, you could even watch the fireworks while riding a ferry. All of these options offer something slightly different, so try out one of them next time you go to Disney World!
40) A dining strategy for getting a great spot for the fireworks. A dining trick Magic Kingdom is to put off eating a dinner until 1 hour before the fireworks. While you wait for the parade, another member of your party can go get the food and bring it back. Mobile Order is extremely useful in this situation. That way you can have a nice meal and a great place to watch the fireworks.
Magic Kingdom Dining Tips
41) Know where to get iconic Disney snacks in Magic Kingdom. You can find the famous Dole Whip in Adventureland at Aloha Isle. Mickey Ice Cream Bars can be found at small snack kiosks located throughout the park. Want a massive turkey leg? Go to Liberty Square Market or Sleepy Hollow Refreshments by Hall of Presidents, or the Turkey Leg Cart in Frontierland.
42) Magic Kingdom's Most Popular Restaurants. Be Our Guest and Cinderella's Royal Table are two of the hardest reservations to get at Disney World. Reservations can sell out very quickly. Here's how to make a Disney World dining reservation as early as possible.
43) Some Magic Kingdom restaurants have good food and easy to score reservations. Skipper Canteen and Liberty Tree Tavern are two of the easiest dining reservations at Disney World actually worth getting. Avoid Tony's Town Square – this reservation will be easy to get, but not worth it.
44) Don't miss Sonny Eclipse. Head to Cosmic Ray's Starlight Cafe at some point during your Disney World vacation. While the food at this quick service location can be hit or miss, the main attraction is Sonny Eclipse. He's an animatronic alien lounge singer who croons in the dining room here.
45) Be Our Guest Reservation Strategy. Consider a late lunch, as these reservations will be easier to get than something around lunchtime or dinner. Also, check 24-48 hours ahead of time. Many people cancel their reservations then to avoid the cancellation fee – and since Disney updated their cancellation policy to allow same-day cancellations you may even be able to get on the walk-up list. If you check often, you might get lucky!
Tips for Visiting Magic Kingdom with Kids
46) Make the most of your mornings. This tip works for all guests, but it's especially vital for parents visiting with small kids. Especially if your kids still take a nap in the middle of the day. Crowds start to get really heavy around 11 am, but you can get a lot done in the morning before this. Head back to your hotel for a break in the late morning or early afternoon so your kids are refreshed to go back in the park for the rest of the day.
47) There's a playground hidden in a ride's line. Dumbo actually has a really cool playground as part of its line. This is a great place to let your kids run around and get their wiggles out. It's one of the activities we feature in our Magic Kingdom Toddler Guide.
48) Dry off after playing in Casey Jr's Splash 'N' Soak. Storybook Circus has a cute water play area, which is a great place to let your kids cool off on a hot day. There's a bathroom located right by this attraction. This is a great place to change into a dry set of clothes.
49) Looking for a first roller coaster for your child? The Barnstormer in Storybook Circus is Disney World's mildest roller coaster. It features just one lift hill. Another option is Seven Dwarfs Mine Train, which features two lift hills, plus a mini drop right at the beginning. The scene inside the mine features all of the dwarfs as animatronics, which might help kids from feeling too scared. Big Thunder Mountain has three hills and is probably too intense for most kids to have as their introduction to roller coasters.
Tips for Holidays at Magic Kingdom
50) Want to see Halloween decorations? Halloween decorations go up at Magic Kingdom in early August and stay through October 31.
51) Want to see Christmas decorations? Christmas decorations go up on November 1 and stay through the first week of January.
52) See premium Christmas entertainment without paying extra. Magic Kingdom's Christmas Party is an extra fee event, featuring special holiday fireworks and a Christmas parade. If you want to see these without buying a ticket for the special event, visit Magic Kingdom from Dec 23 – Dec 31. Disney typically runs the holiday parade and fireworks for all guests on these dates, but check the Disney World app to confirm showtimes.
How to Plan a Magical Magic Kingdom Day
Planning a trip to Disney World? These tips are just the beginning. Get in touch with our friends at Vacationeer for free Disney World vacation planning. Their travel agents can help you plan your vacation for no extra cost. They'll make sure you get the most out of your visit to Magic Kingdom and the other WDW theme parks. Plus, they are Disney experts, so they'll have their own recommendations and advice.
Don't miss our Disney World guides, which help you learn the basics of planning a WDW vacation. Our Guide 2 Disney Genie and Magic Kingdom Lightning Lane Guide will help you spend less time waiting in line for Magic Kingdom's best rides and attractions. Plus, we have an in-depth section on Magic Kingdom Rides & Attractions, a Magic Kingdom Character Guide, as well as Magic Kingdom Dining and Restaurants.
Let Us Know Your Thoughts
What's your favorite tip for Magic Kingdom? Let me know in the comments below!