50 Tips for Taking Kids to Disney World in 2023
Taking your kids to Disney World should be a magical experience. From flying on Dumbo to meeting Mickey Mouse, there are countless wonderful moments in store. However, we also know that taking kids to Disney World can be daunting. There is so much to do and plan. Which rides are best for kids? How will they react to the characters? What kind of strollers are allowed? How should you manage naps and snacks to avoid a midday Mickey meltdown. Guide2WDW is here to help with our 50 Tips for Taking Kids to Disney World in 2023.
Our tips come from years of experience of both going to Disney World as kids, and, now, taking kids to Disney World. We also have heard from Guide2WDW readers who have shared their own tips and tricks for visiting WDW with children. Each tip will give you a quick idea on what to do with kids, how to save money, and how to best navigate your Disney World family vacation. We also have links to our in-depth guides and articles that tell you everything you need to know.
Our Disney World Tips for Parents of Kids are broken up into the following categories.
Tips on What to Pack with Kids at Disney World
Tips for Strollers at Disney World
Tips for Taking Babies and Toddlers to Disney World
Tips for Rides with Kids at Disney World
Tips for Dining with Kids at Disney World
Tips for Characters with Kids
Money Saving Tips with Kids at WDW
Magic Kingdom Tips for Kids
EPCOT Tips for Kids
Hollywood Studios Tips for Kids
Animal Kingdom Tips for Kids
Tips on What to Pack with Kids at Disney World
1) Pack a costume. Guests under 14 years old are allowed to wear costumes inside the parks. This is a fun way to add a little extra magic to your kid's Disney World vacation. Plus, getting your little Cinderella's picture taken with the "real" Cinderella makes for an amazing photo-op. For guests 14 and older, costumes can be worn at Halloween and Christmas events, and some outfits inspired by Star Wars are allowed.
2) Consider a carrier and child leash for toddlers. When we took our son to Disney for the first time, there were a few items that were surprisingly helpful for bringing toddlers to the theme parks. We found that packing a carrier in addition to a stroller was awesome for giving our son a better view of the parks as we walked around. We also loved having a child leash. He was at that stage where he's too little to listen or consistently hold hands, but still wanted to run around. The leash actually gave him freedom to roam safely. You can read all about this and other helpful items in 10 Surprising Must-Pack Items for Bringing Your Toddler to Disney.
3) Pack pouches and snack packs. Pouches are your best friend in line. You can't bring food on rides at Disney World, but you can eat and drink in line. Apple sauce and fruit puree pouches are a lifesaver for parents of small kids who suddenly feel hangry in line. These are ideal because they keep the food contained, chances of spills are minimal, and you can screw the top back on once it's time to get in line. Just be sure to throw away any garbage in trash cans located throughout the line. Other snack packs are great too, but could potentially be messier.
Planning Tips with Kids
4) Plan on giving your kids chances to run around. Don't only focus on the rides! There are tons of activities that don't require lines that also give your kids a chance to get their wiggles out. Look out for the playgrounds in each park: Magic Kingdom has a Casey Jr themed splash pad and Tom Sawyer Island. EPCOT has an outdoor playground and indoor play areas near the exit of Mission: SPACE and Journey Into Imagination. Animal Kingdom has a paleontological dig-themed playground called The Boneyard.
5) Take breaks! This is one of our biggest Disney World planning tips, but it is especially important for families with kids. Going to Disney World can be tiring for you and your kids. Spending all day going from ride to ride can take it out of you. This is normal! What's also normal is kids getting cranky or hyperactive when they are overtired. Think of a Disney World trip as a marathon, not a sprint. Plan small breaks throughout your day to sit and relax, or go back to your hotel for a rest. If you're going to WDW for a week, possibly plan a day in the middle where you don't go into the parks and just enjoy your hotel. Your whole family will enjoy the vacation more, and you'll avoid the dreaded "Mickey Meltdown."
6) Know which experiences require a reservation. Your kid might have their heart set on building their own lightsaber at Savi's Workshop. Or they are so excited to dine with Mickey Mouse at Chef Mickey's. However, both of these experiences require a reservation, and it's very unlikely that you'll get to experience it without one. If there are any experiences that are on your kid's must-do list, look into if they need reservations. Here are a few examples of things you almost always need a reservation for:
Savi's Handbuilt Lightsabers
Building a droid at the Droid Factory
Character Dining
A meal at Space 220
Mickey's Not-So-Scary Halloween Party and Mickey's Very Merry Christmas Party (Require day-specific tickets)
7) Proximity to the parks makes a huge difference with kids. It becomes easier to take a midday break or take your toddler back to the hotel room for a nap if you are close to the parks. If you can afford it, consider one of the monorail resorts that are extremely close to Magic Kingdom, or one of the resorts within walking distance of EPCOT and Hollywood Studios.
8) Looking for a ride share option that includes car seats? Minnie Vans have up to two car seats per van, and they service all Disney World properties. Find out more about Minnie Vans at Disney World here.
9) Make your park reservations wisely. Disney World requires Park Pass reservations in addition to your park tickets in order to get in. Park Pass reservations dictate which park you can visit, or the first park you enter in the day if you have a Park Hopper ticket. While Magic Kingdom is the most kid-friendly park, if your kid is a Star Wars super-fan, they'll want to spend more time in Hollywood Studios. Know the properties found in each park to best plan out your vacation. Here's a quick list:
Magic Kingdom: Disney Princesses, Mickey Mouse, Dumbo, the Mountain rides, Jungle Cruise, Tiki Room,
EPCOT: Frozen, Ratatouille, Guardians of the Galaxy
Hollywood Studios: Star Wars, Toy Story, Disney Jr
Animal Kingdom: Avatar, Finding Nemo, Lion King
Tips for Strollers at Disney World
10) Don't leave valuable items in your stroller! While it's tempting to use your stroller storage for everything, it's unfortunately not a good idea to leave anything valuable in your stroller at Disney World. We've had items and the whole stroller stolen before. It's rare, but it can happen. Don't leave anything in your stroller that would tempt would-be thieves.
11) Know stroller size limits at Disney World. Stroller can be a maximum of 31″ wide and 52″ long. Many strollers fit within these limits — including double strollers.
12) Skip the stroller wagon. Stroller wagons are not permitted at Disney World.
13) BYO stroller or rent a stroller? Because many airlines will let you gate check your stroller, we prefer to bring our own stroller to save money and time. However, you can also rent a stroller from Disney for a daily fee. Look out for the Stroller Rentals at the following locations:
Magic Kingdom Park Entrance
EPCOT: Main Park Entrance, International Gateway Entrance
Hollywood Studios: Oscar's Super Service near the Park Entrance
Animal Kingdom: Garden Gate Gifts (to the right immediately after you enter the park)
Disney Springs: Sundries, near the bus drop off and Planet Hollywood.
14) Know that Disney's rental strollers stay in the parks. Even though you can rent a stroller for the length of your stay, you cannot take the rented strollers outside of the parks. Instead, you drop a stroller off when you leave one park, and then use your rental ticket to pick up a new stroller when you enter another park.
15) Always park your stroller in the designated stroller "parking lots." If you park a stroller outside of these designated zones, a cast member will move it, and you might have a hard time finding your stroller.
16) Put an identifier on your stroller – Want to avoid losing track of your stroller after you park it in the sea of other strollers? Tie a colorful bow on the handle of your stroller, which will make it much easier to spot. This helps especially because Disney World cast members will regularly move strollers around to accommodate for guest flow.
17) Make sure your stroller can fold up easily. You'll need to be able to fold up your stroller to get on Disney transportation, such as buses, monorails, and the Skyway. It's one reason we love the Britax B-Lively, which has very easy and quick folding.
18) Pack a rain cover for your stroller. In Orlando, it's almost guaranteed that there will be rain during your vacation. A stroller rain cover is a great item to pack in your suitcase. They don't sell these at the parks, and you'll be so glad that you have one. We made the mistake of not packing one, and it took days for our soggy stroller to fully dry.
Tips for Taking Babies and Toddlers to Disney World
19) Kids under 3 get into Disney World for free. You may not know that you do not have to pay for your child to get into Disney World if they are under 3. You don't need to bring proof or a birth certificate — Disney uses the honor system.
20) You don't need to purchase a Lightning Lane for a child under 3.  Because kids under three don't need tickets, you don't need to scan their ticket in order for them to join you in the Lightning Lane line. So don't worry about buying Genie+ for them.
21) Kids under 3 also eat for free in certain restaurants. At buffets, family style meals, and character meals, Disney does not charge for children under 3.
22) Request a crib at your hotel. Both at Disney World hotels and non-Disney hotels, you can request a crib or a pack and play when you make your hotel reservation.
23) How to manage a nap routine at Disney. Every baby and toddler is different, but we recommend sticking to your nap routine as much as possible. If your little one is taking multiple naps a day, they probably will be able to take a nap in the stroller. You could even go to the baby center in the park to find a quiet spot for them to relax. When we took our one year old to Disneyland, he was taking two naps a day. We decided to take one break around 11 am for him to take a nap in the hotel room. To our surprise, he was able to manage one nap a day during the trip. Moral of the story: every kid is different, so be sure to factor a child's naps into your planning process.
24) Don't miss the Baby Care Centers – Each park has a baby center, and it can be relatively easy to overlook. However, these spaces are great for parents with babies and toddlers. They have full changing stations that are much nicer than the changing stations in the restrooms. They also have high chairs and other amenities if you need a quieter place to take care of your little one's needs. Read all about Disney World's Baby Care Centers here, including maps for where to find them in each park.
24) Know the best toddler friendly rides and activities. Be sure to check out our free Disney World Toddler Guide for toddler-specific tips and activities. We have park-by-park guides with the best rides for toddlers:
Tips for Rides with Kids at Disney World
25) A tip that some people don't know about is Rider Swap. Rider Swap lets everybody in your party experience rides with height limits without the person or people who watched your kid having to wait extra in line. This works if a child either doesn't meet the height requirement or just if they don't want to go on the ride. From Disney: "If a Guest doesn't meet the boarding requirements or doesn't wish to experience a particular attraction, it's not a problem for family and friends who do! With Rider Switch, one adult or supervising Guest (14 years or older) can wait with non-riders while the rest of the party enjoys the attraction. Then, they simply switch roles to allow the supervising Guest to experience the attraction without waiting in the regular queue again." Simply approach the cast member at the entrance of the ride and say that you're interested in Rider Swap, and they will take care of you. This also works on rides that have Individual Lightning Lane like Seven Dwarfs Mine Train or Avatar: Flight of Passage.
26) The best roller coasters for kids at Disney World. Barnstormer and Seven Dwarfs Mine Train are good candidates for a first coaster. Big Thunder Mountain, Space Mountain, and Slinky Dog Dash are a step up from that, but they are approachable for kids who are used to roller coasters. Guardians of the Galaxy: Cosmic Rewind, Expedition Everest, and Rock 'N' Roller Coaster are all a big step up in intensity.
27) Know the height requirements and your child's height! Many rides at Disney World feature a minimum height requirement. Check out our list of the height requirements at Disney World to know which rides your child will be able to go on. These rides will also have height measurement checks outside the entrance in case you're not sure of your kid's exact height. It is very important that you don't try to sneak on a kid who isn't tall enough, because these height requirements are for their safety!
Tips for Dining with Kids at Disney World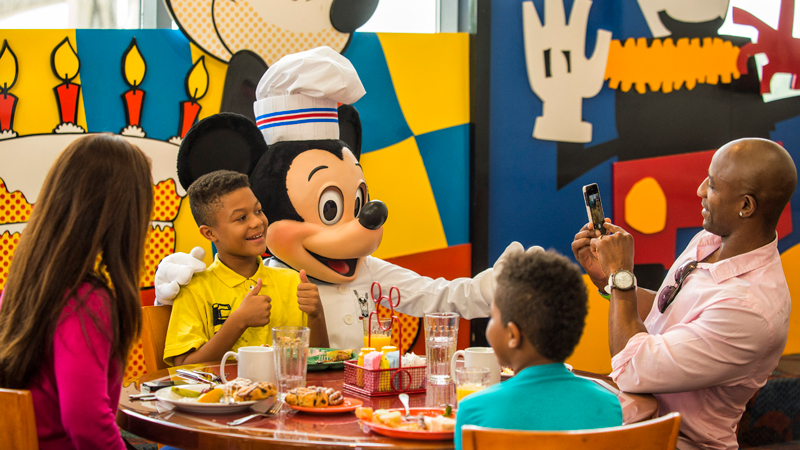 28) Kids get souvenirs at Space 220. If your kid is dining at Space 220, their trip to dine in space just got a little sweeter. Each purchase of a kids meal or a mocktail at Space 220 will come with a pack of Space 220 Collectible Trading Cards. Each pack comes with 5 cards, which feature artwork depicting life in space and facts about space exploration, food in space, and innovations in space technology. Space 220 also offers a "Zero-Proof Sipper" cup shaped like a rocket ship, available for purchase for $12, which includes a specialty space-themed beverage.
29) Typically, kids menus will always feature a familiar option. Some Disney World restaurants feature cuisine that may be unfamiliar to you, ranging from African to French to Norwegian. You may think you need to avoid these options if one of your kids is a picky eater, but don't worry! Kids Menus at Disney World almost always feature a familiar option for American children, such as mac and cheese, pizza, or chicken tenders. Disney tries to include familiar options so families have an easy time dining at their restaurants.
30) Disney World can be a chance for picky eaters to expand their horizons! Because Disney World is such a fun environment, it could be an opportunity to help a picky eater in your family to try something new. True story: I was one of the pickiest eaters growing up. I lived on a diet of chicken nuggets and hamburgers. When I was around 5 years old, Mickey Mouse convinced me to eat broccoli at Chef Mickey's. I'm in my 30's now, and my parents still recall this story in amazement!
31) You can pack your own snacks and meals. You are allowed to bring food into the parks. You can pack some snacks or a lunch for your kids. If you have a stroller, it's great to put a collapsible cooler bag in your stroller's storage to keep any snacks or sandwiches chilled. Be sure to use a reusable ice pack: You can't pack loose ice. This is a great tip for saving money while dining at Disney World with kids.
Tips for Characters with Kids
32) Know where characters are at every park. Each Disney World park features different meet and greets and character encounters. You can find a list of characters within the My Disney Experience app. We also have a park by park character guide that lets you know where to find every character, from Mickey to Kylo Ren.
33) A way to interact with many characters.  For a way to encounter several characters in a short amount of time, Guide2WDW reader David strongly recommends character dining.
"If you want to see, take pictures, or otherwise interact with Disney characters, I highly recommend that you schedule a character meal at WDW. We did breakfast at both Magic Kingdom and Animal Kingdom. Although pricey, we got into the parks before other people, ate, interacted and took pictures of at least 5 characters at each venue. This will save an indeterminable amount of time waiting in line elsewhere in the park."
Check out our Disney World Character Dining Guide for a list of all characters meals at WDW.
34) Worried about your kids being scared of characters? It's totally normal for small kids to be a little overwhelmed by costumed characters. Guide2WDW reader Chris says that character dining can be a good way to accustom kids to being around characters.
"Character meals at Disney World are a great place to get young kids used to being around the characters. They come around often enough that the kids really relaxed."
35) Consider PhotoPass. As a paid add-on, PhotoPass is definitely worth considering for capturing those precious moments of your kids encountering their favorite characters. For a one-time fee, You get access to high resolution downloads of all pictures that Disney photographers take, as well as ride photos. You'll definitely have several keepers for the family scrapbook. Just be sure to download them before the photos expire, which is typically several months after your trip.
Money Saving Tips with Kids at WDW
36) A strategy for limiting impulse purchases. Guide2WDW reader Patti shares a way to avoid buying a ton of souvenirs, and preventing kids from constantly asking for new toys while at Disney World.
"We tell our boys we only buy souvenirs on the last day of our Disney World trip. They can look the whole time we are there, but by the time it's OK to buy they know what they really want, and it prevents the gimmies during the whole vacation, which can add up."
37) Don't buy glowing doodads at the parks. Guide2WDW reader Lisa has a clever way to avoid wasting money on overpriced glow toys that Disney trots out before nighttime parades and shows.
"When it gets dark my kids always want the light/glow in the dark sticks, bracelets & necklaces. This can get very expensive with three kids. Before our vacation I pick these items up at Dollar Tree for $1.00 each & bring them with me instead of purchasing in the park."
38) Pin trading can be a thrifty activity. Pin trading is an awesome activity for kids. Here's how it works: You can go up to any cast member with Disney Pins on their lanyard or on a pin board, and they will trade you one of their pins for one of yours. No questions asked. The kids in my family love trading pins, and it's a great way to have some fun without waiting in line at Disney World. However, don't make the mistake of purchasing a bunch of pins when you get to Disney World, as the pins they sell are typically expensive (sometimes $10+) and usually higher quality than the pins cast members are trading. Even the pin starter packs that Disney sells are around $20 just for a few pins.
Instead, you can buy a lot of pins online that are great for trading and much cheaper than what you can get in the parks. You can search for "Disney Pin trading lot" on eBay, but some sellers also offer them on Amazon if you'd rather shop there.
39) Where to find free stickers at Disney World. Don't just blow by the DVC kiosks. Ask the cast member there for a sticker for your kids. It usually is a Mickey Mouse sticker.
Magic Kingdom Tips for Kids
40) Best spot for fireworks at Magic Kingdom with kids. If your child has stayed up all the way until the fireworks — and it's way past their bedtime — here's a tip that will be awesome at Magic Kingdom. It's actually better to watch the fireworks from the back part of Main Street, by Town Square. The booms from the fireworks are not quite as loud, and you are closer to the exit as everyone leaves the park.
41) Don't put your kid on your shoulders during the fireworks. If your little one needs help seeing the fireworks, try to hold them on your hip/at your side instead of putting them on your shoulders if possible. This way they have the same view of the fireworks as you, but you aren't blocking anyone behind you. I found this to be a more comfortable position than having my wiggly son on my shoulders anyway.
42) Dumbo features a great indoor playground in the line. Dumbo has a unique line at Disney World. You receive a wait time beeper, similar to a restaurant. While you wait, your kids can play to their hearts' content in a pretty awesome playground. Once your beeper goes off, you can go on the ride.
Be sure to check out all of our Magic Kingdom Tips and Tricks.
EPCOT Tips for Kids
43) Look out for KidCOT stations for unique activities. Located throughout the World Showcase pavilions, KidCOT stations feature educational activities and crafts aimed at kids.
44) Don't miss the country's second largest aquarium at EPCOT. The Seas with Nemo and Friends is much more than just a ride. Inside the pavilion, you'll find SeaBase, which is actually a massive aquarium. You'll see everything from manatees to dolphins to clown fish.
45) Check out the seasonal scavenger hunts. For most of the year, EPCOT features a seasonal scavenger hunt, ranging from an Easter Egg hunt to Remy's Hide & Squeak for the Food & Wine Festival. These are really fun activities for the whole family, especially kids. You can buy a map at a few retail locations inside EPCOT, and you get a prize at the end for completing your map. However, you don't have to buy a map to participate. Just look out for the statues hidden around World Showcase and make a note of where they are located. You won't win a prize this way, but you can still have fun with the activity.
46) Kid friendly rides at EPCOT. EPCOT still has a reputation as the Disney World park for grown ups, but there are tons of great rides and attractions for kids. Remy's Ratatouille Adventure, Frozen Ever After, and Gran Fiesta Tour with Three Caballeros in Mexico are three of our favorite rides for kids at WDW. Test Track is also a kid-friendly thrill ride, as going in a car at high speeds is a familiar experience for many kids. And Soarin' is very approachable for all guests who meet the height requirement.
Check out more EPCOT Tips and Tricks here.
Hollywood Studios Tips for Kids
47) Get your groove on with Disney Jr characters. If your kid loves Disney Jr shows like Vampirina, Doc McStuffins, or Mickey Mouse Funhouse, then don't miss the Disney Jr Play and Dance show in the Animation Courtyard.
48) What to do with kids at Hollywood Studios: With so many thrill rides and rides with height requirements, you may think that you can skip Hollywood Studios if you have kids. In fact, there's a ton to do at Hollywood Studios that's kid-friendly. Make Mickey & Minnie's Runaway Railway your number one priority, as it can get long lines. Toy Story Mania and Alien Swirling Saucers are also great rides that are approachable for littler kids. Then focus on the shows and entertainment at Hollywood Studios, such as Lightning McQueen Racing Academy and the Frozen Sing Along. Many of these attractions will have shorter waits because most guests will be focusing on the bigger rides.
Want more Hollywood Studios Tips and Tricks? Check them out here.
Animal Kingdom Tips for Kids
49) Sign up for Wilderness Explorers. One of our favorite activities for kids at Disney World, Wilderness Explorers is a free scavenger hunt that takes you all across Animal Kingdom. You are given a booklet with a map of the park, and you must go to different Wilderness Explorer stations to earn merit badge stickers. It's a fun, educational way to engage anyone with a curious mind as you explore the massive theme park.
50) Where to find Disney World's free drawing class. Disney offers free 20-30 minute drawing classes where you learn how to draw a Disney character, and you get to keep your drawing as a souvenir at the end. This has moved around, and sometimes there are multiple ones, but right now the most permanent drawing class is The Animation Experience in Rafiki's Planet Watch in Animal Kingdom.
Here are more Animal Kingdom Tips and Tricks.
How to Plan an Amazing Disney World Vacation for Kids
Planning a trip to Disney World? These tips are just the beginning. Get in touch with our friends at Vacationeer for free Disney World vacation planning. Their travel agents can help you plan your vacation for no extra cost. They've worked with countless families to plan a vacation of a lifetime, so they know how to make things extra special for parents and kids. Plus, they are Disney experts, so they'll have their own recommendations and advice.
Don't miss our Disney World guides, which help you learn the basics of planning a WDW vacation. Our Guide 2 Disney Genie and Lightning Lane Guides will help you spend less time waiting in line for Disney World's best attractions.
Disclaimer: This article features affiliate links, and Guide2WDW may earn a commission from any products purchased through those links.
Let Us Know Your Thoughts
Have any questions or your own tips for taking kids to Disney World? Let me know in the comments below!