When FastPass was included with your ticket, it was important to figure out which rides you should choose first for your reservations. Now that Genie+ has arrived and front-of-the-line access costs an additional fee, it's even more important to know which rides to prioritize and which rides to skip. In our Guide 2 Lightning Lane, we are sharing tips and strategies to make the most out of your day at Walt Disney World. We'll share whether Genie+ is worth it at each park, which rides you should prioritize for Genie+ Lightning Lane, and if it's worth it to spend extra money for Individual Lightning Lane for the top two rides in the park. If you need a refresher on Disney's FastPass replacement, check out our 6 part Guide 2 Disney Genie, which explains how Lightning Lane and Genie+ work.
As the most popular theme park in the world, Magic Kingdom is usually the first place guests visit when they head to Walt Disney World, so our Guide 2 Lightning Lane will start there. With iconic rides like Space Mountain, Peter Pan's Flight, and Dumbo the Flying Elephant, it's easy to see how Magic Kingdom has earned its "World's Most Visited Theme Park" status. It's also the park with the most attractions at Disney World by a wide margin; naturally, Magic Kingdom also has the most number of options for Lightning Lane.
So, which of these attractions are worth your money for Lightning Lane? And which are worth skipping? Read on to find out.
Update 3-8-2023 – Splash Mountain is now officially closed, so we have removed it from this guide. Magic Kingdom also added two princess experiences to Genie+, so our recommendations for Lightning Lane have been updated.
Individual Lightning Lane Recommendations for Magic Kingdom
Individual Lightning Lane attractions are not included in Genie+ and are an extra fee. Since everyone has a different budget and sensitivity to pricing, I'm not going to say that you should definitely buy an Individual Lightning Lane or not. What I will say is if you should consider it. With some attractions, Individual Lightning Lane could represent a value as it will save you a ton of time in line. With others, you shouldn't waste your money. Here are our Magic Kingdom Individual Lightning Lane recommendations.
Seven Dwarfs Mine Train: Consider Buying
Even after several years, Seven Dwarfs Mine Train is the newest ride at Magic Kingdom, and demand for the ride remains hight. It's easy to see why: with a 38 inch height requirement and a ride that offers mild thrills to all ages, Seven Dwarfs Mine Train has mass appeal that the other coasters at Magic Kingdom don't quite have. Even Big Thunder Mountain Railroad can be too rough for some, and Barnstormer is very much a "kiddie" coaster in comparison. SDMT hits that sweet spot that pleases anyone toddlers to grandparents. Especially on more crowded days, Individual Lightning Lane can save you 60-120 minutes in line. With pricing hovering between $10-$12, saving an extra hour or two for your day at Magic Kingdom could be worth it. Buying for the middle of the day makes the most sense, as it will save you the most time on average.
If you don't want to pay for Individual Lightning Lane, we would recommend going on Seven Dwarfs Mine Train as your first ride after rope drop for the shortest line.
Is Genie+ Worth It at Magic Kingdom?
The first question you need to answer is if you should add $15+ to your ticket for your day at Magic Kingdom. Like Individual Lightning Lane, budgets will be different for everyone, so it's impossible to give a one-size fits all recommendation. That having been said, Genie+ delivers the most value at Magic Kingdom. With over 20 Genie+ Lightning Lane attractions included in the price, you have the best chance of getting several Lightning Lane time slots for some pretty awesome rides. If you are on top of making your Lightning Lane reservations, you could skip the line at over 10 rides at Magic Kingdom, depending on crowd size. For tips on how to best use the Genie+ Lightning Lane system, be sure to check out our tips for maximizing Genie+ Lightning Lane.
Here is the Magic Kingdom Genie+ Lineup.
Big Thunder Mountain Railroad
Buzz Lightyear's Space Ranger Spin
Dumbo the Flying Elephant
Enchanted Tales with Belle (Added 2-19-23)
Festival of Fantasy Parade
Haunted Mansion
"it's a small world"
Jungle Cruise
Mad Tea Party
Meet Ariel at Her Grotto (Added 1-22-23)
Meet Cinderella and a Visiting Princess at Princess Fairytale Hall
Meet Princess Tiana and a Visiting Princess at Princess Fairytale Hall
Meet Mickey at Town Square Theatre
Mickey's PhilharMagic
Monsters Inc. Laugh Floor
Peter Pan's Flight
Pirates of the Caribbean
Space Mountain
The Barnstormer
The Magic Carpets of Aladdin
The Many Adventures of Winnie the Pooh
Tomorrowland Speedway
Under the Sea ~ Journey of The Little Mermaid
Genie+ Lightning Lane Priorities for Magic Kingdom
With over 20 attractions available for Genie+ Lightning Lane at Magic Kingdom, it's theoretically possible to go on all of them if you go on an uncrowded day and get lucky. However, most likely you won't be able to squeeze in every Lightning Lane attraction during your day at the park. So, you'll need to make your priorities. Below is our list of Genie+ Lightning Lane recommendations, based both on what will save you the most time and which rides are the best within this list. Typically, the best rides attract the longest lines, but some guests may want to prioritize rides in the middle or bottom tier, as they may not like thrill rides or may be looking for the most kid-friendly attractions.
Highest Priorities: Will Save You The Most Time / The Best Rides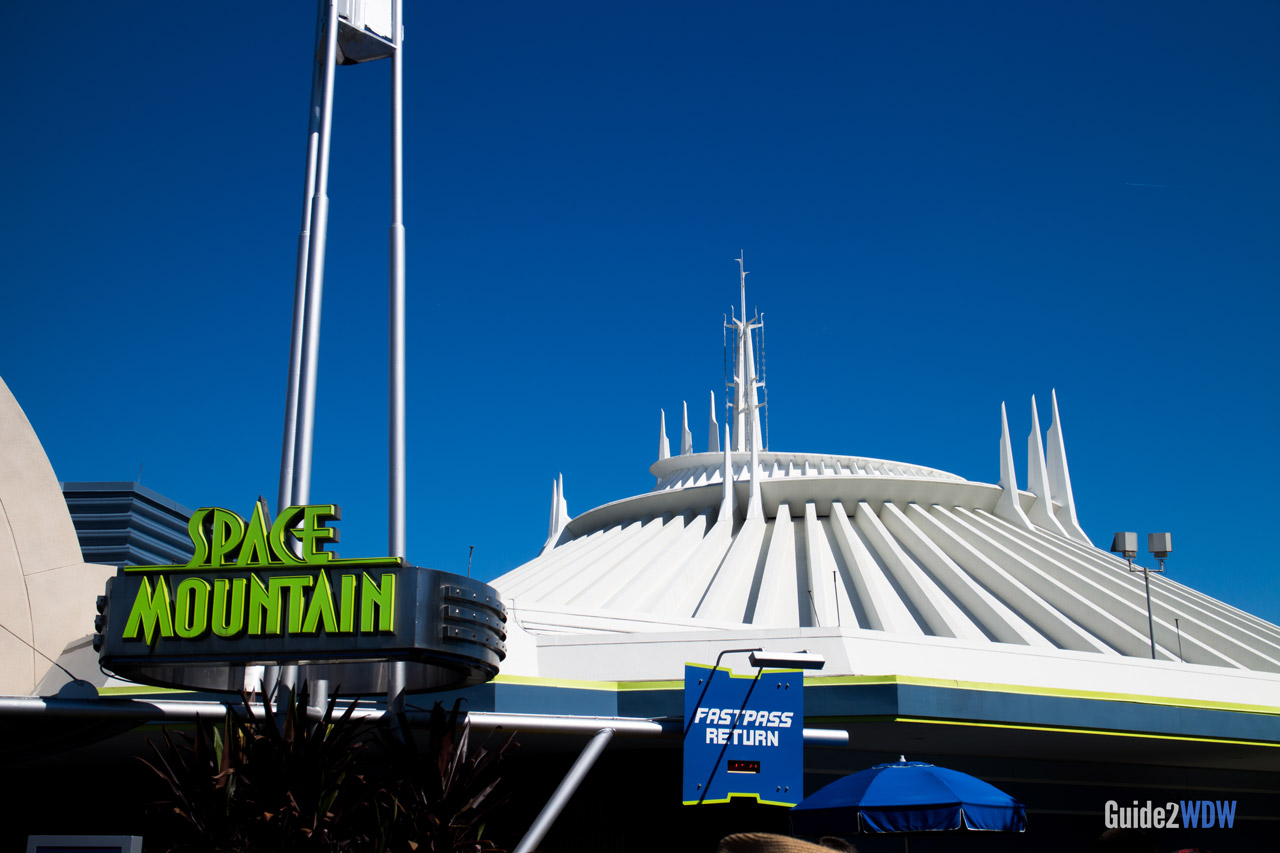 Peter Pan's Flight
Space Mountain
Big Thunder Mountain Railroad
Haunted Mansion
Pirates of the Caribbean
Jungle Cruise
These rides can get long lines, especially during peak seasons. If you are traveling with small kids, a Lightning Lane reservation for Peter Pan's Flight is a must. If your kids are bigger or if you only have adults in your party, Peter Pan could be placed lower on your list of priorities (unless you want to go on for nostalgia reasons).
If you have thrill seekers in your party, then you can't go wrong with either of Magic Kingdom's mountains: Space or Big Thunder. Splash Mountain has closed for a reimagining and will reopen as Tiana's Bayou Adventure in 2024. If it is included with Genie+, we anticipate that the newly refreshed log flume ride will be included as a high Lightning Lane priority.
Both Haunted Mansion and Pirates of the Caribbean are two of Disney World's best dark rides, and are worth grabbing a Lightning Lane reservation for. Jungle Cruise used to be in our middle tier of FastPass recommendations, but its recent refurbishment and story revamp has given it a big boost in popularity, and it has some of the longest lines at Magic Kingdom. A Lightning Lane for Jungle Cruise is a great idea, especially if you're in the mood for puns.
Lightning Lane tip: Consider making these your "Top Picks," as it will put the attractions at the top of your Tip Board within the My Disney Experience app. This will save you time from scrolling.
Middle Priorities: Will Save You Moderate Amount of Time
Meet Ariel at her Grotto
Enchanted Tales with Belle
Meet Mickey at Town Square Theatre
it's a small world
The Many Adventures of Winnie the Pooh
Buzz Lightyear Space Ranger Spin
Under the Sea ~ Journey of the Little Mermaid
Dumbo the Flying Elephant
Festival of Fantasy*
Both Enchanted Tales with Belle and Meet Ariel at her Grotto debuted in early 2023 to very high demand for their Lightning Lanes. Both of these attractions sell out of Lightning Lane very quickly, most likely due to a limited number of slots as the wait times aren't the highest for either of these attractions. If someone in your party is a huge fan of Belle or Ariel, place either of these to the top of your list and try to get the reservation right at 7 am. For everyone else, we'd recommend prioritizing other attractions that save more time and provide more bang for the buck.
We've also upgraded Meet Micky at Town Square Theatre from Low Priority to Medium Priority. Wait times for meeting Mickey can get extremely long, especially on crowded days. If doing the Mickey Meet and Greet at Magic Kingdom is one of your must-dos while at Disney World, this is another good attraction to prioritize. However, there are many other opportunities to meet Mickey around WDW, which prevents this from making it to the top tier of our recommendations.
Any of the rest of these attractions are a solid pickup for your Lightning Lane selections, especially in the afternoon when the top attractions start becoming unavailable. These rides won't have wait times quite as long as the earlier mentioned attractions, but you'll still be saving a good amount of time by grabbing a Lightning Lane in these scenarios.
All of our Middle Priority recommendations are great for kids, so if you're traveling with a small child, you may want to prioritize it's a small world or Dumbo over a top attraction like Big Thunder Mountain or Splash Mountain.
*A note about Festival of Fantasy: Festival of Fantasy gets you access to an ideal viewing area for the parade. Currently, this parade is running twice daily, at 11:30 am / 2 pm or at 12 pm / 3 pm, depending on the day. Festival of Fantasy definitely should not be your first Lightning Lane choice, as it will prevent you from getting your next Lightning Lane for 2 hours due to the 120 minute rule. Our Lightning Lane Strategy for Festival of Fantasy is to try to get a LL for the parade around 30 minutes before showtime. That way you can check into the viewing area and then immediately make a new Lightning Lane reservation. If you're not able to get a Lightning Lane for the parade, you can always find a good spot along the parade route without waiting too long.
Read more about our Festival of Fantasy Lightning Lane strategy here. Also, don't miss our advice on how to maximize Genie+ through stacking Lightning Lanes and taking advantage of the 120 minute rule.
Lowest Priorities: Lightning Lane Might Only Save You A Little Time
Meet Cinderella and a Visiting Princess at Princess Fairytale Hall
Meet Princess Tiana and a Visiting Princess at Princess Fairytale Hall
Mickey's Philharmagic
Monsters Inc Laugh Floor
Tomorrowland Speedway
Barnstormer
Mad Tea Party
Magic Carpets of Aladdin
This definitely isn't a recommendation to skip these attractions. In fact, Monsters Inc and Philharmagic are two of my personal must-do attractions on a Disney World vacation. It's just that a Lightning Lane reservation might not save you that much time versus the standby line for these attractions, as they have some of the shortest wait times on average in Magic Kingdom. These are the type of attractions that you may be able to find immediate or almost immediate return times for Lightning Lane. If that's the case, go ahead and grab a Genie+ Lightning Lane time slot, especially in the late afternoon or early evening.
This category also includes some princess meet and greets that aren't as quite as hard to get as Meeting Ariel or Enchanted Tales with Belle. Compared to the other attractions in Magic Kingdom, they belong in the lowest priority category due to wait times, which can be as low as 10-20 minutes. However, if your child's favorite character ever is Cinderella and a Disney World trip isn't complete without a picture with her, these could be great pickups during your WDW trip and worth getting before some of the attractions in the middle tier.
Also, if you're a parent, not having to wait in an unthemed line with a small child would make these worth an upgrade to Middle or even Highest Priorities.
Magic Kingdom Lightning Lane Tips
Genie+ Lightning Lane reservations open up at 7 am for all guests. Individual Lightning Lane reservations open up at 7 am for resort guests, and park opening for all other guests.
When you're making your first pick, try to get a Genie+ Lightning Lane time slot for one of your priority rides as early as possible. You can make another reservation either 2 hours after you make your reservation, or once you use your Lightning Lane reservation, whichever is first. Grabbing your first Lightning Lane reservation for sometime in the first 2 hours of park opening gives you the best chance of getting another high priority Lightning Lane reservation early. Check out our in-depth guide for maximizing Genie+ Lightning Lane to find out more about how often you can get Lightning Lane reservations.
Lightning Lane reservations are a limited pool and are first come, first served. The rides in our "Biggest Priorities" section of the list above will typically sell out first, so try to get Lightning Lane reservations for those as soon as you can.
If you can't find a reservation, pull to refresh on the Tip Board section of Disney Genie. Return times fluctuate, and it's possible for somebody else's cancellation to open up a time slot for a ride you are going for.
Find out more ways to save time at the park with our Magic Kingdom Tips and Tricks.
Be sure to check out our entire Guide 2 Lightning Lane:
---
James is a lifelong Disney Parks fan. While at the parks, he loves finding new details, learning more about Disney World history, and taking pictures. His favorite WDW attractions include Rise of the Resistance, Spaceship Earth, and Tower of Terror.
James is a filmmaker and writer based in Atlanta, GA.
All author posts