When Disney World turned 50, I noticed that there were exactly 50 rides across its four theme parks. So I embarked on creating a ranking of every single ride across Magic Kingdom, EPCOT, Hollywood Studios, and Animal Kingdom. But then some rides opened and others closed, so the number of rides has changed. However, I've been keeping this list updated as Guide2WDW's definitive list of the best rides at Disney World.
Keep in mind that this is a ranking of rides, not attractions. I'm defining a ride is anything where you get in a vehicle or apparatus that moves you around and, hopefully, delights.
While ranking each ride at Disney World, I used an extremely scientific process entirely based on my personal opinions and experiences. You might disagree with how the rankings played out, but just know that science is on my side.
Update 04-14-2023 – Disney World now has 52 rides, as Guardians of the Galaxy: Cosmic Rewind opened last year at EPCOT and Tron Lightcycle Run opened this year at Magic Kingdom.
However, Splash Mountain was also closed. For the record, Splash Mountain was #5 on this list when the attraction closed for its transformation into Tiana's Bayou Adventure.
This article has been updated to be an up-to-date ranking of all the best rides at Disney World.
Every Ride at Disney World, Ranked
52. The Barnstormer (Magic Kingdom) – This kid-friendly coaster features one lift hill. That's it. It's a great option for a little one who has never done a coaster before, but there's not much else to this short attraction. You can easily find something this caliber at a local fair.
51. Prince Charming Regal Carrousel (Magic Kingdom) – This is a beautiful, classic carousel. But it's also just a carousel. I would never want them to remove it, but it's not too different from carousels found in parks and malls across America.
50. Mad Tea Party (Magic Kingdom) – You spin me right round, Mad Tea Party, and that might be why you're so low on this list. I'm personally not a huge fan of spinning, but I also don't think that my predisposition to dizziness is causing me to be unfair here. Despite being iconic, Mad Tea Party is a well-themed carnival ride. Disney World has so much more to offer.
49. Raft to Tom Sawyer Island (Magic Kingdom) – Tom Sawyer Island is awesome. It's a fun place to get away from the Magic Kingdom crowds and explore. If I was ranking Tom Sawyer Island, it would go further up on this list. However, this is a ranking of Disney World rides. And the raft that gets you to and from Tom Sawyer Island is fine. Just fine. It does its job, but is not much to write home about in terms of a ride. Bonus points for bringing you to a very good destination.
48. The Magic Carpets of Aladdin (Magic Kingdom) – Did Magic Kingdom need a third spinner ride? I'm not sure. This is lowest of the aerial spinner rides just due to the camels out front that somehow always seem to spray me with water.
47. TriceraTop Spin (Animal Kingdom) – It's another aerial spinner. The dinosaur vehicles are very cute. Other than that… yeah, it's a spinner.
46. Tomorrowland Speedway (Magic Kingdom) – I loved this ride when I was 8. A chance to drive a car? Nothing could have been better. Now the noise and gasoline fumes really detract from this ride, that's in desperate need of an electric/futuristic update.
45. Journey Into Imagination with Figment (Epcot) – Speaking of rides I loved when I was 8. Oh, Figment, what have they done to you? The original Journey Into Imagination probably would have been in the top 10 on this list. The current iteration, however, is a far cry from that version of the ride. It isn't without its merits, but Figment deserves better than to be in Epcot's lowest ranked ride.
44. Main Street Vehicles (Magic Kingdom) – This fleet of vehicles are a quaint and lovely way to go down Main Street.
43. Astro Orbiter (Magic Kingdom) – Another aerial spinner. Big bonus points for the awesome view, thanks to this one being the tallest of Disney World's spinners.
42. Dumbo the Flying Elephant (Magic Kingdom) – The top-ranked king of spinners. Dumbo is a classic Disney World attraction, and it got a huge upgrade a few years ago when they changed to the "dueling Dumbo" design. The playground in the queue is a great touch as well.
41. Alien Swirling Saucers (Disney's Hollywood Studios) – Like some of the other attractions I've listed to this point, this is basically a carnival ride with much better theming. However, I find this ride system to just be a ton of fun. As much as I don't like spinning in a tea cup, I thoroughly enjoy whipping from side to side. It's simple, but it's still a blast.
40. Liberty Square Riverboat (Magic Kingdom) – Like Main Street Vehicles, this is a lovely, relaxing ride. No one is going to rope drop the Liberty Square Riverboat, but it's a great changeup that makes for a more well-rounded day at the park and adds to the experience.
39. Walt Disney World Railroad (Magic Kingdom) – Another relaxing changeup. Trains are a huge part of Disney Parks DNA, and it's awesome to be able to ride in a full sized steam train around Magic Kingdom. I just wish it had some extra magic like the Disneyland Railroad does.
38. The Seas with Nemo and Friends (Epcot) – Marlin lost Nemo, again? This omnimover ride incorporates scenes with real aquarium tanks, which is pretty neat. It also brings you into the Seas pavilion, which is worth exploring.
37. The Many Adventures of Winnie the Pooh (Magic Kingdom) – A cute adventure with Pooh bear and friends. I've always been a big fan of the Tigger bouncing section. Although I'm still wishing that they'll replace this one day with Pooh's Hunny Hunt from Tokyo Disneyland.
36. Peter Pan's Flight (Magic Kingdom) – A classic opening day ride, and, due to its popularity, this might be a controversial pick to have so low on the list. The ride is very short for the long lines, and the ride could use an upgrade in effects, like its counterpart at Disneyland did a few years ago.
35. Mission: SPACE (Epcot) – This might be an attraction that did its job a bit too well. Mission: SPACE set out to simulate space flight, and in doing so created the most intense experience at Disney World. The Orange version, which simulates the feeling of launching into space, is the ride I've heard the most complaints about in terms of motion sickness. The Green version is very approachable, but removes any sort of thrill the ride had. I'm a big fan of the details in the ride vehicle, but this mission mostly misses the mark.
34. Na'vi River Journey (Animal Kingdom) – Na'vi River Journey is relaxing, transportive, and features one of the most impressive animatronics Disney has ever made. It's also far too short. Just as you are settling into your boat ride, you see the Shaman of Song, and the ride is over. Rides don't have to be long to be good, but this is a ride that is just begging for a few more minutes to take you through its world.
33. Kali River Rapids (Animal Kingdom) – This is a really good rapids ride that will leave you soaked. While it is a ton of fun and it goes through interesting scenery, the ride could just use something extra in the theming or story to push it into the top half of this list.
32. Buzz Lightyear's Space Ranger Spin (Magic Kingdom) – Disney World's first real interactive ride definitely shows its age in comparison to its newer brethren. There's still something charming about going through physical sets to play a game, rather than something that is entirely screen-based.
31. Living with the Land (Epcot) – Now this is a boat ride with a proper length! Some may argue that learning about hydroponic agriculture is boring. They might even be right. I don't care. I love gently floating by the Mickey shaped pumpkins and rows of lettuce.
30. Under the Sea – Journey of the Little Mermaid (Magic Kingdom) – An abridged retelling of The Little Mermaid. The Under the Sea scene and Ursula animatronic make it worth waiting in the extremely detailed and well-themed queue.
29. Walt Disney's Carousel of Progress (Magic Kingdom) – It's a show that's a ride. It's a ride that's a show. Yes, the ride portion of this attraction is pretty minimal: the theater seats rotate from one scene to the next. I'm a sucker for a good animatronic show, and the theme song is one of my favorite Disney World tunes. The last scene is in desperate need of updates.
28. Tomorrowland Transit Authority PeopleMover (Magic Kingdom) – This ranking is definitely based on nostalgia. But I can't help what the heart wants, and it wants to move at a moderate pace above Tomorrowland. I love everything about the PeopleMover: the views, the narration, and the ride vehicle. It used to be Magic Kingdom's best secret and almost never had a line, but the secret's out now.
27. Dinosaur (Animal Kingdom) – It's Indiana Jones Adventure, but with dinosaurs. This should be number one on the list just based on that description. While Dinosaur has the same ride system and track layout as the Indiana Jones ride in Anaheim, it lacks Dr. Jones' transcendent quality. Dinosaur has some fun thrills, but the dark and sparse show scenes leave something to be desired.
26. Gran Fiesta Tour Starring the Three Caballeros (Epcot) – Fondly referred to as simply "the Mexico boat ride" in my family, everything about Gran Fiesta Tour is great. Floating by a restaurant in the Mexico pavilion's beautiful atmosphere, Donald Duck diving off a waterfall, the seemingly random Small World-esque scene, and the final Three Caballeros animatronics. I'm not even mad that Disney replaced one of the animatronics with a plant for a few weeks while it was being repaired. It just adds to the charm of this ride, which does currently feel like Epcot's best kept secret, as lines are almost always short here.
25. Frozen Ever After (Epcot) – Back, back, over the falls… wait, that's not right. While I loved Maelstrom, I simply have to let it go. While Arendelle is only inspired by Norway, this ride got an wonderful upgrade with its Frozen reinvention. Frozen Ever After features some truly amazing animatronics and some fun scenes.
24. Remy's Ratatouille Adventure (Epcot) – Appropriately nestled in the France Pavilion in the World Showcase, this French import first debuted at Disneyland Paris' Walt Disney Studios Park in 2014. Because this 7 year old ride is identical to its European counterpart, the trackless ride fails to dazzle in the same way that newer trackless rides like Rise of the Resistance do. However, it's still a fantastic addition to Epcot. This fun, kinetic, and oversized adventure adds a much needed kid-friendly ride to a park that need it. The France pavilion is just the cherry on top… if they do that sort of thing in French cuisine.
23. Jungle Cruise (Magic Kingdom) – As a new dad but longtime fan of dad jokes, I am all for a good pun. The quality of this ride really depends on the delivery of your skipper. A skipper with good timing makes all the difference between a great cruise and a ok cruise. The recent updates with new scenes and gags really has given this ride some new wind in its sails.
22. Rock 'n' Roller Coaster starring Aerosmith (Hollywood Studios)– Disney World's only roller coaster with an inversion, Rock 'n' Roller Coaster is sure to rock your socks off with its 0-55 mph launch. The Aerosmith branding feels a bit old-in-the-tooth at this point, and an update would be welcome. Still, this is the best coaster for thrill seekers in all of Disney World.
21. Star Tours – The Adventures Continue (Hollywood Studios) – Blast through the greatest hits of Star Wars. While Star Wars: Galaxy's Edge is dedicated to telling a story at one certain point in time in the Star Wars canon, Star Tours shoots canon out into the depths of space in favor of fun. Podrace agains Sebulba and then fly through the Star Destroyers on Exogal? Sure, why not? The randomized nature of the scenes makes this extremely rerideable, and the visuals are top notch.
20. Slinky Dog Dash (Hollywood Studios) – This is an ideal coaster for the whole family to enjoy. While its Toy Story theme might make it seem like a kiddie-coaster, Slinky Dog Dash actually has some solid thrills packed in its springs.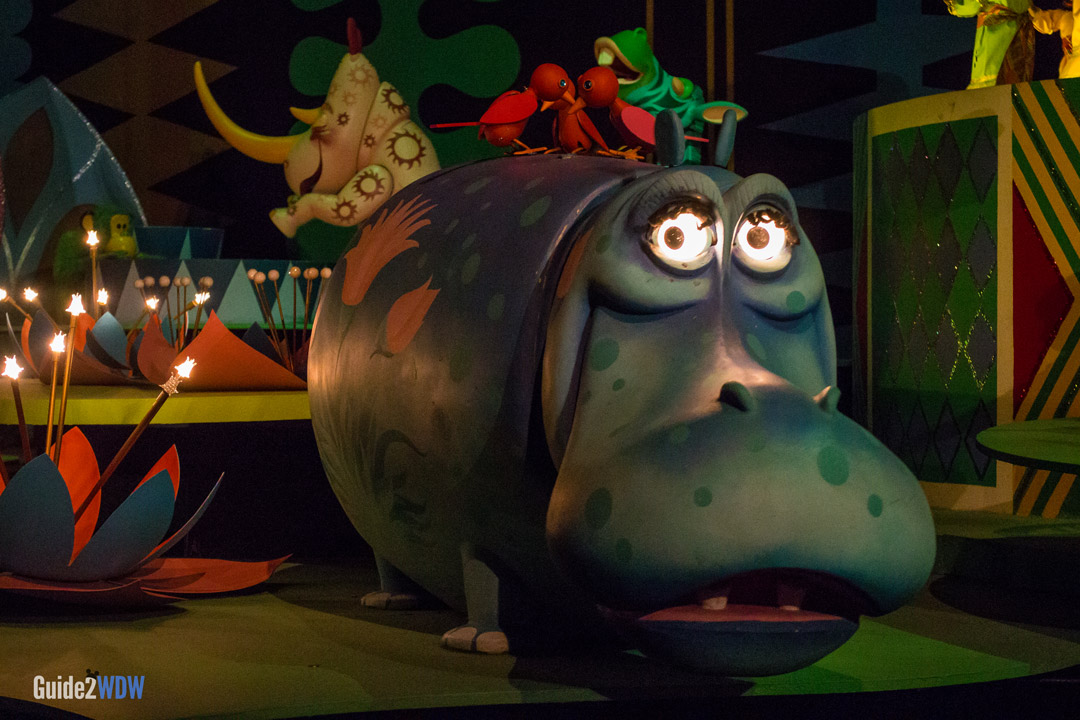 19. it's a small world (Magic Kingdom)  – A theme park classic thanks to its vibrant design and song that is divisively earwormy. Yeah, "it's a small world" will probably get stuck in your head. It's probably stuck in your head right now just reading those words. But this boat ride has a lovely message and scenes that are just plain fun.
18. Test Track (Epcot) – Race up to 65 mph in Epcot's first thrill ride. The "design your own vehicle" is a fun in-line gimmick that doesn't really do much for the ride itself. But Tron-inspired overlay still offers some interesting visuals, and the climatic drive outside makes it worth a ride each visit to Orlando.
17. Toy Story Mania! (Hollywood Studios) – Go for the high score and try not to wear out your wrist in the process! With tons of fun hidden targets and a lot of re-ridability, this ride does a great job of blending a theme park ride with a video game. I've been on this countless times at this point, and it never gets old.
16. Big Thunder Mountain Railroad (Magic Kingdom) – No trip to Disney World is complete without a trip on the wildest ride in the wilderness! Approachable for kids, still a blast for adults, and even better at night.
15. Space Mountain (Magic Kingdom) – Get ready for liftoff. Riding in complete darkness adds a level of exhilaration to what would be a pretty tame coaster, and the light tunnel at the beginning of the ride is perfection.
14. Soarin' Around the World (Epcot) – While I miss the smell of the orange groves of Soarin' Over California, Soarin' Around the World is a much better fit for Epcot. The experience of hang gliding over some of the worlds most beautiful and striking icons is incredible: a great mix of mild thrills and a sense of wonder. Just be sure to ask for a seat in the middle section.
13. Mickey and Minnie's Runaway Railway (Hollywood Studios) – Hot dog! Mickey and Minnie finally have their own ride, and it's a zany adventure through a bright, animated world. With tons of fun visual gags and a super-fun trackless ride system, this is the great cartoony ride at Disney World.
12. Pirates of the Caribbean (Magic Kingdom) – Drink up, me hearties, yo ho! With expansive scenes, a cast of animatronic scallawags, and an all-time theme park soundtrack, Pirates of the Caribbean is one of Disney's iconic attractions for a reason.
11. Millennium Falcon: Smuggler's Run (Hollywood Studios) – This has one of the best lines and ride vehicles in any theme park. The experience of seeing the Millennium Falcon, sitting around the chess table, and then entering the cockpit is a 10/10. Then the ride starts… and it's a fun, interactive interactive simulator that just doesn't match the experience that came before it. A more recognizable location and more interactivity (e.g. branching paths or unlockable easter eggs) would boost this attraction to lightspeed.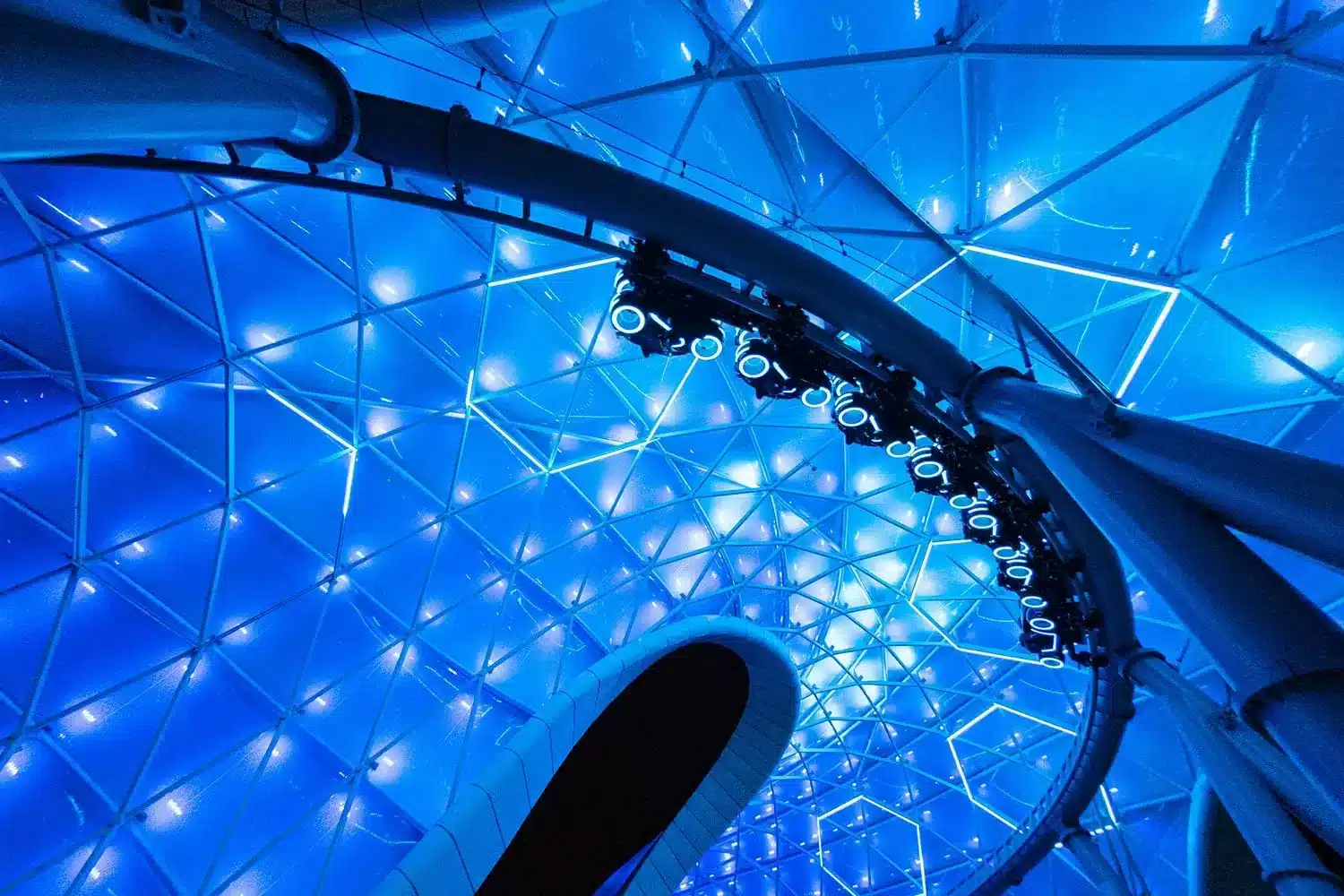 10. Tron Lightcycle Run (Magic Kingdom) – Magic Kingdom's newest ride is as if Space Mountain and Rock N Roller Coaster had a very smooth, very fast baby. With the most incredible launch at Disney World, Tron Lightcycle Run is the fastest roller coaster at any Disney park. Visually stunning and extremely smooth, the only knock against Tron is its relatively short length. It is a ride that leaves you wanting just a bit more — is that such a bad thing?
9. Seven Dwarfs Mine Train (Magic Kingdom) – Another great coaster for the whole family. The lift hills and drops are a lot of fun, but what puts this roller coaster over the top is the show scene in the middle, full of fun visuals and some nice next-generation animatronics.
8. Spaceship Earth (Epcot) – Like a grand and miraculous spaceship, this ride carries the spirit of the original version of EPCOT Center. Perhaps this is so high on the list because of nostalgia, but I find this telling of the history of communication to be endlessly compelling. Great animatronics, entertaining, and educations: everything that Epcot should be.
7. Kilimanjaro Safaris (Animal Kingdom) – This is one of those attractions that is easy to take for granted. But being able to see giraffes, lions, hippos, zebras, and more up close on an expansive savanna in the middle of Orlando is somewhat of a miracle. No two rides are exactly the same. This is the best distillation of the mission of Animal Kingdom.
6. Expedition Everest (Animal Kingdom) – Even with a broken Yeti, Expedition Everest still reigns supreme. It's an amazing coaster with a compelling story, world-class theming, and a clever mid-ride twist.
5. Guardians of the Galaxy: Cosmic Rewind (EPCOT): Take a sci-fi spin through the galaxy on EPCOT's first roller coaster. With multiple throwback songs, cutting edge projection tech, and an innovative ride system that feels like you're skating through space, this feels like a 21st century version of Space Mountain. Bonus points for the incredible queue, which features a jaw-dropping effect. We think that this is the best roller coaster at Disney World, which is no small feat. The only thing keeping this from being even higher up on the list is the motion sickness that many guests experience on Guardians of the Galaxy: Cosmic Rewind.
4. Tower of Terror (Hollywood Studios) – Take a thrilling trip into the Twilight Zone. From the queue to the preshow to boarding the service elevator, there's a delightful feeling of dread that builds as the Tower of Terror experience unfolds. That scene-setting and mind-bending 5th dimension scene turns a drop ride into something that's so much more. It's the younger sibling to the next ride on the list, but one that is much more willing to absolutely scare you silly.
3. Haunted Mansion (Magic Kingdom) – Silly, spooky, scary, and sensational. Even though it's over 50 years old at this point, Haunted Mansion established some theme park highs that other attractions rarely match. This ride established how powerful it can be when the queue is part of the experience. The outdoor area is just the prelude: the gravestones with witty epitaphs set the scene. Once you reach your first Cast Member who greets you with deathly deadpan, you've entered a new world. The stretching room features some of the best visual gags in Disney World, and you're not even on the ride yet! Once in your Doom Buggy, every scene is a classic. The Ghost Host narration manages to be equal parts clever and sinister. The ghost effects are still convincing, 50 years later. The blend of scary and silly shouldn't work on paper, yet it does work. Haunted Mansion is a theme park treasure, and Disney World has one of its finest iterations in the Magic Kingdom.
2. Avatar: Flight of Passage (Animal Kingdom) – This is the only theme park ride that has ever made me start to tear up. That definitely didn't happen when I watched the movie Avatar, which I enjoyed in theaters, but I wouldn't consider myself a die-hard fan. Flight of Passage is just that good. The ride is "Soarin' on a Space Dragon," and I'm excited that even that description fails to fully describe how awesome this ride is. Imagineering took the best parts of Soarin' and turned all the notches to 11. The 3D visuals are jaw-dropping, and the journey you go on is equal parts exhilarating and moving. In the middle of all of your aerodynamic movements, the ride takes a few reflective seconds to pause. It's a small, meditative moment that is all too rare in theme parks, and it's indicative of Flight of Passage's brilliance.
1. Star Wars: Rise of the Resistance (Hollywood Studios) – Rise of the Resistance builds on everything Disney Imagineering has learned about themed entertainment and takes it to the next level. It's much more than just a trackless dark ride – that only encompasses around 4 minutes of the 20 minute+ experience. Like Haunted Mansion, Rise of the Resistance really starts in the queue, but with more surprises and twists. In total, Rise of the Resistance is four attractions smashed together: a walk-through, a simulator, a trackless dark ride, and a drop ride. Everything is done at such a high level and at such a massive scale that the ride really just boggles the mind. It must be experienced to fully understand just why it's Disney World's greatest ride.
Disney World Ride Guide
Know which rides you must go on, which rides you can skip, and how to avoid the lines with our Disney World Ride Guide. We have must-know info, like the WDW rides with the longest waits and the low-down on Single Rider, as well as park by park rankings of every ride and attraction.
What do you think?
There you have it. All of Disney World's rides, ranked. Let me know in the comments below: What do you think? Any rankings that you disagree with? What would your number one Disney World ride be?
---
James is a lifelong Disney Parks fan. While at the parks, he loves finding new details, learning more about Disney World history, and taking pictures. His favorite WDW attractions include Rise of the Resistance, Spaceship Earth, and Tower of Terror.
James is a filmmaker and writer based in Atlanta, GA.
All author posts