Attention Disney World Annual Passholders and D23 Members: are you ready to experience the fastest ride in Disney Parks history before almost anyone else? Disney World just announced two different previews of Tron Lightcycle / Run for Annual Passholders and D23 Gold Members.
If you've been itching to upload yourself into the Grid since this ride was announced five years ago, Guide2WDW has you covered. Here are the details on the Annual Passholder and D23 Member previews for the Tron roller coaster, opening soon at Magic Kingdom.
Update 2-16-2023: AP Preview registration is now open! This article has been updated with preview dates and a link to the registration site. We've also added information about the DVC preview.
Annual Passholder Tron Preview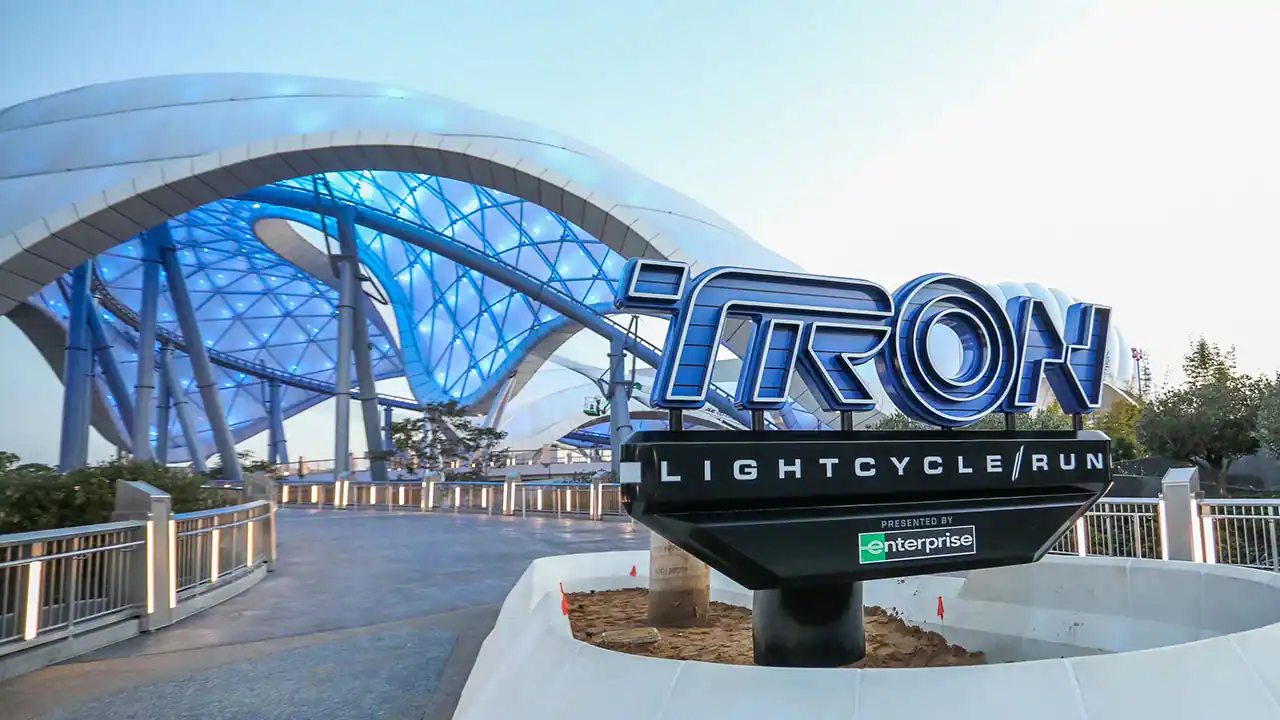 Disney World Annual Passholders will be able to register for the Tron preview starting February 16. If you're a WDW AP, keep a lookout at your inbox for any emails from Disney. They will send out an email with a link to the registration site.
Annual Passholder previews will not have any additional cost.
Update: Registration is now open!
Tron Annual Passholder Preview Dates: March 4-6 and March 8-12.
Registration Link: Tron AP Previews at Disney World.
From Disney:
"As an Annual Passholder, you're invited to be among the first to experience the high-tech, high-speed thrills of TRON Lightcycle / Run presented by Enterprise. Climb aboard your own Lightcycle and enter the Grid, a digital world with no horizons. Push past the limits of what you've ever experienced at Magic Kingdom® Park in the fastest ride in Disney Parks history."
DVC Tron Preview
Disney Vacation Club members are also invited to experience the thrills of Tron. The DVC previews run from March 4-6.
Registration for the DVC preview opens at 11 am ET on February 16. You can find the DVC registration page for Tron here.
D23 Gold Member Tron Preview
D23 will have a paid preview event for their Gold Members on Saturday, March 18. The event runs from 6:30 PM to 8:30 PM.
To register, check out D23's website. Tickets go on sale Wednesday, February 15 at 1 PM EST.
Ticket Price: "Gold Member +1: $50 (plus $7 processing fee)."
Due to limited event capacity, there will be a virtual queue for purchasing tickets. D23 advises
"It is not guaranteed that all D23 Gold members that join the virtual queue will receive tickets to this event. For best practices, please make sure to be logged into D23.com with the email attached to your Gold Membership before tickets launch, then immediately join the queue when the virtual queue goes live."
So, what is this event anyway? And why might it be worth $57?
D23 is inviting you to be among the first to experience the all-new attraction and to score some enticing extras. You'll check-in at the Ticket and Transportation Center to receive your commemorative event credential, and then proceed to Magic Kingdom's main entrance via monorail or water taxi to start your journey to the Grid. Then head over to Tomorrowland, where the D23 festivities are taking place.
Once you're there, it's time to lean forward into the ultimate race for survival! Climb aboard your very own Lightcycle and take off on a high-speed adventure, racing against "the Grid's most menacing Programs." You'll have the chance to experience Tron Lightcycle / Run as many times as you wish during the event and can mingle with fellow D23 Gold Members at the Attraction Plaza in Tomorrowland while snacking on refreshments. To top it all off, you'll receive a D23-exclusive commemorative gift upon exit.
Event Details from D23:
Complimentary parking at the Transportation Ticket Center
Light refreshment for all Gold members in attendance
Exclusive entry to preview of TRON Lightcycle / Run on Saturday, March 18, 2023
Commemorative keepsake from the Grid
D23 Gold members may purchase up to 2 tickets.
Check-in opens at the Transportation Ticket Center (TTC) from 5:00 p.m. to 7:00 p.m. with park admission beginning directly after Gold members receive their credentials and continue to Magic Kingdom Park via monorail or ferry. Gold Members can explore the rest of Tomorrowland up until the event begins at 6:30 p.m. where they will be able to enter the entrance to the attraction. From there, D23 Gold Members can experience TRON Lightcycle / Run until 8:30 p.m.
We want to hear from you!
Will you be taking advantage of these special previews for Tron Lightcycle / Run? Let me know in the comments below!
---
James is a lifelong Disney Parks fan. While at the parks, he loves finding new details, learning more about Disney World history, and taking pictures. His favorite WDW attractions include Rise of the Resistance, Spaceship Earth, and Tower of Terror.
James is a filmmaker and writer based in Atlanta, GA.
All author posts