At the eastern end of the marketplace of Black Spire Outpost, you'll see a giant podrace engine vibrating and rustling. If you stand near it, you can smell the aromas of alien meat roasting. Nearby, a droid endlessly rotates a rotisserie. This is Ronto Roasters, a quick service food stall in Star Wars: Galaxy's Edge at Disneyland and Disney's Hollywood Studios. Ronto Roasters has a much more limited menu than the nearby Docking Bay 7, only offering turkey jerky, non-alcoholic beverages and sodas, and the Ronto Wrap. 
What's a Ronto Wrap? Basically, it's a space hot dog.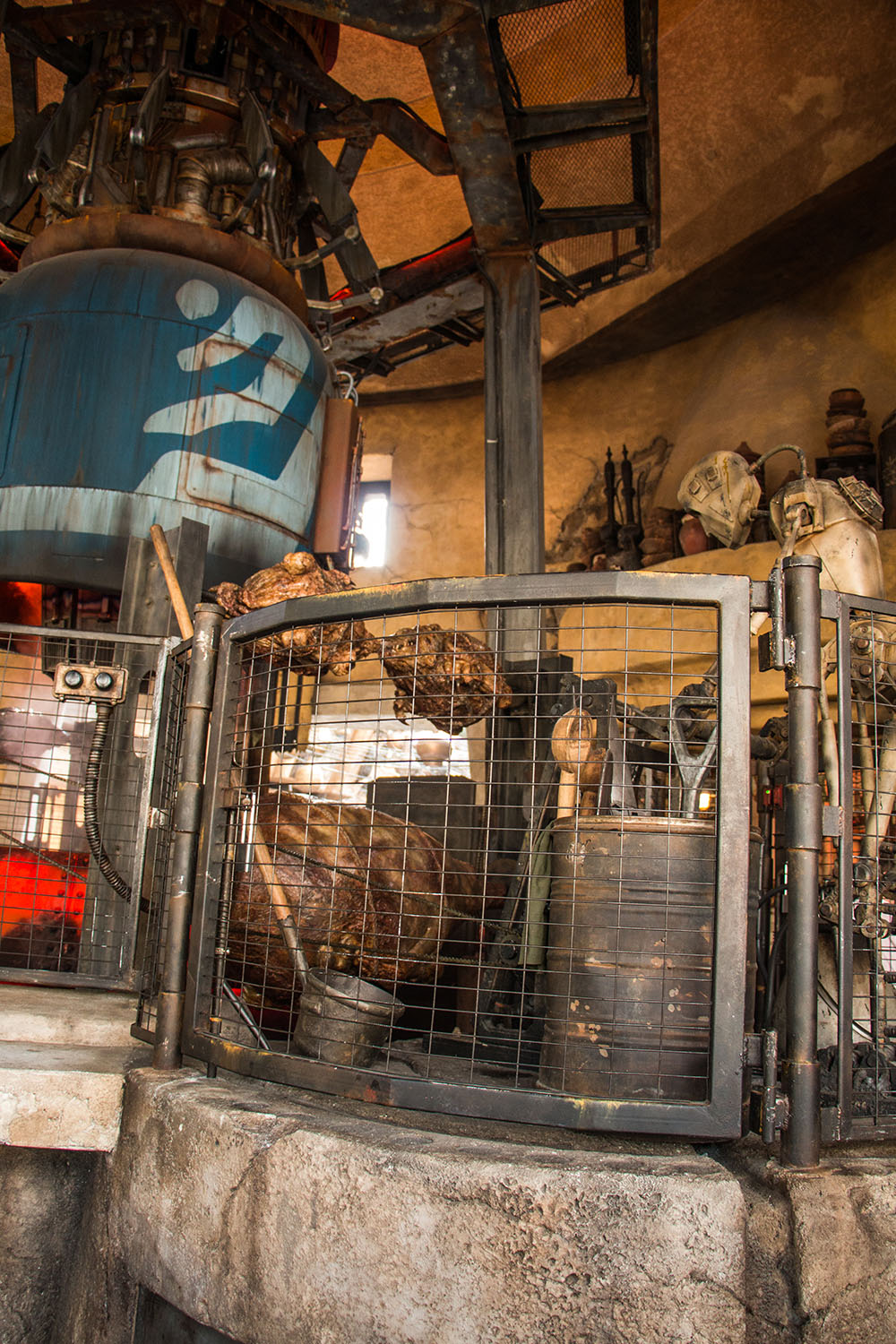 First of all, Ronto Roasters is one of my favorite spaces in all of Star Wars: Galaxy's Edge. The podracing engine is massive, and I could spend a decent amount of time just watching the rotisserie droid. A brief Wookieepedia search let me know that his name is 8D-J8, the same  model as the torture droid from Jabba's Palace in Return of the Jedi. Ronto Roasters could be reductively described as a hot dog stand, but it is definitely the most intricate hot dog stand in this galaxy (sorry Award Weiners).
If you aren't familiar, a Ronto is an alien that can be seen in the Special Edition of A New Hope throwing Jawas off of it in Mos Eisley. This isn't necessarily important, unless you watched that scene and thought "What does that dinosaur-looking alien taste like?" It turns out, very much like pork, as a Ronto Wrap includes pork sausage, roasted pork, peppercorn sauce, and a tangy slaw, all served in a pita.
So, how is the Ronto Wrap? Really good, actually. The flavors work really well together, as the sausage has a nice kick, and the tangy slaw mellows everything out. It's also one of the best executions of the alien food concept at Star Wars: Galaxy's Edge. I've never had a sausage served in a pita, and the inclusion of roasted pork and slaw makes it even more unique. My one complaint would be that it's a little sloppy, but the wraps are served in a cleverly designed wax paper wrapper that is sealed in the back, which makes it actually easy to eat while walking around.
As it's one of the only grab and go food items in all of Galaxy's Edge, I'm really happy that the Ronto Wrap is a success in terms of flavor and execution. In the morning, they serve a breakfast version of the wrap, which I am eager to try. Unfortunately, there are no gluten-free or vegetarian-friendly versions of the wrap (or anything to eat in Ronto Roasters). This seems like a big oversight on the part of Disney.
Did you try the Ronto Wrap yet? Let me know what you think!
---
James is a lifelong Disney Parks fan. While at the parks, he loves finding new details, learning more about Disney World history, and taking pictures. His favorite WDW attractions include Rise of the Resistance, Spaceship Earth, and Tower of Terror.
James is a filmmaker and writer based in Atlanta, GA.
All author posts