EPCOT is the Disney World park best known for letting you eat and drink around the world. Ironically, it's also the Disney World park with rides that are most likely to give you motion sickness. While EPCOT can transport you to the world of tomorrow, unfortunately Dramamine may still be required in the future.
As with every section of our Disney World Motion Sickness Guide, I'm going to break down every attraction that may give guests issues. If you're sensitive to motion sickness or wondering which rides are the most intense at EPCOT, this guide is for you.
Motion sickness is a very personal and subjective topic. You may be totally fine on roller coasters, but motion simulators or 3D will make you turn green. For someone else in your family, the opposite may be true. That's why I will let you know exactly what type of attraction each ride is, and what motion sickness risk factors they have.
For the purposes of this guide, I'm going to break down every attraction in EPCOT into the following categories:
High Risk: These attractions have the biggest chance of making guests feel nausea. These rides will feature the most intense movement.
Medium Risk: These rides have some sort of pronounced movement that could trigger motion sickness. Most guests will be find the intensity of these rides tolerable, but if you're sensitive to the attraction type, you may want to skip it.
Low Risk: The vast, vast majority of guests will have no problem on these rides, but there's still a small chance it could make some guests feel woozy.
(Almost) No Risk: Almost every guest should have no issues with the type of movement on these rides. However, I say this with a caveat that sometimes I get lightheaded standing up after tying my shoes, so I know that there's still a chance some guests could feel sick from these.
Update 2-17-2023: We've updated the recommendation for Remy's Ratatouille Adventure. Thanks to Guide2WDW reader Shaz in the comments for sharing their experience!
High Risk
Guardians of the Galaxy: Cosmic Rewind – Risk Factors: Roller Coaster with Banked Turns, Rotating Cars, Backwards Launch, Projections, and Darkness. As I explained in our in-depth Guardians of the Galaxy: Cosmic Rewind Motion Sickness Guide, there are a few factors that add up to give guests motion sickness on this indoor roller coaster. First of all, the seats rotate, meaning that you aren't always facing the direction you are traveling. Secondly, there are very large projections. Third, the ride is in near-darkness, meaning you can't see the track. All of this happens on a coaster that reaches speeds over 50 mph. This can deliver some serious g-forces, all while disorienting you. Try to keep your eyes on the coaster track (not the giant projections) and sit in the middle section on the left side if you're worried about motion sickness. You can read more tips on how to avoid motion sickness on the Guardians of the Galaxy coaster here.
Mission: SPACE Orange – Risk Factors: Spinning, G-Forces, Motion Simulator, Enclosed Space. Mission: SPACE simulates a mission to Mars. The problem is it does too good of a job. This is arguably the most intense ride at Disney World. Mission: SPACE Orange spins your capsule in a centrifuge to recreate the feeling of blasting off out of the atmosphere. This ride is not for the faint of heart (or the weak of stomach). If you'd like to experience this attraction without the nauseating intensity, check out Mission: SPACE Green, which is much much milder.
Medium Risk
Soarin' Around the World – Risk Factors: IMAX-sized screen, mild motion simulation, screen distortion. Most guests will be fine riding Soarin', as it does not feature any intense motion. However, it does feature a massive screen, and your seat will gently sway and move in sync with the ride film. If you have issues with motion simulators, this ride can trigger queasiness. Avoid sitting on the ends, as the screen will look curved/distorted, which can increase the feelings of motion sickness. For more tips, check out our Soarin' Motion Sickness Guide.
Remy's Ratatouille Adventure – Risk Factors: 3D, Unpredictable Movement. Remy's Ratatouille Adventure features giant 3D screens throughout the ride to tell its story, and certain sections can feel a little like a motion simulator like Star Tours. The motion isn't as intense as that ride, but if you have major issues with 3D you might feel dizzy during this ride due to the screens. Like Rise of the Resistance at Hollywood Studios, Remy's Ratatouille Adventure is a trackless dark ride, meaning that the movement is unpredictable. However, like Rise of the Resistance, the movement is more swift than intense.
Canada Far and Wide in Circle-Vision 360, Reflections of China – Risk Factors: 360 degree screens. Both of these attractions have beautiful imagery displayed in giant screens that surround you. It can have a dizzying effect on some guests.
Low Risk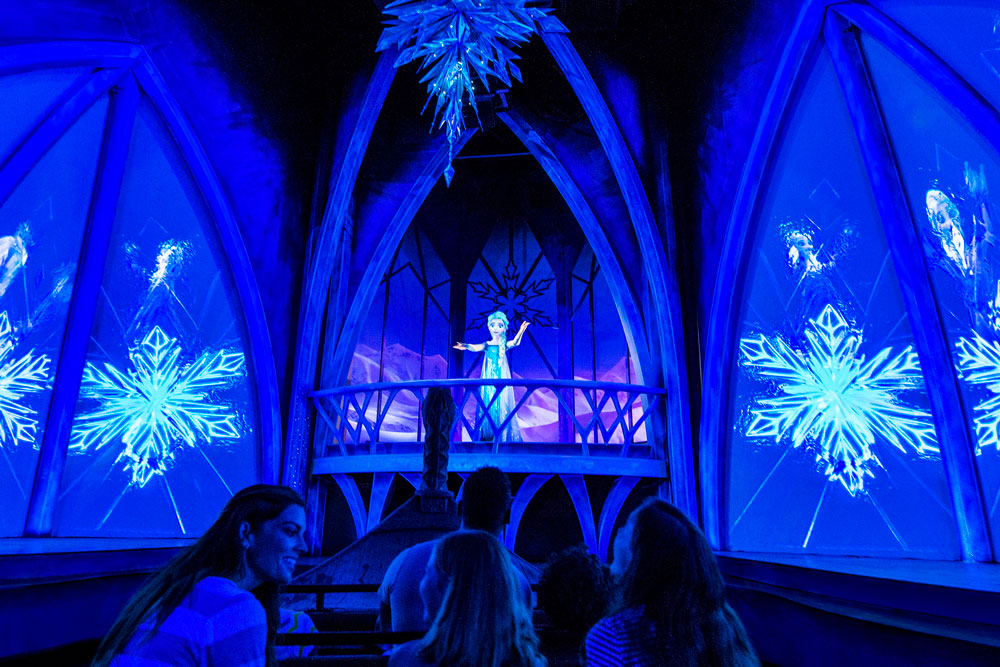 Frozen Ever After – Risk Factors: Backwards Movement, Mild Drop. This boat ride in the Norway pavilion is a mild trip through Arendelle, except for the "Let It Go" section. Your boat is sent backwards on a gentle descent, and then you will turn back around will go down a small drop (think Pirates of the Caribbean, not Splash Mountain). It's a momentary thrill, and the vast majority of guests will not have issues on this ride.
Test Track – Risk Factors: Speed, Sharp Turns, Darkness. Test Track is Disney World's fastest ride, reaching 65 mph at the attraction's climax. While most of the ride is in an indoor track with some sharp twists and turns, the motion is relatively slow in these sections, and it's easy to tell where you are going. While the high speed banked turn at the end is thrilling, it is short lived enough that it won't give most guests any issues. If roller coasters are too intense for you but you still want to experience a thrill ride, Test Track could be a good option.
Mission: SPACE Green – Risk Factors: Mild Motion Simulation, Enclosed Space. Mission: SPACE has an option with the spinning centrifuge turned off. Mission: SPACE Green is much milder and more approachable for most guests. You will board a highly detailed recreation of a space capsule, but it does feel a bit confined. Unlike Star Tours, the screen is relatively close to your face. However, while that may feel claustrophobic for some, the motion is much milder than Star Tours, so most guests will be fine going on this ride even if they couldn't handle that trip to a Galaxy Far, Far Away.
Disney Pixar Short Film Festival – Risk Factors: 3D. This attraction shows 3 Disney and Pixar short films in 3D. If 3D movies give you issues, then you may want to skip this attraction (and watch the shorts at home on Disney+ instead).
Impressions de France – Risk Factors: Ultrawide Screen. Similar to Canada Far & Wide and Reflections of China, Impressions de France is a cinematic tour of the host country. However, this show is not displayed in 360 degrees. It's displayed in ultrawide resolution, with five screens spanning 200 degrees. While the movement on this extremely wide screen can cause motion sickness for some, it's much more approachable than the 360 degree screens of the other attractions.
(Almost) No Risk
Spaceship Earth – This is a slow moving ride through the history of communication. The back half of the ride does feature a slow, backwards descent.
Gran Fiesta Tour – This is a gentle boat ride in the Mexico Pavilion along the lines of it's a small world. It has no drops.
Journey Into Imagination with Figment – A slow moving ride through the senses, this imaginative attraction features one somewhat startling moment toward the end, but nothing that should induce motion sickness.
The Seas with Nemo and Friends – This is a slow Omnimover ride in the vein of Haunted Mansion or The Little Mermaid. This ride is relatively dark, but gentle moving.
Turtle Talk with Crush – This interactive, screen-based show should not give guests any issues with motion sickness.
Living with the Land – Another slow moving, gentle boat ride with no drops.
Beauty and the Beast Sing Along – While this is shown in the same theater as Impressions de France, Beauty and the Beast Sing Along is shown in a standard widescreen presentation familiar to moviegoers.
Awesome Planet – This short movie is displayed on a regular movie screen and shouldn't give you the issues
I'm currently working on more park motion sickness guides. In the meantime, if you're curious how intense other Disney World rides are and if they can cause motion sickness, check out our in-depth guides:
We want to hear from you!
Is there anything that we got wrong in this guide? Do you have any tips for avoiding motion sickness at EPCOT? Let me know in the comments below, and I'll update the article with your input!
---
James is a lifelong Disney Parks fan. While at the parks, he loves finding new details, learning more about Disney World history, and taking pictures. His favorite WDW attractions include Rise of the Resistance, Spaceship Earth, and Tower of Terror.
James is a filmmaker and writer based in Atlanta, GA.
All author posts