Are you ready to experience the neon-lit thrills of Tron Lightcycle Run at Magic Kingdom? Disney World's newest roller coaster puts you on a high-speed journey through glowing digital world. But you probably have a few questions before you enter the Grid. "Will Tron give me motion sickness?" "Can I fit on the seat?" "Are there alternate ways of riding?"
Guide2WDW has you covered. If you have worries about hopping on a lightcycle and racing against Team Orange, our Tron Motion Sickness and Accessibility Guide will answer all of your questions.
Will Tron Lightcycle Run give you motion sickness?
As a high-speed roller coaster, Tron Lightcycle Run can give you motion sickness.
Here are a few factors that may contribute to you feeling sick while riding Tron.
It's a roller coaster. For some people, roller coasters are no problem when it comes to motion sickness. However, if roller coasters give you issues, this will be no different.
It's very fast – in fact, it's the fastest roller coaster at Disney World.
It features a launch. This is similar to the beginning of Guardians of the Galaxy and Rock N Roller Coaster, which accelerate you quickly in a matter of seconds. Tron's launch goes
It features sharp, banked turns.
You are in a motorcycle-style seated position, which increases the sensation of speed.
Tron is an indoor/outdoor roller coaster. There are portions in the dark, as well as projections surrounding you.
However, Tron is less likely to give you motion sickness than some of Disney World's other roller coasters, like Rock N Roller Coaster, Guardians of the Galaxy, and even Expedition Everest.
Tron Lightcycle Run doesn't go upside down like Rock N Roller Coaster.
It doesn't spin like Guardians of the Galaxy.
You move on one direction the entire time.
Tron is very smooth and doesn't rattle you around.
It's very short, at around a minute long.
Overall, we'd rank Tron Lightcycle Run as a medium-to-high risk for motion sickness. We would guess that the majority of guests will not have an issue, mainly due to the smooth track and short ride length. If you can ride Rock N Roller Coaster or other high-speed coasters with no issue, you should have no problems here.
However, motion sickness is a very personal thing, and there are a lot of factors that could cause motion sickness on this ride. If roller coasters and high speeds give your stomach fits, then you may want to hit the escape button on going on this ride.
Will I fit in the Tron Lightcycle Run seat?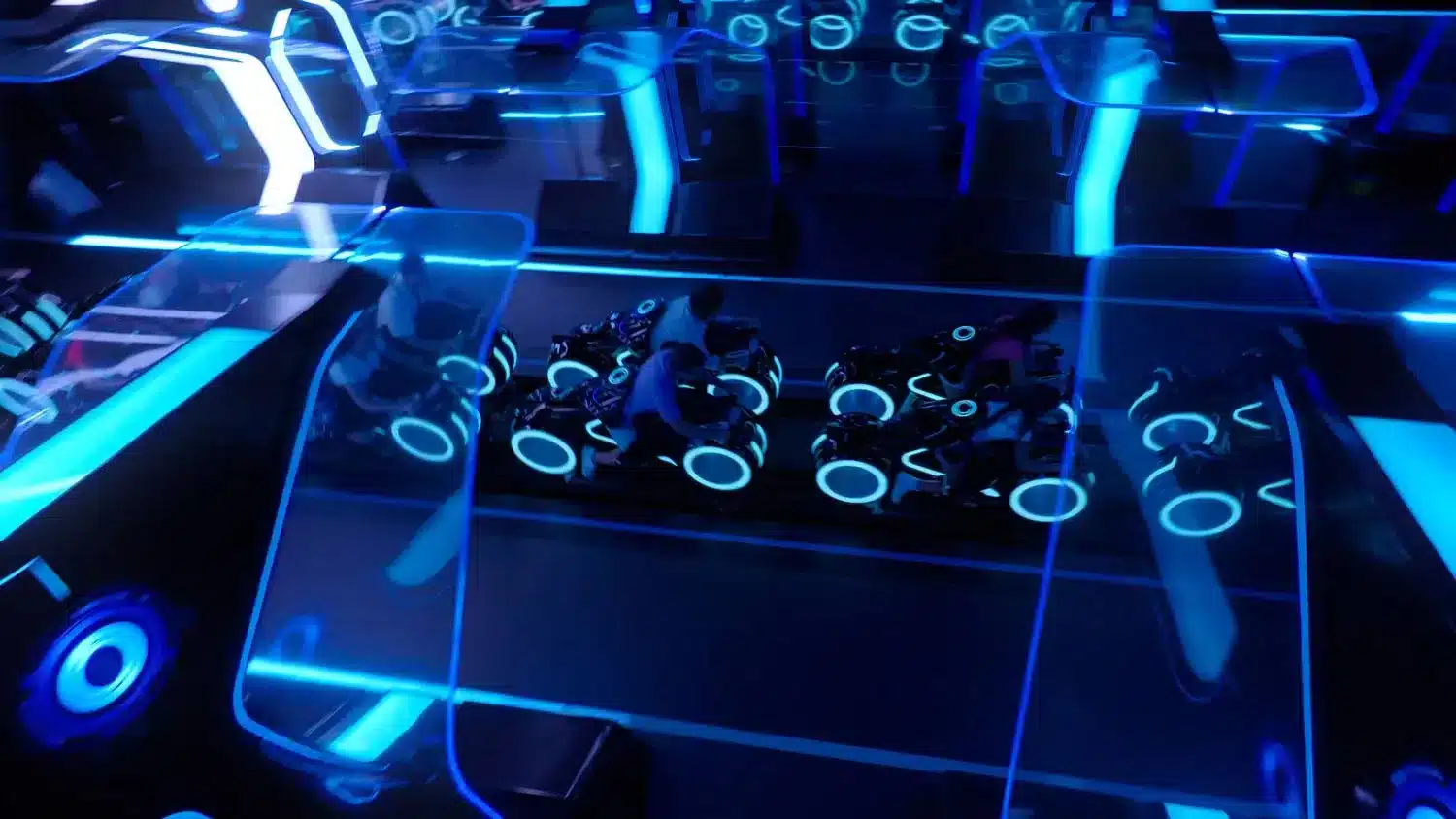 One of the biggest questions many guests are wondering before they launch into the Grid is whether or not they will fit onto Tron's unique roller coaster seats.
The ride's seats are designed like motorbike seats, where guests lay forward. Thiwhich makes for an immersive experience. If you've been on Flight of Passage in Animal Kingdom, the ride vehicle is somewhat similar, but there are important differences.
Riding on Troy's motorbike seats be a challenge for some riders to fit in for a variety of reasons.
In order to get onto Tron's motorbike vehicles, you have to be able to swing one of your legs over the bike to sit in a straddling position.
There is a silver bar that acts as a locking mechanism to keep your legs in place. Your legs will be sitting at an L angle, and the safety bar comes in and rests against your leg.
Because of the leg safety bar, the biggest determining factor of whether you will fit is your thigh size and your calf size. Waist size and height are not as important (Tron does have a minimum height requirement of 48″). For most riders, whether or not the calf bar locks into place is what might prevent them from riding.
Disney has not released an official size guideline for this ride. I've seen anecdotal reports from people who have 20″ calves and 24″ thighs that fit.
There is a test vehicle outside the ride entrance that you can practice getting on and using this mechanism. However, there is no indicator light to let you know if you are fitting properly.
This excellent video from Disney Dan on YouTube gives some great tips for fitting into the Tron Lightcycle vehicle.
He was able to fit with 18" calfs and 23" thighs.
In order to fit, you need the safety bar to come to a 90 degree angle against your leg. You want to push your thigh as far forward into the front leg grip.
Pushing your foot against the wheel helps.
Wearing skin tight pants can help prevent the bar to get stuck due to friction from your skin.
However, if you aren't able to ride in the motorbike seat, you can still experience this attraction.
Is there an alternate-style seat on Tron Lightcycle Run?
Some of the Tron ride trains feature accessible seats that are similar to traditional roller coaster seating, with a lap bar. These are located on the back row on a select number of ride vehicles.
No matter what reason you have, you can request to ride in the accessibility seats.
Disney World has increased the number of trains with accessibility seats from two to three during previews, but it still may require an additional wait as there are a limited number of these rows.
How intense is Tron Lightcycle Run?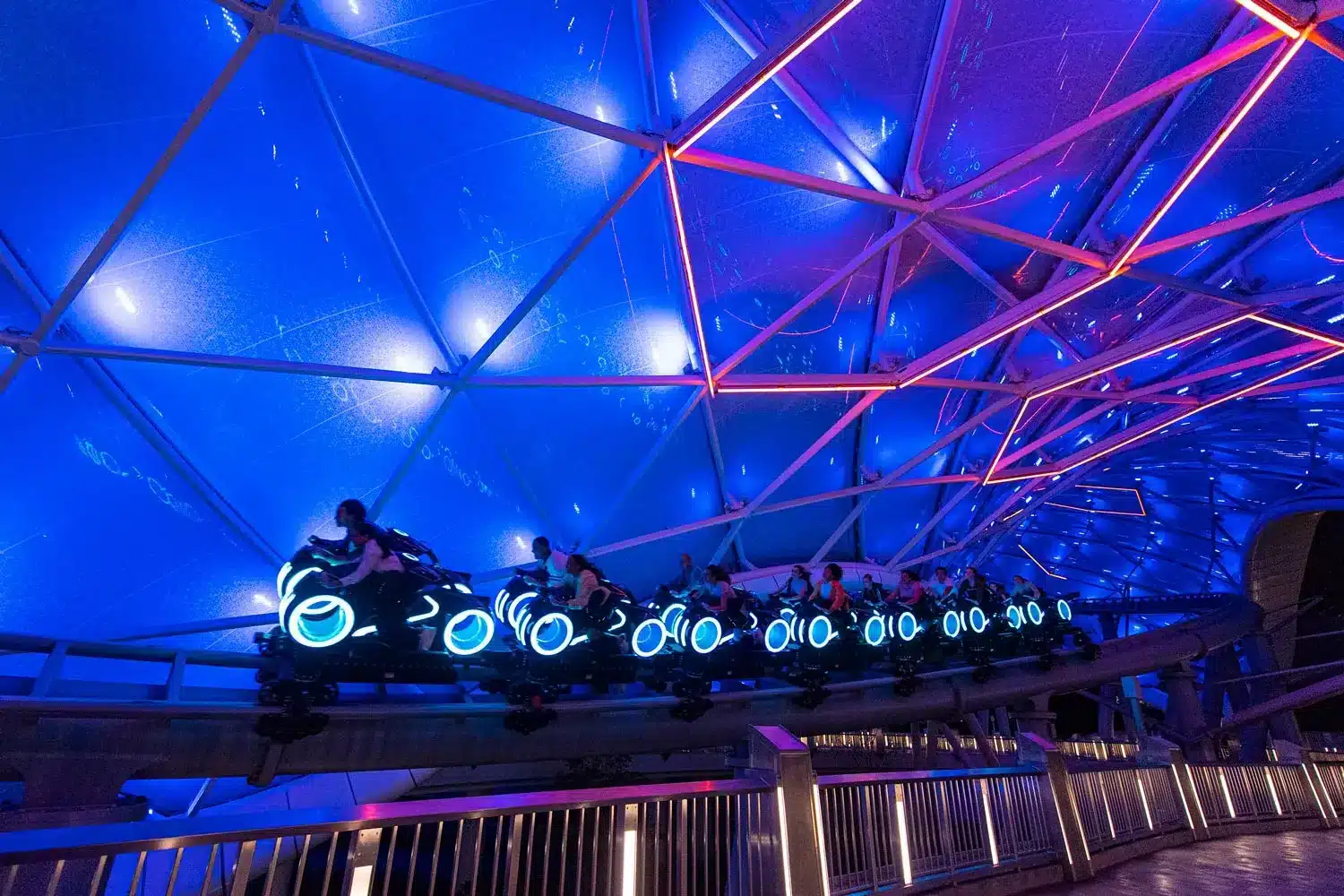 Tron Lightcycle Run is the most intense ride at Magic Kingdom, and it's one of the more intense rides at Walt Disney World. The launch, the high speeds, motorbike seating, and banked turns definitely bring the thrills.
However, it's not the most intense coaster at the parks. We would rank it behind Rock 'N Roller Coaster, Expedition Everest, and Guardians of the Galaxy in terms of intensity. However, it does rank well above Magic Kingdom's other roller coasters: Seven Dwarfs Mine Train, Space Mountain, and Big Thunder Mountain Railroad.
From Disney:
Tron Lightcycle / Run is a high-speed, roller coaster-type thrill ride on motorcycle-style vehicles inside a dark, computerized world with sharp turns, sudden drops and stops.

For safety, you should be in good health and free from high blood pressure, heart, back or neck problems, motion sickness, or other conditions that could be aggravated by this adventure. Expectant mothers should not ride.
Does Tron Lightcycle Run have any inversions?
No. Tron Lightcycle Run has a launch, banks, turns, but it does not have any loops or flips. You never go upside down on this ride.
How fast is Tron Lightcycle Run?
Tron reaches speeds of 60 mph, making it the fastest roller coaster at Walt Disney World.
If you're curious how intense other Disney World rides are and if they can cause motion sickness, check out our in-depth guides:
We want to hear from you!
What has your experience on Tron Lightcycle Run been? Let me know in the comments below!
---
James is a lifelong Disney Parks fan. While at the parks, he loves finding new details, learning more about Disney World history, and taking pictures. His favorite WDW attractions include Rise of the Resistance, Spaceship Earth, and Tower of Terror.
James is a filmmaker and writer based in Atlanta, GA.
All author posts