Figuring out what to eat at Magic Kingdom can be less than magical. While there are plenty of delicious dishes found throughout the park, the food offerings are the most hit or miss of Disney World's four theme parks. The divide between having an awesome meal and a forgettable one is pretty stark at Magic Kingdom. Avoid the food that feels like it was meant for a theme park, and let our Magic Kingdom Dining Guide give you the map to find the culinary gems throughout the park.
In our Magic Kingdom Dining Guide, we're sharing the best table service restaurants, counter service restaurants, and kiosks so you know where to make dining reservations and what to order.
Update September 25, 2023 – We've updated our guide, including a full ranking of Magic Kingdom's table service restaurants and advice on what to order. Stay tuned for more MK dining guides.
Best Table Service Restaurants at Magic Kingdom
Magic Kingdom features two of the most renowned Disney World restaurants: Be Our Guest and Cinderella's Royal Table. These have been two of the hardest reservations to get at Disney World for years. It's because both of these restaurants offer an experience you can't find elsewhere. You can dine inside the Beast's Castle in an impressive recreation of the ball room from Beauty and the Beast at Be Our Guest. And you can dine inside Disney World's iconic castle at Cinderella's Royal Table. However, only one of these restaurants makes our list of the Best Table Service Restaurants at Magic Kingdom.
Our top two recommendations for Magic Kingdom restaurants are less famous, but offer better food at a better value. Also, both are much easier to get dining reservations for. That's not to say that Be Our Guest or Cinderella's Royal Table are bad or not worth doing. But they both are at a price point that makes it hard to solidly recommend as our favorite table service meal at Magic Kingdom.
1) Skipper Canteen
Come for the puns, stay for the culinary fun. Skipper Canteen isn't the most hyped restaurant in Disney World. Other restaurants at Magic Kingdom get all the love on Instagram and have people waking up at 5:45 am to make Advanced Dining Reservations. But with an adventurous menu with tongue-in-cheek names befitting the Jungle Cruise theme, Skipper Canteen is a real gem when it comes to table service dining at Magic Kingdom.
The food is delicious and a far cry from your standard theme park fare. From Dan Dan Noodles to Curried Vegetable Stew, Skipper Canteen features flavorful dishes that pack plenty of flavor. Those who want a fun twist on familiar cuisine should opt for the Fried Chicken or Hanger Steak.
The Kids' Menu is also welcome blend of flavorful and familiar, ranging from Congo Connie's Coconut-Curry Concoction to Mac and Cheese.
With an airy and intricate dining room, Skipper Canteen is an ideal spot to grab dinner, sip on a beer, and try to spot all the Jungle Cruise Easter Eggs. Skipper Canteen features a virtual walk-up list, but reservations are actually easy to get at our favorite Magic Kingdom restaurant.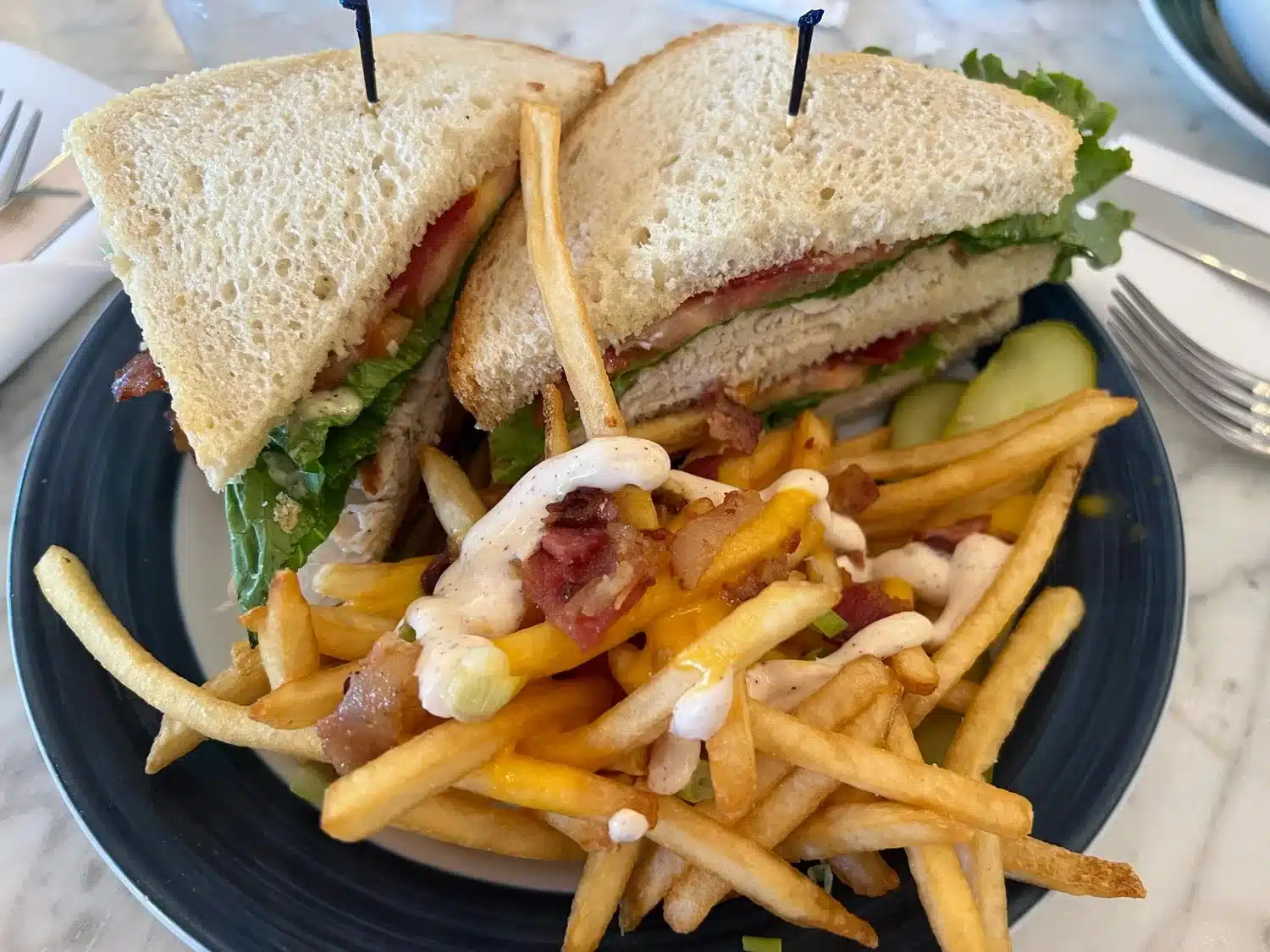 Another under-the-radar restaurant at Magic Kingdom is one of my family's favorite lunch spots at WDW. With a stylish turn-of-the-century dining room, Plaza Restaurant features delicious sandwiches, ranging from an Impossible Chili Burger to a Fried Chicken Sandwich to a classic Turkey Sandwich. The menu was recently updated to include some more unique items, like the Pot Roast Stack or the scrumptious Crab Cake Sandwich. It's a limited but casual menu that makes for a scrumptious midday meal.
If you're feeling decadent, the desserts here are not to be missed, especially the Plaza Restaurant Sundae.
With entrees ranging from $19-$23, prices at the Plaza Restaurant is on the more reasonable end of the spectrum for Disney World.
Our one big knock against Plaza Restaurant is its small size. The dining room can feel cramped compared to other Magic Kingdom restaurants. While we usually don't have issues getting reservations here, they are definitely required due to the limited seating capacity.
Be Our Guest features unbeatable ambiance and food that can really delight. However, the experience doesn't always live up to the huge price tag at dinner. When Be Our Guest first opened, it was at the top of the best restaurants at Magic Kingdom. Now, as a prix fixe meal at $62 per adult and $37 per child, it's a harder recommendation.
Lunch or dinner can be magical, but in comparison to similarly priced meals at Disney World, Be Our Guest pales a bit in comparison. The French-inspired food is good (and sometimes great), but it doesn't quite deliver in the same way as Le Cellier or California Grill. In terms of French cuisine, we prefer Chefs de France and Monsieur Paul at EPCOT's France Pavilion.
At Be Our Guest, you are paying a premium because of the incredible theming. Dining inside the ballroom or West Wing at Beast's Castle feels like one of those must-do Disney World experiences because Imagineering did such a great job with the design of this restaurant. Whether it's worth the money is a whole different question entirely.
Honorable Mention: Liberty Inn
Sometimes you're in the mood for a Thanksgiving-style meal in the middle of your theme park vacation. If that's what you're craving, Liberty Inn scratches that very specific itch.
See how every sit-down meal stacks up in our complete ranking of the Best Table Service Restaurants at Magic Kingdom.
Best Counter Service Restaurants at Magic Kingdom
Counter service dining is something of a mess at Magic Kingdom, especially when you compare it to Disney World's other three theme parks. None of the restaurants listed below would make the top list of counter service restaurants at EPCOT, Hollywood Studios, or Animal Kingdom. Right now, Magic Kingdom is somewhat lacking in great counter service options.
Why? Part of the reason is that Be Our Guest converted their lunch offerings to be table service. Be Our Guest used to be a slam dunk recommendation for great counter service dining at Magic Kingdom. The food was good, and the ambiance was even better. However, with that option removed, the options for a good quick service meal at MK are thin.
However, thin doesn't mean nonexistent. Here are your best bets for a good counter service meal at Magic Kingdom.
Pecos Bill used to be a hard pass from us while visiting Magic Kingdom. Its former menu was the home to bland food that just screamed "overpriced theme park dining."  However, the menu was completely overhauled with more of a focus on theme-appropriate Tex Mex, which has made this a reliable spot to grab a quick and tasty meal at Magic Kingdom.
Pecos Bill offers a variety of tacos, fajitas, nachos, rice bowls, and salads. The menu also features cheeseburgers for those not in the mood for Mexican.
A solid seafood spot with sublime seating, Columbia Harbour House consistently provides some of the tastiest quick service dishes at Magic Kingdom. What keeps it from being our top Magic Kingdom counter service restaurant is the emphasis on seafood. For my family, it's a big plus, but we know that won't be the case for many other families.
With a refreshing Lobster Roll, tasty fried shrimp, and a healthy grilled salmon option, it's easy to order a delicious lunch or dinner at Columbia Harbour House. A side of hushpuppies are a must for us whenever dining here. Those who don't like seafood have a limited choice between chicken strips or a salad topped with chicken strips.
If Columbia Harbour House had one more non-seafood (and non-chicken strip-based) offering, then it would easily top our list. If the menu appeals to you and your family, we give it a strong recommendation. Be sure to seek out the second floor seating for a unique view of the park.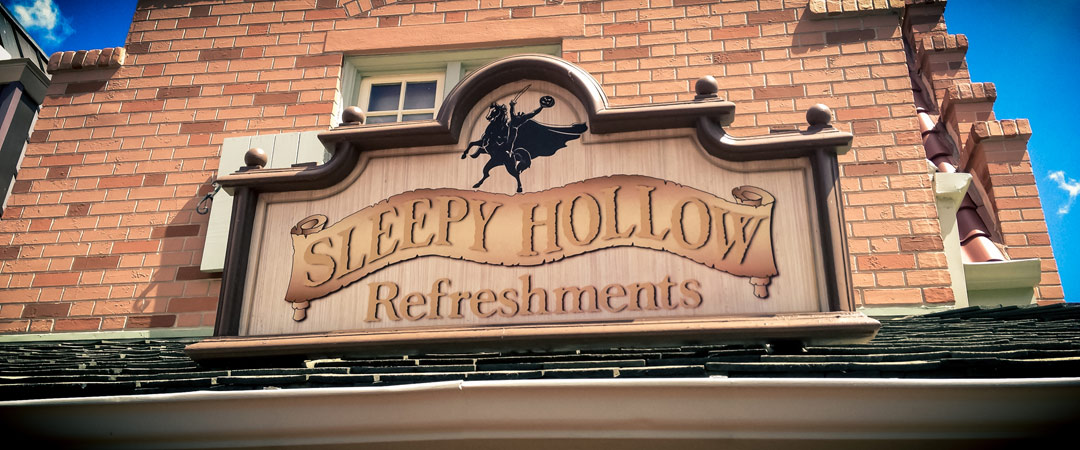 This quick service kiosk in Liberty Square barely ranks as a restaurant. It's really a snack window featuring an extremely good entree. Sleepy Hollow Refreshments is home to Magic Kingdom's famous waffle sandwich. There are two versions you can get, one at breakfast and one at lunch/dinner. The breakfast version (which is available all day) is a waffle filled with fruit and Nutella. During lunch/dinner hours, you can get a Sweet-and-Spicy Chicken Waffle Sandwich, complete with broccoli slaw and honey-sriracha glaze.
The Waffle Sandwiches are glorious, and two of the best items you can get at Magic Kingdom. Sleepy Hollow also offers funnel cakes, corn dogs, Turkey Legs (after 7 pm), and beverages. There's a small outdoor seating area that has a good amount of shade.
It's a great option for a quick bite to eat if a Waffle Sandwich sounds like your type of thing. The fact that this limited kiosk ranks so highly on this list says two things: The Waffle Sandwich is just that good, and Magic Kingdom needs much better counter service restaurants.
Honorable Mention – Cosmic Ray's Starlight Cafe
Remember how I said Pecos Bill used to be home to bland overpriced theme park dining? Unfortunately, that's how you can currently describe Cosmic Ray's. The menu — which used to be better — is very hit or miss. The barbecue chicken sandwich is solid, but the burgers are very much on the miss side. The one saving grace: Sonny Eclipse. This animatronic alien serenades patrons in the main dining room. Seeing Sonny Eclipse makes it worth popping into this restaurant.
Best Snacks at Magic Kingdom
While the counter service situation at Magic Kingdom is somewhat dire, MK's snack game is on point. In my opinion, you're best off snacking throughout the day as you run around Magic Kingdom. There are some inspired snack options found throughout the park, ranging from sweet to savory.
Here are our favorite snacks at Magic Kingdom.
1) Cinnamon Roll – Gaston's Tavern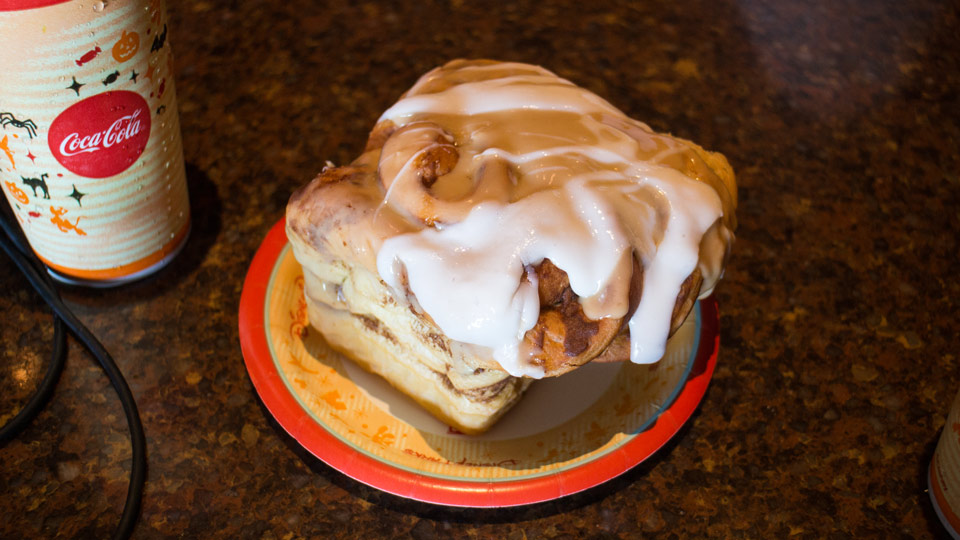 One of our favorite breakfast items is so good that you can justify having it as an all-day snack. Formerly the star of the Main Street Bakery, this massive mountain of icing-glazed dough can be found at Gaston's Tavern in Fantasyland.
2) Corn Dog Nuggets – Casey's Corner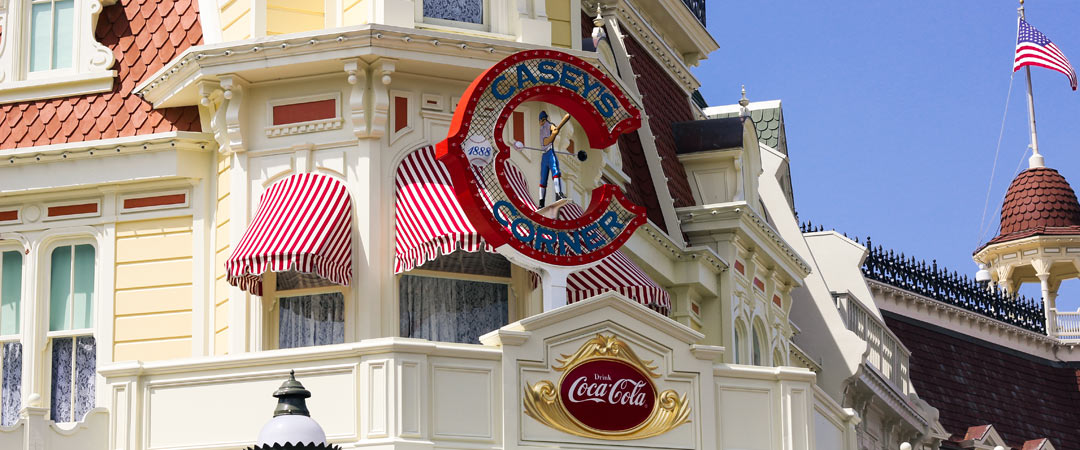 Breaded, deep fried, mini hot dogs. Do I need to say more? Corn dog nuggets are one of the best Disney World snacks. Sometimes, a corn dog is a commitment that you're just not ready to make. Yes, those initial few bites are so delicious. But the whole corndog? That's your whole day, right there, and you probably still have Lightning Lane reservations to get to. Instead, get a small basket of Corn Dog Nuggets and share them with a loved one. Or eat them all — we won't judge.
3) Creamy Bacon Mac and Cheese Tots – Friar's Nook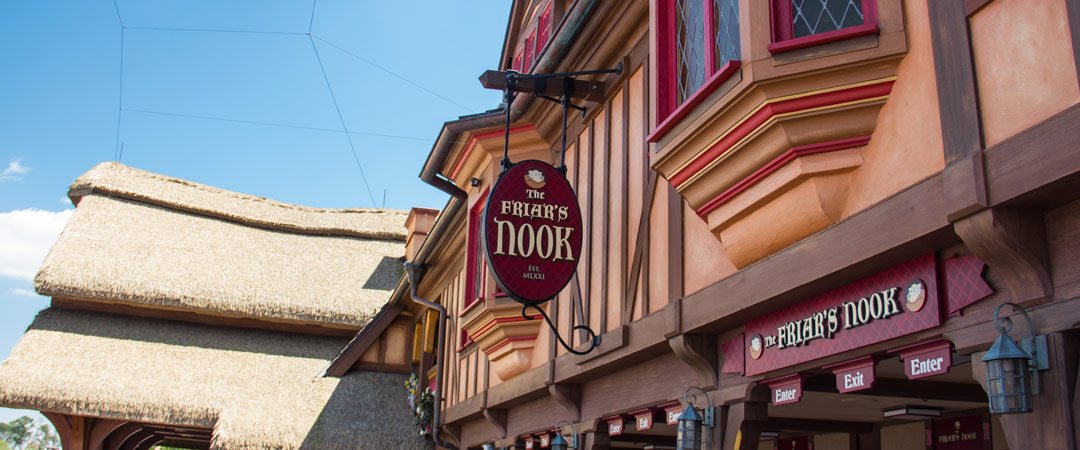 Looking for a savory snack that could also double as a small meal? Look no further than The Friar's Nook in Fantasyland. This restaurant specializes in unique mac and cheese offerings. The current iteration is a serving of Creamy Bacon Macaroni and Cheese Tots, which can only be described as as crunchy, gooey, salty goodness. They also have a version with just the bacon mac & cheese, as well as a bacon mac & cheese hot dog at this location.
4) Specialty Spring Rolls – Adventureland Spring Roll Cart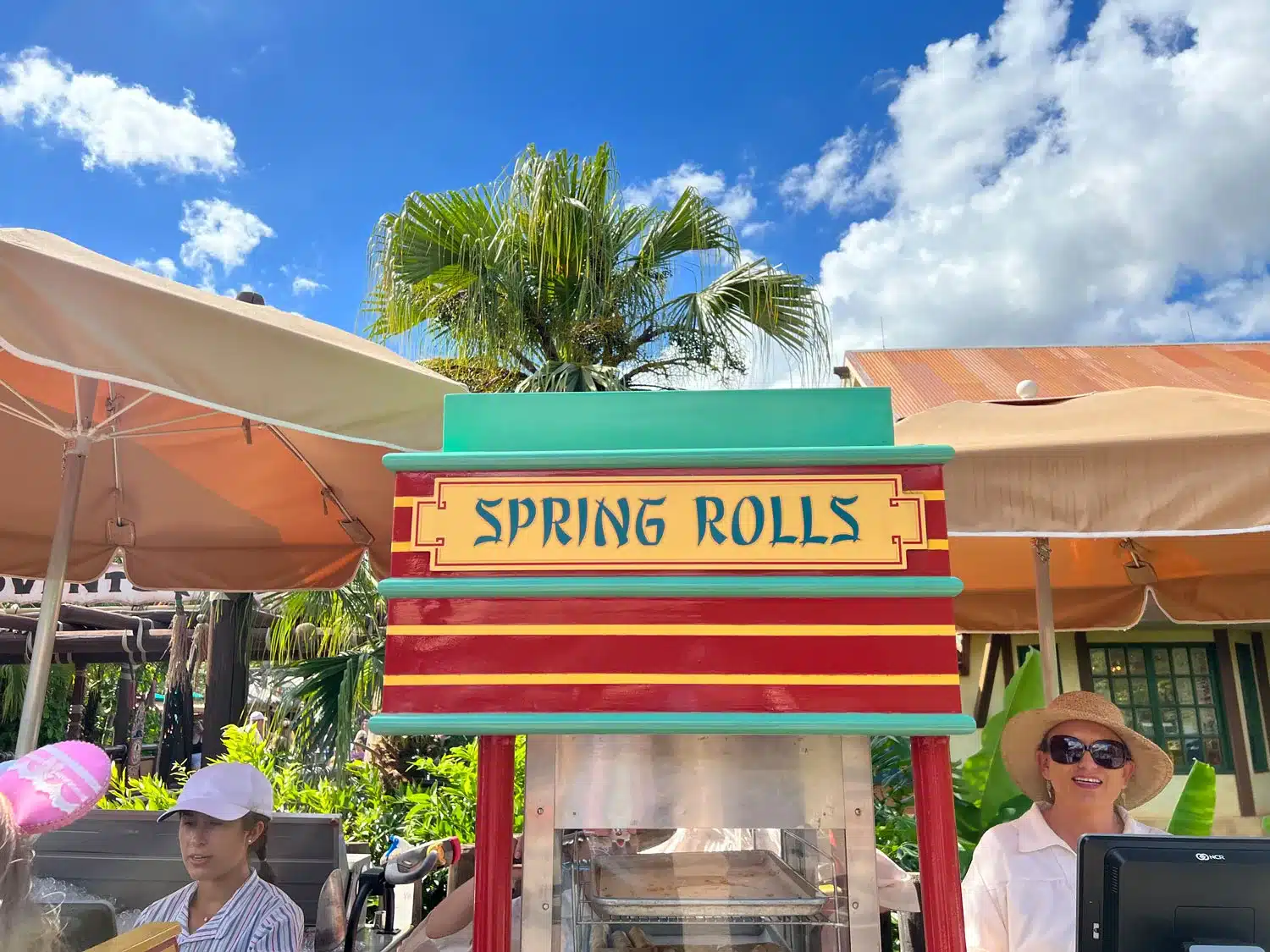 Near the entrance to Adventureland, you'll find a small but mighty cart with a sign that simply reads "Spring Rolls." You may be surprised to find that this is home to one of the greatest Magic Kingdom snacks: the cheeseburger spring roll. This fun twist on a traditional spring roll features — you guessed it —ground beef and cheese. This cart also features other specialty spring roll flavors, such as pepperoni pizza, buffalo chicken, and the 50th Anniversary Spring Roll with pastrami and pepper jack. These spring rolls are a great option for a unique snack that just hits the spot.
5) Popcorn – Around Magic Kingdom
Rivaling movie theater popcorn, Disney World popcorn just hits different. Lookout for popcorn carts throughout the park for buttery, salty popped perfection.
Best Treats and Desserts at Magic Kingdom
Just as Magic Kingdom has amazing snacks, the park brings the heat when it comes to all things sweet. Not literally, of course, because most of our favorite desserts at Magic Kingdom are actually frozen.
Here are our favorite desserts at Magic Kingdom.
1) Dole Whip – Aloha Isle
Arguably the most iconic Disney World dessert, the Dole Whip is a non-dairy frozen soft serve sensation. Whether you want it in a pineapple juice float or as a swirl, there's no wrong way to have a Dole Whip. Personally, the pineapple and vanilla swirl is the way to go.
2) Citrus Swirl – Sunshine Seasons
Another soft serve dessert available in Adventureland, the Citrus Swirl has a mystique to it, due to the fact that Disney has discontinued it from time to time. I'd compare it to the McRib, but now I can't get the idea of a soft serve barbecue rib sandwich out of my head. Which is unfortunate, because the Citrus Swirl is awesome. It features frozen orange juice, which gives this treat a unique tartness that is well balanced by the vanilla ice cream.
3) Mickey Ice Cream Bar – Around Magic Kingdom
My grandmother could not go to Disney World without getting one of these dark chocolate covered ice cream bars, and she was one of the smartest people I ever knew. So be like my grandmother. There's something transcendent about eating a Mickey bar on a hot day as you walk around Magic Kingdom.
4) Mickey Mouse Rice Krispie Treat – Main Street Confectionery
Everything tastes better when it's shaped like Mickey is a belief I firmly hold onto. It works for waffles. It works for ice cream bars, as stated above. The Mickey Rice Krispie Treat with M&Ms is a personal favorite that just feels like Main Street.
5) Brownie Sundae – Plaza Restaurant / Plaza Ice Cream Parlor
One of the reasons that Plaza Restaurant is ranked so highly for us among Magic Kingdom restaurants is its excellent Brownie Sundae. With hot fudge, whipped cream, and a warm brownie, you'll think to yourself "I've earned this" as you think about how you've walked over 30,000 steps each day during your vacation. (You will repeat this to yourself multiple times a day each time you order dessert at Disney World — and it's true. You did earn it.)
Where to Get Coffee at Magic Kingdom
Your two best bets for coffee at Magic Kingdom are located in Main Street and Tomorrowland.
Main Street Bakery: This is Magic Kingdom's Starbucks locations. You can order from the full Starbucks menu, including breakfast sandwiches. This coffee shop also features Starbucks collectables, such as Magic Kingdom-themed mugs.
Joffrey's Revive – This coffee kiosk in Tomorrowland is our preferred place to stop for a caffeine pick-me-up in Magic Kingdom. It's far less crowded than Main Street Bakery, and we actually slightly prefer the flavor of Joffrey's to Starbucks.
You can also find Joffrey's Coffee at other dining locations, such as Gaston's Tavern and Sleepy Hollow Refreshments. However, your options at these locations will be limited to coffee and possibly cold brew only, while the two locations listed above feature more coffee options.
Where to Get Alcohol at Magic Kingdom
Unlike Disney World's other three theme parks and Disney Springs, alcohol sales are limited inside the park to Magic Kingdom sit down restaurants. Every table service restaurant has a menu of wine and beer, as well as a limited selection of cocktails.
Be Our Guest
Cinderella's Royal Table
Crystal Palace
Liberty Tree Tavern
Plaza Restaurant
Skipper Canteen
Tony's Town Square Restaurant
Counter service restaurants do not offer alcohol at Magic Kingdom.
Character Dining at Magic Kingdom
Magic Kingdom has two full character dining location, where characters will come to your table during your meal.
Cinderella's Royal Table – Dine with Cinderella and other princesses like Ariel and Snow White in this pricey prix fixe meal inside Cinderella Castle.
Crystal Palace  – Dine with Pooh and friends with an all you can eat buffet at Breakfast, Lunch, and Dinner.
Magic Kingdom also has one character-enhanced meals. It features an appearance by one character, but it isn't full character dining experiences.
Be Our Guest – The Beast makes an appearance during dinner, and poses for photos with guests.
For more information, check out our Disney World Character Dining Guide.
Best Spots for Outdoor Dining at Magic Kingdom
Here are our favorite spots for outdoor dining at Magic Kingdom:
Sleepy Hollow
Pinocchio Village Haus
Pecos Bill
The Lunching Pad
Casey's Corner
For our complete list, check out our Magic Kingdom Outdoor Dining Guide.
We want to hear from you!
Have any recommendations for Magic Kingdom restaurants, desserts, or snacks? Let us know in the comments below! Your input will help us make this the best Magic Kingdom dining guide.
---
James is a lifelong Disney Parks fan. While at the parks, he loves finding new details, learning more about Disney World history, and taking pictures. His favorite WDW attractions include Rise of the Resistance, Spaceship Earth, and Tower of Terror.
James is a filmmaker and writer based in Atlanta, GA.
All author posts