Be Our Guest, Ohana, and Space 220 get a lot of hype, and it makes sense why these are among the hardest dining reservations to get at Disney World. However, there are plenty of fantastic restaurants that fly a bit under the radar, but are still totally worth your time and money.
In this part of the Guide 2 Disney World Dining Reservations, I'm highlighting the table service restaurants at WDW that are easier to get last minute reservations for. This list will be really handy if you are planning a Disney World vacation less than 60 days out, which is how early you can make a Disney World dining reservation. While I can't guarantee you'll be able to get reservations for any of these that are listed, you'll have a much better chance getting a table for these restaurants in as little as 1-3 days out than other signature restaurants at WDW. Obviously, the earlier you can make reservations, the better.
Now, some restaurants have plenty of last minute reservations because, frankly, they aren't that great. They will not be found on this list (sorry, not sorry, Tony's Town Square). These are the best restaurants with easy-to-get reservations at Walt Disney World.
Easiest Dining Reservations at Magic Kingdom
Skipper Canteen
This Jungle Cruise-themed restaurant really swung for the fences with an exotic menu worthy of Adventureland when it opened. It might have swung a bit too hard, as the flavors were a bit too foreign for many Magic Kingdom guests. The menu has been reworked, striking a much better balance of adventurous dishes that aren't too challenging. However, that initial impression might still be lingering, as it's usually really easy to find a reservation for Skipper Canteen. Whenever we've dined here, the food has been great, and the atmosphere is a lot of fun, and I actually prefer the food (and prices) here to Be Our Guest.
It's also one of the few places in Magic Kingdom where you can get wine and beer, which could be a plus for you.
In my mind, a meal at Liberty Tree Tavern is somewhat akin to having Thanksgiving dinner, potentially without the awkward family discussions. If you crave hearty American classics like turkey, mashed potatoes, and gravy, then you really can't go wrong with this family style feast.
Easiest Dining Reservations at EPCOT

With an excellent menu featuring crowd pleasers like lobster bisque and croque-monsieur, Chef de France became a go-to restaurant for my family over the year of our Disney World vacations. The price is reasonable compared to other restaurants at EPCOT, and dining at a window table here feels downright divine.
I'm not going to lie — I overlooked Tutto Italia for many visits to Disney World. I was more enamored with the pizza at nearby Via Napoli, and my options for good Italian food at home are pretty plentiful. So going for a traditional Italian pasta dinner didn't feel like a must-do when going to Orlando. On a recent trip to WDW, I was proven wrong, because I had dinner at Tutto Italia and the food was excellent.
Tip: Tutto Gusto, the wine cellar next door, offers the full Tutto Italia menu.
German food isn't exactly the most popular cuisine with American diners. Which is a shame, because if you dine at Biergarten, you'll discover it's delicious. This all-you-care-to-eat restaurant is a blast. With a buffet featuring bratwurst, schnitzel, beer and cheese soup, and pretzel bread, you can stuff yourself silly while watching a traditional Bavarian band. For the full German experience, be sure to try an extra-large stein of bier.
San Angel Inn can be a bit on the pricey side, but you really cannot beat the atmosphere. This is EPCOT's version of the Blue Bayou in Disneyland, where you get a view of a boat ride from your table. You also get to relax and dine inside the Mexico Pavilion, which is a huge bonus. I've found that reservations can be a bit tougher to get here than something like Biergarten. If you're having trouble finding a time, search for lunchtime or off peak hours.
Other EPCOT Picks
La Hacienda de San Angel (Mexico)
Rose & Crown Dining Room (United Kingdom)
Nine Dragons (China)
Easiest Dining Reservations at Hollywood Studios
A blast from the past, 50s Prime Time Cafe is one of the best themed dining experiences at Disney World. It's also one of the easier dining reservations to secure. With hilarious servers who treat you like members of the family (for better and for worse) and a menu full of nostalgic classics, this restaurant is a crowd pleaser.
When I was younger, I was a pretty picky eater. I think that's part of why Mama Melrose's became a regular part of my family's Disney World vacations. With a menu full of flatbreads and pasta, it was a reasonably-priced restaurant that my parents could reliably take my sister and I without worrying about the family's problem eater (aka me). The menu has changed over the years, but the concept still applies.
While it doesn't quite have the reputation, the meals I've had at Hollywood Brown Derby rank up there with signature Disney World restaurants like California Grill. The classic Hollywood atmosphere and the old-school steakhouse menu make this a great special occasion restaurant without the stress of getting a reservation 60 days ahead of time.
Easiest Dining Reservations at Animal Kingdom
Tiffins is one of my all-time favorite table service restaurants at Disney World. Every meal I've had there has been unique, adventurous, and excellent. It's one of the restaurants I recommend to everyone visiting Animal Kingdom who wants to have a memorable meal. It's also one of the easier reservations to get for a Disney World Signature restaurant.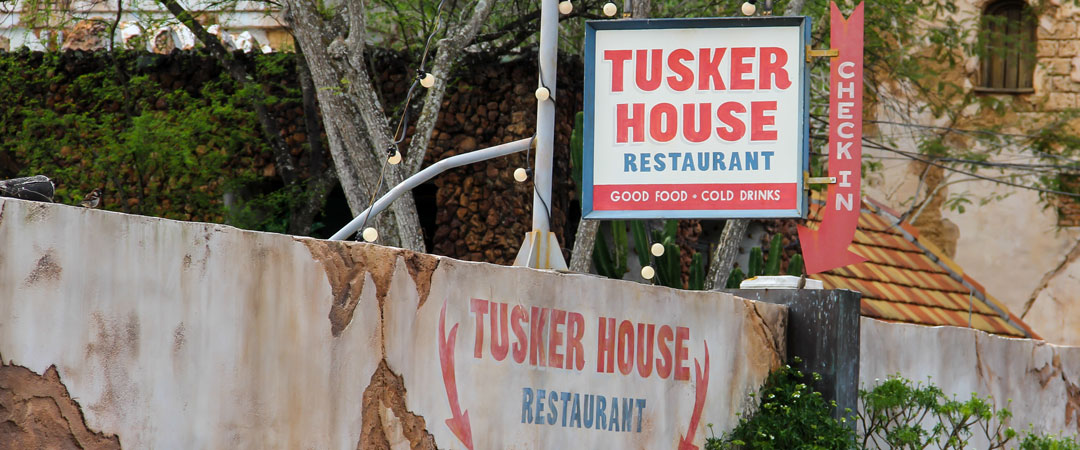 Currently offering a modified character dining experience featuring Safari Donald and friends, Tusker House is a family-style restaurant serving breakfast, lunch, and dinner. With a breakfast including Mickey & Simba Waffles, Durban Chicken, and Egg Curry, and lunch/dinner featuring Moroccan-spiced beef and Berber-marinated pork, Tusker House will probably expose you and your kids to some new flavors. This might be why it's one of the easiest character dining reservations to get at Disney World. I would definitely urge you not to overlook Tusker House.
Easiest Dining Reservations at Disney World Resorts
Kona Cafe – Polynesian Village Resort
Kona Cafe doesn't get the obsessive love that Ohana gets, but its more diverse menu featuring sushi and Asian-inspired entrees might make this a better pick for you. The Kona-braised short ribs and Glazed Chicken Wings are two of my favorites, and Tonga Toast for breakfast is pure deep-fried deliciousness.
Boma – Flavors of Africa – Animal Kingdom Lodge
Open for breakfast and dinner, this buffet restaurant at Animal Kingdom Lodge is one of the most unique dining experiences at Disney World. Boma serves up African flavors inspired by dozens of countries, with an onstage kitchen where you can see the dishes being prepared.
Steakhouse 71 Breakfast – Contemporary Resort
Located on the first floor, this recently retooled restaurant is still serving its purpose as an excellent (and easier to book) alternative to the top floor's California Grill. While researching this article, I found plenty of openings for the reasonably-priced breakfast, which I highly recommend. Don't miss out on the Steak and Eggs!
Shula's Steakhouse – Walt Disney World Dolphin
Like The Brown Derby, Shula's offers an old school steakhouse dinner. Maybe I'm just a sucker for that, considering they're both featured in this article. I've dined here several times, and I've always thought the food was excellent. Plus, they offer a free steak or entree for your birthday (you must sign up for rewards program), which is one of the best free things at Disney World.
Other WDW Resort Picks
Trail's End – Fort Wilderness
Whispering Canyon Cafe – Wilderness Lodge
Boatwright's – Port Orleans Riverside
Easiest Dining Reservations at Disney Springs
Disney Springs is chock full of restaurants. In fact, I've seen it described as a "theme park for foodies." With so many options, there are a ton of places where you can grab a last minute reservation. Also, as I pointed out in "What To Do If You Don't Have a Reservation at Disney World," some restaurants are listed on OpenTable as well as the My Disney Experience app, so be sure to check both apps to see your options.
Since there are a ton of restaurants with plenty of availability, here are some of our favorites for Disney Springs.
Wine Bar George
The BOATHOUSE
Splitsville Dining Room
Paddlefish
Terralina
Frontera Cocina
Jaleo
Be sure to check out other entries in our Guide 2 Disney World Dining Reservations.
Is there anything else that should be on our list? Let me know in the comments below!
---
James is a lifelong Disney Parks fan. While at the parks, he loves finding new details, learning more about Disney World history, and taking pictures. His favorite WDW attractions include Rise of the Resistance, Spaceship Earth, and Tower of Terror.
James is a filmmaker and writer based in Atlanta, GA.
All author posts