50 Money Saving Tips for Disney World in 2023
Visiting Disney World in 2023? You do not want to miss these tips & tricks, all meant to help you save your hard earned money. From small savings on snacks to big discounts on hotels and tickets, these tips can add up to save you hundreds, if not thousands, on Disney World vacations.
Our money saving Disney World tips are broken up into several sections:
Disney Gift Card Tips
How to Save on Your Entire Disney World Vacation
How to Save Money on Merchandise
How to Save Money on Disney World Dining
How to Save on Disney World Resorts
How to Save on transportation at Disney World
How to Avoid Overspending at Disney World
Read on for all of our tips on how to save money at WDW!
Disney Gift Card Tips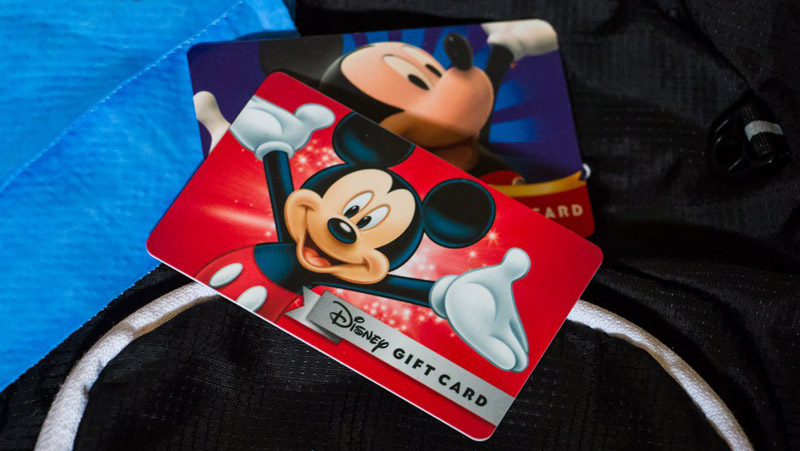 1) Save big with Disney Gift Cards – Did you know that you can use Disney Gift Cards on almost everything at Walt Disney World? Food, merchandise, tickets, and even Disney hotels can be paid for with Disney Gift Cards. There are several ways to buy Disney Gift Cards at a discount.
2) Keep Track of and Combine Your Disney Gift Cards – You can tie all of your Disney Gift Cards to your Disney account on the DisneyGiftCard.com site. This is an official site from Disney where you can enter in your card information and transfer balances between cards. This is necessary if you're paying for a Disney vacation package online, as you can only use one gift card as a payment method.
3) What to do if you lose your Disney Gift Card: One downside to having Disney Gift Cards is that they act like cash. Lose them and you lost the money on them… unless you already linked them to your Disney account on DisneyGiftCard.com. As soon as you realized you lost a card, go on that site and transfer the balance to a gift card that you have on you.
How to Save on Your Entire WDW Vacation
4) Work with a Travel Agent – One of the best, and easiest, ways to save money on your Disney World vacation is to work with a travel agent. They sometimes have access to offer codes and discounted room blocks that can help you save big on your WDW trip. Plus, they can help with the nitty gritty details like making dining reservations for no charge to you. We recommend our friends at Vacationeer. They are Disney World experts who know tips and tricks like these to help you save big on a WDW vacation.
5) Save through Costco and Sam's Club. Another way to save on going to Disney World is to put your Costco or Sam's membership to good use. You can find Costco Disney World Vacation Packages here, and Disney World Tickets from Sam's Club here.
6) Should you get a Disney credit or debit card? Both the Disney Visa Credit Card and Debit Card have many perks, including exclusive discounts on vacation packages. If you make purchases with your Disney Visa card at Disney World, you'll save between 10-20% off of merchandise, food, tours, and more. We personally recommend the entry-level Disney Visa Credit Card, which has no annual fee but still includes most of the big discounts. You can read more about the Disney Visa Credit Card perks here and Disney Visa Debit Card perks here.
7) Increase your chances of getting a Unique Offer Code from Disney. Disney will send out personalized, non-transferrable offer codes to guests that they want to nudge towards booking a Disney World vacation. These Unique Offer Codes (formerly known as PIN codes) can be some of the best Disney World discounts available. You can increase your odds of getting one of these codes by signing up for free Disney accounts. Check out our guide on how to get a Unique Offer Code to find links and get more information.
8) Purchase tickets through AAA. Guide2WDW Reader Kathy shared a tip about one of our favorite ways to save money at WDW.
"We purchased our Disney World tickets with our AAA discount at the AAA office prior to our trip, and it saved us more money than purchasing a package through Disney. Be sure to check with AAA to see what discounts are currently available."
9) Stay Up to Date with the Latest Official Disney Special Offers – You should save the Disney World Special Offers, Deals & Discounts page in your browser favorites if you're planning a Disney World Vacation. Disney will regularly add new deals to this page.
10) Pick Your Start Date Carefully – If your dates are flexible, you can save a pretty significant amount of money by choosing the cheapest day to arrive at Disney World. Disney World's tickets have variable pricing based on the first day you'll use your ticket. To illustrate, here are the prices per day for a 5-day ticket in July 2022.
The tickets range from $99 per day to $107 per day depending on the day you arrive. For a 5-day ticket, that's the difference of up to $40 per ticket. For a family of four, that's a difference of $160 between starting your vacation on the cheapest day and starting on the most expensive day of the month.
Hotels will also have variable pricing per day. If you have flexibility in your travel plans, test out which travel dates will work best for your Disney World vacation. Doing a little bit of research can save you hundreds of dollars.
How to Save Money on Merchandise
11) A cheaper way to get into pin trading. Want to get into pin trading? Don't spend a ton of money on one of Disney's starter kits. eBay can be a great resource for buying cheap Disney Pins. We've been able to find reputable sellers who will sell a lot of pins for the fraction of their retail price. It's great to buy a bunch of these and then go in and trade with Cast Members. Beware of knockoffs, though. Some shady people sell counterfeit pins, and cast members will not trade for knockoffs.
12) Cast Members will always trade pins with you. Even if you do buy your own cheaper and smaller pins at home before taking a trip to Walt Disney World, Cast Members will always trade with you. Don't feel bad for buying a bunch of cheap pins off of eBay and then trading them with a CM: they don't even buy their pins. They are provided to CMs by management, and those pins are free anyhow. I have personally seen the stacks of pins in the back offices of most parks and Cast Members just pick out of a big box.
13) Save big at the Disney World Outlets. There are two Disney Store outlets in the Orlando area that carry park merchandise. We've been there a few times, and we've found the items they have in stock to be great! We've even found some items that were still on sale in the parks at a deep discount. This is a great way to get save money on shirts, bags, Vinylmation figures, and pins. Read more about one of our trips to the Disney Character Warehouse Outlet in Orlando here.
14) Always ask if a store offers a discount. Between Annual Passholder, Disney Visa, AAA , D23, DVC, and military, there are a lot of different discounts to keep track of. The best way to make sure you aren't missing out on a discount on merchandise is to ask the cast member if the store offers discounts at check out.
Check out more in-depth money saving tips in our How To Save Money on Disney Merchandise Guide.
How to Save Money on Disney World Dining
15) Get great discounts on your coffee fix inside the parks. Starbucks gets more love on Instagram, but Joffrey's has great coffee with much shorter lines. Another reason you should consider getting your morning cup at Joffrey's are the discounts they offer, while Starbucks doesn't even let you redeem Starbucks Rewards within the parks. Annual Passholders and Disney Visa Card Members can save at all Joffrey's locations.
16) You can order just the entree at counter service restaurants. Save money at Disney World counter service restaurants throughout the parks by requesting the entree without the sides. They normally don't list this as an option on the menu, but they will do this. By ordering a sandwich without the fries, you can often save over $2!
17) Save more at Earl of Sandwich. Use your AAA card at Earl Of Sandwich in Disney Springs and get 15% off your total. It's not advertised there, so you need to show them your card when you are paying. This is better than the 10% discount for Annual Passholders.
18) Join the Earl of Sandwich eClub. You get a free brownie for signing up, and a free sandwich coupon for your birthday. This is a great way to get a free lunch at Disney Springs if you are visiting WDW around your birthday.
19) Also ask about discounts when paying for your meals. Disney World and Disney Springs restaurants offer discounts for many different memberships, including Annual Passholders, DVC, Disney Visa Card, AAA, and more. This varies from store to store and restaurant to restaurant, and sometimes discounts can be seasonal. Be sure to ask before paying if the restaurant is offering any discounts that you can take advantage of.
20) Spend less by splitting meals. Everyone talks about how expensive the food is at WDW, but what we discovered was that though the price seem high the servings were huge. So buy one meal and split it between two people.
21) Save on popcorn refills. Popcorn around the parks costs $5, and souvenir popcorn buckets cost $10 and up. But here's a money saving tip for the snackers out there: You can refill your souvenir popcorn bucket for just $2. So if you buy a souvenir popcorn bucket at the beginning of your trip, you can bring it into the parks and refill for a cheap snack.
22) One of the best quick and cheap lunches at Disney World. An excellent option for lunch is the Fish and Chips in the United Kingdom at Epcot — but don't go in the Rose and Crown Pub. Try Yorkshire County Fish Shop, the food stand located right next to it (towards France). It's a cheaper and faster option, which leaves you more time to experience Epcot!
23) Two more affordable and quick lunch options: The Chicken Waffle Sandwich at Sleepy Hollow Refreshments and the Ronto Wrap at Ronto Roasters in Star Wars: Galaxy's Edge are another two of our go-to quick lunches at WDW that won't break the bank. Both of these kiosks have mobile order, which will save you precious time while on vacation.
24) Get free soda samples at EPCOT. At Club Cool at Epcot, you can sample Coca Cola products from around the world for free. This is a great way to get a cool refreshing treat for free, but be warned: Try Italy's Beverly at your own risk. It is extremely bitter.
25) Skip breakfast in the parks. No, don't miss out on the most important meal of the day. You'll need breakfast to fuel you as you embark on a long day of walking in the parks. But you can save time and money by eating breakfast in your hotel room. Guide2WDW readers Mike and Gina shared this tip for how they saved money by doing exactly that:
"To save time in the morning, I brought my own cereal, bowls and spoons. My husband went to the food court to buy milk for the kids' breakfast and coffee for us. We would take turns in the shower while the others ate. This took us about one hour each morning, and we'd be ready to head into the parks. It sure beats sitting at a table waiting to place orders and get fed. The kids thought it was fun too. We also brought along snacks (zip-lock baggies with trail mix) so that during the day we weren't spending a lot of money on junk food. We usually skipped a sit down lunch and opted only for a sit down dinner. It worked great!"
26) Bring a cooler and pack your own lunches. Arlen shares a tip for saving some money while dining in the parks: "We pack our lunch in the morning and place it in a collapsible cooler along with enough cold water bottles for our family. We then take the cooler with us to a Disney World park and place it into a locker at the beginning of the day. We provide our own lunches to save money so we don't feel bad spending at dinner at a Disney restaurant later on."
Note: You are totally allowed to bring a cooler, water bottles, and food inside the parks. You can't bring in loose ice. Instead, keep your cooler icy cold with reusable ice packs.
27) Pack your suitcase full of snacks. If you have an extra suitcase, put it to good use. Guide2WDW reader Molly shared this tip:
"I have read several tips about sending packages to your hotel with snacks and other treats in the package. This is very costly even in comparison to buying treats at Disney World. What I have done in the past is pack another suitcase filled with snacks, crackers, candy, cereal bars, or whatever my children like for that moment. This way I haven't spent any money sending a package to the resort AND I have an extra empty suitcase for all the trinkets that are purchased in Disney World."
28) Which grocery store should you visit? Making a grocery run at the beginning of your Disney World vacation can save you in the long run, as groceries will make for much cheaper snacks and meals versus the parks and resorts. But which grocery store should you shop at? Guide2WDW readers Roger and Denise recommend Publix.
"The best grocery store to shop at in the WDW area is Publix – much better prices than Gooding's. Take a right out of the main gate and go about two miles and look for the green Publix sign. I talked to the locals and that is where they go. They call Gooding's the tourist's grocery store."
29) Sign up for a Landry's Select Card. Landry's operates Yak & Yet in Animal Kingdom, as well as Rainforest Cafe, T-Rex Cafe, Morton's, Bubba Gump's, and many more restaurants. With a Landry's Select Card, you can earn points for dining that you can redeem at several Disney World locations at Disney Springs and Animal Kingdom. You also will get a $25 gift on your birthday.
30) Wear your birthday celebration button! If it's your birthday, be sure to wear your complimentary birthday button around the parks and resorts! You can get them at Guest Services at each park, or ask the front desk at your hotel to see if they have any birthday buttons. At the very least, cast members will give you a nice birthday greeting throughout the day, but you can sometimes get special treatment, like a free dessert. This might also work for special occasions like anniversaries.
Want more Disney World freebies? Check out our list of the Best Walt Disney World Freebies.
31) Get birthday freebies. Speaking of birthdays, our Best Walt Disney World Freebies. guide includes a whole list of free things you can get for your birthday. You can get a free meal at Shula's Steakhouse at the Dolphin Resort, a free drink at Starbucks in Disney Springs, a free cupcake at Sprinkles, and more.
How to Save on WDW Resorts
32) Ask if upgrades are available. Guide2WDW reader Bruce shares why it never hurts to ask for an upgrade. He got upgraded to a nicer resort without having to pay much more.
"I recently booked a 10 day trip to WDW for our July visit. I made reservations at the Caribbean Beach through Disney directly. With a little prodding I was upgraded to the Polynesian for almost the same price as the Caribbean Beach (I'm paying about $25.00 more per night). The nice WDW representative said that you have to ask if invitational upgrades are available, they won't offer it to you unless asked. These "invitations" aren't always available, but if they are they'll bump you up one class of Resort: Value to moderate or moderate to deluxe. It never hurts to ask!"
33) Don't be afraid to ask for a better view. We recently stayed three nights at Animal Kingdom Lodge but had booked a room overlooking the pool (about $70/night less than a Savannah room, overlooking the animals). When we arrived we asked the very polite person behind the counter if we could get an upgrade to a Savannah room. She looked into and said yes. We saved $200 by asking that question AND had a much better room for three nights!
34) Consider a Good Neighbor Hotel – While there are many perks to staying at a Disney World Resort, they come with a cost. Good Neighbor Hotels offer similar perks such as free transportation, Early Morning Entry, and proximity to the theme parks at a fraction of the price. Additionally, you can use hotel reward points at many of these locations.
35) You can use Marriott Bonvoy Points at the Walt Disney World Swan, Dolphin and Swan Reserve hotels. Located walking distance from EPCOT and Hollywood Studios, the Swan, Dolphin, and Swan Reserve hotels are not actually run by Disney. They are owned and operated by Marriott. If you have Bonvoy points, you can redeem them for nights at these hotels. They have very similar perks to official Disney World Resorts, including Extended Evening Hours, which is only reserved for Disney Deluxe Resort and Deluxe Villa guests.
36) Sometimes it really pays be thorough about your vacation. Beth writes,
"Since I am obsessive in nature, I have been calling the 407-WDW-MAGIC line every day the last four days since I made my WDW reservation. I get new information regarding my reservation every time I call, depending on who I talk to. First, I asked if I could apply my AAA discount and was told I couldn't since I have a package deal. Don't assume they are saving you money with package deal! I got a Magic Your Way package for four nights, and three base passes for the park. When I asked for the break down, the person said she didn't have one. I needed to just add it myself and figure it out. I was too trusting at the moment and didn't bother. I then did my homework and saw no savings! Even worse, I found the vacation insurance they include as part of the package costs over $100. I called the next day to take it off and the representative admitted that I wasn't saving anything with this package–it comes out the same (only when I asked her about it). I called again today, got someone else, and told her that I would like to purchase rooms and tickets separately so that I could apply my AAA discount. I saved $220 by changing this. In just two days, I have saved myself $320 dollars by just being a pest and calling them each day."
37) Calling can have its advantages over doing everything online. Guide2WDW reader Blaine advises to always call before you book your trip:
"I was just reading an article stating to book everything online… Not so fast! Get the information and prices for your trip online, but call directly. They always have special codes that are not published to the general public if you are staying at a Walt Disney World resort. You have to ask for them. I found out a month before the Magic Your Way Tickets were upgraded for free to include the park hopper and more just by asking. ALWAYS CALL, either Walt Disney World Travel or your travel agent."
38) Consider the DVC resale market. If you're thinking about buying a DVC timeshare at one of the Disney resorts, look into purchasing on the resale market. Becoming a Disney Vacation Club member can save you a lot in the long-haul, but when you purchase directly from the resort the upfront expense is quite costly. A Disney timeshare resale can cost 65 percent less, which translates to thousands of dollars in savings. Just be aware that you might not be eligible for certain DVC perks if you buy from the reselling market.
39) Stay at DVC resorts for less by "renting" someone's DVC points. Buying a DVC isn't the only way to enjoy staying at a DVC resort. DVC members will sell points they aren't using for one-time stays through sites like David's Vacation Club Rentals. You can find rooms at Disney World Deluxe Villa Resorts for much cheaper than booking directly through Disney by going this route.
Annual Pass Discounts
40) Sometimes it is worth it to get an Annual Pass, even if you are only visiting once in the year. Annual Passholders receive discounts on resorts, food, merchandise, and much more. Plus, the Annual Pass gives you the freedom to visit the parks for only a few hours in the day without worrying about wasting on of the days on your ticket. If you haven't considered a Disney World annual pass before, take a look at your WDW vacation plans. It might actually save you money.
41) Annual Passholders save on tours. Disney has a 15% discount on tours available for Annual Passholders, and the discount applies for the whole group. Gayle writes,
"I recently booked a tour for a party of six at WDW. The reservation center gave me the 15% Annual Passholder discount on the entire party. That saved me $90.00!"
42) One Annual Pass will get you a discount on a room for multiple guests. Guide2WDW reader Frank shares how he saved at the Wilderness Lodge with an Annual Pass.
We booked a room at Wilderness Lodge with a AAA discount. I then bought an Annual Pass (just one) and it knocked me down an additional 25% per night. You don't need an Annual Pass for everyone in your party, you just need one to get the discount.
How to save on transportation at Disney World
43) The Hess gas station on Disney World property has reasonable prices! Believe it or not, the Hess gas stations on Disney property have cheap gas prices. The Chevron Station on SR 535 was $0.30 a gallon more than the Hess station on our last WDW vacation.
44) Download Ding! if you fly Southwest. Adolph shares this airfare saving tip:
"If you are in an area that Southwest services, get their Ding! service from their website and sign up for Rapid Rewards. Ding! is a free app for iPhone, Mac, and Windows PCs that gives you access to specials that they do not put on their website directly. I just purchased my flights for 4 people in late September/early October and saved over $100 off the lowest listed fares on the website."
How to avoid overspending at Disney World
46) Purchase ponchos on Amazon for much cheaper. If you are planning to go to WDW during the summer, be prepared for afternoon and evening showers. It's a good idea to bring your own poncho. Of course, you can buy a poncho at Disney World, but those can sell for $10 each. Amazon sells a poncho pack of 10 for around $13-15, a huge savings over spending $40-$50 for your whole family at WDW.
Check out our list of things to NEVER buy at Disney World for more ways to avoid wasting money.
47) A clever toy buying strategy for parents. We tell our boys we only buy souvenirs on the last day of our Disney World trip. They can look the whole time we are there, but by the time it's OK to buy they know what they really want, and it prevents the gimmies during the whole vacation, which can add up.
48) Counter service restaurants will give you free water. If you ask for free water at any Disney World counter service location, they will gladly oblige. Guide2WDW Karen reader shares her experience,
"Whenever I have visited Walt Disney World (always in July/August), it has been extremely hot. To save money on drinks, ask for a large cup of ice! The ice is free and cools you down. Counter service restaurants will always give you a free cup of ice or water."
49) Bring a backpack with snacks. Bring a backpack to the theme parks to carry extra water bottles and snacks. By buying them beforehand and bringing them into the parks with you, you can avoid some of the high prices for these items.
50) Save money on glowing doodads. Guide2WDW reader Karen shares how spending $2 at a dollar store brightened up Fantasmic for herself and others: "Last year, my adult daughter bought a couple of packages of the neon necklaces and bracelets at a local dollar store before going to Disney World. We were at Fantasmic at Hollywood Studios, where Disney sells neon necklaces for a large amount of money (much more than the dollar store). With a lot children around us looking disappointed because their parents thought the neon necklaces and bracelets were far too expensive, my daughter got hers out and handed them out around us. You should have seen the look in the children's eyes when she gave them out! They were thrilled to be a part of the neon light show after they turned out the lights at Fantasmic. She'll be doing it again when we go in October. It was worth the $2 she spent."