Going to Disney World with their toddler is a huge goal for most parents. A Disney World trip is synonymous with magical childhood experience, and seeing your child fill up with pure wonder is an amazing feeling. But a Disney World trip with a toddler can also be daunting. There simply is so much to choose from. What rides will they like? What rides are too scary? How can I give them opportunities to not just be in their stroller all day?
In the Guide 2 Disney World with Toddlers, I'm going to answer the question, "What are the best things to do with a toddler at Disney World?" And I'm starting with the best park to take your child: Magic Kingdom. Besides having the most attractions of all of the parks at WDW, Magic Kingdom has some iconic rides that your toddler will love. Maybe you rode on them when you were a kid, and now is your chance to share that magic with your child.
Update 7-18-2022: Many character meet and greets have returned to Magic Kingdom. This guide has been updated so you know where to find your toddler's favorite Disney character at MK.
Magic Kingdom Toddler Guide Table of Contents
The Best Rides and Attractions for Toddlers at Magic Kingdom

Toddler Favorites with No Height Requirement
Other Great Rides and Shows
For Taller Toddlers
Attractions to Use Your Judgement On

Best Activities for Toddlers at Magic Kingdom
Cavalcades, Parades and Shows
Where to Find Characters at Magic Kingdom
The Best Rides and Attractions for Toddlers at Magic Kingdom
Toddler Favorites with No Height Requirement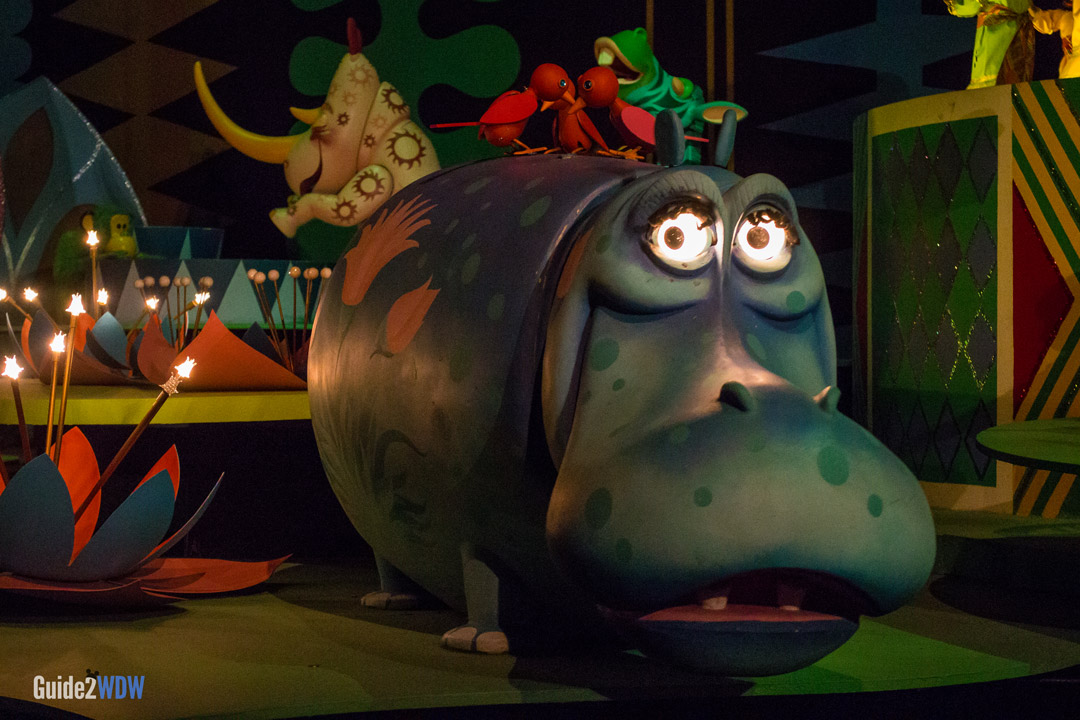 Magic Kingdom is jam-packed with toddler-friendly rides and attractions. All of the rides in this section have no height requirement and they are toddler-friendly, which means there's nothing too scary or inappropriate to be found here. I'm going to highlight my favorite rides first, and give an overview of the best of the rest.
"it's a small world" (Fantasyland) – This happy little cruise around the world is stimulation overload in the cutest and best way. There are bright colors, singing dolls, and a classic ear worm of a song. In my opinion, it's the undisputed champion of toddler rides at Disney World.
Peter Pan's Flight (Fantasyland)– Take flight over London and Neverland. This is probably the most popular toddler ride in the Magic Kingdom. Standby lines can really stretch out to really long waits, which is not the most toddler-friendly thing. If Peter Pan's Flight is a must do, I would encourage considering Genie+ and getting a Lightning Lane reservation for this ride to skip the line.
Under the Sea – Journey of the Little Mermaid (Fantasyland) – The newest dark ride in Fantasyland, this omnimover ride takes you on a gentle trip, well, under the sea. Your toddler will especially love the colorful "Under the Sea" scene, featuring a school of fish dancing and playing instruments. If your toddler is easily scared, there is a dark Ursula scene right after the big "Under the Sea" scene which might be frightening.
The Many Adventures of Winnie the Pooh (Fantasyland) – Bounce through the Hundred Acre Wood in this adorable ride featuring Pooh, Tigger, Piglet, and the rest of the gang. The scene with Tigger is "bouncy, bouncy, bouncy, bouncy, fun, fun, fun, fun, fun" that your toddler will love.
Dumbo the Flying Elephant (Storybook Circus) – There are two reasons you should take your toddler on Dumbo. One: It's a classic and iconic ride, and I consider a ride on Dumbo as a childhood-must. Going up in the air in an elephant and spinning around is a thrill for little ones. Two: The queue for Dumbo has a playground in it. You get a restaurant-style pager that will let you know when your flying elephant is ready. While you wait, your child can play on the circus-themed slides. In fact, the playground can be such a big hit, you might have some trouble telling your kid that it's time to go.
Walt Disney World Railroad – Kids love trains, and this here's the mildest ride in the wilderness. Taking a grand circle tour around Magic Kingdom in a real steam train is a lovely experience, but you can also get on and off at any of the WDW Railroad stations. This ride has been closed for a long time due to the Tron roller coaster construction, but expect it to reopen sometime in 2022.
The PeopleMover (Tomorrowland) – This earns a high spot on this list for personal and nostalgic reasons: the PeopleMover was one of my favorite rides when I was a little kid. I loved getting a view above Tomorrowland, seeing the raceway, and riding through Space Mountain without having to go on the roller coaster. That section gets very dark, which could bother certain little ones.
Walt Disney's Enchanted Tiki Room (Adventureland) – This also earns a spot high up on the list for sentimental reasons. When I took my son to Disneyland for the first time when he was one, this was his favorite attraction. He was mesmerized by the singing birds and how the whole room came to life. In fact, one of his first words was "Tiki" while pointing at a bird, which makes me think that I'm doing this parenting thing right.
Other Great Rides and Shows for Toddlers
Buzz Lightyear's Space Ranger Spin (Tomorrowland) – Your toddler might not get the concept of shooting lasers at targets, but there's enough bright aliens, robots, and spaceships in this ride to be entertaining.
Astro Orbiter (Tomorrowland) – An aerial carousel like Dumbo, but you are much higher in the air.
Magic Carpets of Aladdin (Adventureland) – An aerial carousel like Dumbo, but you are on a magic carpet in Adventureland.
Main Street Vehicles (Main Street, USA) – Take a ride down Main Street in old-timey fashion. Only open for short periods throughout the day — your best bet is in the morning.
Jungle Cruise (Adventureland) – A funny boat ride through the jungles of Adventureland. The storyline was just refreshed with new animatronics and gags, which has given this classic ride a resurgence in popularity. Definitely consider making this one of your Lightning Lane priorities at Magic Kingdom if you want to ride. Tip: The ride (sometimes) features a loud gunshot during the hippo section. Cover your toddler's ears, especially if you are sitting close to the skipper.
Mad Tea Party (Fantasyland) – Spin around and around in a giant teacup.
Prince Charming Regal Carrousel (Fantasyland) – A wonderful carousel, but the experience of this is not really different than carousels you can find at parks and malls across the country.
Monsters Inc Laugh Floor (Tomorrowland) – A zany comedy show. Your toddler might not get the extremely corny jokes (apparently monsters and dads have the same sense of humor), but this is a fun, family friendly time.
Country Bear Jamboree (Frontierland) – Animatronic animals singing songs in a jamboree. It's a rootin, tootin good time.
For Taller Toddlers – Rides with Height Requirements
Tomorrowland Speedway (Tomorrowland) – 32" – Your toddler will be too small to drive the car, but they should enjoy being the passenger on the Tomorrowland Speedway.
The Barnstormer (Storybook Circus) – 35" – With one lift hill and drop, this is Magic Kingdom's best option for your child's first roller coaster. Even if your child reaches the height limit, it still might be too intense for your little one, so use you best judgement. Every kid is different.
Attractions to Use Your Judgement On
You could take your toddler on these attractions, but they come with a caveat. As a parent, you can use your best judgement to decide if you want to take your toddler on these rides.
Mickey's PhilharMagic (Fantasyland) – This show is a bright, colorful, and cartoony trip through some of Disney's greatest songs. It's also in 3D. The American Optometric Association doesn't recommend children watch 3D movies or games until the age of 3. You could just let them watch the show without glasses (which will be blurry). 
Haunted Mansion (Liberty Square) – Haunted Mansion is a classic, and it has no height requirement. But it is a haunted house. We chose to skip this ride with my 1 year old. It probably wouldn't have scared him as he was too young to understand the creepy parts, but we didn't want to risk ruining the day by taking him on a ride that could scare him.
Pirates of the Caribbean (Adventureland)– On one hand, this is a boat ride with a lot to see that could be visually engaging. On the other hand, you have drops, skeletons, fire, gunshots, and plenty of pirate misadventure that could scare a toddler.
Best Activities for Toddlers at Magic Kingdom
There's much more to Disney World than just waiting in line to experience a ride or attraction. Part of the fun of the theme parks is exploring a themed environment. However, Magic Kingdom can get very crowded. Here are some of the best kid-friendly spots to let your toddler roam, play, and run around. As I mentioned in my article about the 10 Surprising Must-Pack Items for Disney World, my wife and I found that using a toddler leash / harness actually gave our son more freedom to roam safely, without us having to chase him around.
Tom Sawyer Island (Frontierland) – First of all, you'll take a raft ride across the Rivers of America, which will be a fun and adventurous way to kick off your Tom Sawyer Island adventure. Tom Sawyer Island is essentially a large, themed playground, with plenty of surprises to discover. It also never gets quite as crowded as the rest of the park, so it's an ideal place to let your toddler get their wiggles out.
Casey Jr's Circus Splash Zone / Storybook Circus – Storybook Circus has a splash and play area themed to Casey Jr, featuring cartoony circus animals. Just be sure to pack a change of clothes for your kid if they want to get soaked in the fountains. The rest of Storybook Circus is another good place to let your toddler roam around, as it's tucked in the corner of the park so it doesn't draw huge crowds.
Lines for Little Mermaid, Peter Pan, and Dumbo – I know I said there's more to Disney World than waiting in lines, but these three attractions have fun activities built into their lines. Like I mentioned earlier, Dumbo has a playground in the line that might be worth visiting on its own. Little Mermaid and Peter Pan have interactive elements built into their regular standby lines, which could be entertaining for your toddler.
Cavalcades, Parades and Shows
Parades and shows are a hit with toddlers, and soon there are going to be more options. Magic Kingdom has a series of cavalcades, which are mini-parades that run throughout the day. This is a great option, because usually you can just happen upon them without staking out a great viewing spot. This month, Magic Kingdom will debut its biggest cavalcade yet with the Disney Adventure Friends Cavalcade. Here is the Magic Kingdom cavalcade lineup:
The Festival of Fantasy parade is returning on March 9, 2022. With elaborate floats and a huge cast of favorite characters, this parade is definitely a crowd pleaser.
Magic Kingdom has show in front of Cinderella Castle with performances early in the day featuring Mickey Mouse and friends, as well as some Disney princesses. Mickey's Magical Friendship Faire will debut on February 25, 2022, featuring characters from Princess and the Frog, Tangled, Frozen.
If your toddler can stay up late enough for the Disney Enchantment fireworks (I recommend trying to take a midday break for a nap), the end of Main Street furthest away from the castle is a great viewing spot. You'll get to see the projections on the buildings around you, the street is less crowded, and the noise from the fireworks will be softer than if you're right by the castle and hub.
Where to Find Characters at Magic Kingdom
You can find out where to find characters in our Magic Kingdom character guide. Disney World has brought back traditional meet and greets, so hugs and autographs are permitted.
Here are some toddler-friendly characters and where to find them in Magic Kingdom.
Mickey Mouse & Minnie Mouse – Town Square Theater on Main Street (Lightning Lane Available with Genie+)
Cinderella & A Visiting Princess (Usually Elena of Avalor) – Princess Fairytale Hall in Fantasyland (Lightning Lane Available with Genie+)
Tiana & A Visiting Princess (Usually Rapunzel) – Princess Fairytale Hall in Fantasyland (Lightning Lane Available with Genie+)
Peter Pan – Fantasyland
Snow White – Fantasyland
Belle – Fantasyland
Winnie the Pooh & Tigger (Coming Back 2nd half of 2022) – Fantasyland
Chip & Dale – Storybook Circus
The Great Goofini and Friends – Storybook Circus
Anastasia and Drizella – Cinderella Fountain in Fantasyland
Aladdin & Jasmine – Adventureland
Jack Sparrow – Adventureland
Buzz Lightyear – Rocket Tower Plaza in Tomorrowland
Stitch – Rocket Tower Plaza in Tomorrowland
Character Dining at Magic Kingdom
One of our top Disney World tips for parents is to consider a character meal if you have small children. Sometimes meeting characters can be overwhelming for little ones, and a character meal can help ease your child into getting used to characters as they roam around the dining room. Magic Kingdom has two character dining locations:
Cinderella's Royal Table – Meet Cinderella (Note: This meal used to feature several Disney Princesses that would come to your table. This has been modified to have an appearance by only Cinderella. We expect the full character dining experience to return either late 2022 or sometime in 2023).
The Crystal Palace: A Buffet with Characters – Meet Winnie the Pooh, Tigger, Piglet, and Eeyore, and participate in a character parade. This character dining experience returns September 20, 2022.
Be sure to check out our other toddler guides for Disney World, featuring must-know tips for any parent bringing their little ones to WDW.
If you want more help, get in touch with our friends at Vacationeer. Their travel agents are Disney experts who can help you plan a vacation full of magical moments for your toddler. Plus, they've helped tons of families, so they know a ton of advice for taking kids to WDW.
We want to hear your thoughts!
What's your favorite thing to do with toddlers at Magic Kingdom? Let us know in the comments below.
---
James is a lifelong Disney Parks fan. While at the parks, he loves finding new details, learning more about Disney World history, and taking pictures. His favorite WDW attractions include Rise of the Resistance, Spaceship Earth, and Tower of Terror.
James is a filmmaker and writer based in Atlanta, GA.
All author posts