One of the iconic images of modern childhood is a little kid donning Mickey ears and spinning around in a flying elephant on Dumbo. Taking a toddler to Walt Disney World can be full of these magical moments. But it can also be daunting. What is there for a toddler to do? What rides will they like best? What should I pack for my toddler at WDW? How do I manage their nap schedule? And, most importantly, should I even bring my toddler to Disney World?
In our 2023 Disney World Toddler Guide, we are giving parents essential information to plan the best vacation ever for their little ones. This guide will give you helpful tips on navigating the parks, prioritizing the best rides for toddlers, and finding amazing toddler-friendly activities that are easy to miss.
Update 5-22-2023: We've just added a Disney World Toddler Packing Guide to our site, with in-depth recommendations on what to pack for Disney World. We've also included a new section on whether you should buy Genie+ on your trip with toddlers.
Should I bring my toddler to Disney World?
Yes! Disney World can be a magical place to visit for all ages, but toddlers are an especially fun age to bring a kid to Disney for the first time. As toddlers, children are endlessly curious about how the world works. Disney World is a one-of-a-kind environment where a toddler can have new, stimulating experiences. That makes experiencing WDW through a toddler's eyes a great thrill for a parent.
What rides or shows your toddler will be most drawn to will be unique to them. When I first brought my son to Disney as a 1 year old, I would have never predicted that his favorite attraction would be The Enchanted Tiki Room. Now, months after the trip, he still smiles and dances when I put the soundtrack on, and two of his first words are "tiki" and "tweet."
While he won't remember his first time in the Tiki room, but it's been so much fun as a parent to share this experience and discover new ways to play with him.
Here are a few other reasons why Disney World is awesome for toddlers:
Kids under 3 get in for free: That's right. You don't need to buy a ticket for a child under 3. Getting into Disney World is free for most toddlers. Additionally, you don't need to purchase Genie+ for them, and some dining locations are free for kids under 3.
There's a ton of great rides for toddlers: From it's a small world to Dumbo to the train to Mickey & Minnie's Runaway Railway, Disney World has a great lineup of rides that have no height requirement.
Awesome toddler-friendly activities will make the trip extra special: From the country's second-largest aquarium in EPCOT to a petting zoo in Animal Kingdom to the Disney Jr Dance Party in Hollywood Studios, Disney World is packed with activities that will engage and delight toddlers. Be sure to consider a Disney World character meal, which is one of our favorite ways to meet characters at WDW without a wait.
So many photo ops: Whether you're posing with Mickey Mouse or in front of the castle, Disney World is filled with places perfect for capturing memories. If you're planning on doing regular visits to Disney World as your child grows up, these pictures are easy to repeat each trip and will make for a great photo album. That's why PhotoPass is popular with so many parents, as it gives you unlimited downloads of pictures taken by Disney's professional photographers.
Which Disney World park is best for toddlers?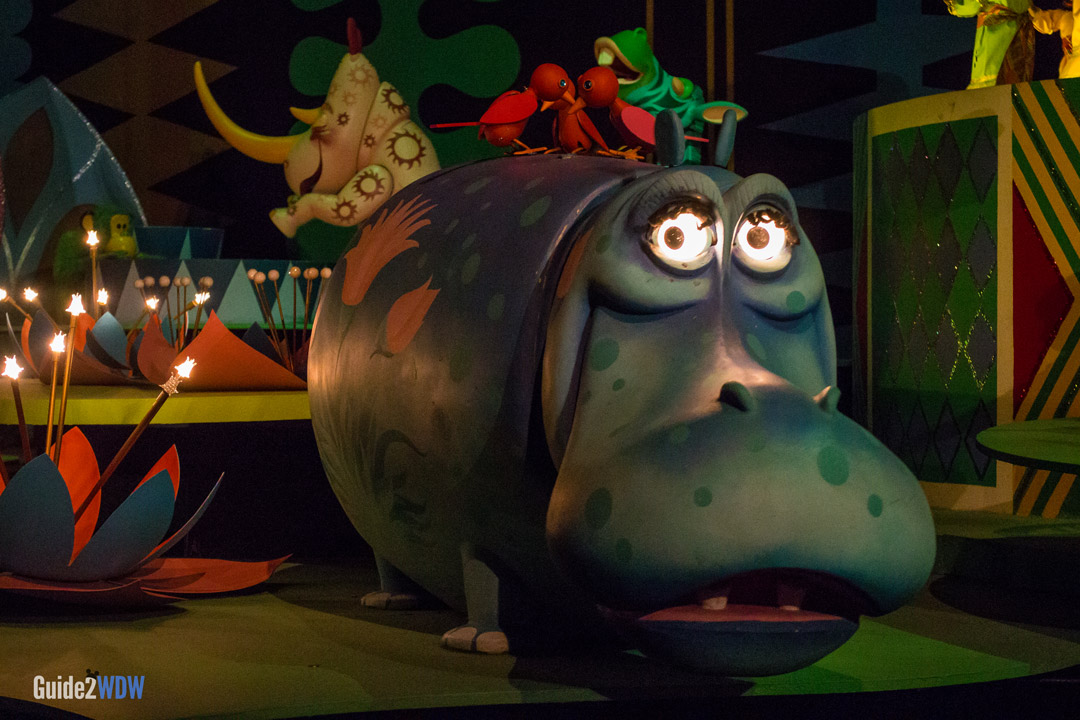 After deciding to take your toddler to Disney World, you're going to have to figure out which parks to visit. Whether you're only going for a day or visiting for a week, picking the right parks can be the difference between an awesome vacation and an underwhelming time. This has been made even more important with the Disney Parks Reservation system, where you have to make a reservation for a specific park ahead of time. When planning a multi-day trip, you'll want to make the right mix of park reservations, even if you have a park hopper.
While all four parks have a lot to offer, Magic Kingdom is by far the best park for toddlers at Disney World. It has the most toddler-friendly rides, shows, and some great activities. This is one of the reasons why it's WDW's most popular park. If I could only visit one day, I'd bring my toddler to Magic Kingdom. For a longer trip, I would make the most park reservations for Magic Kingdom.
EPCOT and Animal Kingdom are a close second choice, depending on what your toddler is into. EPCOT has more toddler friendly rides than Animal Kingdom, and it has an aquarium, a few play areas, and interactive activities in each of the World Showcase pavilions. However, Animal Kingdom features an entire zoo's worth of animals, plus a petting zoo, a train, and a dinosaur dig-themed playground.
Hollywood Studios is my last pick for toddlers at Disney World. Most of the best rides at Hollywood Studios have a height requirement. However, there are still some great things to do with toddlers at Hollywood Studios.
If I was visiting Disney World for five days with a park hopper, my plan would roughly look like this:
Magic Kingdom – 2.5 days
EPCOT – 1 day
Animal Kingdom – 1 day
Hollywood Studios – .5 days
If I did't have a park hopper, my plan would look like this:
Magic Kingdom – 3 days
EPCOT – 1 day
Animal Kingdom – 1 day
For longer trips, I would add more time to EPCOT or Animal Kingdom. Of course, the plan would change if I was also visiting with older kids or teenagers, who would enjoy Hollywood Studios more.
There are a few essential items that you'll want to pack when bringing your toddler to Disney World. In fact, packing the right gear can prevent potentially stressful moments. Here's a quick list of items to help you best navigate the parks with your little one.
Favorite Comfort Items: Pacifier, blanket, and a stuffed friend can make the new environments feel more comfortable.
Diaper bag
Diapers / Pull ups
Changing pad
Multiple changes of clothes for each day of your vacation
A stroller that easily folds up. We use the Britax B-Lively, which works great because it has plenty of storage space and folding is very easy.
A carrier (optional). We loved using a carrier for our toddler at Disney, which gave him great views without being confined to a stroller. We highly recommend this carrier by LILLEBaby.
Leak-proof sippy cups. Keeping your toddler hydrated is super important, especially in the Florida heat. We love these Munchkin 360 cups for toddlers, because they feel like magic. They're easy for your toddler to drink from, but won't spill, even if you flip them upside down.
Hand Sanitizer and Hand Cleaning Wipes 
Medicine and a First Aid Kit
Dish Soap
Placemat
Toddler Fruit/Veggie Puree Pouches – You can bring your own food or snacks into the park, and having pouches in your bag is great for giving your little one a snack while waiting in line.
A costume – This will be so much fun for you and your little one.
For more in-depth information and recommendations, check out our Disney World Toddler Packing Guide, which features over 50 recommendations for a magical family vacation and a free PDF checklist.

A stroller is a must for any family going to Disney World with small children. Bringing your own stroller to Disney World will save you money, but it will take up a significant amount of space in your car, and it's one more item to navigate the airport with.
If you don't want to bring your own stroller, you can rent them from Disney World directly or through a third-party company. We always recommend a third party company like Kingdom Strollers for these reasons:
They will deliver the stroller to your hotel.
They feature popular brands like Britax or Baby Jogger.
You can use the stroller anywhere during your vacation.
Disney strollers aren't as comfortable.
Disney strollers can only be used in the parks – you have to pick them up and drop them off every time you enter or exit the park.
Third party companies are typically cheaper for the entire week.
You can rent a stroller directly from Kingdom Strollers here.
If you want to learn more about bringing strollers to Disney World, check out our Disney World Stroller Guide.
The Best Toddler Tips for Disney World
Don't only focus on rides – It's easy to go to Disney World and think that the rides are the only thing worth doing. This is completely not true, especially with a toddler! There are a ton of great shows, activities, and playgrounds throughout each theme park. The best part is that many of these don't have any line at all. Patience isn't a strong suit of toddlers, so having something fun to do without a wait is a game changer. Check out each of our WDW theme park toddler guides for a complete list of these activities.
Don't miss the Baby Care Centers – Each park has a baby center, and it can be relatively easy to overlook. However, these spaces are great for parents with toddlers. They have full changing stations that are much nicer than the changing stations in the restrooms. They also have high chairs and other amenities if you need a quieter place to take care of your little one's needs. Read all about Disney World's Baby Care Centers here, including maps for where to find them in each park.
Take a break in the middle of the day – This is one of our favorite tips for anyone visiting Disney World, but it's especially important with toddlers. Disney World is a ton of stimulation for a toddler, and all of the new things can be exhausting. Try to stick to your toddler's nap routine as much as possible. It might be tempting to "get your money's worth" and power through the afternoon to do as many rides as you can. But this will just lead to a cranky toddler and a dreaded "Mickey Meltdown." Go into the parks early, head back to your hotel during the afternoon when the parks are the hottest and most crowded, and then return for some fun in the evening.
Pouches are your best friend in line – Toddler pouches are a great way to easily give your little one a snack on the go. My wife and I found it to be a helpful distraction while waiting in lines if our son was hungry.
Place an identifier on your stroller – Your stroller will be moved around at some point by a Cast Member who manages the traffic flow around stroller parking areas. This means that your stroller could get lost in a sea of black and gray. Place a brightly colored ribbon or luggage tag on your stroller so it's easy to identify from afar.
Know the ins and outs of Rider Swap – Rider Swap lets everybody in your party experience rides with height limits without the person or people who watched your toddler having to wait extra in line. From Disney: "If a Guest doesn't meet the boarding requirements or doesn't wish to experience a particular attraction, it's not a problem for family and friends who do! With Rider Switch, one adult or supervising Guest (14 years or older) can wait with non-riders while the rest of the party enjoys the attraction. Then, they simply switch roles to allow the supervising Guest to experience the attraction without waiting in the regular queue again." Simply approach the cast member at the entrance of the ride and say that you're interested in Rider Swap, and they will take care of you. This also works on rides that have Individual Lightning Lane like Seven Dwarfs Mine Train or Avatar: Flight of Passage.
Character Strategy – Seeing characters can be a joy for some kids. But others can find the characters intimidating or even scary. Every child reacts differently to the characters at Disney World. Ease your toddler into seeing characters. The currently-distanced character sightings and cavalcades are actually great for kids who might be a little freaked out by hugging a giant Winnie the Pooh. Character meals are also a great way to introduce your toddler to characters. Because the characters make appearances and roam around the room, some kids react better to the characters than just a sudden meet and greet.
Best spot for Magic Kingdom fireworks – If your toddler has stayed up all the way until the fireworks, here's a tip that will be awesome at Magic Kingdom. It's actually better to watch the fireworks from the back part of Main Street, by Town Square. The booms from the fireworks are not quite as loud, and you are closer to the exit as everyone leaves the park. As a side note, try to hold your toddler at your side instead of putting them on your shoulders if possible. This way they have the same view of the fireworks as you, but you aren't blocking anyone behind you. I found this to be a more comfortable position than having my wiggly son on my shoulders.
Should I buy Genie+ if I'm visiting Disney World with a Toddler?

Genie+ can sound like a no brainer for parents of toddlers. A way to skip long lines with a squirmy little human who has no understanding that we shouldn't just hug the legs of that random person in front of us? For many parents, this would be worth any cost.
But toddlers can't go on many of the rides that have Lightning Lane, and if you are a family with only small children, you may want to think twice about Genie+. Once you remove those big thrill rides from consideration, it's a tougher value proposition.
In Is Genie+ Worth It For Toddlers at Disney World?, we break down the pros and cons of using Genie+ with toddlers, as well as analyze the ride lineup in each park. We have in-depth recommendations in that article, but here is the tldr:
Magic Kingdom: Strongly Recommend Genie+
EPCOT: Maybe Buy Genie+
Hollywood Studios: Skip Genie+
Animal Kingdom: Skip Genie+ if you can get to the park early
If you're park hopping, that changes to a recommendation for some days of your trip. Just keep in mind that visiting Disney World with a toddler is sometimes best if you don't try to cram in as many rides as possible, which is a bit incompatible with the Genie+ value proposition.
Disney World Toddler Guides By Park
In our Magic Kingdom Toddler Guide, find out all the best rides without height restrictions, favorite activities, and where to find all the characters at Disney World's best park for toddlers.
Must-Do Rides and Attractions: it's a small world, Dumbo the Elephant, Peter Pan's Flight, The Enchanted Tiki Room
Favorite Activities and Shows: Tom Sawyer Island, Casey Jr Splash 'N' Soak, Festival of Fantasy Parade, Character Cavalcades
Read the full Magic Kingdom Toddler Guide here.
EPCOT has a reputation for being an adult's theme park, but it's awesome for toddlers. With several boat rides, a few play areas, and a whole aquarium, it's easy to have a blast with your toddler at EPCOT.
Must-Do Rides and Attractions: Gran Fiesta Tour, Frozen Ever After, Living with the Land, the Seas with Nemo and Friends
Favorite Activities and Shows: Explore the aquarium, EPCOT Kidcot activity stations, Green Landing Family Play Zone, World Showcase entertainers
Read the full EPCOT Toddler Guide here.
Hollywood Studios has Disney World's best lineup of e-ticket thrill rides. But that doesn't mean that there's nothing for toddlers to do. From the only Mickey Mouse ride to a Disney Jr. Dance Party, there is tons of fun for little ones at Hollywood Studios. This park is great for families who also have bigger kids, and it's an ideal place to use rider swap.
Must-Do Rides and Attractions: Mickey & Minnie's Runaway Railway
Favorite Activities and Shows: Disney Jr Dance Party, Lightning McQueen Racing Academy, Frozen Singalong
Read the full Hollywood Studios Toddler Guide here.
Animal Kingdom is more than just a zoo! There are some amazing rides, shows, and activities that are perfect for the whole family. But it's also an incredible zoo, which toddlers will adore. Animal Kingdom is awesome for toddlers.
Must-Do Rides and Attractions: Kilimanjaro Safaris, Triceratop Spin
Favorite Activities and Shows: Affection Section Petting Zoo, Animal Trails, Kite Tails, The Boneyard Playground, Wilderness Explorers Scavenger Hunt
Read the full Animal Kingdom Toddler Guide here.
How to plan the best Disney vacation ever for your toddler
Going to Disney World with a toddler can be daunting, but it doesn't have to be! Each section of this Disney World toddler guide gives you everything you need to plan out an amazing vacation with your little one. Follow these tips and recommendations, and you'll be able to pack in each day with incredible memories.
If you want more help, get in touch with our friends at Vacationeer. Their travel agents are Disney experts who can help you plan a vacation full of magical moments for your toddler. Plus, they've helped tons of families, so they know a ton of advice for taking kids to WDW.
We want to hear your thoughts!
What's your favorite thing to do with toddlers at Disney World? Let us know in the comments below.
---
James is a lifelong Disney Parks fan. While at the parks, he loves finding new details, learning more about Disney World history, and taking pictures. His favorite WDW attractions include Rise of the Resistance, Spaceship Earth, and Tower of Terror.
James is a filmmaker and writer based in Atlanta, GA.
All author posts