Hollywood Studios has some of the best rides at Disney World, including two launch coasters and a drop into the Twilight Zone. These rides deliver the thrills of being in a blockbuster movie. But this intensity can come at a cost: motion sickness.
Nothing will make you want to yell, "CUT!" on your day at Hollywood Studios like getting sick from a ride. If you're worried about motion sickness during your Disney World trip, this guide is for you.
Because everyone experiences motion sickness differently, I'll let you know what type of motion and other risk factors every attraction at Hollywood Studios features. I'm putting each ride into the following categories, based on the intensity of the ride and the potential for motion sickness.
High Risk: These attractions have the biggest chance of making guests feel nausea. These rides will feature the most intense movement.
Medium Risk: These rides have some sort of pronounced movement that could trigger motion sickness. Most guests will be find the intensity of these rides tolerable, but if you're sensitive to the attraction type, you may want to skip it.
Low Risk: The vast, vast majority of guests will have no problem on these rides, but there's still a small chance it could make some guests feel woozy.
(Almost) No Risk: Almost every guest should have no issues with the type of movement on these rides. However, I say this with a caveat that sometimes I get lightheaded standing up after tying my shoes, so I know that there's still a chance some guests could feel sick from these.
Update 3-9-2023 – We updated this guide, recategorizing Mickey and Minnie's Runaway Railway.
High Risk
Rock 'N' Roller Coaster – Risk Factors: Roller Coaster with a Launch and Two Inversions. Darkness. Rock 'N' Roller Coaster is Disney World's most intense roller coaster, and it starts with a bang. Guests are launched 0-57 mph in under three seconds. The coaster doesn't let up from there: this is Disney World's only coaster that flips guests upside down, and it does it twice with a loop and a corkscrew. All of this happens as you careen through the dark, only lit up by giant neon LA landmarks. While the darkness isn't as disorienting as Space Mountain, it still can contribute to nausea if you lose your bearing on which direction you're going. Focus on the track or the car ahead of you to minimize motion sickness.
Star Tours: The Adventures Continue – Risk Factors: Motion Simulator, 3D, Rough Movement. This is one of the most common rides that I hear motion sickness complaints about at Disney World. If you have any issues with the motion of Soarin' or Flight of Passage, you will likely have bigger motion sickness issues on Star Tours. This is the roughest motion simulator at Disney World, with the thrilling ride through space shaking you up much more than Millennium Falcon: Smuggler's Run. The 3D effects are excellent, but that can also be a factor towards causing motion sickness. If you're worried, try to sit at the very middle of the ride vehicle, as that will reduce the intensity of the motion.
Tower of Terror – Risk Factors: Big Drops. I almost put this excellent drop ride in the Medium Risk category due to personal bias. I just have never felt motion sickness from this ride, so drops aren't something I associate with nausea. However, I know some people who can do Rock 'N' Roller Coaster with no issues, but any drop ride is going to make them turn green. Tower of Terror will drop you repeatedly, giving you that feeling of your stomach flipping over. For some, that's a thrill. For others, that's a no-go.
Medium Risk
Slinky Dog Dash – Risk Factors: Roller Coaster with Launches. While Slinky Dog Dash is billed as a family-friendly coaster, don't assume that means it's completely wimpy. This dog has some bite. While not nearly as intense as Rock 'N' Roller Coaster, Guardians of the Galaxy, or Expedition Everest, this coaster still brings the thrills. With two launches and a max speed of 40 mph, this is a definite step up from Seven Dwarfs Mine Train or even Space Mountain. The fact that Slinky Dog is outdoors and very smooth helps mitigate any motion sickness it may cause.
Millennium Falcon: Smuggler's Run – Risk Factors: Motion Simulator with Unpredictable Movement. Millennium Falcon: Smuggler's Run doesn't shake you up nearly as much as Star Tours, and the lack of 3D will help make this ride approachable to more guests. However, if you have issues with motion simulators, you may want to take a Dramamine before you take flight in this hunk of junk. It also doesn't help that this ride is interactive, meaning that there's a good chance a 6 year old is your pilot. Let's just say that will lead to some less than smooth landings.
Low Risk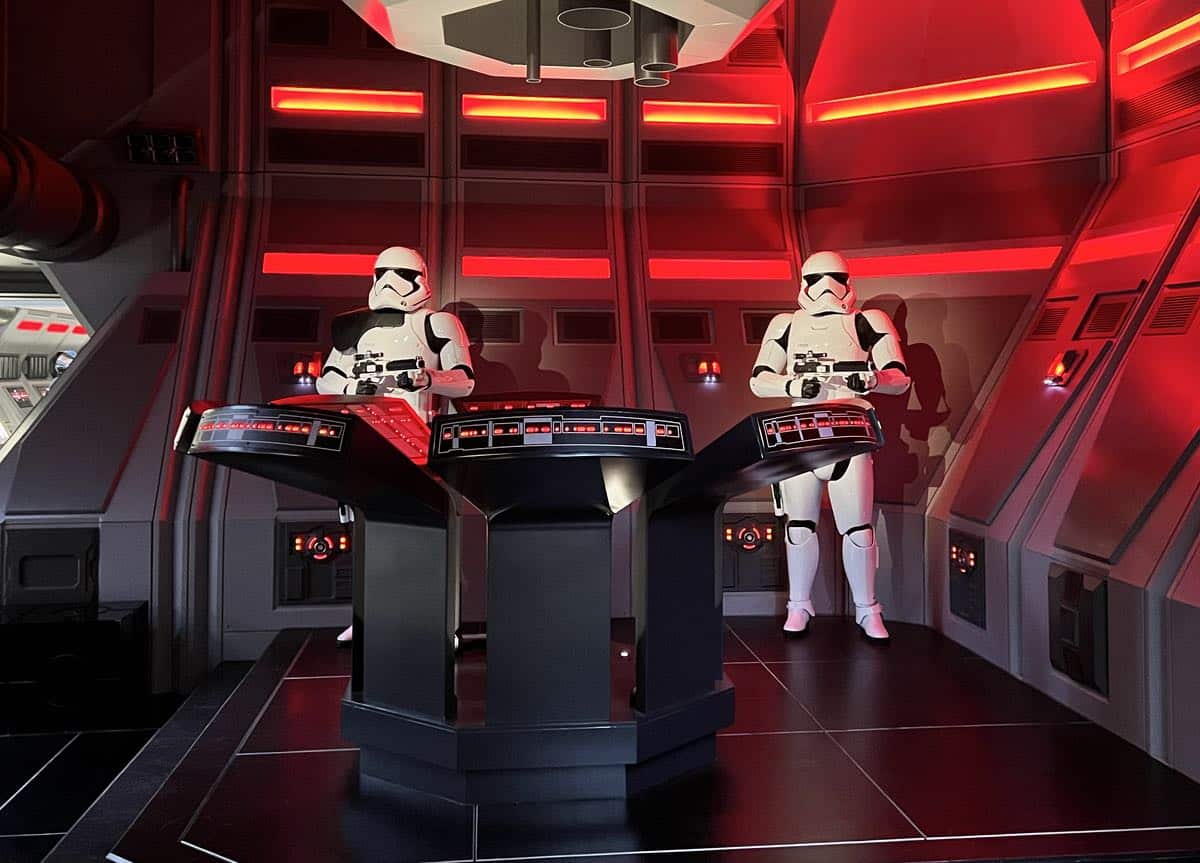 Star Wars: Rise of the Resistance – Risk Factors: Swift Turns, Small Drop, Brief Motion Simulation. Rise of the Resistance is more of an experience than a ride. That sentence will make much more sense once you've been on it. It combines four different ride systems to put you in the middle of an epic Star Wars adventure. Luckily, this ride is very approachable for most guests, as the motion is not nausea inducing. Even the more intense moments are brief and much more toned down compared to other rides. You can read a fully detailed breakdown in our article Will Star Wars: Rise of the Resistance Give You Motion Sickness?
Mickey & Minnie's Runaway Railway – Risk Factors: Unpredictable Movement, Giant Screen.  Like Rise of the Resistance and Remy's Ratatouille Adventure, this is a trackless dark ride. The motion can be unpredictable, and we find it to be a bit more frenetic than Rise of the Resistance. There is also one portion where you are briefly facing a giant screen that can give some motion simulator feels. But Runaway Railway doesn't feature a drop or 3D screens, which are the small risks of motion sickness that those rides have. This romp through the colorful cartoon world of Mickey Mouse was designed to be enjoyed by all guests of all ages, and even though it can whip you around, most guests will be fine on this ride.
Alien Swirling Saucers – Risk Factors: Swinging Side to Side. As a staunch avoider of the tea cups at Magic Kingdom (and all spinning rides), I was extremely surprised by how approachable Alien Swirling Saucers is. Rather than a spinning motion, this ride features swinging from side to side. It delivers the fun of a spinning ride, but without the dizzying sensation. Your instincts may tell you to avoid this ride when you look at it, but the motion is much more approachable than it seems.
Toy Story Mania – Risk Factors: 3D Screens. Toy Story Mania has some mild and swift movement as you go from game to game, but these sections are brief. If you have issues with 3D movies, this ride has a small chance to cause you some trouble. However, your ride car stays still as you play each game, so it doesn't pack the punch that a motion simulator has.
Muppet Vision 3D – Risk Factors: 3D Movie. As with Toy Story Mania, the only real factor here that could induce motion sickness is that this attraction features 3D. However, you are not moving at all in the theater. Most guests will be absolutely fine when they meet the Muppets.
(Almost) No Risk
For the First Time In Forever: A Frozen Sing Along – Live stage show with nothing that would cause motion sickness.
Indiana Jones Stunt Spectacular – Live stage show with nothing that would cause motion sickness.
Beauty and the Beast: Live On Stage – Live stage show with nothing that would cause motion sickness (sensing a theme?)
Lightning McQueen's Racing Academy – Live stage show with depictions of racing on screen.
Vacation Fun – Mickey Mouse short displayed on a movie screen.
Walt Disney Presents – Walk-through exhibit and movie, with nothing that would cause motion sickness.
Disney Jr. Play and Dance! – A live stage show and dance party with screens and flashing lights.
I'm currently working on more park motion sickness guides. In the meantime, if you're curious how intense other Disney World rides are and if they can cause motion sickness, check out our in-depth guides:
We want to hear from you!
Is there anything that we got wrong in this guide? Do you have any tips for avoiding motion sickness at Hollywood Studios? Let me know in the comments below, and I'll update the article with your input!
---
James is a lifelong Disney Parks fan. While at the parks, he loves finding new details, learning more about Disney World history, and taking pictures. His favorite WDW attractions include Rise of the Resistance, Spaceship Earth, and Tower of Terror.
James is a filmmaker and writer based in Atlanta, GA.
All author posts