54 Disney World Dining Tips & Tricks for 2023
Disney World dining can be a magical experience. But with so many restaurants to choose from, it can also be daunting. However, Guide2WDW is here to help! We have dozens of Disney World dining tips covering how to make reservations, what to eat, and how to save money.
Prepare to feast like Disney royalty with our expert dining recommendations.
Our Disney World dining tips are divided into the following sections:
Advanced Dining Reservation Tips: Advice to help you secure reservations at WDW's hottest restaurants.
Tips for Dining in the Disney Parks: From Mobile Order to the Virtual Walk-Up list, these are the tricks you need to know to maximize your dining experience in the parks.
Tips for Dining at the Disney Resorts: Where should you eat to see the fireworks outside the parks? And what are Disney World's finest date night destinations?
Disney World Dining Recommendations, Tips, and Tricks: Specific dining tips on where to eat and what to order.
Tips for Dining with Kids at Disney World: Get the scoop on character dining at Disney World.
Money Saving Tips for Dining at Disney World: Dining at WDW isn't cheap. Here's how to save some money while eating at Disney World.
Disney Dining Plan Tips: While currently paused, we still have some tips on how to get the most out of the Disney Dining Plan.
Advanced Dining Reservation Tips
1) Make dining reservations as early as possible. The most in-demand reservations at Disney World will run out within minutes of becoming available. So when do dining reservation open up at Disney World? Advanced Dining Reservations open at 5:45 am EST 60 days ahead of time via DisneyWorld.com or the Disney World app.
2) Certain resort guests can make dining reservations even earlier. Official Disney World resort guests and guests at Good Neighbor Hotels can make reservations for their entire vacation starting 60 days ahead of the first day of their trip. So if you're staying 10 days at Disney World, you can make a reservation for the last day of your trip 69 days ahead of time. Plus, you only have to get up early to make reservations one day, since you can make the reservations all in one session.
3) Make reservations online. Reservations for Disney World restaurants open at 5:45 am online, but the reservation phone line doesn't open until 7 am. If you're trying to snag one of those hard to get reservations, they might be sold out by the time the 407-WDW-DINE phone line opens.
4) Coordinate with your Park Pass Reservations, and know Park Hopping Rules. Remember that you need a Park Pass reservation for each day you visit Disney World, and that reservation will dictate which park you visit first. You currently cannot Park Hop until 2 PM. So if you have a reservation for a restaurant in a theme park before 2 PM, be sure to have the correct Park Pass reservation as well.
5) Reservations have a no-show fee. You will be charged $10 per person for any dining reservations that you don't use. Be sure to cancel more than 2 hours ahead of time in order to avoid this charge. You can easily cancel reservations via the Disney World app. Note: Dining reservations can now be cancelled same day via the Disney World app.
6) Know which reservations to prioritize. Restaurants like Space 220, Be Our Guest, Le Cellier, and Ohana are some of the hardest reservations to get at Disney World. These restaurants are so popular for a reason: they're great! Check out our full list of The Hardest Reservations to Get at Disney World to know which reservations you should try to get first.
7) A strategy for securing hard to get reservations. For a better chance snagging reservations at WDW's hottest restaurants, try searching for off-hours dining, such as a late lunch or very early breakfast. Guide2WDW reader Scott had luck with opting for a late Be Our Guest lunch instead of dinner:
"This tip has to do with eating at popular restaurants like Be Our Guest for lunch or dinner. Make sure you make your reservations in advance but consider eating a late lunch as opposed to dinner. It is not quite as crowded. Your chances of getting a reservation close to your vacation time are much better (if not booked far enough in advance). Many of the menu items for lunch are on the dinner menu but are much cheaper on the lunch menu. If you book lunch around 2:15 you can see the 3:00 parade right after lunch. Dinner does not start until 4:00 but I believe the last reservation for lunch is 3:00."
8) Another strategy for hard to get reservations for resort guests. If you are a Disney World resort guest who can make reservations for your entire trip starting 60 days from the first day of your vacation, this tip is for you! Start making reservations for the last day of your trip first and work backwards. The later days will have less competition than anything 60 days out, so you'll have a better shot at securing that Space 220 reservation.
9) Know which easy-to-get reservations are actually worth getting. If you are too late to grab a reservation for one of the Disney World dining locations mentioned above, you can still have an amazing culinary experience at Disney World. Several restaurants fly under the radar for one reason or another, but they still offer amazing food. Tiffins, Jungle Canteen, 50s Prime Time Cafe, and Spice Road Table are four of our favorite restaurants with easy to get reservations. Check out our whole list of The Easiest Disney World Reservations Worth Getting here.
10) If at first you don't succeed, refresh, refresh again. People are constantly changing their Disney World plans, so dining reservations can open up at any time. If you weren't able to book a must-do restaurant, keep checking the My Disney Experience app to see if any spots open up. You may get lucky, especially between 24-48 hours ahead of time. Guide2WDW reader Aida shared their experience:
"If you really want a reservation, keep checking DisneyWorld.com or the Disney World app up until the day before to check for availability. I checked today for the Cinderella breakfast and got a reservation for next Wednesday, exactly what I wanted. 🙂 People who made an ADR two months ago are now canceling their reservations."
11) Familiarize yourself with the Virtual Walk-Up Wait List. If you don't have a reservation but would prefer a sit down meal, certain WDW restaurants have a walk-up list you can join via the My Disney Experience app, under the "Check Dining Availability" section. You do need to be within a certain physical proximity to the restaurant to join the wait list. You can read more about this in our guide on what to do if you don't have reservations at Disney World.
12) If all else fails, talk to a cast member. You might also get lucky by talking to the Cast Member working the host stand at the restaurant. Guide2WDW reader Jessica shared how they were able to get into Cinderella's Royal Table by asking.
"If you were unable to get reservations to the restaurant of your choice, you might still get in. Just ask the hostess/host if they have had any cancellations, and sometimes you'll be in luck and be able to eat there. Last time my family of 7 went to Disney World, we asked the server at Cinderella's Royal Table and got in because of a cancellation."
Just know that this is a long shot, so set your expectations accordingly.
13) You can use OpenTable at Disney World. Some Disney Springs restaurants accept OpenTable for reservations, including Wine Bar George, STK, Splitsville, and Planet Hollywood.
Tips for Dining in the Disney Parks
14) Always use Mobile Order when available. Many counter service restaurants offer mobile order via the My Disney Experience app. This is a great time saver, especially since you can plan out and order your lunch or dinner while you're waiting in line.
15) Mobile Order Speed Trick. Click "I'm here" as you're heading to the restaurant. Many times I'll do this, and the food will come out just as I arrive. Otherwise, you may have to wait a few minutes for your order to be prepared.
16) Know the Best Outdoor Dining Spots. Whatever your reason for wanting to dine al fresco, Disney World has some amazing spots for outdoor dining. One of my favorite spots is the dining area behind Flame Tree Barbecue in Animal Kingdom. Just follow the path to the left of the counter. There is a lot of covered seating with ceiling fans, plus a beautiful view of the water. It was 90 degrees, and we stayed very cool. This spot is great if you're dining or if you just want to take a break from all the walking.
We've compiled the best outdoor dining spots in each park, as well as Disney Springs.
17) Bring Your Own Reusable Straw. Disney World has gotten rid of all plastic straws in favor of paper straws. Great for the environment. Terrible for sipping on a smoothie.Avoid the pain of having a paper straw disintegrate one minute into getting your Joffrey's Iced Coffee by investing in a set of reusable silicone straws or metal straws. These are eco-friendly and will save you a lot of frustration as you dine around the World Showcase. These sets come with carrying cases that are easy to keep in your backpack or purse, and they are easy to clean.
Recommended Item: Flathead Silicone Straws 10 Pack. These colorful BPA-free silicone straws are an awesome alternative to Disney's paper straws. Be able to sip your iced coffee on Main Street without the straw disintegrating. If you are visiting WDW with kids, we recommend going for the silicone straws, as they are more kid friendly.
Recommended Item: Green Steel Stainless Steel Straws. The #1 best selling adaptive drinking straw on Amazon, this 5 piece set includes 2 straight straws, 2 bent straws, and a straw cleaner. This is for anyone who would prefer a stainless steel straw to a silicone straw. Comes in tall and medium sizes.
18) Skip the Starbucks Line. Look, we love Starbucks, and we especially love that you can get Starbucks at each WDW park. But the lines can be crazy long, especially first thing in the morning when all the ride lines are shortest. Instead, seek out a Joffrey's coffee kiosk. While Disney World's non-Starbucks coffee offerings used to be abysmal, Joffrey's coffee is actually really good. We're particularly fond of the Cold Brew on hot days.
19) A breakfast reservation can get you in the park early. Certain table service restaurants offer breakfast reservations for before the park opens. This is a great way to get a meal in, and then be among the first in line for the most popular rides. Disney World theme parks will have a line dedicated for early breakfast reservations. Just look for the cast member with a sign.
20) Consider Dining Packages for shows you really want to see. Disney offers dining packages for shows such as Harmonious or Candlelight Processional. These are typically pre-fixe meals that cost a little bit extra for seating in a reserved section for these nighttime spectaculars and shows. If you want a great seat for a WDW show but don't want to wait over an hour to secure it, these dining packages are a great choice.
21) Don't only eat counter service. You may think you're saving money just by opting for Disney's counter service locations. While these meals are typically cheaper on average, Guide2WDW reader Julie found that table service restaurants were not that much more expensive, and came with some extra benefits that made it worth it.
"Often the prices at sit-down restaurants are quite comparable to the "quick" food places when you consider all you'd need to buy at the snacky places to make an ample meal, plus you get more food at table service restaurants. More importantly, you'll get a much-needed break to rest and relax, away from the crowds! Eat off-hours and you'll also have the traditional meal hours to take advantage of much shorter lines, while everyone else is busy eating or standing in line at the counter service places! I couldn't imagine going to Disney World and not having a sit-down meal break once a day. Disney restaurants are often very good (check reviews and menus), you can make Advanced Dining Reservations ahead of time so waits aren't usually bad, and they provide atmosphere."
Tips for Dining at the Disney Resorts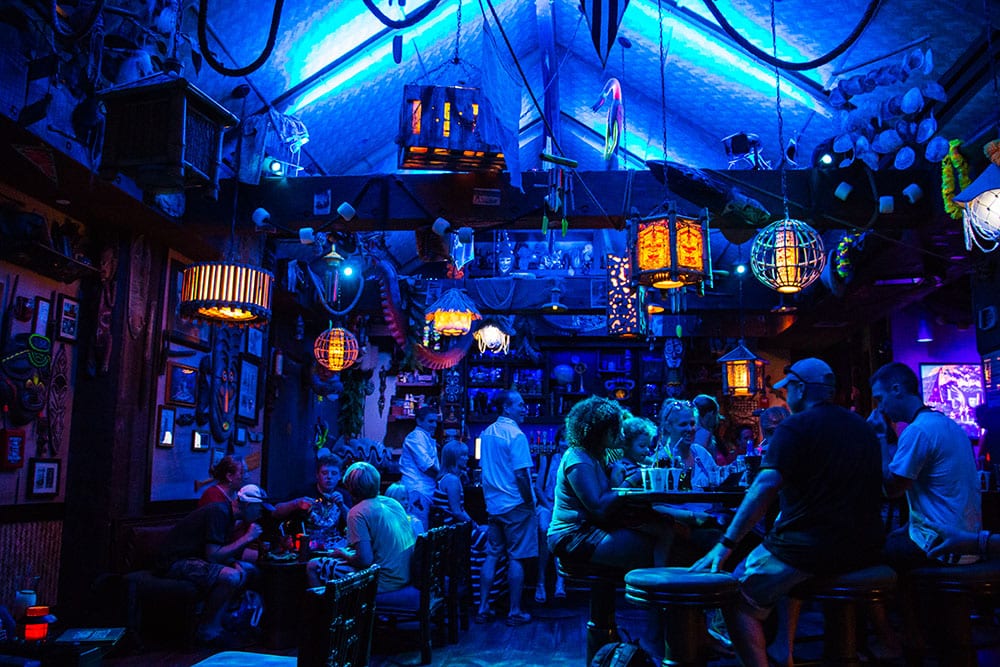 22) Get to Trader Sam's before it opens. Trader Sam's Grog Grotto at Disney's Polynesian Resort is our favorite bar at Disney World. However, it can be hard to get into the tiki-themed bar, especially later at night. Our trick is to show up right before opening. Either we'll get in, or get our names on the waitlist for a short wait. Trader Sam's will text you once your wait is up.
23) Resort restaurants offer great views of fireworks. California Grill, Ohana, Narcoossee's each have fantastic viewing for Magic Kingdom fireworks, plus they pipe in the music. Topolino's Terrace at Disney's Riviera and Toledo at Gran Destino Tower both offer views of EPCOT and Hollywood Studios fireworks. You can also see Magic Kingdom from Topolino's Terrace.
24) California Grill fireworks tip. You are welcome to view the fireworks from California Grill's balconies if you dine there at any point in the evening. So if you had an early dinner, you can return later in the evening to watch the fireworks from their outdoor viewing areas. (Just bring a light jacket because it can get windy/chilly there).
25) California Grill Lounge offers the full menu. California Grill is another in-demand reservation, but their lounge is first-come first-serve. The lounge offers the entire California Grill menu, so this is a great way to dine here without a reservation. Plus, you have same access to the fireworks viewing as guests eating at the restaurant.
26) Resorts are the go-to for a fancy dinner. The resorts have some of the best date night dining destinations. We recommend Victoria & Alberts, California Grill, Narcoossee's, Topolino's Terrace, and Shula's for special occasions and dates.
27) Get a free steak at Shula's. Shula's at the Dolphin Resort is an underrated gem of a steakhouse, and it's even better if you dine around your birthday. As noted in our Best Free Things at Disney World guide, you can get a free entree within two weeks of your birthday once you receive an email from Shula's via their Team Shula Rewards program.
28) Ohana – You will leave stuffed! Ohana is a beast of a feast. With all you can eat salad, noodles, wings, chicken, steak, and shrimp, you'll barely be able to make room for the amazing bread pudding. (But somehow I always find room). Don't eat anything before you get to Ohana, because you should arrive hungry.
29) You can order Ohana dinner via room service. If you're staying at the Polynesian Village Resort, you can order the multi-course Ohana dinner to be delivered to your room. It won't be all you can eat, but it should be plenty of food.
30) Consider Kona Cafe instead of Ohana. If you couldn't get an Ohana reservation, consider dining at Kona Cafe instead. They offer a really good a la carte menu, and the reservation is much easier to secure than its all you can eat neighbor.
Disney World Dining Recommendations, Tips, and Tricks
31) Level Up Your Dole Whip – A Dole Whip is a must-have Disney World snack, but if you want a unique twist, seek out this special topping. Fruit stands at Magic Kingdom will sometimes carry packets of Tajin, which is a tangy and sweet dried fruit seasoning. This goes extremely well on a pineapple Dole Whip. For extremely unique Dole Whip offerings that don't require you to seek out a packet of Tajin, check out Floats on the Water at Disney Springs. They have a menu featuring some very creative Dole Whips.
32) Want a unique dining experience? Go to 50s Prime Time Cafe. The Hollywood Studios restaurant is a blast from the past, where the servers are fully in character. Guide2WDW reader Sam shared their experience:
"At Disney's Hollywood Studios, the 50's Prime Time Cafe — made of small retro kitchen settings with TVs showing our fave sitcoms of the day — was awesome! Fabulous service by our "cousins," lots of Mom's rules to follow, camaraderie among each kitchen's guests, and really, really good food. Try the chicken pot pie and S'mores dessert! Priority reservations highly recommended."
33) Don't miss the French bakery. Make sure you try Les Halles Boulangerie & Patisserie, the bakery in Epcot's France pavilion. They have delicious macarons, strawberry tarts, and other great treats. Sometimes the line is long but it is well worth the wait!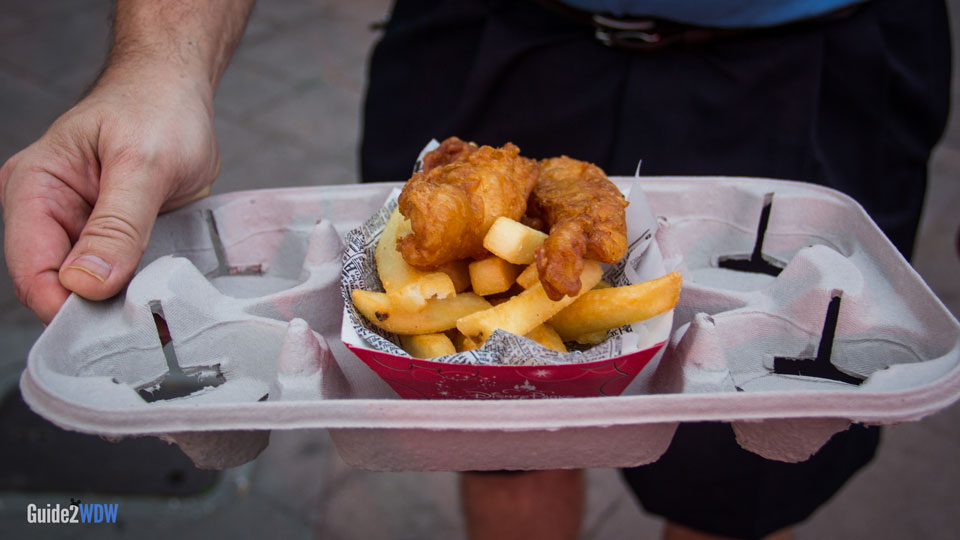 34) Quick and delicious Fish and Chips at EPCOT. An excellent option for lunch is the Fish and Chips in the United Kingdom at Epcot — but don't go in the Rose and Crown Pub. Try Yorkshire County Fish Shop, the food stand located right next to it (towards France). It's a cheaper and faster option, which leaves you more time to experience Epcot!
35) Magical Ice Cream at Magic Kingdom. Disney World has a ton of ice cream offerings, but Guide2WDW reader Breanne recommends Storybook Treats in Fantasyland at Magic Kingdom.
"We just returned from Walt Disney World's Magic Kingdom and were pleased in particular with Storybook Treats in Fantasyland. The ice cream sundaes were to die for and the prices were great! If your family likes ice cream, then this is the place to go. It beats the pre-made ice cream stands found all over the park."
36) Lunch and great parade viewing at Magic Kingdom. Guide2WDW readers John and Karl shared a Disney World dining tip on how to get a great view of the Festival of Fantasy parade at Magic Kingdom at Liberty Tree Tavern.
"If you plan to eat at the Liberty Tree Tavern at Magic Kingdom, try and plan your dinner so that you are done 20 minutes before the parade starts. Just step out onto the porch for a great view."
37) Great dining options walking distance from EPCOT. If you don't mind leaving the park for a little while, head out the World Showcase entrance (between UK and France) and go to the Boardwalk. There are many great dining options, including the Boardwalk Bakery, one of our favorites!
Disney World Dining Tips for Kids
38) Do a character meal early in your vacation. Some kids can get nervous or scared around characters. Guide2WDW reader Chris recommends using a character meal as a way to get your kids used to being around Disney characters.
"Character meals at Disney World are a great place to get young kids used to being around the characters. They come around often enough that the kids really relaxed."
39) Character meals can be worth the cost due to special interactions. Guide2WDW reader David found character meals to be a great way to interact with characters without a wait.
"If you want to see, take pictures, or otherwise interact with Disney characters, I highly recommend that you schedule a character meal. We did breakfast at both Magic Kingdom and Animal Kingdom. Although pricey, we got into the parks before other people, ate, interacted and took pictures of at least 5 characters at each venue. This will save an indeterminable amount of time waiting in line elsewhere in the park."
40) Space 220 has a great collectable for kids. Your kid's trip to dine in space just got a little sweeter. Each purchase of a kids meal or a mocktail at Space 220 will come with a pack of Space 220 Collectible Trading Cards. Each pack comes with 5 cards, which feature artwork depicting life in space and facts about space exploration, food in space, and innovations in space technology. Space 220 also offers a "Zero-Proof Sipper" cup shaped like a rocket ship, available for purchase for $12, which includes a specialty space-themed beverage.
41) The most affordable way to score the Space 220 trading cards. If your kid would love some trading cards but you don't want to shell out the cash for the full Space 220 experience, going to the lounge and ordering them a mocktail is the most affordable option to score this neat souvenir at Epcot.
Money Saving Tips for Dining at Disney World
42) Never pay for water bottles. Disney World counter service restaurants will always give you free ice water, even if you don't buy anything else. Skipping expensive Dasani water bottles will save you a ton during the course of your vacation, and ice water will cool you down on those hot Orlando afternoons.
43) You can buy just an entree with no sides. Save money at Disney World counter service restaurants throughout the parks by requesting the entree without the sides. They normally don't list this as an option on the menu, but they will do this. By ordering a sandwich without the fries, you can often save over $2!
44) You can always split a meal. Guide2WDW reader Amanda found the portions at Disney World restaurants to be big enough to share between two people.
"Everyone talks about how expensive the food is at WDW. But what we discovered was that, though the price seem high, the servings were huge. So buy one meal and split it between two people."
45) Consider a refillable popcorn bucket. Popcorn around the parks costs $5, and souvenir popcorn buckets cost $10 and up. But here's a money saving tip for the snackers out there: You can refill your souvenir popcorn bucket for just $2. So if you buy a souvenir popcorn bucket at the beginning of your trip, you can bring it into the parks and refill for a cheap snack.
46) Eat breakfast in your hotel room to save time and money. Guide2WDW readers Mike and Gina share this WDW dining tip for doing quick breakfasts in your hotel room, plus saving money on snacks.
"To save time in the morning, I brought my own cereal, bowls and spoons. My husband went to the food court to buy milk for the kids' breakfast and coffee for us. We would take turns in the shower while the others ate. This took us about one hour each morning, and we'd be ready to head into the parks. It sure beats sitting at a table waiting to place orders and get fed. The kids thought it was fun too. We also brought along snacks (zip-lock baggies with trail mix) so that during the day we weren't spending a lot of money on junk food. We usually skipped a sit down lunch and opted only for a sit down dinner. It worked great!"
47) You are allowed to bring food into the parks. Guide2WDW reader Arlen shares a tip for saving some money while dining in the parks:
"We pack our lunch in the morning and place it in collapsible cooler along with enough cold water bottles for our family. Then we take the cooler with us to a Disney World park and place it into a locker at the beginning of the day. We provide our own lunches to save money so we don't feel bad spending at dinner at a Disney restaurant later on."
Disney Dining Plan Tips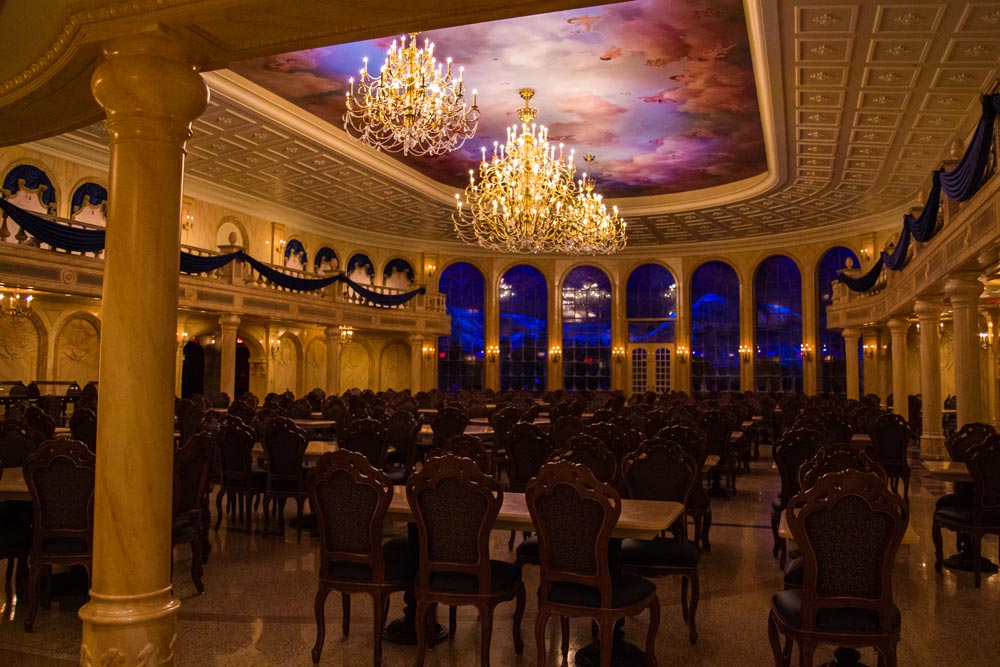 Note: Disney World is currently not offering the Disney Dining Plan. They have indicated that the Dining Plan will return at some point in the future, but we don't know when. Here are our Disney World dining tips for the Disney Dining Plan, in case it returns by the time you read this.
48) The Disney Dining Plan can definitely be worth it. Wondering if the Disney Dining Plan is worth the money? Guide2WDW reader Amy did the math with her tip:
"We just came back from a six day trip to WDW and saved over $900 on food. We had a party of six adults and one child and we went on the Disney Dining Plan. For $30 per person per day, we ate like kings. Each day we each got one counter service meal which could be used for lunch or breakfast, (we used them for lunch since it includes one drink, one entree, and one dessert), one snack (ice cream, popsicle, popcorn, soft drink or bottled water), and then one table service meal for dinner. There was a list of restaurants participating in this plan so you had to stick to these restaurants but we got to try so many of the restaurants that we wouldn't have gone to otherwise, including Boma, the Rose and Crown and Cinderella's Royal Table."
49) Seek out the Free Dining Promotion. When available, Disney World's Free Dining promotion is one of the best deals around. Guide2WDW reader Steve wholeheartedly recommends it:
"We were lucky enough to get the Disney Dining Plan included in our booking, this was a great bonus it saved us a fortune. Disney has done this promotion several times over the last few years. If you can get the free Disney Dining Plan during your trip to Disney World, I definitely would say get it! It's a great value!!!"
50) The Disney Dining Plan can help with planning and budgeting. The Disney Dining Plan can save you a lot of hassle and planning while you're at Disney World. Plus, if you get it as part of a Disney resort package, you can pay for it in increments before you arrive. Guide2WDW reader Kim writes,
"Could my family eat a lot cheaper than what I pay for the Dining plan? Sure. But with the dining plan, we get more character breakfasts and themed dining than what I would pay for. Not to mention, when I get there, my entire vacation is paid for and I didn't have to charge anything or worry about trying to save the money to pay for it when I arrive."
51) Salvage dining credits at Disney Springs. Guide2WDW reader Joyce Deen gave us a great tip about using your remaining dining credits at Disney Springs rather than letting them go to waste.
"When my husband and I go to Disney World, we never use up our dining plan's snack credits. We don't mind the taste of Orlando's water, and with free water from the counter service restaurants, we don't 'waste' credits on soda pops. Generally, after the first day, we're over-caloried so we just don't use those snack credits. On the last day, we take all our leftover credits to Goofy's Candy Company in Disney Springs. We load up on packaged goodies that fit just fine in our carry-on luggage. We've even gotten wrapped sandwiches from the Earl of Sandwich to take with us to the airport with extra counter service credits!"
52) Use snack credits at EPCOT's Festivals. One of the best use of Disney Dining snack credits are the food booths at EPCOT's various festivals. Some of these items can cost over $8, but are still considered a snack in the Disney Dining Plan.
53) Be Our Guest breakfast is a great deal for the dining plan. At around $30 a person, Be Our Guest is a pricy option for breakfast out of pocket. However, if you're on the Disney Dining Plan, it is only one counter service dining credit, making it a great value for your plan. Breakfast is typically easier to get a reservation for than dinner. If you're on the Disney Dining Plan, definitely try to dine in Beast's Castle for breakfast.
54) You can add more days to your Dining Plan. Guide2WDW reader Bryan shares this tip for why you should consider adding extra days to your Dining Plan, even if you aren't staying that long.
Our family always waits for Free Dining to come around to book our trip. But, not only do we take advantage of that, we add on more food and park days than we are actually staying. It only costs a little bit more. Why would we add on more days if we aren't staying that long??? You can reserve restaurants that take 2 table service meals and you don't have to pay a lot more for a more expensive meal. Suddenly eating at Cinderella's Royal Table doesn't cost too much!
How to Plan a Foodie Vacation at Disney World
Planning a trip to Disney World? These Disney World dining tips are just the beginning. Get in touch with our friends at Vacationeer for free Disney World vacation planning. Their travel agents can help you plan your vacation for no extra cost. They are Disney experts, so they'll have their own recommendations and advice. Plus, they can help with dining reservations at Disney World restaurants.
If you want to dive in more, check out our Disney World restaurant and menus pages, each with specific tips and recommendations. Plus, we have an entire in-depth Disney World Reservation Guide to help you get a table at these fantastic dining options.
Let Us Know Your Thoughts
What are your favorite Disney World dining tips? Let me know in the comments below!