42 Tips for Planning a Disney World Vacation in 2023
Want to know the best way to plan a Walt Disney World vacation in 2023? Our Disney World trip planning tips come from decades of experience making trips to Orlando, plus feedback and advice from Guide2WDW readers.
Whether you're a Type-A planner who never saw a spreadsheet they didn't love or a spontaneous free spirit who prefers to wing it, you will want to read these tips. You'll find out what you absolutely must do before you go to Orlando, what items you should pack, and how to maximize your time while visiting Disney World. Our Disney World Trip Planning Tips are organized into the following sections:
Tips on How to Plan a Disney World Vacation: The basics of WDW trip planning
Tips on When To Visit Disney World: Advice on which days to plan your trip
Tips on What to Do Before You Go: From purchasing tickets to dining reservations, these are the things you absolutely must do before going to Disney.
Tips on What to Pack for a Disney World Vacation: Be prepared for rain and heat with our packing tips
Tips for Planning Out Your Disney World Vacation: More in-depth tips and tricks for making an amazing plan for your Disney World trip
Tips for While You Visit Disney World: Things you should do while you're visiting the parks.
Tips on How to Plan a Disney World Vacation
1) Pick the best time of year to visit. There are four main factors you should consider when picking a time to visit Disney World: When you have time off, crowds, weather, and special events. Ideally, you want to find a time of year when crowds are low-to-moderate, the weather is not blistering hot, and when your schedule allows you to visit. If you're debating between which time of year to go, it's good to consider if Disney World has any special events. For example, I love visiting in October because Magic Kingdom has its Halloween party, and EPCOT has its Food & Wine Festival. Read on for more tips on when to go to Disney World.
2) Pick the correct amount of days to go into the parks. How long you should go to Disney World is a hotly debated topic. For a complete Disney World experience, we recommend going into the parks for 5-7 days. This is a sweet spot for getting a lot done within a week, while giving some wiggle room for taking breaks. For more details on how to decide your vacation length, check out our article How Long Should You Stay at Disney World.
3) Pick the right hotel to stay at. When picking a hotel, you should consider your budget, the hotel's location, and if they have any Disney World transportation or perks. Disney World's official resorts will have the best access to the parks, great theming, and hotel guest perks like Early Entry. However, these hotels will be the most expensive options. Off-property hotels will save you a lot of money, and they accept rewards points. However, they will have the most limited transportation options to the parks. Disney's Good Neighbor resorts are third party hotels that have access to certain official resort perks, but will be much more affordable.
4) Decide if you should work with a travel agent. Travel agents like our friends at Vacationeer can be a huge help for your vacation, at no extra cost to you. As the official travel agency of Guide2WDW, Vacationeer's Disney experts can help you plan your trip, book your hotel, purchase tickets, find the best deals, make park reservations and dining reservations — basically everything we're about to cover in the rest of this article. If you're interested in getting free help planning your Disney World vacation, you can contact Vacationeer here.
5) Check your inbox for Unique Offer Codes. Disney will send out personalized, non-transferrable offer codes to guests that they want to nudge towards booking a Disney World vacation. These Unique Offer Codes (formerly known as PIN codes) can be some of the best Disney World discounts available. You can increase your odds of getting one of these codes by signing up for free Disney accounts. Check out our guide on how to get a Unique Offer Code to find links and get more information.
6) Make a daily plan before you go. Before you head to Orlando, make a plan for the big things you want to do each day. You can get as detailed as you like, but the minimum you should figure out is the following:
Which park or parks are you visiting each day – remember, you'll need Park Pass reservations
Which dining reservations do you have for the week.
Are there any experiences that require extra tickets or reservations you want to do? These include Magic Kingdom holiday parties, building lightsabers at Savi's in Star Wars: Galaxy's Edge, and building droids at Galaxy's Edge.
Guide2WDW reader Stan shared his strategy for making a plan plus using Lightning Lane:
We went to the four parks and Blizzard Beach during our week there, so we were pretty busy. It definitely helped to have things mapped out ahead of time. We used Lightning Lane 2-3 times per day for the key rides, and it worked out great. If you Lightning Lane the busiest ride of an area, you can usually work it out so you enjoy the surrounding attractions and then just walk onto the busiest ride during your one hour window. Taking advantage of Lightning Lane and planning out which attractions we would go on, we never waited more than 15 minutes for a ride.
Tips on When To Visit Disney World
7) Don't visit Magic Kingdom on Mondays. Do not visit the Magic Kingdom on a Monday. It is packed! For many people, Magic Kingdom is the first park they go to, which makes the days or day after most people arrive typically very crowded. Currently, Fridays, Saturdays, and Sundays are the best days to visit Magic Kingdom. Visit one of the other three parks on Monday, as they will be much less crowded.
8) Know which seasonal events are happening. Check out our list of the seasonal events at Walt Disney World. They can help you decide which time of year you want to visit, as the special events can really add some unique fun to your vacation. They can also tell you which times not to visit. If you're interested in a runDisney event, the race weekends are a must. But if you aren't interested in running through the parks, avoid those weekends as they will be quite crowded.
9) Plan around the Food & Wine Festival crowds. The Epcot Food and Wine Festival makes July through November a great time to visit Walt Disney World, but watch out for the weekends. Epcot can get VERY crowded on the weekends. If you are at Disney World for vacation, try a different park at those times and hit up Epcot during the week — the crowds are much better then.
10) When the heat is on, the crowds get low. While summer used to be consistently very crowded, July has actually become a good month for crowds after the July 4th holiday has passed. August and September are even better for crowds, since school usually has started back up. Just be warned: it gets very hot during these months. Be sure to pack plenty of items to cool off during your Disney World vacation, such as a Frogg Togg.
11) Avoid the most crowded times of year. Disney World is absolutely slammed the week between Christmas and New Year's Day. Expect the heaviest crowds of the year during this time. Guide2WDW reader Ruth shared her experience visiting during this week.
I visited December 26-December 30. I would never visit again during the Christmas Season: the lines and parks were unbearable! But I still managed to steal some time for enjoyment. If you're visiting during that time, just be sure to set your expectations accordingly!
12) Early December is a great time to go. Guide2WDW reader Sandy shares their favorite time to go to Disney World:
The best time of the year to go to WDW is the first full week in December. We have gone the last 3 years at this time and we just can't explain it. You have to experience it for yourself. The first time we went at this time, I walked into the Magic Kingdom (the first day of our trip) and cried. I was so caught up in the "magic." The atmosphere and feeling that you will get is absolutely incredible. Where else would you want to be than Disney World during the Christmas Holiday. We always go for 8 days and you can get on rides with "NO" wait. We have found that by the 7th or 8th day of our trip that the crowds start to build. Since our first visit during this time of year, we have converted my older brother, my younger brother, all of our Disney geek friends, and finally convinced my mother to come on vacation with us this year – she has never been to Disney. Everybody loved going this time of year. Try it, you'll like it.
13) The first week of October means shorter wait times. Guide2WDW reader Ellen let us know that she loves visiting during the first week in October.
The first week of October is a fantastic time to go to Disney World: the parks are practically empty. Even on the weekends, the LONGEST we waited in line was 10 minutes. We literally rode Space Mountain twice within 15 minutes. I talked to several people who said every year was like that.
Tips on What to Do Before You Go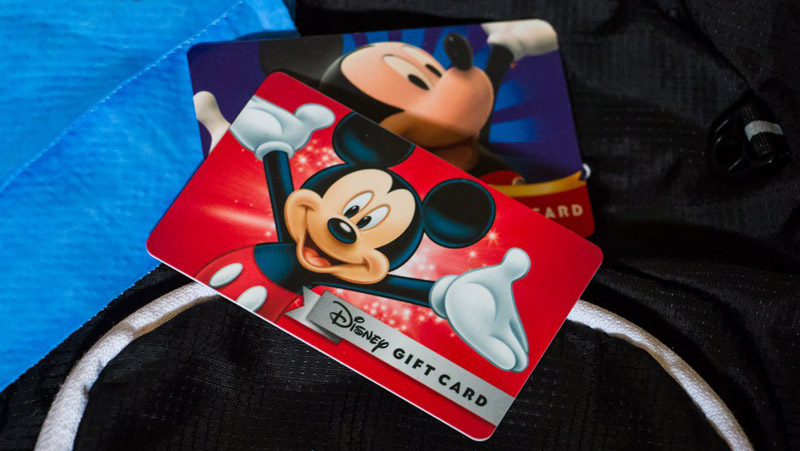 14) Purchase Disney Gift Cards. Before you even purchase your tickets, you should buy some Disney Gift Cards. You can always get them for 5% off at Target with a RedCard, or you can save up to 20% with certain grocery rewards. Read about how we save on Disney Gift Cards here: The Disney Target Gift Card Hack. How We Save Up to 20% on Disney World Gift Cards.
15) Purchase your Disney World tickets. You MUST buy your Disney World tickets before you head to Orlando. Don't wait until you get to the park. You need a ticket in order to make a Park Pass Reservation, which is required to get into the park. If you wait until the day of, you might not be able to get into the parks. Buy your tickets as early as you can, link them to your Disney World account, and make your park reservations.
16) Choose the right type of ticket. First of all, decide if you want a single park per day ticket, or pay extra for Park Hopper ticket. A Park Hopper ticket lets you go to a different park after 2 PM (check out the current Park Hopper rules here). You can also add on a Water Park and Sports option to your tickets, which allow for a certain number of visits to Disney World's other attractions, such as Typhoon Lagoon, Blizzard Beach, Mini Golf, and Oak Trail Golf Course.
17) Look out for deals. Disney World often runs deals on vacation packages or hotel rooms. One advantage of working with a travel agent is that they will help you find the best deals, and the travel agents at Vacationeer can apply new promotions, even after you've booked.
18) Make Park Pass Reservations. As early as you can, you should make your Park Pass reservations on DisneyWorld.com. Park Pass Reservations are required for entry into the park in addition to theme park tickets. You need to make a reservation for every day of your trip, and your reservation will be for a specific park. If you have a single park per day ticket, that will be the only park you can visit that day. If you have a Park Hopper ticket, your reservation determines which park you must enter first. Find out more about Park Pass Reservations here.
19) Make dining reservations as early as possible. Some dining reservations are extremely hard to get. How early can you make Disney World dining reservations? 60 days ahead of time at 5:45 am Eastern. Check out our Disney World Dining Reservation Guide for step-by-step instructions on how to make advanced dining reservations.
20) Download the Disney World App. If you want to get the most out of your Disney World vacation, you'll need to have the latest version of the Disney World app: My Disney Experience. It's where you can make and manage reservations, use Genie+ and Lightning Lane, and find park maps and wait times. If you've never downloaded it before, you can get it from the Apple App Store for iPhones and other iOS devices, or the Google Play store for Android phones.
21) Purchase MagicBands through your reservation. If you make a reservation through Disney World, you can purchase MagicBands or MagicBand+ at a discount. Once you have your reservation linked to your Disney World account, open the MyDisneyExperience app, select My MagicBands and Cards, and then you can order discounted MagicBands to have shipped to you before your vacation.
22) You do not need to make Lightning Lane reservations in advance. With Disney World's old FastPass+ system, you needed to make front-of-the-line reservations 60 days ahead of time. With Lightning Lane, everything is done on the day of, including purchasing Genie+ or Individual Lightning Lane reservations. Check out our Guide 2 Disney Genie for all the information on how to use that system.
Tips on What to Pack for a Disney World Vacation
23) Always pack rain gear. If you are planning to go to WDW during the summer, be prepared for afternoon and evening showers. It's a good idea to bring your own poncho. Of course, you can buy a poncho at Disney World, but those can sell for $10 each. Amazon sells a poncho pack of 10 for around $13-15, a huge savings over spending $40-$50 for your whole family at WDW.
24) Don't buy these items at Disney World. Speaking of ponchos, here are some other items you shouldn't buy at WDW: Water Bottles (instead pack a reusable water bottle or get free ice water at counter service restaurants), overpriced Neon Doodads (if your kids really want them, pack some from Amazon or the Dollar Store), tickets, and Disney Gift Cards.
25) Pack an external battery and short charging cable. We've covered how the Disney World app is essential to use at WDW. Between using the app, taking pictures, and playing games in line, your phone battery will drain faster at Disney World. Always pack an extra battery and a short charging cable to be able to conveniently recharge your devices throughout the day.
26) A small cooler can be a Disney World essential. You are allowed to bring coolers into the park, but you will need to use reusable ice packs as loose ice is not allowed in the park. This is great if you want to pack your lunch for the day. Coolers can also be very useful for your drive to Orlando and your hotel room, as Guide2WDW reader Karen let us know.
We just got back from a trip to WDW. We drove from North Carolina to Orlando, so we had packed a small cooler in the car for the drive down. We took sodas, bottled water and some snacks. Not every hotel room will have a fridge. I had heard about people renting refrigerators for their room, but there is an ice vending machine on each floor. We just kept changing out the ice each morning or evening when it had melted and kept things cold. We stayed at the Wilderness Lodge, so we went to the Mercantile and bought pints of milk every other day or so, some small boxes of cereal and some other "breakfast" foods and just kept ice in the cooler. We kept the milk cold and didn't have to buy breakfast everyday. We also had cold water and sodas for whenever. So, I would recommend packing a small cooler and just keeping ice in it. Save your money on a fridge for souvenirs!
27) Pack Clothing By Day. Guide2WDW reader Becky shares a super organized way to save precious time during the mornings at Disney World.
We put our clothing together in outfits and packed them that way. When we got ready each day, we weren't trying to figure out what we wanted to wear and what would go together. This is great for everyone, but especially people with kids. Let your kids put together outfits before the trip, pack them so that when you pick it up you have the whole outfit together, you dress, and you're off!
28) Buy a Frogg Togg for hot weather. Let's face it, Orlando is hot for most of the year. One of our favorite items to pack for Disney World is a Frogg Togg chilling towel. Just add some water, place it around your neck, and cool off.
29) Pack good walking shoes. Another item we always pack for our Disney World vacations is a good pair of shoes to walk in. You will be taking 20,000-40,000 steps during each day of your WDW vacation. Do yourself a favor and pack shoes that are comfortable and give you good support for walking.
Tips for Planning Out Your Disney World Vacation
30) Our ideal Disney World planning itinerary. Above, we laid out the bare minimum you should plan each day. Here is what we consider the sweet spot for an itinerary that gives each day structure, but allows for spontaneity.
For each day, list the park or parks you are going to visit. If it's a resting day or a Disney Springs day, list that out.
List each dining reservation that you have.
List a handful of "must-do" or "hope-to-do" items each day. This can be a ride, a snack you want to try, a show you want to see, or really anything else you can find at the parks you are visiting that day. The key is to not go overboard. Pick 1-5 per day. This will help you make sure you get your must-dos done, but don't feel overwhelmed by planning out every minute.
31) Don't Overload on ADRs. Advanced Dining Reservations are great to have, but you can have too much of a good thing. Table service meals at Disney World take time, and having a reservation will force you to be at a certain place at a certain time. The maximum dining reservations we like to plan is an average of one per day. If you have to book two ADRs in one day, balance it out with a day with no ADRs. Save time and money by not doing too many table service meals — unless that's your favorite thing at WDW, of course!
32) Make ADRs for right before park closing. Guide2WDW reader Andrew shares a brilliant way to maximize your time in the park with a dining reservation.
When making an Advanced Dining Reservation (especially during non-peak seasons), you should try making one as late in the day as possible. In many cases, priority seating is available around the time a park is closing. For example, when we were at the Disney's Hollywood Studios, it was closing at 7 pm, yet we got priority seating at the Brown Derby at 6:50. That allowed us to spend more time at the attractions, and by the time we left the park, we were almost alone as we walked to the exit and there were no crowds waiting to leave the parking lots.
Also keep in mind that some locations, like Oga's Cantina, actually have reservations available for after park closing.
33) Consider Park Pass and Park Hopping Rules for your dining reservations. If you have a dining reservation at a restaurant inside the parks, make sure you also have a valid Park Pass reservation. You need a Park Pass reservation to be able to enter the park. If you have a Park Hopper ticket, be sure that any reservations for before 2 PM are at the park you have a Park Pass for. You can enter another park starting at 2 PM, so if you have a Hollywood Studios Park Pass but you get a 3 PM reservation for Be Our Guest, you will be still able to dine at the Beast's castle. If that reservation was at 1 PM, you would need to have a Magic Kingdom Park Pass in order to use your reservation.
34) Know that not every ride is for everybody. Disney World is fun for everyone, but that doesn't mean that you're going to enjoy every single attraction. Guide2WDW reader Luis shared how they researched WDW attractions to figure out what they wanted to do.
Since time is so limited once you start your Disney World vacation, it's super important to choose how you spend your time wisely. After our first trip to Disney, we calculated that we spent at least a quarter of our time on attractions (including waiting in line) that we wouldn't have gone on had we known what to expect. The solution for first timers is YouTube. Simply search for a POV video of the attraction you aren't sure of. You don't have to spoil the ride by seeing the entire video, you'll know within 20 seconds or so whether it would interest you or not. It can save you a lot of time throughout the parks.
35) Which rides to avoid if you are worried about motion sickness. Certain rides like Mission: SPACE Orange and Guardians of the Galaxy: Cosmic Rewind are notorious for causing motion sickness. However, motion sickness is very personal and subjective. Odds are you have an idea of what types of rides might give you issues. In our Disney World Motion Sickness Guide, we have every attraction categorized so you'll have a better idea of what you might want to avoid when you visit WDW.
36) Pick 1-2 parks to visit each day. When Park Hopping, keep in mind that it can take up to an hour to get from one park to another. Considering Park Hopping opens at 2 PM, it can be a challenge to visit more than 2 parks in a day. You can definitely go to all four parks in one day, but for most days, we like to pick one or two parks to visit. This keeps travel time and fatigue to a minimum.
37) Pay attention to extra hours, parties, and special events. Disney World hours and crowd size will be affected by special events. For example, Magic Kingdom closes on 7 PM on nights during Mickey's Not So Scary Halloween Party and Mickey's Very Merry Christmas Party. If you don't have a ticket to those events, you may want to avoid going to Magic Kingdom on those days — especially if you have a single park per day ticket. Also, the parks with Extended Evening Hours get more crowded on those days. If you don't have access to that perk, you should avoid the park that has Extended Evening Hours on those days.
38) Don't overplan. We are a huge fan of having a general plan for your Disney World vacation. However, if every minute of every day is scheduled out, your fun vacation might feel more like an exhausting to-do list. Some planning is inevitable and necessary, but leave some room for spontaneity and discovery at the parks. You may be surprised by what you stumble upon.
39) How to Plan a WDW trip if you hate planning. Our advice to people who hate planning: work with a travel agent. They will do the planning for you! Otherwise, here's the bare minimum you need to do for your Disney World trip:
Planning Tips for While You Visit Disney World
40) Set Your Alarm for Before 7 AM – 7 am is a very important time for Disney World guests. With virtual queues, Genie+, and Lightning Lane, you'll want at least one person from your party up before 7 am with the MyDisneyExperience app open to be able to plan your day.
If you want Genie+, you should purchase it before 7 am. It becomes available at 12:01 am each day.
Here's everything that becomes available for your Disney World day starting at 7 am:
First draw for Virtual Queues open up at 7 am for all guests. Currently, a virtual queue is used at Guardians of the Galaxy: Cosmic Rewind. If you miss the 7 am draw, more virtual queue spots open up at 1 pm (and 6 pm for Deluxe Resort Guests on Extended Evening Hour nights). You can read all the details you need to know in our Disney World Virtual Queue Guide.
Genie+ Lightning Lane access becomes available for all guests at 7 am. You'll be able to make your first Genie+ Lightning Lane reservation of the day starting at 7, so this will be your best shot at getting early Lightning Lane access to a popular ride like Slinky Dog Dash or Millennium Falcon: Smuggler's Run.
Individual Lightning Lane Selections become available for purchase for resort guests at 7 am. Not included in Genie+, these are a la carte Lightning Lane purchases available at the two most popular rides in each park – Seven Dwarfs Mine Train in Magic Kingdom, Guardians of the Galaxy at Epcot, Rise of the Resistance at Hollywood Studios, and Flight of Passage at Animal Kingdom. You can pick which time of day you'd like to purchase your Lightning Lane reservations, and you can purchase up to two per person per day.
If you have multiple people who are up and have the MyDisneyExperience app open, designate one person to focus on Virtual Queues, one person to focus on Genie+, and one person to focus on Individual Lightning Lane Selections. If you are the only person setting all the plans for your party, we would recommend prioritizing Virtual Queue (if the attraction is one of your must dos), Genie+, then Individual LL selections, in that order.
41) Set a meeting landmark with your party. When visiting the parks, we always set up a landmark with our party to meet up at in case we get separated and one of our cellphones runs out of battery. The key is that we pick a more obscure, less visited landmark, so that it's easier to remember and easier to spot the other person among the crowd. Some examples: Fire Station at Magic Kingdom, Miss Piggy fountain at Hollywood Studios, Club Cool at Epcot, and the entrance of Pizzafari at Animal Kingdom.
42) Make sure to charge your devices every night. Your cell phone and MagicBand+ will most likely be very low battery at the end of the day. Be sure to pack a charging hub and plenty of charging cables for your hotel room, and plug in your devices at the end of the night.
How To Plan a Disney World Vacation
Planning a trip to Disney World? These Disney World trip planning tips are just the beginning. Get in touch with our friends at Vacationeer for free Disney World vacation planning. Their travel agents can help you plan your vacation for no extra cost. They are Disney experts, so they'll have their own recommendations and advice. Plus, they can help with dining and hotel reservations at Disney World.
If you want to be as prepared as possible, check out our Disney World Guides, including an in-depth Disney Genie Guide. Our resources will help you plan your Disney World trip and get the most out of your vacation. And don't miss our other Disney World Tips and Tricks. We have hundreds of quick bits of advice for visiting WDW.