We've all been there: you're up late the night before your flight, wildly grabbing items from your bedroom, and cramming as much as humanly possible into your suitcase. Well, at least I've been there. I'm not afraid to admit that I wasn't a pro when it comes to packing. I used to find myself very often waiting until the last minute to pack my bags in a mad dash of stress, only to find that I somehow packed 14 t-shirts but no pairs of socks. While I haven't quite cracked my procrastination habit, there is a lot more method to my madness when it comes to packing, especially for Disney World trips. I've been to Disney World more times than years I've been alive, so I've learned which items I absolutely need to bring with me every time.
This list focuses on items that aren't necessarily the first thing you would think of to pack, but will really make a difference in your Disney World vacation. I'm already assuming that you will be packing weather appropriate clothing, toiletries, your wallet with ID/currency, and your Disney World tickets. Be sure to make room in your suitcase for these Disney World essentials. Read on for our ultimate Disney World packing guide!
(Update 4-1-2021 – Added new recommendations for masks, straws, water bottles, and batteries )
The New Normal Necessities – Items You'll Need Thanks to the Pandemic
1) Disney-compliant face masks
Disney currently requires all guests 2 years old and up must wear a face covering that has two layers of breathable material, fully cover the nose and mouth, and fit from side to side on the face. This policy won't be around forever, but I'd expect it to be here for the majority of 2021. So if you're visiting Walt Disney World this year, you're going to need a good face mask. The last thing you want to do is pack a mask that's uncomfortable in the Florida heat.
I've bought a lot of masks over the past year, so here's my recommendation for the most comfortable mask as well as the most Disney mask you can get.
Recommended Item: Official Disney Masks – While wearing a face mask isn't fun, at least you can wear a fun design while visiting Disney World. Disney has a ton of great designs that feature your favorite characters, from Black Panther to Baby Yoda. I've found that these run a bit small, so I would order a size larger than you think you need.
Recommended Item: Athleta Active Face Masks, Banana Republic Masks – These are my preferred masks for comfort. I've had really good luck with the masks from Gap brands, specifically Athleta and Banana Republic. They're lightweight, comfortable, and don't fog up my glasses.
2) Mask Lanyard 
Disney's policy allows you to remove your mask while eating or drinking and standing still. Rather than shove your mask in your pocket with your keys (which probably isn't sanitary), do yourself a favor and get a mask lanyard. These clip to your mask's elastic bands and allow you to hang your mask around your neck while not in use. They are very reasonable at less than a dollar per lanyard, and they've been super convenient whenever I've gone somewhere where I need to take my mask off temporarily.
Recommended Item: Mask Lanyard 5 Pack
3) Hand Sanitizer
From doors to elevator buttons to lap bars on rides, you end up touching a lot of surfaces while visiting Disney World. WDW has done a great job putting hand sanitizer and hand washing stations throughout the parks, but it's always nice to have instant access to hand sanitizer. These will probably stay on my must pack list even after the pandemic is a distant memory, because who wants to catch a cold on vacation?
Recommended Item: Purell 8 Pack
Ditch the Paper Straws
4) Reusable Metal or Silicone Straws
Disney has done away with plastic straws throughout their parks. While this is a great move for the environment, the replacement paper straws leave a lot to be desired. Namely, they act as a good straw for approximately 10 seconds after touching liquid, then they turn to mush. Plus, they aren't exactly great for milkshakes or smoothies. Save some headaches and be eco-friendly by investing in a set of reusable metal or silicone straws.
Recommended Item: Flathead Silicone Straws – 10 Set This set comes in some attractive colors. Plus, silicone straws are more ideal for kids than metal straws.
Recommended Item: Stainless Steel Straws – 10 Set
Weather the Weather – Items to Stay Dry, Cool, and Hydrated
Insanely hot, muggy, and suddenly rainy: that can describe an average summer's day in Orlando. If you're not prepared, the weather can feel downright oppressive. The following three items will make sure the elements don't get in the way of your Disney World vacation.
5) Frogg Togg Chilly Pad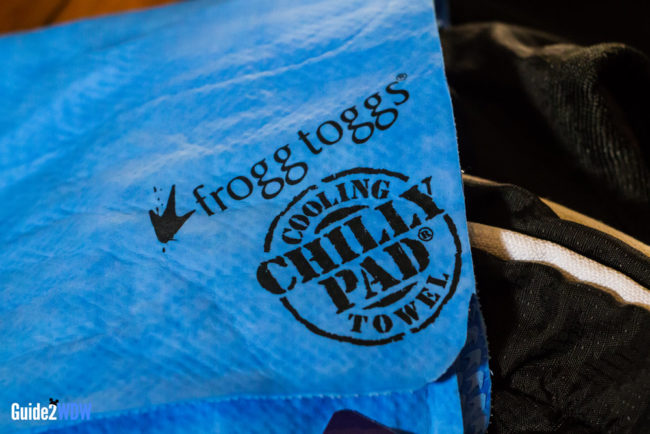 Want to beat the heat at Disney World? Do yourself a favor and buy a Frogg Togg Chilly Pad immediately. These amazing towels feel like some sort of magic trick: rinse with water, wring out, and they stay up to 30 degrees cooler than the outside air while feeling dry to the touch. I've used a Frogg Togg Chilly Pad while training for a RunDisney half-marathon during a heatwave in Los Angeles, and my runs were so much more comfortable with this around my neck. My family never goes to Orlando without a Frogg Togg, and neither should you.
Recommended Item: Frogg Togg Chilly Pad
6) Poncho / Rain Jacket
In Orlando, rain is pretty much always a possibility, no matter the time of year. Even if the forecast doesn't call for rain before you head down to Florida, it's a good idea to pack a  poncho or light rain jacket. Disney does sell ponchos at a premium, so by packing ahead you can be prepared and save some money.
Recommended Item: Wealers Set of 10 Ponchos – Amazon.  This set of 10 ponchos will set you back about as much as 1 poncho will at Disney World. It comes in 5 different colors and should be enough for your entire party. This set of ponchos ships with Amazon Prime and has a 4/5 star rating in customer reviews.
Recommended Item: Columbia Rain Jacket (Women's, Men's)
7) Water Bottle
Nothing can stop your fun day at the Magic Kingdom than getting dehydrated. You can always get a free ice water from any Counter Service restaurant inside Disney World, but I've found that bringing in a reusable water bottle works really well and helps me avoid wasting time in restaurant lines early in the day when time is at a premium.
Recommended Item: Hydroflask Water Bottle– This has become my go-to travel water bottle over the past few years, as well as my primary water bottle at home. Water just taste excellent in these, and the vacuum seal keeps liquids cold or hot for hours. I've had ice last an entire day in my Hydroflask while I refill my bottle. Hydroflasks come in a huge variety of colors and shapes, plus they have interchangeable lids so you can put a coffee lid on
Recommended Item: Brita Filtered Water Bottle – There's one big downside to the Hydroflask: refilling at water fountains is a no-go. The water fountains at Disney World taste pretty funky (to put it lightly), so I'm reliant on refilling at Counter Service restaurants or my hotel during a mid-day break. If you want to have more flexibility, this Brita Filtered Water Bottle is a very good choice, as it will take the funky taste out of that Florida fountain water. It's available in plastic or stainless steel.
The WDW Necessities – Don't Leave Home Without These
The following items will make your Disney World vacation more comfortable, more organized, and even more affordable.
8) A Good Pair of Walking Shoes
One thing you won't hear too often is how much you'll end up walking at Disney World. Thanks to my Apple Watch ownership, I've gotten into tracking how much I walk every day. Most days are anywhere from 3 – 5 miles; however, when I go to Disney World, I can easily end up walking 10-15 miles. Basically, a day at Disney World can be a very slowly paced half-marathon. Even on days where I was trying to "take it easy," I was still logging in 6-8 miles. That adds up over the course of a weeklong vacation.
Do your feet a favor and be sure to pack a good pair of walking shoes, or at the very least some very supportive sandals. A pair of shoes or sandals that can support your dogs through all that walking and activity will make the difference between doing everything you want to do and being miserable for half your vacation. If you buy a new pair of shoes for your big WDW vacation, be sure to break them in before you go, otherwise you'll definitely need the next item.
Recommended Items: Your personal preference may differ, but I personally really enjoy Sketchers shoes when it comes to comfort. They feel amazing. Reef Fanning Sandals for good sandals that are very comfortable for walking. They have styles for both men and women.
9) Items that prevent blisters, chafing, and other discomfort
As we'll cover later, Disney World vacation means a lot of walking: miles and miles of walking. Logging all those miles can lead to some problems like chafing, blisters, or just sore feet. Here are a few items that you will definitely want to pack with you.
Recommended Item: Body Glide – Anti Chafe Balm: I first got this for when I ran my first runDisney half marathon, but I found that it was extremely useful for preventing chafing when I was walking around the theme parks as well. It works like a bar of deodorant: just place it on before heading out in the morning.
Recommended Item: Dr. Scholl's Moleskin Plus: Hopefully you won't need to use these, but you'll be very glad you have them. In case all that walking ends up resulting in a nasty blister, placing a Moleskin bandage on top can be a life saver. It can also be good to use if you feel a blister coming on to prevent the injury before it happens. Pack this item along with your other first aid essentials.
Recommended Item: Dr. Scholl's Insoles – After doing so much running and walking around Disney World, I've learned that having the right insole can make a huge difference. Dr. Scholl's Insoles can help prevent walking discomfort, which will help you enjoy more of your Disney Vacation.
10) Disney Gift Cards
This one might seem optional, but if you're able to score the right deals, Disney Gift Cards could be a great way for you to save some money on your Disney World vacation. Through credit card cash back offers as well as sales at Target and Kroger, we've been able to save anywhere from 5-20% on Disney Gift Cards. This is huge considering that you can use these for everything at Disney World, from souvenirs to tickets to dining and even to your hotel room. Basically, if you look at the right places, you can get an extra discount on your WDW vacation and save up to hundreds of dollars. Be sure to check out our complete guide on how to save up to 20% (or more) on Disney Gift Cards for your Disney World vacation.
One tip that's extremely important when it comes to gift cards: Just be sure to pack them in a secure place that's easy to remember. Treat Disney Gift Cards like cash, as there's no way to recover them if they are lost or stolen.
11) Light Daypack/Backpack
Tickets, gift cards, park maps, water bottle, sunscreen, snacks: these are just a few of the things that you may want to have on you at any given moment while you tour the parks. Having a lightweight bag is a must, so you can carry all of your items without having to rent a locker. I used to rely on light drawstring bags to hold my supplies for the day, but found that if I had anything over a pound in them they would be pretty irritating to carry.
Luckily, my wife is a camping expert, and she opened my eyes to the benefits of a light daypack or backpack. These have padded straps that are much more comfortable than those drawstring bags, but they're still extremely light and comfortable to carry. I'm currently using the High Sierra Visalia 9 as my go-to Disney World bag, and I love it. An extra benefit of this particular bag is that it has a water bladder (also known as a Camelback) built into it. This lets me stay hydrated while removing an extra item to carry around.
Recommended Item: While I couldn't find the Visalia 9 online, here is a Water Buffalo Hydration Backpack that is highly rated on Amazon and very reasonably priced.

If you don't need the water bladder, this Amazon Basics Day Pack is a great, affordable option. It's extremely lightweight and folds up to a tiny cube, so it's very easy to pack. Also, it comes in bright colors that are awesome to put pins on.
12) Packing Cubes and Zip Lock Bags
Despite how hard I work to pack everything all nice and neat, my suitcase usually looks like the aftermath of two wild animals battling over a piece of meat. There had to be a better way, so I purchased a set of
Eagle Creek Pack-It Cubes.
 You roll your clothing into these differently-sized cubes, and then pack them into your suitcase. Not only do you stay more organized, but these packing cubes actually save space inside your suitcase, as rolling is a much more efficient way to pack your clothes.
For other looser items like gift cards or Disney pins or anything with liquid that could possibly spill, I like having some gallon-sized zip lock bags at the ready. These are actually extremely useful while traveling. Stash a few of these bags in your suitcase.
Recommended Item: Eagle Creek Pack-It Cubes – Amazon. This set of 3 differently-sized cubes is rated 4.5/5 on Amazon.
13) A Nice Outfit
For most of your time at Disney World, you'll most likely be wearing very casual clothing. T-shirts, tank tops, shorts, and jeans are ubiquitous among park-goers. However, Disney World is home to a fantastic lineup of restaurants. While most of these don't have strict dress codes, it still feels nice to have a nice dressy outfit at the ready in case we end up dining at one of Disney World's best sit down restaurants. If you're planning on going to a restaurant like California Grill, Le Cellier, or Flying Fish, do yourself a favor and pack something that isn't just park attire. Trust me, nothing kills the mood of sitting down to a nice steak dinner than wearing shorts and sneakers.
Stay Charged – Electronic Essentials

14) Extra battery for your cellphone/electronic devices
You already know your phone has become an essential part of life, and that doesn't change at Disney World. Whether you're checking wait times, texting with your traveling party, or posting the perfect selfie in front of Cinderella Castle, a phone is one of the most versatile tools you'll have during your vacation. But all that activity can be a strain on the battery, especially if your phone isn't brand new.
An extra power bank has become a must for making it through a full day at the parks with my phone's battery intact. If you're just bringing it in a bag, go for something light and small. If you have a stroller you can keep it on (or have somebody who doesn't mind the extra weight), bringing a single large power bank to share between a few people can work well too.
Disney has started selling FuelRod external batteries inside the parks, but I think these are a bad deal. For $30, you get a battery that has very little capactiy (I read somewhere that it carries about 60-80% of a regular iPhone's charge). If you plan ahead, you can get a battery that charges much more for a much lower pricetag.
Recommended Item: Anker 10000 Anker Portable Charger – This is the charger that I currently use, and I think it has the perfect combination of size and power. It's about the size of an iPhone, so it's small and light enough that I can fit it in my pocket or backpack without thinking about it, and it has enough power to pull four to five full charges back into my phone. Plus, it only costs $15 currently.
Recommended Item: Anker 20000 mAh Portable Charger – Amazon. Need more power? This 20,000 mAh Anker charger carries twice the charge capacity of that smaller charger, but at a higher price. This is great for people who need a battery charger to share among the whole party, or people bringing their iPads into the park with them. It has a 4.5 rating on Amazon.
15) USB Hub/Wall Charger
What about charging your phones at night? Get a USB power hub you can plug straight into the wall. These are a life saver at hotels! They have multiple ports, so you don't have to worry about packing and managing several small power bricks in your suitcase. Also, this helps with dealing with limited power outlets in the hotel room. No longer searching behind the bedside table and unplugging the alarm clock!
Recommended Item: Belkin 3-Outlet Surge Protector with 2 USB Ports 
This little power strip has 3 traditional plugs and 2 USB Ports. I travel with my laptop, so having those extra plugs conveniently located makes all the difference in the world to me when staying in a hotel room (both at Disney and just in general)
Recommended Item: Anker 5 Port USB Charger – 
Need more than 2 USB ports and don't care about the other plugs? This 5 Port USB Charger is a great alternative, and most likely you'll find it handy to have at home as well. I use a charger like this at home for all my devices, and this particular model has stellar user reviews on Amazon.
That's it for the items I always bring. What do you always pack to Walt Disney World? Let me know in the comments below!
Disclaimer: Guide2WDW is an Amazon Associate, and we may earn a commission from qualifying purchases through links on this site.
---
James is a lifelong Disney Parks fan. While at the parks, he loves finding new details, learning more about Disney World history, and taking pictures. His favorite WDW attractions include Rise of the Resistance, Spaceship Earth, and Tower of Terror.
James is a filmmaker and writer based in Atlanta, GA.
All author posts