The highly anticipated Tron Lightcycle / Run roller coaster is set to open at Magic Kingdom park on April 4, but before you strap on your neon suit and hop on your lightcycle, there's one thing you need to know: Disney World announced that the new attraction will feature a virtual queue.
What will that mean for you if you are excited to join Team Blue and race against Team Orange?  Read on to find out everything we know about the Tron virtual queue at Disney World so you'll be ready to launch into the Grid at 60 mph.
Update 3-17-2023 – Disney World has confirmed the Tron Virtual Queue procedure, and they announced a soft opening period for the Tron coaster. We have updated this article with the confirmed times the Virtual Queue will open, plus information on the soft opening.
How to ride Tron Lightcycle Run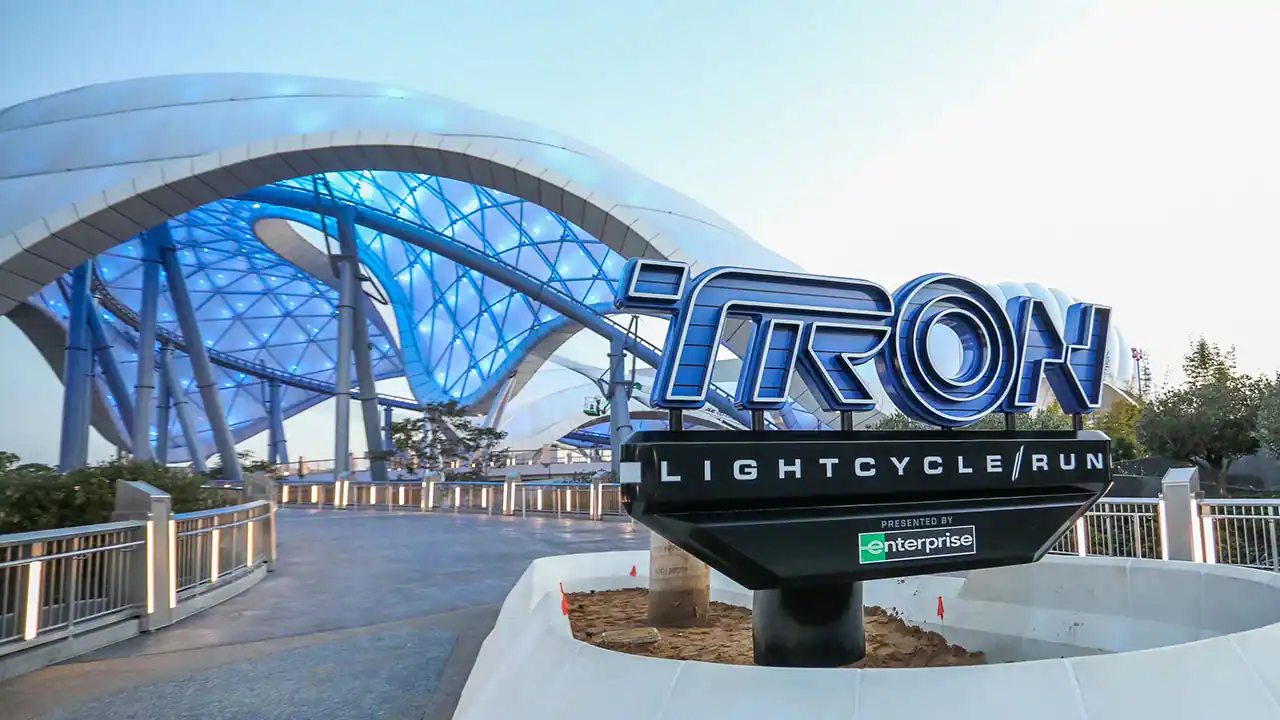 When Tron debuts in Tomorrowland this April, there will be only two ways to ride it. You will either need to join the virtual queue or purchase an Individual Lightning Lane reservation (more on that in a bit).
In the past, Disney World has implemented a virtual queue at Rise of the Resistance, Remy's Ratatouille Adventure, and Guardians of the Galaxy: Cosmic Rewind — where it is currently still being used. A virtual queue is a way for guests to wait "in line" for a ride without standing in a physical line. Disney World has used virtual queues as a way to control crowds on new attractions and avoid multi-hour waits.
It also helps Disney control the flow of guests if the new ride is experiencing technical issues.
Tron Lightcycle Run Virtual Queue Opening Times
You can read a full tutorial and tips on how the virtual queue system works at Disney World in our in-depth guide, but here's a quick rundown of how the system works.
On most days, guests have two opportunities to join the virtual queue through the My Disney Experience app: at 7 am and at 1 pm.
On days where the park is open late for Extended Evening Hours, eligible guests can join the virtual queue at 6 pm.
For the 7 am opening, you can join from anywhere. For Tron, you will a valid theme park ticket and Magic Kingdom reservation. For the 1 pm opening, you will need to join from within the park.
You will need to be faster than a lightcycle, especially in the morning. Virtual queue slots can run out quick.
If you are able to join the queue, you will be given a boarding group number. Once your number is called, you have one hour to go to the attraction. Tip: You should opt in to get notifications so you don't miss your window.
Scan your ticket or MagicBand, and you're in!
Guests will only be able to join the virtual queue once per day
If this sounds familiar, this Virtual Queue procedure is exactly how it currently works for Guardians of the Galaxy at EPCOT.
Tron Lightcycle / Run will also be available via Individual Lightning Lane
If you strike out on the virtual queue (or want to get in a second ride on Tron in one day), your other option is to buy an Individual Lightning Lane reservation for Tron Lightcycle / Run. As a reminder, Individual Lightning Lane is the a la carte option that gives you access to an individual attraction, so purchasing a Lightning Lane reservation for Tron will only get you into that attraction once.
Individual Lightning Lane will also give you a shorter wait for the attraction. For example, at Guardians of the Galaxy, the virtual queue wait once you're in line can be about 30-45 minutes, while Individual Lightning Lane is closer to 5-10 minutes.
For Disney World Resort guests, you can purchase your Individual Lightning Lane starting at 7 am.
For all other guests, you can purchase Individual Lightning Lane passes starting at park opening.
Check out our step-by-step instructions on how to purchase Individual Lightning Lanes at Disney World.
Pricing will be variable by day, and no price range has been announced.
Tron will have both Virtual Queue and Lightning Lane during the soft opening
Disney World announced that all guests may be able to experience Tron during a soft opening period that runs from March 20 through April 2, 2023. Disney also confirmed that the Virtual Queue and Individual Lightning Lane will be operational during this preview period, so there won't be any differences on how to ride Tron
Tron Lightcycle / Run will not feature a standby queue
What is a standby queue? It's the regular line that almost every Disney World attraction has, where you just go to the attraction and wait a certain number of minutes to ride it.
Tron won't have one of those.
That means that the virtual queue and Individual Lightning Lane will be the only two options for riding Magic Kingdom's fastest roller coaster when it opens.
Tron Lightcycle / Run Virtual Queue and Lightning Lane Tips
Try to have your phone open to the Virtual Queue page on your My Disney Experience app
Confirm your party before trying to join the queue. This will save you precious seconds, and it could mean the difference between getting a virtual queue for free or paying for Lightning Lane. You can read about how to do this in our Disney World Virtual Queue guide.
If you are interested in purchasing Individual Lightning Lane for Tron, do it as early as you can. It can (and probably will) sell out!
Individual Lightning Lane has three big advantages over Virtual Queue: you can choose your return time, your wait will be significantly shorter, and it's much easier to secure a spot. Virtual Queue has one big advantage: it's free!
We want to hear from you!
Tomorrowland is about to get lit! (Seriously, have you seen the neon glowing lights on this attraction? So cool). So let us know in the comments: Do you have any questions or concerns about Tron's virtual queue?
---
James is a lifelong Disney Parks fan. While at the parks, he loves finding new details, learning more about Disney World history, and taking pictures. His favorite WDW attractions include Rise of the Resistance, Spaceship Earth, and Tower of Terror.
James is a filmmaker and writer based in Atlanta, GA.
All author posts