34 Hollywood Studios Tips for 2023
Lights, Camera, Action! Disney's Hollywood Studios transports you into the the worlds of TV and movies, with attractions featuring Star Wars, Toy Story, and the Twilight Zone. With some of the newest E-Ticket Rides, Disney's Hollywood Studios is an extremely popular park. Our tips and tricks will help you have the best day possible while visiting Sunset Boulevard, a Galaxy Far, Far, Away, and beyond.
Our tips are broken down into the following sections:
Hollywood Studios Planning and Touring Tips – These are general tips and strategies for how to plan and tackle your day at the park.
Tips for Rides and Attractions – Get ride-specific tips, ranging from tricks on how to save time in line to recommendations on where to sit.
Lightning Lane & Genie+ Tips – Find out how Disney's paid line skipping service will affect your day at Hollywood Studios
Star Wars: Galaxy's Edge Tips – Tips for visiting Disney World's Star Wars Land.
Hollywood Studios Dining Tips – Find out which restaurants are worth visiting.
Tips for Visiting Hollywood Studios with Kids – Going to Hollywood Studios with a little one? Don't miss these kid-specific tips.
Hollywood Studios Planning and Touring Tips
1) Hollywood Studios Rope Drop Strategy: You have two main options when it comes to Hollywood Studios rope drop. This strategy will work best if you are a Disney World Resort or Good Neighbor Hotel guest and have access to Early Morning Entry. Arrive to the park at least 45 minute-1 hour before park opening, because Early Morning Entry lets you get on rides 30 minutes prior to opening. Either head toward Rise of the Resistance or Slinky Dog Dash, as those are the two most popular rides in the park. Don't worry if the line looks long at this point, because they won't start filling the actual queue until around 30-35 minutes before the listed opening time. After those major rides, either head to Millennium Falcon or Mickey & Minnie's Runaway Railway as your second ride.
2) Alternate Hollywood Studios Rope Drop Strategy: Most guests will head toward Rise of the Resistance or Slinky Dog Dash first. If you were able to score Lightning Lane reservations for these rides, you might not need to rope drop them. Instead, head toward Sunset Boulevard, and go on Tower of Terror then Rock 'n' Roller Coaster. You can try your luck with Rise and Slinky Dog in the evening, when lines tend to die down a little bit.
3) A backup plan for Rise of the Resistance: If you rope drop Rise of the Resistance and the ride is broken down, Millennium Falcon: Smuggler's Run is a good alternate option since it is so close. 
4) Know where to find wait times: If you head halfway up Hollywood Boulevard, the main entrance street, on the right is a tip board containing up to date ride wait time information. You can also find wait times in the free Disney World app, My Disney Experience.
5) A giant hidden Mickey: Get a copy of the Disney's Hollywood Studios map. Turn the map upside-down, and you will notice a Hidden Mickey in the middle. The main plaza in front of the Chinese theater and surrounding areas are shaped like Mickey's head!
6) Beat the heat with shows: Here's a good way to cool off without going back to your hotel room. The Frozen Sing Along and the Mickey Mouse animated short, both located at Echo Lake, provide a nice air conditioned place to sit and cool off. Muppet Vision 3D and Lightning McQueen's Racing Academy are also good options for beating the heat. Bonus tip: Peavy's Polar Pipeline serves up Frozen Coke and it's also in Echo Lake.
7) Stay after park closing for last minute shopping: At Hollywood Studios, the shops stay open one hour after the last attraction has closed- so you can save your last minute shopping to the very last minute and not miss any late night rides!
Tips for Rides and Attractions at Hollywood Studios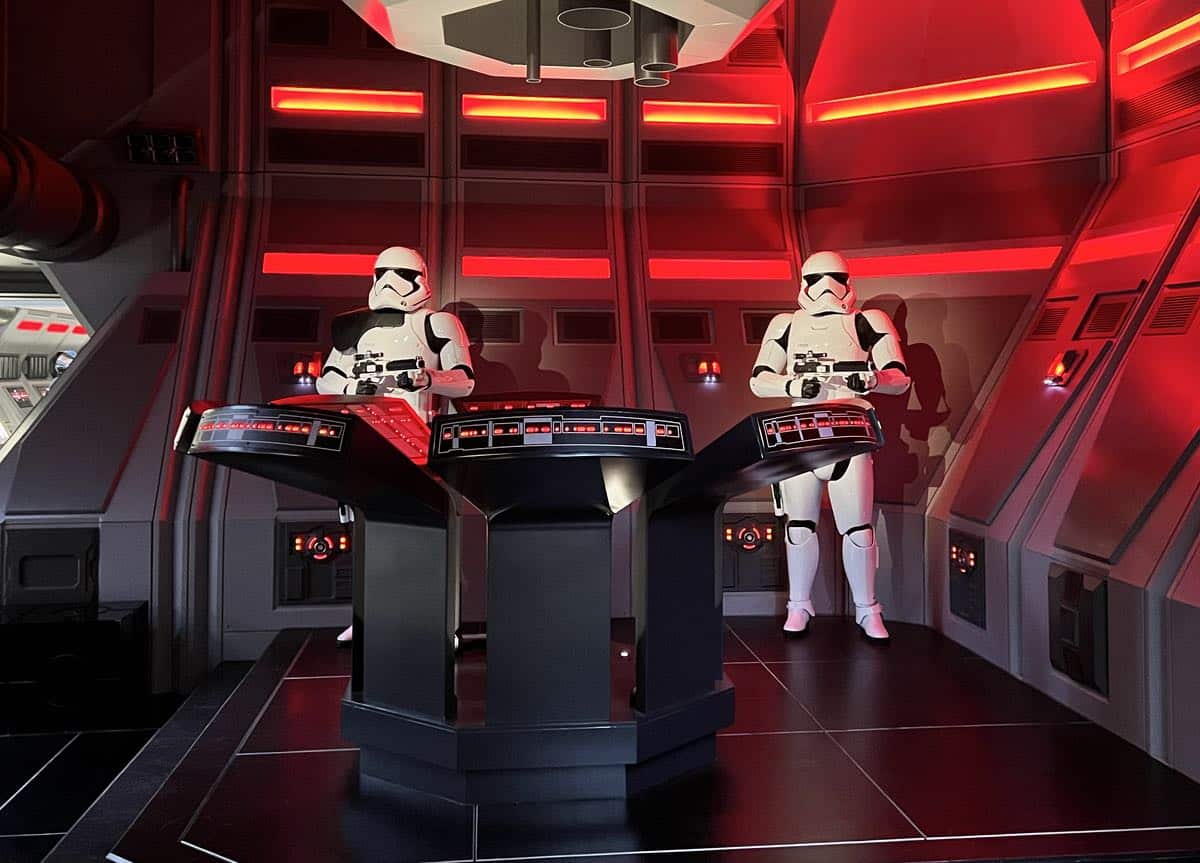 8) 13 is a lucky number at Tower of Terror: If you're superstitious, 13 can be a spooky, scary number. But if Disney's Hollywood Studios, 13 can be a green light to go on one of Disney World's best rides with no wait. At Tower of Terror, if there's a posted wait time of exactly 13 minutes, it's code that there's almost no wait at all. When there's a 13 minute wait posted, it usually means you can walk straight through the line and into the pre-show room almost immediately, so a 13 minute wait may actually mean a 5 minute wait or shorter. This is a fun way that Disney adds theming even to the wait times, and it's a nod to Disney World pros that they should put a dead stop to their current plans and go on this spooktacular rides.
9) Afraid of heights? Tower of Terror might still be a possibility. Guide2WDW reader Miros shared their experience with facing their fears on this thrill ride at Hollywood Studios.
"Do not miss riding Tower of Terror! I am afraid of heights, but this ride is so amazing. You MUST do it. The falls feel different than those on a roller coaster — it just feels amazing, like floating. I guarantee that you will enjoy it. If you're brave, Tower of Terror can be a delightful ride!"
10) Skip part of the line at Tower of Terror. On Tower of Terror, when you enter the first library for the preshow video, immediately go to the far corner (furthest away from the door you enter the room in). After the TV presentation, the wall opens up there to the rest of the ride. At that point, choose the left line – it's quicker.
11) Get a Toy Story Midway Mania High Score: Get your score up on Toy Story Midway Mania. On each screen you can open up special scoring areas if you hit certain items:
Hamm's screen – shoot the horse in the barn and then hit the mice. Get them all and lots of mice appear. Alternatively, just keep shooting the fox and the hens in the corner, then hit the pigs right above it and the cat that appears behind the pigs (it eventually is worth 2000).
Volcano screen – hit the lava (1x, then 2x, then 3x). Then hit the meteors in both corners (3x). Hit the red balloon in the center of the meteors that comes down to score big.
Army screen – hit the two plates that fly up from the valleys on either side of the center. A tank will appear and throw plates worth 5000 each – and 4 plates worth 2000 each appear on both sides.
Alien screen – hit the 7 aliens before they pop back up (in the center of the screen). Then shoot into the mouth of the big alien that appears – initially worth 100 each, but eventually worth 2000 each.
Old West screen – open up all the targets and then close them all. Then all the targets open up with 2000 points each.
Moving to the mine car: shoot the two 500's and a 2000 appears.
Mine cars – don't forget to get the bats above the cars (1000 then 5000). Also, hit every car and the last ones are worth 5000.
My personal best is a little over 300,000 doing the above. I see people who score over 500,000, but I am not that good. Read more about my strategy for a high Toy Story score here.
12) Want to be the rebel spy in Star Tours: The Adventures Continue? Don't put your 3D glasses on until right before the ride actually starts. This will increase your chance of being picked!
13) Avoiding motion sickness on Star Tours: At Star Tours, the ride vehicle pivots from the middle. This means that the sense of motion is more intense in the front row, the back row, and the ends. If you are worried about motion sickness on this ride, ask the cast member if you can sit in the very middle of the vehicle, which will have less intense motion.
14) Score a great seat at Muppet Vision 3D.  When going to see Muppet Vision 3D at Disney's Hollywood Studios, work your way down to the lower waiting area. You still get a good view of the pre-show and when you enter the theater, you are sitting closer to the screen and you get to enjoy more of the special effects. But when the doors open to enter the theater, let few people go in front of you. The first people in have to move all the way across and this will leave you a seat in the middle. If it isn't crowded, usually they'll just let you sit in the middle.
15) Best seat for Rock 'n' Roller Coaster, pt 1: If you sit in the back on the Rock 'n' Roller Coaster, it is a lot more intense than if you sit towards the front, with one exception.
16) Best seat for Rock 'n' Roller Coaster, pt 2: When you ride the Rock 'n' Roller Coaster, the launch feels more intense from the first row. If you want to try to sit in the front car, get in line on the right side. (There will be two lines). You can also ask the cast member if you can sit in the front row. You may have to wait a little bit longer, but they will accommodate you!
17) All The Single Riders, Throw Your Hands Up: Rock 'n' Roller Coaster and Millennium Falcon: Smugglers Run both feature a Single Riders line at Disney's Hollywood Studios. This lets you wait in a shorter line as long as you don't mind getting split up from your party and going on the ride with strangers. You can read all about the Single Rider line at Disney World here.
18) Worried about the intensity of Star Wars: Rise of the Resistance? Star Wars: Rise of the Resistance has unexpected turns, some swift movement, and even a small drop. However, the ride is very approachable, even for guests who don't like thrill rides or suffer from motion sickness. You can read a full ride description in our Rise of the Resistance Motion Sickness Guide.
Hollywood Studios Lightning Lane & Genie+ Tips
19) Genie+ Lightning Lane Priority: Your number one priority for Genie+ Lightning Lane should be Slinky Dog Dash. It typically sells out very shortly after Lightning Lane reservations open up at 7 am. For other priorities, check out our Hollywood Studios Lightning Lane guide.
20) Rise (and shine) of the Resistance: Rise of the Resistance also sells out very quickly, sometimes before reservations open up for non-resort guests at park opening. If you want to buy a Rise of the Resistance Individual Lightning Lane, be sure to do so as early as possible.
Star Wars: Galaxy's Edge Tips
21) Be prepared to fly the Millennium Falcon: Millennium Falcon: Smugglers Run is basically a giant video game, and it features three distinct roles: Pilot, Gunner, and Engineer. How smooth your ride goes depends on how well you perform in your role. Check out our Millennium Falcon: Smuggler's Run guide for tips on how best fly the fastest hunk of junk in the galaxy.
22) Get reservations, you must: Three of the marquee experiences at Star Wars: Galaxy's Edge also pretty much require a reservation. Oga's Cantina is one of Disney World's hardest to get dining reservations, and it's one of our favorite bars at Disney World. Savi's is a premium experience where you build your own lightsaber. The Droid Depot lets you build a remote control R2 or BB unit droid. While walk-ups will sometimes be accommodated, it's highly recommended to make a reservation ahead of time.
23) Oga's Cantina stays open late: Oga's Cantina actually has operating hours through an hour after park closing. So party the night away with DJ Rex!
24) May the Mobile Order be with you, always: Mobile Order works amazingly well at Galaxy's Edge. You probably realize that you can mobile order your breakfast, lunch, or dinner at Docking Bay 7. However, you can also mobile order a Ronto Wrap from Ronto Roasters and Blue or Green Milk from the Milk Stand.
25) An Indiana Jones Easter Egg: Feel some Lucasfilm synergy in Dok Ondar's Den of Antiquities. Look closely on the second level for a glimpse of the Ark of the Covenant from Raiders of the Lost Ark.
26) Use the Datapad for More Fun: Before you go to Hollywood Studios, download the Play Disney Parks app. The Star Wars Datapad is a game within the app that turns Galaxy's Edge into a giant scavenger hunt. Completing missions within the app will trigger special effects in the land, and you'll learn more about the story behind the characters and shops you visit.
Hollywood Studios Dining Tips
27) Timewarp to the 50s Prime Time Cafe. Guide2WDW reader Sam shares their experience the 50's Prime Time Cafe — made of small retro kitchen settings with TVs showing sitcoms of the day. As a bonus, the Prime Time Cafe is one of the easiest dining reservations worth getting at Disney World.
"50s Prime Time Cafe was awesome! Fabulous service by our "cousins," lots of Mom's rules to follow, camaraderie among each kitchen's guests, and really, really good food. Try the chicken pot pie and S'mores dessert!"
28) Use the Fantasmic Dining Package to save time and grab great seats! It takes a long time to get into Fantasmic, but if you eat at one of the restaurants with the Fantasmic Dining Package at Hollywood Studios (Brown Derby, Mama Melrose, and Hollywood & Vine), they offer Priority Seating for the show so you don't have to wait in the line to see the show (which was worth it if you don't have to wait for hours beforehand). Note: Fantasmic is currently closed but will return in 2022. We expect that the dining package will return as well.
29) Get a rain check! Another Guide2WDW reader Nathalie let us know what happened when their dining package got rained out.
When I visited Disney World last year, I purchased the Fantasmic Dining Package. I went to eat at Mama Melrose and it was great… but when we got out to go to the show, it started to rain and the show was cancelled! I was disappointed because we had spent so much on the dining package. The next day, I went back to the restaurant and talked to the manager, and they gave us more tickets to go see the show in the reserved seating area. So if you are rained out, you can go back you can get more tickets. I'm sure I could have also gotten this resolved at Guest Relations.
30) Looking for a quick and affordable meal? The Ronto Wrap at Star Wars Galaxy's Edge is an awesome quick bite. It's easy to eat on the go, it's very filling, and it's cheaper than most meals at quick service restaurants. They also offer breakfast and plant-based versions.
Tips for Visiting Hollywood Studios with Kids
31) BYOLT: Bring Your Own Lightup Toys: Guide2WDW reader Karen shares how spending $2 at a dollar store brightened up Fantasmic for herself and others:
"Last year, my adult daughter bought a couple of packages of the neon necklaces and bracelets at a local dollar store before going to Disney World. We were at Fantasmic at Hollywood Studios, where Disney sells neon necklaces for a large amount of money (much more than the dollar store). With a lot children around us looking disappointed because their parents thought the neon necklaces and bracelets were far too expensive, my daughter got hers out and handed them out around us. You should have seen the look in the children's eyes when she gave them out! They were thrilled to be a part of the neon light show after they turned out the lights at Fantasmic. She'll be doing it again when we go in October. It was worth the $2 she spent."
32) If your little one loves Doc McStuffins, Vampirina, and Mickey Mouse, then make sure you don't miss the Disney Jr. Dance Party. It's the top pick on our attractions for toddlers at Hollywood Studios.
33) Slinky Dog Dash is surprisingly intense! With two launches, Slinky Dog Dash is actually a bit more intense than it looks. If your child has no issues with Seven Dwarfs Mine Train or Space Mountain, Slinky Dog Dash is probably an appropriate thrill level for them. If other coasters give your child issues, don't be fooled by the Toy Story theming. 
34) What to do with kids at Hollywood Studios: With so many thrill rides and rides with height requirements, you may think that you can skip Hollywood Studios if you have kids. In fact, there's a ton to do at Hollywood Studios that's kid-friendly. Make Mickey & Minnie's Runaway Railway your number one priority, as it can get long lines. Toy Story Mania and Alien Swirling Saucers are also great rides that are approachable for littler kids. Then focus on the shows and entertainment at Hollywood Studios, such as Lightning McQueen Racing Academy and the Frozen Sing Along. Many of these attractions will have shorter waits because most guests will be focusing on the bigger rides.
35) Take Advantage of Rider Swap – Because Hollywood Studios has so many rides with height requirements, parents should definitely use the Rider Swap system. From Disney: "If a Guest doesn't meet the boarding requirements or doesn't wish to experience a particular attraction, it's not a problem for family and friends who do! With Rider Switch, one adult or supervising Guest (14 years or older) can wait with non-riders while the rest of the party enjoys the attraction. Then, they simply switch roles to allow the supervising Guest to experience the attraction without waiting in the regular queue again." Simply approach the cast member at the entrance of the ride and say that you're interested in Rider Swap, and they will take care of you.
How to Plan a Hyper-Awesome Hollywood Studios Day
Planning a trip to Disney World? These tips are just the beginning. Get in touch with our friends at Vacationeer for free Disney World vacation planning. Their travel agents can help you plan your vacation for no extra cost. They'll make sure you get the most out of your visit to Hollywood Studios and the other WDW theme parks. Plus, they are Disney experts, so they'll have their own recommendations and advice.
Don't miss our Disney World guides, which help you learn the basics of planning a WDW vacation. Our Guide 2 Disney Genie and Hollywood Studios Lightning Lane Guide will help you spend less time waiting in line for Hollywood Studios' best rides and attractions. Plus, we have an in-depth section on Hollywood Studios for Toddlers, a Hollywood Studios Character Guide, as well as Hollywood Studios Dining and Restaurants.
Let Us Know Your Thoughts
What's your favorite tip for Hollywood Studios? Let me know in the comments below!