At Guide2WDW, we've always referred to EPCOT as the foodie theme park. EPCOT is the best Disney World park for eating and drinking. Between the international lineup of excellent restaurants and the festival food booths that line the park's walkways most of the year, it's hard to go to EPCOT and not stumble into some amazing dish. There's a reason why dining and drinking "around the world" is itself an attraction at EPCOT.
With so many fantastic culinary opportunities, picking where to eat at EPCOT can be a challenge. That's why we're sharing the best the best table service restaurants, counter service restaurants, snacks, and desserts so you know where to make dining reservations and what to order.
Best Table Service Restaurants at EPCOT
EPCOT has the best lineup of table service restaurants of all four Disney World theme parks. While each of the other parks has two or three great options for a table service meal, it's hard to go wrong with a sit down meal at EPCOT. From a romantic steakhouse to casual character dining to high end French and Japanese cuisine, this park has a variety of unique dining experience that really can appeal to everyone.
In fact, it might be easier to list the restaurants that we recommend skipping at EPCOT: Coral Reef. That's it. That's the list. (But even then, they have a really cool fish tank… it just feels rude eating seafood in front of an aquarium).
1) Le Cellier
For awhile, Le Cellier was my family's favorite restaurant at Disney World. Located in the Canada Pavilion, the warmly lit rooms of Le Cellier seem equally charming, elegant, and cozy. As soon as you step inside, it feels as if you are escaping the frigid air of Ontario — even if it's 92 degrees in Orlando. Like most of EPCOT's best restaurants, you'll feel magically transported out of a theme park.
Offering upscale steakhouse fare, the food has been consistently excellent at Le Cellier. The pretzel bread and Canadian Cheddar Soup are must-have appetizers. If both of these weren't available at the Canada booth at the EPCOT Food & Wine Festival each year, I'd say it was worth the reservation at Le Cellier for these two items alone. The various takes on poutine will have you wondering why you haven't been pouring gravy on your fries all along, and the Le Cellier Filet with Wild Mushroom Risotto is one of Disney World's all-time great entrees.
2) Via Napoli
If you want by far the best pizza at Disney World, head straight to Via Napoli. Sorry, Pizza Rizzo, it's not even close. While Via Napoli has a menu full of classic Italian fare, you want to go here for the pizza. Yes, it's a little on the pricey side at $40-$50 for a large pizza, but these massive thin crust pies can feed a small army. Plus, it's really fun to see the chefs fire them up inside the intricate pizza ovens.
You can go a bit fancy with your toppings, such as prosciutto and melon, or you can stick with a standard four cheese or pepperoni pizza (complete with tiny, cupped pepperonis).
While a pizza will certainly fill you up, I would be remiss if I didn't also recommend the arancini as appetizers. They are fried risotto balls, and they taste even better than they sound. It's fried Italian heaven!
Tip: If you are craving pizza but want to save time and some money, head to the Via Napoli Pizza Window, located just to the left of the entrance.
3) Space 220
Disney World's hardest to get reservation is worth the journey into space. Yes, Space 220 gets a lot of attention because of its massive screens that simulate a dining experience 220 miles above the Earth. But that's more than just a gimmick. It is legitimately awe-inspiring to look out into "space" and see the curvature of our planet. I was lucky enough to book a reservation at 5 pm, so I was able to see the atmosphere go from day to dusk to evening. It was a beautifully rendered transition.
But Space 220 wouldn't make this list if the food didn't live up to the stellar atmosphere. I'm happy to say that the food was excellent across the board. The tempura fried Blue Moon Cauliflower might be the best vegetable dish I've ever had, and the Asian-inspired duck brought a sweet tanginess that paired perfectly with the tropical Nebula cocktail I ordered. And the dessert tasted as good as it looked, which is saying a lot. Just look at this thing!
Between the atmosphere, the food, and the drinks, this was one of my favorite meals I've ever had at Disney World. It was also one of the pricier meals I've ever had at WDW, and that's saying something. Space 220 is such a great execution on a killer concept, but it's a bit less accessible than I'd like to see. Reservations are hard to come by, and if you manage to score one over 60 days in advance, you better start saving your pennies, because multi-course is your only option for the dining room.
For a more accessible option, try getting a reservation at the lounge. You can order appetizers a la carte for a more reasonably priced experience. Plus you get the same out-of-this-world views.
4) Teppan Edo

I love a good Hibachi restaurant. It's a dinner and a show, where a chef prepares your meal on a sizzling hot grill right in front of you. So it's a bit puzzling that I didn't try EPCOT's Hibachi restaurant in the Japan Pavilion until my most recent visit. I think I resisted going because the price was a step up compared to my local Japanese establishment.
However, that step up in price is justified. Yes, there's a bit of a "theme park tax" put on the menu. But quality of the ingredients and the flavors were a step up as well. Served with vegetables and rice, the chicken and steak combo was simply mouthwatering. For everything that Teppan Edo delivers, I felt like it was actually a good value.
My one knock on Teppan Edo was that the service was on the slow side.
5) Biergarten
Picking the fifth restaurant on the list of our favorite EPCOT table service restaurants was extremely challenging. I changed this out several times with other fantastic eateries found throughout the World Showcase. However, Biergarten has been a dining experience I keep thinking about a lot. German food is not something I really seek out. But this buffet let me experience a little slice of Bavarian cuisine, and it was way better than I was expecting! Delicious meats, cheeses, and bread. Plus, a beer the size of your head. What's not to love?
Biergarten stands out for its atmosphere and entertainment. The live band draws people to the dance floor, creating a truly unique experience that captures the spirit of EPCOT.
Honorable Mentions

Monsieur Paul / Takumei Tei: Two extremely high end restaurants that are worthy of the splurge. Dining at both establishments takes hours, which is good if you're planning a special occasion but less convenient if you're trying to grab dinner and still catch the fireworks.
Chefs de France: This has been one of my family's go-to restaurants at EPCOT. The food is great, the price is reasonable, and the atmosphere is stellar, especially if you can get a window table.
Spice Road Table: With waterfront Mediterranean dining, it's a bit curious why Spice Road Table isn't more popular. It's typically a really easy Disney World dining reservation to score, and we've always been happy with our meals here.
Best Counter Service Restaurants at EPCOT
Like EPCOT's table service restaurants, it's hard to find a bad counter service meal at EPCOT. From a giant eatery near Spaceship Earth to small specialized kiosks, you can find pretty much anything you're craving at EPCOT. With so much to do at the park, a counter service meal is a great option since it will take up less time out of your day.
1) Connections Eatery
EPCOT's newest counter service restaurant is a winner — and a huge upgrade over the Electric Umbrella that it replaced. (Whose idea was it to make the umbrella electric anyway? Seems very unsafe).
With a completely overhauled menu and a bright and fresh interior, Connections Eatery takes the top spot as our go-to recommendation for EPCOT counter service dining. It has many of the advantages of second restaurant on this list, such as good quality food and a varied menu that will please everyone in your party even if they all are craving something different. However, it's much easier to get to than Sunshine Seasons, and we definitely prefer the vibes within Connections Eatery.
Recommended dishes include the hand-breaded chicken sandwich, General Tso chicken salad, and French Bistro burger.
2) Sunshine Seasons
Located inside the Land Pavilion, Sunshine Seasons has long been one of our favorite counter service restaurants at EPCOT. Located near the entrance to Soarin' and Living with the Land, this cafeteria-style eatery offers a wide selection of menu items to suit every taste. From oak-grilled rotisserie chicken to Mongolian beef to spicy fish tacos, the menu at Sunshine Seasons is very diverse, so there's something for everyone. Plus, there's a selection of really good desserts, including a mini chocolate bundt cake.
to healthy salads and sandwiches, there's something for everyone here. The prices are also reasonable, making this a great option for families on a budget.
3) Yorkshire County Fish Shop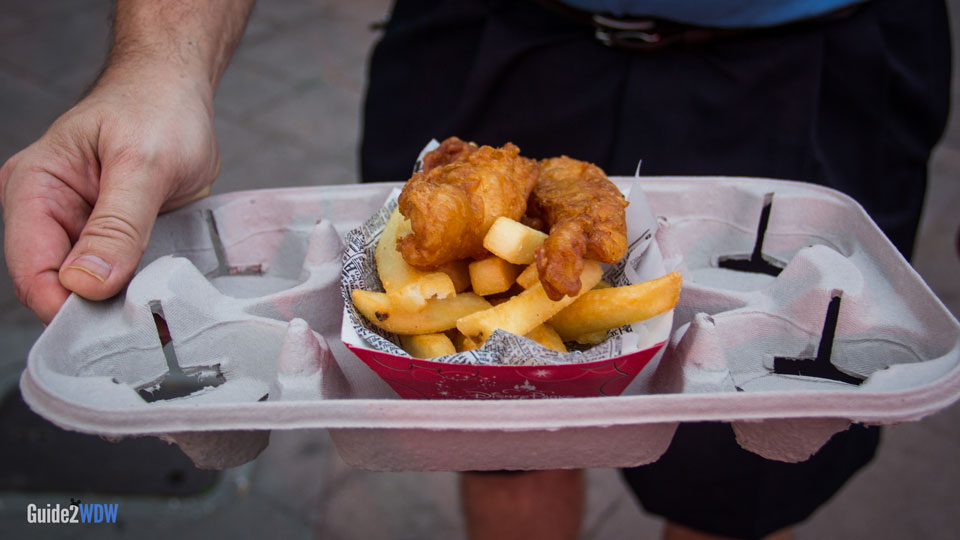 Yorkshire County Fish Shop does one thing extremely well. And that one thing is Fish and Chips. This outdoor kiosk offers the classic UK item, complete with a tray lined with "newspaper" for an authentic experience. Beer-battered fish served with crispy french fries, with beer available on tap. What's not to love?
If you're in the mood for fried fish, Yorkshire County Fish Shop is worth a visit (or two) during your EPCOT visit. We personally love to grab an order of Fish and Chips and then head over to see the bands perform British rock in the nearby United Kingdom gazebo for dinner and a show.
4) Regal Eagle Smokehouse
Regal Eagle Smokehouse is EPCOT's great culinary comeback. The former counter service restaurant in the American Adventure Pavilion was Liberty Inn, and it was a sad representation of American fare. With light Muppet-theming and heavily smoked meats, Regal Eagle Smokehouse is a huge improvement over its predecessor.
This restaurant is all about smoky, delicious flavors, with a menu of American-style barbecue featuring four house-recipe sauces. With beef brisket, pork ribs, and more, Regal Eagle should satisfy your carnivorous cravings. However, there is also a BBQ Jackfruit Burger for a vegan option.
If you wash it all down with one of the craft beers on tap, you'll be in barbecue heaven.
5) Cantina de San Angel
With waterfront views of World Showcase Lagoon, Cantina de San Angel is a great counter service restaurant at EPCOT for families who like Mexican cuisine. Located in the outdoor portion of the Mexico Pavilion, this restaurant offers a selection of Mexican dishes, from tacos to empanadas. We've been really pleased with the quality and flavor here, making it a great quick stop for a meal.
Plus, this restaurant's dining area has great viewing for EPCOT's fireworks show.
Best Snacks at EPCOT
If you're not quite hungry enough for a full meal, or if you just want a quick taste of something delicious, EPCOT has you covered. For most of the year, there's no better theme park to visit for snacks. That's because EPCOT's Festivals are pretty much a snacker's dream. Here's why…
1) EPCOT Festival Food Booths

Okay, this is a little bit of a cheat, because the EPCOT Festival Food Booths offer dozens of delicious dishes from around the world for the vast majority of the year. But that's what make them the ultimate snacking experience at EPCOT.
From the EPCOT International Food & Wine Festival to the EPCOT International Flower & Garden Festival, these events offer some of our absolute favorite bites at Disney World. Plus, each dish is served in a small portion, so you can sample a variety of items without feeling overly full.
You can sample Greek-style gyros, Mexican tacos, Hawaiian musubi, and even Canadian filet mignon. There's something for everyone here. So come hungry and ready to explore the world of flavors!
Be sure to check out these pages for the most up-to-date EPCOT Festival menus.
2) Caramel Corn – Karamel Kuche
If you're looking for one of the best snacks at Disney World, look no further than Karamell-Kuche in EPCOT's Germany Pavilion. This quaint little bakery has a variety of treats, but the star of the show is their Caramel Corn. Is it a dessert? Is it a snack? That's debatable. But what's not debatable is the fact that it's so delicious.
The Caramel Corn made with Werther's Original Caramel, which adds an extra layer of sweetness to the already delectable popcorn. The combination of that caramel and the popcorn creates a flavor explosion that can only be described as sweet, salty goodness.
3) Sweet and Savory Crepes – Crêpes À Emporter at La Crêperie de Paris
As part of the France Pavilion expansion for Remy's Ratatouille Adventure, EPCOT opened an eatery dedicated to all things crepes. La Creperie de Paris is a lovely restaurant, and they feature a to-go window where you can go completely crepe-sy. With savory galettes such as cream of brie cheese and bechamel, cheese, & ham, or sweet crepes like hazelnut & chocolate or red berries, you really can't go wrong.
While one of these crepes can easily be a small meal, you can also split it with another member of your party for a snack. We also recommend doing this if you just can't choose between sweet and savory. Seriously, both are so good.
Best Treats and Desserts at EPCOT
It may be hard to not feel full from all the delectable goodness we've covered so far in this EPCOT Dining Guide. But I bet you'll have room for dessert with our picks for EPCOT's best sweet treats.
1) Macaron Ice Cream Sandwich – L'Artisan des Glaces
For one of the best desserts at EPCOT and all of Disney World, look no further than the Macaron Ice Cream Sandwich from L'Artisan des Glaces in the France Pavilion. This delectable treat combines ultra creamy ice cream with an oversized macaron for the ultimate ice cream sandwich. Somehow both light and chewy and ultra-decadent, this is truly magical treat that is sure to satisfy your sweet tooth.
What makes this dessert so special is that it's a somewhat overlooked secret. The Macaron Ice Cream Sandwich doesn't have a cult of die-hard fans like the Mickey Ice Cream Bar or Dole Whip. But with its unique combination of flavors and textures, it's definitely something that should not be missed.
2) Kakigori – Japan Kiosk
Kakigori is a Japanese shaved ice dessert that is a popular summer treat. It is made with finely shaved ice that is topped with flavored syrups – very similar to Hawaiian shaved ice or snow cones. You can also add sweetened condensed milk for a light and refreshing treat. At EPCOT, you can find this delightful dessert at the small kiosk near the entrance to the Japan Pavilion in World Showcase.
You should definitely try Kakigori. Not only is it colorful and fruity, but it's also a great way to beat the summer heat. The ice is so finely shaved that it has a fluffy texture, and the flavors are light and refreshing.
3) Chocolate Covered Caramel – Karamell-Kuche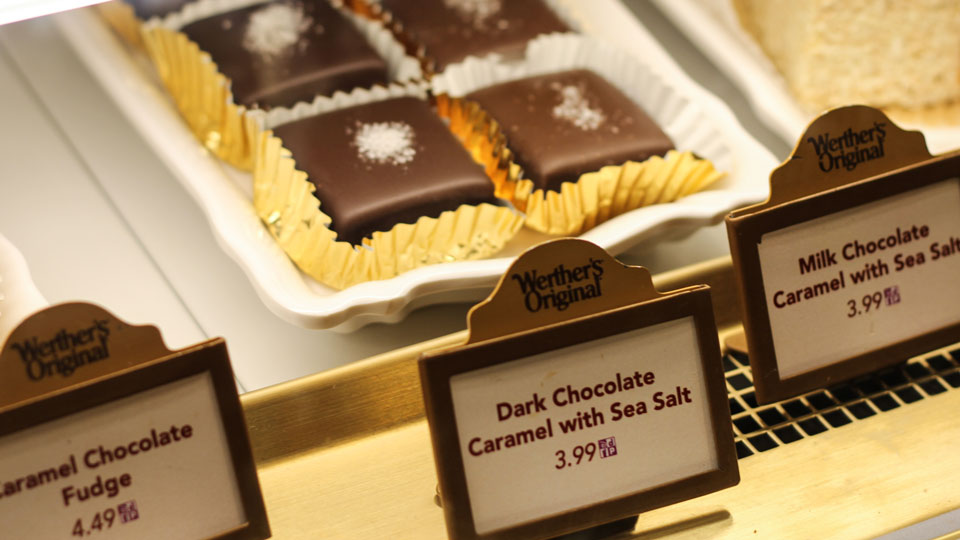 Want something a bit decadent? If you're looking for the ultimate treat at EPCOT, you can't go wrong with the chocolate covered caramels from Karamell-Kuche. These giant, chewy treats are made with Werther's Original Caramel and covered in either milk or dark chocolate. The combination of the sweet caramel and the rich chocolate makes for a rich explosion of flavor.
4) Fruit Tart / Creme Brule / Pretty Much Everything at Les Halles
If you want to satisfy your sweet tooth at EPCOT and don't want to choose just one dessert, there's no place better than Les Halles Boulangerie & Patisserie in EPCOT's France Pavilion. This charming bakery in the France Pavilion has two of our favorite desserts: a classic Fruit Tart and a Creme Brulee caramelized to perfection. And that's just the tip of the iceberg! From the light and fluffy Croissants to the decadent Eclairs, you won't be disappointed.
Every dessert here is mouth-watering and worth the sometimes long wait.
Where to Get Coffee at EPCOT
Need a pick-me-up while exploring EPCOT? We don't blame you. The park is so huge that people often joke that EPCOT stands for "Every Person Comes Out Tired." So if you need a bit more pep in your step to make it around World Showcase, here's where you can find coffee at
Connections Cafe: Connected to Connections Eatery near Spaceship Earth, this is EPCOT's Starbucks location. You can order from the full Starbucks menu, including breakfast sandwiches. This coffee shop also features Starbucks collectables, such as EPCOT-themed "You Are Here" mugs.
Joffrey's Kiosks around EPCOT: With awesome coffee and a killer cold brew, you shouldn't overlook Joffrey's Coffee — even if you are a Starbucks loyalist. Here's everywhere you can find a Joffrey's kiosk in EPCOT

Outside the Park Entrance – Near the Monorail Station
World Discovery – near Guardians of the Galaxy: Cosmic Rewind
Between United Kingdom and Canada Pavilions in World Showcase
World Showcase Plaza – Near the Disney Traders shop
Near The American Adventure Pavilion – Near Fife & Drum towards the Italy Pavilion
The Best Places to Get Wine, Beer, and Cocktails at EPCOT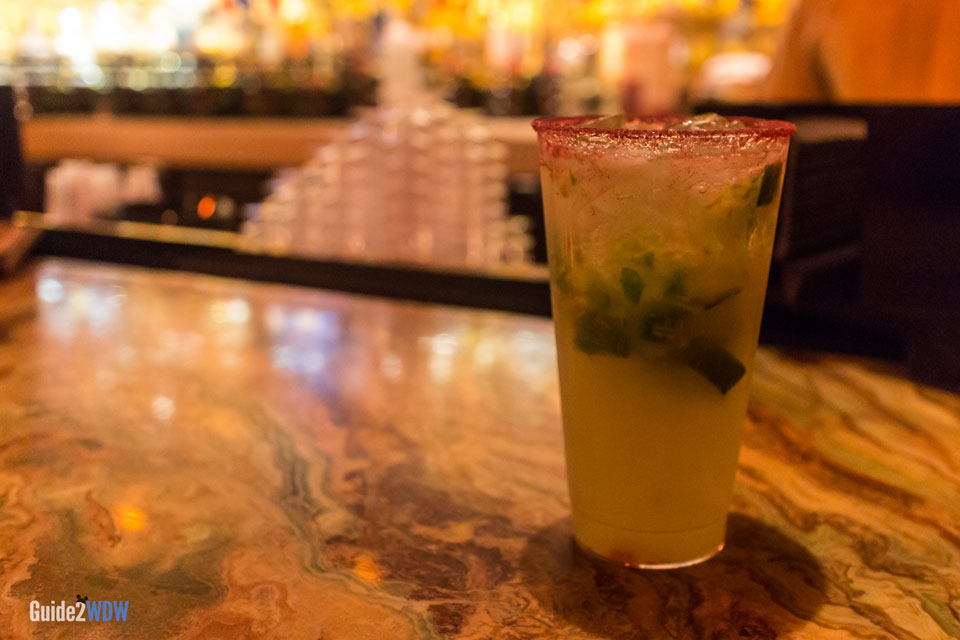 While finding adult beverages at Magic Kingdom is tricky, you have tons of options for wine, beer, and cocktails inside EPCOT. Pretty much every counter service restaurant, table service restaurant, kiosk, and festival booth offers some alcoholic drink. Also, you can carry your beverage with you as you walk around the park. There's a reason why "drinking around the world" has become a thing — although, seriously, please do so responsibly.
Here are two of our favorite options for where to grab a drink while at EPCOT.
Cava del Tequila – This cozy tequila cavern inside the Mexico Pavilion used to be a hidden gem. Now the secret's out, and usually the longest line is to get a drink here. If you're able to snag a table, we can't recommend the queso enough. Otherwise, you can join the line to get a drink to go. Our favorite margaritas are the Jalapeno Margarita and the Avocado Margarita — two of the best margaritas we've had anywhere. The neighboring San Angel Inn also serves the same margaritas.
Rose & Crown Pub – If you're looking for a classic pub experience, pull up a stool and grab a pint of Guinness or Boddingtons at the Rose & Crown Pub. Besides the selection of ales and lagers, you can also enjoy wine, cocktails, and whiskey flights. But the real draw is the wonderful atmosphere, with its cozy, rustic feel.
Character Dining at EPCOT
Want to dine with your favorite Disney characters? Here's every character meal offered at EPCOT.
Garden Grill – Inside the Land Pavilion, you can dine with Chip, Dale, and other Disney pals such as Farmer Mickey and Pluto. Dishes include grilled beef with chimichurri, sliced turkey breast, and macaroni & cheese.
Akershus – Located in Norway, you can dine with Disney Princesses, including Snow White, Cinderella, Belle, Princess Aurora, and Ariel. Lunch and Dinner offer a "Taste of Norway," which features "some of the finest Scandinavian seafood, imported cheeses, cured and sliced meats, and a vast selection of salads and fruits."
For more information on character meals at Disney World, check out our guide!
Best Spots for Outdoor Dining at EPCOT
Here are our favorite spots for outdoor dining at EPCOT:
Counter Service
Connections Eatery
Festival Booths
Yorkshire County Fish Shop
Regal Eagle BBQ
Table Service
Spice Road Table
Rose & Crown
Via Napoli
Tutto Italia
For our complete list, check out our EPCOT Outdoor Dining Guide
We want to hear from you!
Have any recommendations for EPCOT restaurants, desserts, or snacks? Let us know in the comments below! Your input will help us make this the best EPCOT dining guide possible.
Don't miss our other Disney World Dining Guides
---
James is a lifelong Disney Parks fan. While at the parks, he loves finding new details, learning more about Disney World history, and taking pictures. His favorite WDW attractions include Rise of the Resistance, Spaceship Earth, and Tower of Terror.
James is a filmmaker and writer based in Atlanta, GA.
All author posts