Most of us have been eating more outdoors in the past year and a half. For some, it's nice to get some fresh air while enjoying their lunch. For others, it's a necessary way to stay safe at Disney World during the pandemic. Whatever your reason for eating outside, our ultimate guide to outdoor dining at Disney World will let you know everywhere you can grab a bite outside at the most magical place on Earth.
Our second entry in the outdoor dining series focuses on Disney World's second park: Epcot. Epcot is an awesome park for outdoor dining, with a wide variety of offerings. Whether you're eating on the go as you tour the Food & Wine Festival or sitting down to a fantastic meal in the World Showcase while watching Harmonious, you could spend the entire day at Epcot and never have to eat indoors while enjoying world class food.
I've broken it up into "The Best" and "The Rest." The restaurants listed in "The Best" either have delicious food, great outdoor seating sections, food that's easy to eat on the go, or any combination of the above. If a restaurant is listed in "The Rest," it doesn't necessarily mean it's a bad option. It's just not one of our favorites.
The Best Outdoor Dining at Epcot
Table Service
Spice Road Table (Morocco) – Gorgeous open air restaurant with delicious Mediterranean options. Offers Harmonious dining package.
Rose and Crown (United Kingdom) – Rose and Crown is very well regarded for their English pub cuisine as well as their beer offerings. In addition to their indoor dining room, they offer outdoor seating with great views of World Showcase lagoon. Offers Harmonious dining package.
Via Napoli (Italy) – Arguably the best pizza at Disney World. Offers both indoor and outdoor seating.
Tutto Italia (Italy) – Great pasta and wine menu. Offers indoor and outdoor seating.
Quick Service / Kiosks
Festival Food Booths (Around the Entire Park) – Whether it's for Epcot's International Food & Wine Festival, the Flower & Garden Festival, the Festival of the Arts, or the Festival of the Holidays, Epcot offers delicious small bites at various food booths located around the park. Dining at 2 or 3 (or more, let's be honest) of these booths is a fun way to enjoy a meal, and the vast majority of them are completely outside.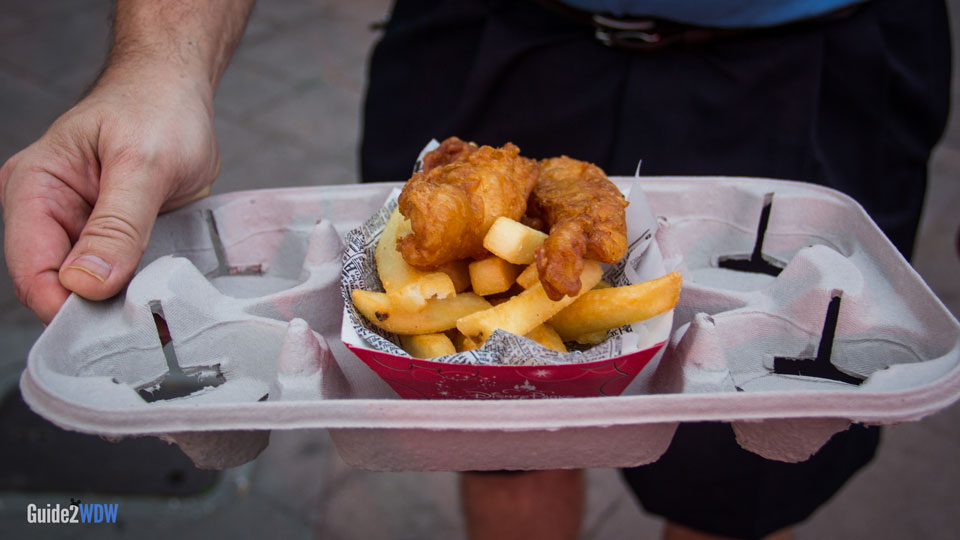 Yorkshire County Fish Shops (United Kingdom) – Epcot's famous fish and chips shop. It's a great grab-and-go option, and there is limited outdoor seating nearby. Completely outside. Mobile Order Available
Regal Eagle BBQ (American Adventure) – Epcot's revamped USA-based eatery is a huge improvement over its predecessor, and it offers a lot of outdoor seating. Mobile Order Available
Les Halles Boulangerie-Patisserie (France) – Top notch pastries, sandwiches, and snacks. Must order inside. Limited outdoor seating.
The Pub at Rose and Crown (United Kingdom) – Rose and Crown features an outdoor pub with a nice area to sit/stand outside and enjoy your beer.
Choza de Margarita (Mexico) – Completely outdoor margarita stand.
The Rest
Quick Service / Kiosks
Katsura Grill (Japan) – Quick service Japanese food. Lots of outdoor seating with lovely views of koi ponds in the Japan pavilion. Must order/pick up food inside.
Cantina de San Angel (Mexico) – Quick service Mexican food with awesome waterfront views. Completely outside.
Refreshment Port (World Showcase near Canada) – Seasonally changing menu, completely outside.
Taste Track (World Discovery) – Gourmet Grilled Cheese Sandwiches near Test Track. Open Seasonally. Grab and go, completely outside.
Sommerfest (Germany) – Pretzels and Beer to go. Mobile Order Available
Africa Refreshment Cool Post (World Showcase between China and Germany) – Hot dogs and ice cream. Completely outside.
Stay tuned for more of the best places to eat outside at Disney World, as we are sharing the best outdoor dining at Magic Kingdom, Hollywood Studios, Animal Kingdom, Disney Springs, and the Resorts coming soon.
---
James is a lifelong Disney Parks fan. While at the parks, he loves finding new details, learning more about Disney World history, and taking pictures. His favorite WDW attractions include Rise of the Resistance, Spaceship Earth, and Tower of Terror.
James is a filmmaker and writer based in Atlanta, GA.
All author posts