One of the most magical experiences at Disney World is meeting with your favorite characters. Whether you're a kid or just a kid at heart, getting to meet Mickey, Ariel, or Elsa can create a core memory that will last for years. However, what's not as much fun is waiting in long lines to make those memories. In this post, we'll share five ways to meet characters at Disney World without waiting in line.
With these expert tips, you'll avoid the slog of long wait for a character meet and greet. These waits are particularly frustrating, as many of them are lightly themed switch-backs, so you don't have as much to look at in line like on The Little Mermaid: Ariel's Undersea Adventure or Rise of the Resistance. If you're a parent of toddlers or small kids, you also know that patience is rarely their strong suit, so any way to avoid a boring 30+ minute wait is crucial.
From character dining experiences to lesser-known perks, we've got you covered with our five ways to avoid waits for characters at Disney World.
1. Disney Visa Character Meet and Greet at Epcot
Did you know that there's a character meet and greet that is exclusive to Disney Visa Card members? While many people focus on the discounts, one of the best perks of a Disney Visa Chase Credit Card or Disney Visa Chase Debit Card are the member-exclusive photo opportunities.
Located at the Imagination Pavilion in EPCOT, Disney Visa cardholders have an exclusive opportunity to meet some of their favorite Disney pals. Characters change throughout the day but typically include Mickey, Minnie, Goofy, or Pluto.
Look for the Disney Visa Photo Spot at EPCOT, next to Journey into Imagination with Figment. You can see the exact location on the map above.
Since this is relatively unknown compared to other character interactions, the wait for the Disney Visa Character Meet and Greet is almost always short. However, this meet and greet is only available from 1 pm – 6:30 pm at the time of this writing.
As an added bonus, cardholders are entitled to free downloads of the pictures.
2. Dine at a Character Meal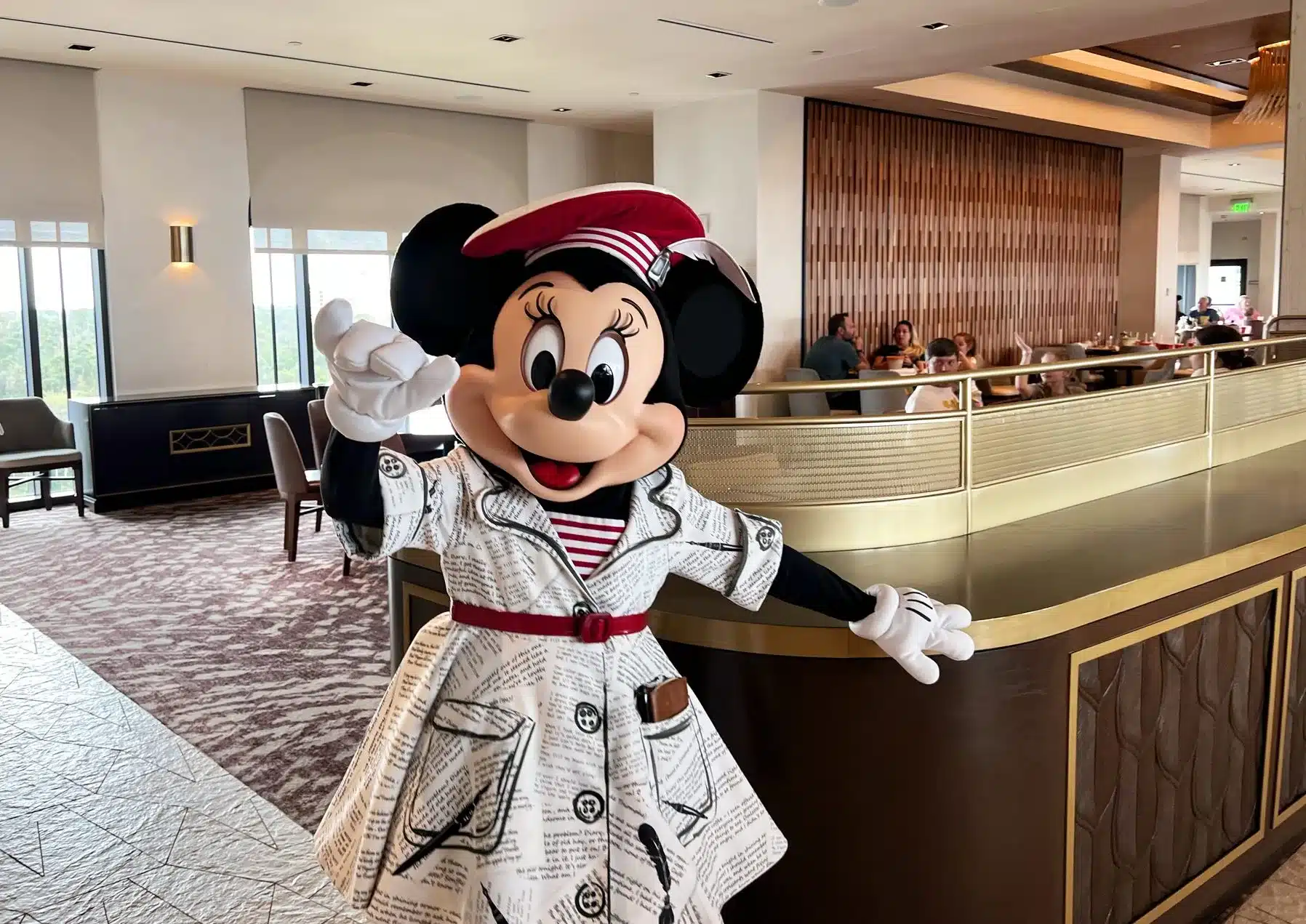 The absolute best way to get in a lot of time with characters without a wait is to dine at a Disney World character meal. Available at breakfast, lunch, and dinner, character meals offer an opportunity to meet with three to four Disney characters that roam around the dining room.
Throughout the meal, each character will come to your table at least once and interact with your party. This is a great opportunity to take pictures / selfies, and it ensures that little ones can get face time with their favorite characters without having to wait in line.
The characters will also sometimes do little performances throughout the meal. This usually means dancing to a special song. These moments make for a really fun atmosphere.
You can find our complete guide for Disney World Character Meals here, but we'll highlight a few of our favorites here:
Toppolino's Terrace (Disney's Riviera Resort): Mickey, Minnie, Donald, Daisy
Crystal Palace (Magic Kingdom): Winnie the Pooh, Tigger, Piglet, Eeyore
Tusker House (Animal Kingdom): Goofy, Donald, Daisy, Mickey
Garden Grill (EPCOT): Chip, Dale, Mickey, Pluto
Cinderella's Royal Table (Magic Kingdom): Cinderella and other Disney Princesses
Tip: Save money on character meals by opting for a breakfast. These are usually more affordable.
Tip: It's very normal for children to get a bit frightened or shy around characters, especially toddlers! If your little one is nervous, a character meal can actually be a great way for them to get used to being around Mickey, Minnie, and other life-sized characters, as they'll be able to see them walk around the room for awhile before having to come face to face with them.
3. Keep Your Eyes Peeled for Character Sightings and Cavalcades
Disney World is full of spontaneous opportunities to interact with characters — if you know where to look. In recent years, Disney World has added several Character Sightings throughout the four theme parks. Sightings are different than traditional meet and greets: they are usually from a distance or they involve the characters roaming around a land.
You won't get a PhotoPass picture taken here, but sightings are a great chance to interact with the characters and get a selfie. And the best part is that you don't have to wait in line to see these characters.
Here's some of the characters you can find roaming around Disney World:
Magic Kingdom
Buzz Lightyear – Rocket Tower Plaza Stage
Stitch – Rocket Tower Plaza Stage
Wendell – Country Bear Jamboree Balcony
EPCOT
Winnie the Pooh – Near Imagination
Hollywood Studios
Mando and Grogu – Galaxy's Edge found around the Marketplace and surrounding area
Rey  – Galaxy's Edge
Chewbacca  – Galaxy's Edge
Vi Moradi (Resistance Spy)  – Galaxy's Edge
Kylo Ren  – Galaxy's Edge
Stormtroopers  – Galaxy's Edge
Green Army Men Patrol – Toy Story Land
Donald & Daisy – Near the Entrance
Edna Mode – Hollywood Blvd
Frozone – Hollywood Blvd
Animal Kingdom
Kevin from UP – Discovery Island
If you want a dash of Disney characters and don't need selfies or an interaction, cavalcades are a great chance to see your favorites in a mini-parade. Look out for these throughout your day, as they perform multiple times daily.
4. Take advantage of early hours
Lines at Disney World are always the shortest in the couple of hours right after park opening. Most people who arrive at rope drop will prioritize the major E-Ticket attractions like Flight of Passage. If meeting with characters is your number one priority, you can use this to your advantage and see characters with an extremely short wait.
Many meet and greets don't operate during the Early Morning Entry window, but if you arrive early, you can still enjoy short waits once the characters do come out. On our most recent Disney World trip, we went to Hollywood Studios for Early Morning Entry. After riding Toy Story Mania, Alien Swirling Saucers, and Mickey and Minnie's Runaway Railway with no wait, we noticed that the characters were coming out in the Animation Courtyard.
We were able to meet with Pluto with absolutely no wait because we were in the park early.
5. Use Lightning Lane
With Disney's Genie+ and Lightning Lane system, guests can purchase an add-on to their ticket each day to skip the regular line at a select number of attractions. Many of these Genie+ Lightning Lane attractions are character meet and greets.
If meeting with characters is one of your priorities on your Disney World vacation, these meet and greets can be a great use of your Lightning Lane reservations. They'll save you a ton of time in line, and you'll get to skip a lot of pretty plain, unthemed queues.
Here are all the character experiences available with Genie+ Lightning Lane:
Magic Kingdom
Enchanted Tales with Belle
Meet Ariel at Her Grotto
Meet Cinderella and a Visiting Princess at Princess Fairytail Hall
Meet Mickey at Town Square Theater
Meet Princess Tiana and a Visiting Princess at Princess Fairytale Hall
Hollywood Studios
Meet Olaf at Celebrity Spotlight
Animal Kingdom
Meet Favorite Disney Pals at Adventurers Outpost (Mickey and Minnie)
If you want to know more about how to skip the lines at Disney World, check out our Disney Genie Guide and Lighting Lane Guides.
We want to hear from you!
By following these five strategies, you can make unforgettable memories without having to wait in line. From the Disney Visa Character Meet and Greet to dining at a Character Meal, there are so many fun and exciting ways to meet your favorite characters that don't involve a huge wait. So why wait in long lines when you can enjoy all the magic with these Disney World tips?
Let us know in the comments below: What are your favorite ways to avoid lines when meeting characters at Disney World?
---
James is a lifelong Disney Parks fan. While at the parks, he loves finding new details, learning more about Disney World history, and taking pictures. His favorite WDW attractions include Rise of the Resistance, Spaceship Earth, and Tower of Terror.
James is a filmmaker and writer based in Atlanta, GA.
All author posts