If you're visiting Disney World with a toddler, you may be wondering if you need to buy Genie+, which lets you skip the regular line on many popular rides. On one hand, Genie+ can be a significant add-on to the price of admission. On the other hand, skipping a long line with a tiny human who hasn't quite mastered the art of patience sometimes seems like it's worth any price to a parent. Is Genie+ worth it for families with toddlers at Disney World?
That's what we're diving into today. And it turns out, the answer is complicated. Visiting WDW with a toddler is an entirely different experience than going with just adults and older kids. It's harder to spend as much time inside the parks, and toddlers can't go on many of the rides where Genie+ saves you the most time, like Slinky Dog Dash and Space Mountain.
However, Genie+ is definitely worth considering. But, I wouldn't recommend it your entire vacation. Some days, you'll definitely want Genie+. Other days, you'll be fine skipping.
In this post, I'm going to break down the pros and cons of Genie+ with a toddler, plus give park-by-park recommendations if you should put down your hard earned cash on front-of-the-line access.
The Pros of Genie+ with a Toddler
Toddlers and lines do not mix well. Trust me, there's only so much Ms. Rachel that can get you through a long wait at Remy's Ratatouille Adventure. Even a 20-30 minute line can be a lot for a little one. With Genie+, you'll be waiting for 5-10 minutes on average.
Unlike Disneyland, Disney World actually has a lot of toddler friendly attractions included in Genie+.
One of our longest time-saving tips at Disney World is to get to the parks for rope drop. The first hour or two will have the shortest lines of the day. However, getting out the door in the morning can be a challenge if you have a little one, especially if you don't want to disrupt their sleep routine. Genie+ can help you navigate WDW better if you can't make it into the parks early.
If your child is under 3, you don't need to buy a park ticket for them to get into Disney World. No park ticket means that you don't need to purchase Genie+ for them either.
The Cons of Genie+ with a Toddler
Unpredictable schedule: With Genie+, you get a one hour window to go to the attraction. There is a grace period that allows you to be 5 minutes early or 15 minutes late. But a day in the parks with a toddler can be really unpredictable. You may think you grabbed the perfect slot for Frozen Ever After just to discover that your toddler dozed off in the stroller on your way there. Naps, diaper changes, and even just unexpected activities that your toddler is loving can make it hard to stick to a schedule. You can now reschedule LL times, but this isn't a guarantee for some of the more popular attractions.
Genie+ feels like a good value when you can use it on as many rides as possible. But as we suggest in our Toddler Guides, Disney World is sometimes best experienced with toddlers with a slower pace. Taking time to explore, doing interactive activities that don't require a wait, and enjoying park wide entertainment can be a bigger hit with a toddler than just doing ride after ride after ride. This puts less emphasis on rides, which
While you don't need to purchase Genie+ for your toddler, every other member of your party 3 and above will need to buy Genie+.
Unlike Disneyland, PhotoPass isn't included with Genie+ purchases. It does include on-ride pictures and videos, but these aren't really available on most of the toddler friendly rides – Buzz Lightyear and Frozen Ever After being two exceptions
Many of the included Genie+ attractions that are good for toddlers really don't need line skipping, especially the shows and attractions that never really have a long wait anyway.
So, which parks at Disney World are the best for Genie+ with toddlers?
Is Genie+ Worth It with Toddlers at Magic Kingdom?
Magic Kingdom currently includes 23 attractions with Genie+. However, here's the list when you remove rides toddlers can't go on like Space Mountain or Big Thunder Mountain Railroad.
Toddler-Friendly Genie+ Rides
Buzz Lightyear's Space Ranger Spin
Dumbo the Flying Elephant
it's a small world
Jungle Cruise
Mad Tea Party
Peter Pan's Flight
The Barnstormer (35" Height Requirement)
The Magic Carpets of Aladdin
The Many Adventures of Winnie the Pooh
Tomorrowland Speedway* (32" Height Requirement)
Under the Sea ~ Journey of The Little Mermaid
Shows
Enchanted Tales with Belle
Festival of Fantasy Parade
Mickey's Philharmagic
Monster's Inc Laugh Floor
Character Meet and Greets
Meet Ariel at Her Grotto
Meet Cinderella and a Visiting Princess at Princess Fairytale Hall
Meet Mickey at Town Square Theater
Meet Princess Tiana and a Visiting Princess at Princess Fairytale Hall
With 19 different options for Lightning Lane attractions that toddlers could enjoy, we strongly recommend Genie+ at Magic Kingdom. Even if you remove the attractions that don't typically need Genie+ like Mickey's Philharmagic or the Festival of Fantasy Parade, you're still left with a really strong lineup of great rides for toddlers. If you just got Peter Pan's Flight, it's a small world, Dumbo, and one of the meet and greets, you'd be in for an amazing Magic Kingdom day.
It should also be noted that Haunted Mansion and Pirates of the Caribbean both also offer Genie+. While they don't have a height requirement, we categorize these as "Make Your Own Call" rides in our Magic Kingdom Toddler Guide. Many of the scenes are quite dark (both thematically and literally), and it's quite possible a toddler could find them terrifying. Our Halloween-loving son did fine on Haunted Mansion (we think…), but your mileage will definitely vary.
However, Genie+ is definitely not a requirement. There are plenty of other attractions to fill up an entire day: WDW railroad, the PeopleMover, Tom Sawyer Island, the playground in Dumbo, meeting the other characters at Pete's Sideshow, Mickey's Magical Friendship Faire show in front of the castle, and many more.
Is Genie+ Worth It with Toddlers at EPCOT?
At EPCOT, 8 of the 11 Genie+ attractions are toddler-friendly. Despite the high-percentage of rides, getting Genie+ for a group with a toddler isn't a slam dunk.
Toddler-Friendly Genie+ Rides
Frozen Ever After
Remy's Ratatouille Adventure
Spaceship Earth
The Seas with Nemo and Friends
Living with the Land
Journey Into Imagination with Figment
Shows
Disney Pixar Short Film Festival
Turtle Talk with Crush
Our recommendation is to maybe buy Genie+ at EPCOT. Let's break down why:
Many of the rides here usually don't have a long wait. Even on busy days, we've often encountered Living with the Land, Journey Into Imagination, and The Seas with Nemo and Friends with under 15 minute waits. The shows are also not worth Genie+ Lightning Lane reservations, especially the Disney Pixar Short Film Festival, which we recommend skipping 99% of the time.
Once you remove those, you're really just paying to skip the line on 2-3 rides. This is a tougher pill to swallow. However, Frozen and Remy have two of the longest lines at the park, and you could easily save 2+ hours. Getting a Lightning Lane for both of these rides can be a tall order, but doable.
Spaceship Earth is one of my favorite rides, and I've been proud to see how much my 2-year-old son also really enjoys it. But it also has one of the most annoying lines to wait in, even without a toddler. Lightning Lane is great here, even if the line is only 15-30 minutes.
Your Genie+ purchase at EPCOT should depend on how much you want to go on those 3 rides, and just consider the other attractions to be a bonus. Otherwise, you can fill up an entire day with other great toddler-friendly activities like KidCot FunStops, Gran Fiesta Tour, and the Sea Base Aquarium. Find out more in our EPCOT Toddler Guide.
Is Genie+ Worth It with Toddlers at Hollywood Studios?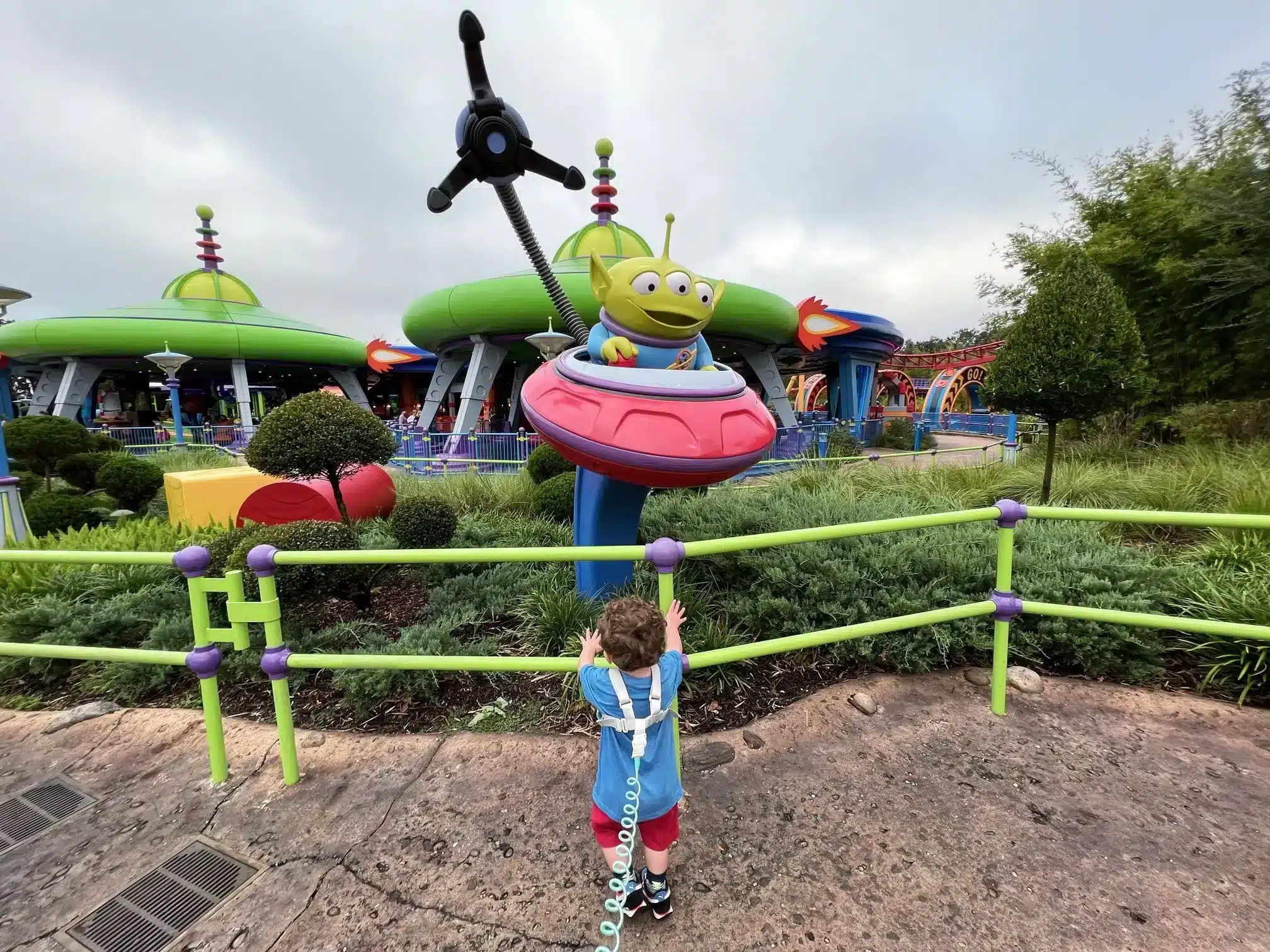 While Hollywood Studios has one of the best Lightning Lane lineups, many of the big attractions here are thrill rides. When you remove those big rides like Tower of Terror, the Genie+ list for toddlers feels pretty bare.
Toddler-Friendly Genie+ Rides
Toy Story Mania
Mickey & Minnie's Runaway Railway
Alien Swirling Saucers – 32" Height Requirement
Shows
Disney Jr Play and Dance
For the First Time in Forever: A Frozen Sing-Along Celebration
Muppet*Vision 3D
Beauty and the Beast Live on Stage
Character Meet & Greets
If you're visiting Hollywood Studios with a toddler, we recommend skipping Genie+.
On my last Disney World vacation, my family was able to do all three of the toddler rides within the first hour of park opening with little-to-no wait with Early Morning Entry. We were then able to get into the first Disney Jr Dance Party show with almost no wait – the audience for the first show was about 3/4 empty.
You don't need Genie+ for the shows, especially Muppet*Vision 3D (I love this movie, but it never has a long wait).
If you don't get into the park early, Mickey & Minnie's Runaway Railway is the only ride here that toddlers will really enjoy where Genie+ will save you a significant amount of time. Even with that and the Olaf Meet and Greet, it's hard to justify the Genie+ price here.
Check out our Hollywood Studios Toddler Guide for recommendations on what to do without Genie+.
Is Genie+ Worth It with Toddlers at Animal Kingdom?
Toddler-Friendly Genie+ Rides
Kilimanjaro Safaris
Navi River Journey
Shows
Festival of the Lion King
Feathered Friends in Flight!
Finding Nemo: The Big Blue and Beyond
Character Meet & Greets
Meet Favorite Disney Pals at Adventurers Outpost (Mickey & Minnie)
Animal Kingdom is another park where I'd recommend skipping Genie+, for the most part. It's not quite as strong of a pass as Hollywood Studios, but it's close.
You can save serious time on Kilimanjaro Safaris and Navi River Journey with Lightning Lane. But if you get to Animal Kingdom early enough, you can knock out these two rides out plus meet Mickey and Minnie all with short waits. Animal Kingdom is a fantastic park to visit first thing in the morning because the animals are much more active.
All of the shows in Animal Kingdom are also fantastic for the whole family. Toddlers will especially love Finding Nemo, with its colorful puppets and catchy songs. But shows typically won't save you as much time with Genie+, which makes you wonder what you're paying for.
If you can't make it to Animal Kingdom until midway through the day and lines are long, consider purchasing Genie+. Otherwise, just enjoy a day of exploring the park and seeing the animals, like we recommend in our Animal Kingdom Toddler Guide.
What about Park Hopping?
The value proposition of Genie+ changes if you are planning on park hopping. Your options for toddler-friendly attractions are often doubled if you are visiting two parks in one day, so Genie+ becomes a much better deal when you park hop.
The one part where this becomes tricky is making sure you can time your must-do toddler rides with your park hopping. Getting both Ratatouille and Frozen Ever After for one half of a day can be a challenge. Tip: Use the Genie+ Lightning Lane Modify Reservation function to change the time. If you refresh enough, you may be able to find a new time that works for you.
What about Rider Switch?
If you are visiting Disney World with older kids, teens, or adults who also want to enjoy the bigger thrill rides that toddlers can't go on, Genie+ can save you a ton of time in conjunction with Rider Switch.
This handy function is designed to allow adults to alternate their ride turns while looking after children who are either too young or too apprehensive to participate in height-restricted attractions. You can read more about how this system works here: Rider Switch at Disney World, Explained: A Family's Best Friend at WDW.
The use of Rider Switch does not require the purchase of Genie+, but having Genie+ can significantly reduce wait times, allowing your first group to board the ride more quickly while your second group stays with your toddler. So, going to Disney World with a toddler doesn't mean skipping all the roller coasters, and it doesn't mean waiting in line twice for everyone to go on the ride.
Genie+ with a Toddler at Disney World Summary
Should you buy Genie+ at Disney World if you're bringing a toddler? If you're visiting Magic Kingdom, probably. Otherwise, it depends on your family's needs, your toddler's temperament, and your visit's timing. If your little one can manage longer waits in line and you're able to start your day early, then Genie+ may not be as valuable. However, for families whose tiny tots are less patient or who can't make it to the parks at rope drop, Genie+ might just be a day-saver.
Either way, visiting Disney World with a toddler is a magical experience that requires strategic planning. For more comprehensive guidance tailored specifically for families with toddlers, don't miss our Disney World Toddler Guide. We cover everything from the best toddler-friendly attractions to lesser-known activities that little ones love. We also have an entire packing guide for parents brining toddlers to WDW.
And if you have more questions about Genie+, don't miss our Guide 2 Disney Genie, complete with details on how the system works and how to maximize your Lightning Lane reservations.
Let us know in the comments: Would you purchase Genie+ for a visit to Disney World with a toddler?
---
James is a lifelong Disney Parks fan. While at the parks, he loves finding new details, learning more about Disney World history, and taking pictures. His favorite WDW attractions include Rise of the Resistance, Spaceship Earth, and Tower of Terror.
James is a filmmaker and writer based in Atlanta, GA.
All author posts