Want to give your toddler a perfect day at Disneyland? This guide will show you the best rides and activities throughout the Happiest Place on Earth. While Disneyland has a reputation for being amazing for families, navigating the park with a toddler can be a little trickier. Your little one won't be able to ride every single ride, and there are rides that you should avoid because they are too scary or too intense. Avoid a Mickey Meltdown and navigate the park like a pro with this toddler guide to Disneyland.
First of all, there's so much more to do at Disneyland with a toddler than just go to Fantasyland. I've heard from multiple parents that they just went to that section of the park and assumed that that was the only kid-friendly zone. While it's true that Fantasyland has a great lineup of toddler-friendly favorites, there's something that you can do with your little one in every section of the park. Keep in mind that there's much more to do than just go on rides.
Update 1-30-2023: Disneyland just opened Mickey & Minnie's Runaway Railway, which is one of our favorite toddler attractions at Hollywood Studios in Disney World. We've updated this guide with that recommendation, plus more updated information.
Table of Contents
Best Rides and Attractions for Toddlers at Disneyland

Rides to Avoid with Toddlers

Rides Where You Should Use Your Own Judgement

Best Activities for Toddlers at Disneyland

Where to Find Characters at Disneyland
Best Rides and Attractions for Toddlers at Disneyland
With a little one, you will want to seek out the rides without height requirements, as most rides with height requirements will be out of reach for most toddlers. There are two exceptions that I will note below. I'll break this portion up into my favorite attractions for toddlers, as well as other rides your little one is sure to love.
Toddler-Friendly Favorites with

No Height Requirement
it's a small world (Fantasyland) – In my opinion, this is the undisputed king of toddler rides at Disneyland. This is the original and best iteration of "it's a small world," which was updated to cleverly include some favorite Disney characters throughout. From the enchanting clock tower out front to the gentle boat ride around the world, "it's a small world" is stimulation overload in the cutest and best way.
Peter Pan's Flight (Fantasyland) – Short, sweet, and magical, Peter Pan's Flight will give your little one a unique view over London and Neverland. This ride has some dazzling effects that will wow you and your little one. Two pieces of advice: the line for this ride can be very long and very boring. Try to get to the park before opening and head straight to this ride first for the shortest possible line. Also, the ride vehicle can jerk to a sudden stop at the end of the ride, so hold onto your little one tight.
Dumbo the Flying Elephant (Fantasyland) – A flight of passage for any toddler's first time to Disneyland. This aerial carousel is a kid-friendly classic for a reason. Take to the sky in your very own flying elephant. This ride is short and sweet, perfect for your short sweetie.
Mickey and Minnie's Runaway Railway (Mickey's ToonTown) – Mickey and Minnie finally have a ride of their very own at Disneyland. Enter the El CapiTOON theater and step into the cartoon world of the delightful and bonkers Mickey Mouse shorts. Along the way, you'll see favorites that your toddler will recognize, like Goofy, Donald, Daisy, and even Pete. This trackless dark ride is colorful, zany, and stimulation overload in the best way. The ride vehicle zips around and even vibrates in an unpredictable manner, but it's never overly intense in any way.
The first time I went on with my toddler, I was worried it might be too much stimulation overload, but my little guy was delighted by the bright colors and seeing his favorite characters.
Casey Jr. Circus Train (Fantasyland) – Kids love trains. Kids love animals. So hop aboard this zoo-themed train for a genuinely fun ride above Fantasyland. There are some great views of the dioramas from Storybookland Canal Boats, and because this ride is somewhat tucked away in the back of Fantasyland, it usually has a short wait.
Storybookland Canal Boats (Fantasyland) – When it comes to toddler rides, things are better on a boat. This gentle ride will take you on a tour of the fantastical lands featured in Disney tales, from Agrabah to Arendelle.
Disneyland Railroad (Main Street, New Orleans Square, Toontown, Tomorrowland) – Once again, kids love trains, so why not take them on the best train ride Disney has ever made. There are four stations, listed above, so you can hop in and hop off whenever you want. My suggestion is to do the Grand Circle Tour of Disneyland by starting in Main Street and going all the way around. On the last leg of the tour between Tomorrowland and Main Street, there is an animatronic display of dinosaurs featuring mildly intense music. If your little one is very easily scared, you might want to avoid this part of the ride, but in general I don't think this is too scary.
Enchanted Tiki Room (Adventureland) – This makes the favorites for a very personal reason: this was my son's favorite attraction on his first trip to Disneyland. It's easy to see why. There are bright and colorful birds, catchy songs, and the entire room comes alive in a surprising and delightful way. There is one short segment where it gets dark and a "storm" blows through, but it is very short-lived.
The Many Adventure of Winnie the Pooh (Critter Country) – This cute ride gets a bit of a bad rap, as it replaced the beloved Country Bear Jamboree. It's not the greatest dark ride ever created, but it's very toddler-friendly and it almost never has a long line because it's a bit out of the way in Critter Country, just past the Hungry Bear Restaurant. Since the odds are high that you won't have to wait more than 5 or 10 minutes, this easily makes the list of favorites for toddlers.
Other Great Rides for Toddlers
Buzz Lightyear's Astro Blasters (Tomorrowland) – Your toddler might be too little to enjoy the shooting gallery game, but the bright colors, robots, and aliens will be exciting for them.
Finding Nemo Submarines (Tomorrowland) – Go on a trip under the water with Nemo and friends. The underwater views will be mesmerizing for small kids.
The Monorail (Tomorrowland, Downtown Disney) – Once again, kids love trains, and what's better than a train that glides through the sky? You get some great views over Tomorrowland and California Adventure. There are only two stops: Tomorrowland and Downtown Disney. If you are getting in at Tomorrowland, you are pretty much committing to a round trip unless you want to leave the park. The monorail could be a great way to start your day by entering at Downtown Disney — they'll scan your ticket there.
Jungle Cruise (Adventureland) – This ride matches my better on a boat theory with animal animatronics. The puns will fly right over your little one's head, but there's enough to see on this ride that it won't matter. One tip: The Skipper usually fires a cap gun at the section to scare off the hippos. This loud noise could upset your toddler, so cover their ears before they fire, especially if you are seated close to the front of the boat.
King Arthur Carrousel (Fantasyland) – This is a surefire hit with a toddler, and it usually has a short wait. I'd put it as a lower priority, as it's similar to a carousel that you could find elsewhere.
Alice in Wonderland (Fantasyland) – With updated projection graphics, this ride never quite gets into the realm of too scary like some other rides, instead being magical and weird, just like its source material.
Snow White's Enchanted Wish (Fantasyland) – A classic dark ride that was recently updated to be less scary and more enchanting.
Astro Orbiter (Tomorrowland) – An aerial carousel like Dumbo, but instead you're in a rocket ship.
Main Street Vehicles (Main Street) – Take a short ride down Main Street in a variety of throwback vehicles, such as a horse-drawn trolley, the double-decker omnibus, or an old-fashioned fire truck.
Mad Tea Party (Fantasyland) – If your kiddo loves to get dizzy, you can spin them right round in Fantasyland.
Height Requirement Within Reach for Some Toddlers
Autopia (Tomorrowland) – While the height requirement to drive an Autopia car will be too tall for toddlers, the 32" height requirement to ride will be within reach depending on your child. This ride is fun, but I wouldn't wait in too long of a line for it.
Rides to Avoid with Toddlers
Most rides to avoid are self explanatory, like Space Mountain or Splash Mountain, which are thrill rides with height requirements. Instead, I'll be highlighting the rides that you could take your toddler on but should avoid, as they are too scary or too intense. Of course, use your own judgement for each of these rides, but I want to highlight them as you could easily think they are meant for kids.
Pinocchio's Daring Journey (Fantasyland) – Dark, creepy, and genuinely upsetting. It's located in Fantasyland, so you will probably think "Oh, this is perfect for little kids." We took our son on it, and he did fine, but I wouldn't take him on it again.
Mr. Toad's Wild Ride (Fantasyland) – The plot of the ride is that you die in  a car accident (possibly fueled by alcohol) and go to hell. It will most likely go over your toddler's head, but it doesn't exactly scream "kid friendly."
Roger Rabbit's Car Toon Spin (Toontown) – Due to the nature of this ride, there is no lap seating. With the spinning and the speed, I think this ride is a bit too intense for toddlers, and the scenes veer more towards scary than silly.
Rides Where You Should Use Your Own Judgement
These rides could really be a toss-up as to whether you should bring your toddler on them, either due to ride intensity or ride content.
Chip 'N' Dale's Gadget Coaster (ToonTown)– This roller coaster may be pushing it for most toddlers both in terms of the 35" height requirement and intensity, but the Gadget Coaster is a great first coaster for little kids. (Note: this ride reopens on March 8, 2023)
Haunted Mansion (New Orleans Square) – Haunted Mansion is a classic, and it has no height requirement. But it is a haunted house full of grim grinning ghosts. We chose to skip this ride with my 1 year old. It probably wouldn't have scared him as he was too young to understand the creepy parts, but we didn't want to risk ruining the day by taking him on a ride that could scare him.
Pirates of the Caribbean (New Orleans Square) – On one hand, this is a boat ride with a lot to see that could be visually engaging. On the other hand, you have two drops, skeletons, fire, gunshots, and plenty of pirate misadventure that could scare a toddler.
Best Activities for Toddlers at Disneyland
There's so much more to do and enjoy at Disneyland than just the rides! Here are some activities that toddlers will love, some with no line required.
One activity that we found was great for our son was to let him walk around. It gave him a nice break from the stroller and let him explore to his heart's content. As I detailed in the 10 Surprising Must-Pack Items for Toddlers at Disney, having a harness/leash was actually a huge help in safely giving him some independence. Here are some great less-crowded areas for exploration and play.
Let your toddler explore in ToonTown — ToonTown has a lot of great areas to let your kid roam around and explore. They are at an age where their curiosity is growing, so let them walk around and see the cartoony world of Mickey and Minnie. When ToonTown fully reopens in March 2023 after a reimagining, it will feature more green spaces designed to let little ones run around.
Let your toddler roam around Star Wars: Galaxy's Edge — Both of the rides at Star Wars: Galaxy's Edge have a height requirement, but that doesn't mean your little Ewok can't have a blast in Batuu. Built with extra-wide walkways, Galaxy's Edge is great for letting your toddler run around if you go during an uncrowded time of day. We went during the evening and it was fantastic. Here are a few activities that you can enjoy with a toddler in Galaxy's Edge.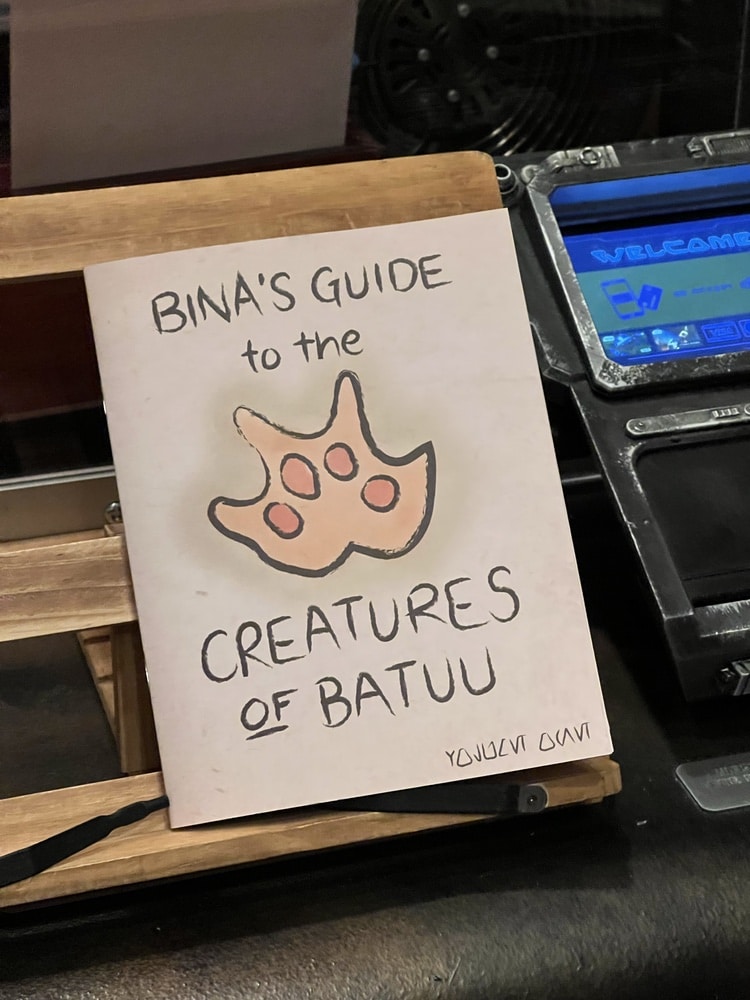 Explore The Marketplace – Your toddler will love seeing the toys and stuffed animals in each stall.

Look Inside The Droid Depot – You don't need to build a droid in order to see the assembly line.

Go on a Creature Hunt – At the Creature Stall in the marketplace, you can get Bina's Guide to the Creatures of Batuu, a free book that details the different alien species found in Black Spire Outpost. It will give you a guidebook on how to find different alien creatures throughout the land. 
Look at the Magic Windows on Main Street – Around the Emporium, there are several windows depicting scenes from classic Disney and Pixar movies. They will magically transform and animate. Take your toddler to look at each window. They'll love it.
Parades, Fireworks, and Shows – Parades and shows are a hit with toddlers. Here's everything you can see currently at Disneyland.
Wondrous Journeys – Nightly Fireworks and Projections show. Best viewing is on Main Street. We preferred finding a spot towards the beginning of Main Street (near the flagpole), since the pyrotechnics aren't as loud there.
Magic Happens Parade (Returns February 24) – Disneyland's daily parade returns February 2023, featuring Mickey, Moana, Elsa, Miguel from Coco, and more.
Mickey and Friends Cavalcade – Mini parade performing throughout the day.
Tale of the Lion King – Stage show featuring music from Disney's The Lion King. Located at the Fantasyland Theater near it's a small world and the entrance to ToonTown.
it's a small world Encanto Projection show – Nightly projection show on the outside of the it's a small world building.
Fantasmic! – An amazing show featuring Mickey and a whole cast of characters. This might land in the "use your own judgement" category since it has some scary sequences.
The Main Street Electrical Parade and Fantasmic will be returning at some point this year, with Fantasmic landing more in the "use your own judgement" category since it has some scary sequences.
More live entertainment will return throughout the year, so be sure to check the entertainment guide on the day of your visit to see what shows you can watch with your toddler.
Where to Meet Characters at Disneyland
Seeing characters can be one of the biggest thrills for a toddler at Disneyland. Traditional meet and greets returned to Disneyland in 2022, and so now your toddler can meet their favorite character, plus hug them, give them a high five, get a picture with them, and receive an autograph. 
Main Street Train Station – Characters like Mickey, Minnie, Donald, Daisy, Goofy, Chip, and Dale will appear here throughout the day, and they usually wave goodbye toward the end of the night.
Pixie Hollow – Meet Tinker Bell, to the right of Sleeping Beauty Castle just off the hub (as you head toward the Matterhorn).
ToonTown – Meet Mickey, Minnie, Goofy, Chip, and Dale (reopening in March 2023).
Fantasy Faire – Just to the left of Sleeping Beauty's Castle by the hub, you can find princesses galore and other fairytale characters at Fantasy Faire.
Frontierland – Meet Mirabel from Encanto near Rancho del Zocalo. Meet Jessie from Toy Story near Big Thunder Falls, on the trail near
Critter Country – Meet Pooh and friends at Pooh's thotful spot, near The Many Adventures of Winnie the Pooh.
Be sure to check out our other articles meant to help you enjoy Disneyland with a toddler:
Do you have any other recommendations for taking a toddler to Disneyland? Let me know in the comments below!
---
James is a lifelong Disney Parks fan. While at the parks, he loves finding new details, learning more about Disney World history, and taking pictures. His favorite WDW attractions include Rise of the Resistance, Spaceship Earth, and Tower of Terror.
James is a filmmaker and writer based in Atlanta, GA.
All author posts