What are the best ways to save money on Disney World food? In this post, we'll share 11 tips, strategies, and hacks that we use on every trip to save hundreds of dollars on our WDW dining.
There's not getting around it: food can be one of the biggest line items in a Disney World budget. With dozens upon dozens of great restaurants and bars, Disney World is a culinary wonderland. We love eating at Disney World as much as we love going on the rides. A dinner at Be Our Guest makes for an unforgettable evening, and Dole Whips are downright addictive.
However, there's one criticism about dining at Disney that almost universally rings true. Food at Disney World can be expensive. This gets more true with each passing year. It's sometimes shocking how much certain items have increased in price. Soda that was under $2 a few years ago has now more than doubled in price, and this trend has no signs of stopping.
It's our mission at Guide2WDW to help you save time and money along the way to having the best Disney World vacation ever.
So, what can you do about the rising cost of dining at Disney World? You can use these money-saving dining tips to avoid wasting money.  Follow this guide, and you can save big on dining at Disney World.
Update 04-27-2023 – We've updated our money-saving tips with new information, as well as included a video version of this article.
Video – Disney World Dining Hacks
Subscribe to Guide2WDW on YouTube for more Disney World videos.
1) You can always order just the entree without sides at WDW counter service restaurants
On most Disney World quick service restaurant menus, you'll see something like "Cheeseburger, served with fries." Despite what the menu says, you don't have to get the combo. Quick service restaurants will sell you the entree only at a discounted price, even though this isn't listed on the menu. If you're not that hungry or not interested in a certain side, just ask for the entree only. Don't waste money on food you don't want or won't eat.
2) ABD: Always Be Discounting
Here's one of our go-to Disney World tips: always ask what discounts a restaurant offers.
Disney World restaurants actually offer discounts to several membership groups. Disney World Annual Passholders, Disney Vacation Club members, Disney Visa Cardholders, AAA/CAA members, D23 Gold Members, and others can all get a healthy discount off of their meal. The problem is that the discounts aren't consistent, making them hard to keep track of as you tour WDW.
Disney Annual Passholders get 10-20% off at select restaurants and kiosks, and it varies per location. For example, Teppan Edo at Epcot only offers a 10% discount to Annual Passholders during lunch, while Joffrey's Coffee locations offer 20% off all day long. Disney Visa Card offers 10% off select dining locations, but they aren't the same locations as the Annual Passholder list. AAA members get discounts at Disney Springs locations like Earl of Sandwich and Girardelli, but nowhere in the park. Adding to the complexity, the discounts can change per season. So if you dined somewhere on your last vacation, there's a chance they could be offering a new discount.
Instead of keeping all of this information in your head or checking against a lengthy PDF every time you dine out at Disney World, just ask your server or the cast member at the register if they offer any discounts. Make this a habit whenever you check out at Disney World, and you'll never miss out on saving serious money on your meals.
3) Sign up for loyalty programs
Several of the restaurants at Disney World and Disney Springs have loyalty programs that will give you free meals, discounts, or reward points. Many of these are free, but all of these are worth looking into.
4) You can split your meals, especially at counter service restaurants
The portions at Disney World tend to be on the massive side. It is an epic feat of human accomplishment finish the chicken and ribs combo at Flame Tree BBQ solo. While this won't work for every single meal or for every single diner, it is possible to split some of the larger meals among two people.
This works well at counter service restaurants, as there's nothing stopping you from splitting an adult entree between two members of your party. Your luck may vary at table service restaurants. My family has never had an issue whenever we've requested to split a meal between two of us, but I've read some accounts online of guests being denied this request.
5) Adults can order off of the kids menu at counter service restaurants
Disney World: where a slightly hungry adult can dine like a kid again. While the menu states that kids meals are for guests ages 3-9, there's nothing stopping an adult from ordering off of the kids menu (besides possible embarrassment). But don't sweat it too much! Sometimes you're just not that hungry, and a 4 count of chicken nuggets will hit the spot. If you're traveling with a family, it's easy to blend your kid meal request in with the rest of your family's order. But if you're worried about getting any flack from a cast member (you won't), you can just use mobile order to avoid any social interaction.
6) Maximize your time and your budget by eating breakfast in your hotel room
If you want to ride the most rides, the mornings can be the most important part of the day for your Disney World trip. The first hour or two of park opening tend to be the least crowded. So if you want to go on Slinky Dog Dash or Flight of Passage with a short wait, your best bet is to get to the park before it opens. Taking time to grab breakfast during these pivotal first two hours might mean you miss out on an attraction, or it could mean that you risk hangriness if you skip breakfast altogether.
Our recommendation is to eat a quick breakfast in your hotel room as soon as you get up for most days. Many hotels will include free coffee in your room, and it's fairly easy to get bananas, cereal, and protein bars that can make for a quick and cheap first meal (see our tip above about ordering groceries to your room). Ask ahead to see if your hotel room has a fridge for milk. If not, use a collapsable travel cooler like I listed above. Just ask your hotel for bowls and spoons. You don't have to do this every day, as Disney World has some amazing breakfast options. But if you do this most days, you'll save big over eating out every morning, and it will be easier to justify doing that big character breakfast at Magic Kingdom (pictured above).
Bonus Tip: If your family is dead set on doing a character meal, consider doing breakfast over other meals. They are significantly less expensive than the lunch and dinner options, and you meet the same characters. Crystal Palace at Magic Kingdom features Pooh and Friends, while Tusker House at Animal Kingdom features Donald Duck and a few other characters. These character dining options tend to be on the more affordable side compared to something like Cinderella's Royal Table.
7) Choose Disney World restaurants that give you the most bang for the buck.

While Disney World has upped its dining game over the past decade or so, there's still a big gap between the good restaurants and the bland burger factories (I'm looking at you, Cosmic Ray's Starlight Cafe). If you pick the wrong restaurant, you can feel like you're paying a theme park premium for some pretty run of the mill food.
However, if you know where to go, you can find plenty of Disney World restaurants that give a ton of bang for the buck. Disney World food feels much less expensive when it is high quality, so check out these restaurants that we feel provide great food at a reasonable price:
Satuli Canteen – Animal Kingdom
Skipper Canteen – Magic Kingdom
Docking Bay 7 – Hollywood Studios
Ronto Roasters – Hollywood Studios
Connections Eatery – EPCOT
Sunshine Seasons – EPCOT
Cantina de San Angel – EPCOT
Spice Road Table – EPCOT
La Creperie de Paris – EPCOT
Steakhouse 71 Breakfast – Contemporary Resort
8) Use Disney Gift Cards for all of your dining purchases
Disney gift cards can be used at every Disney World and Disney Springs dining location. They act like cash, but, unlike cash, you can often get these gift cards at a discount. You can purchase gift cards from places like Target, Kroger, and Costco to get at least 5% off. For example, if you have a Target Red Card, you can get your Disney Gift Cards for 5% off thanks to the credit card reward. That makes everything you buy at Disney World have a 5% discount before you factor in any other discounts described above. Depending on where you shop and how you use your rewards, you can save huge on Disney Gift Cards. We've done as good as 20-30%. Combine that with Tables in Wonderland's 20% discount, and we saved around 36% on our meals at Disney's best restaurants. These discounts really add up over the course of a vacation.
To learn more about how to save huge at Disney, here's our guide on how to get the best discounts on Disney Gift Cards.
You also don't need to use Disney Gift Cards to save. The same concept applies if you have a credit card that offers cash back in certain categories. My Chase card will sometimes have 5% back at restaurants at certain times of the year, so I'll use that instead of a Disney Gift Card that I've bought at Target.
9) Never buy water bottles in the park
Dasani water bottles are currently $3.75 per bottle in Disney World, and Smartwater is $5.75. Don't waste your money on water bottles!
If there's one tip at Disney World and Disneyland that I wish everyone would know, it's that every counter service restaurant will give you a free cup of water. Even if you aren't ordering anything else. You don't even have to wait in line, just go to the counter and ask for a cup of ice water. Certain counter service restaurants like Pecos Bill will even have a tray on the counter with several cups of water ready exactly for this purpose.
If you want, you can bring a water bottle like a Hydro Flask into the park with you and drink that all day. We love bringing insulated water bottles like this with us, because they have a tight seal that won't leak in your backpack, and the insulation will keep your ice water ice cold all day. You can find them and other similar water bottles on Amazon.
For refills, you can either take the cup of ice water from counter service and pour it in your water bottle. Or you can use the water bottle refilling stations at Cosmic Ray's Starlight Cafe and Star Wars: Galaxy's Edge.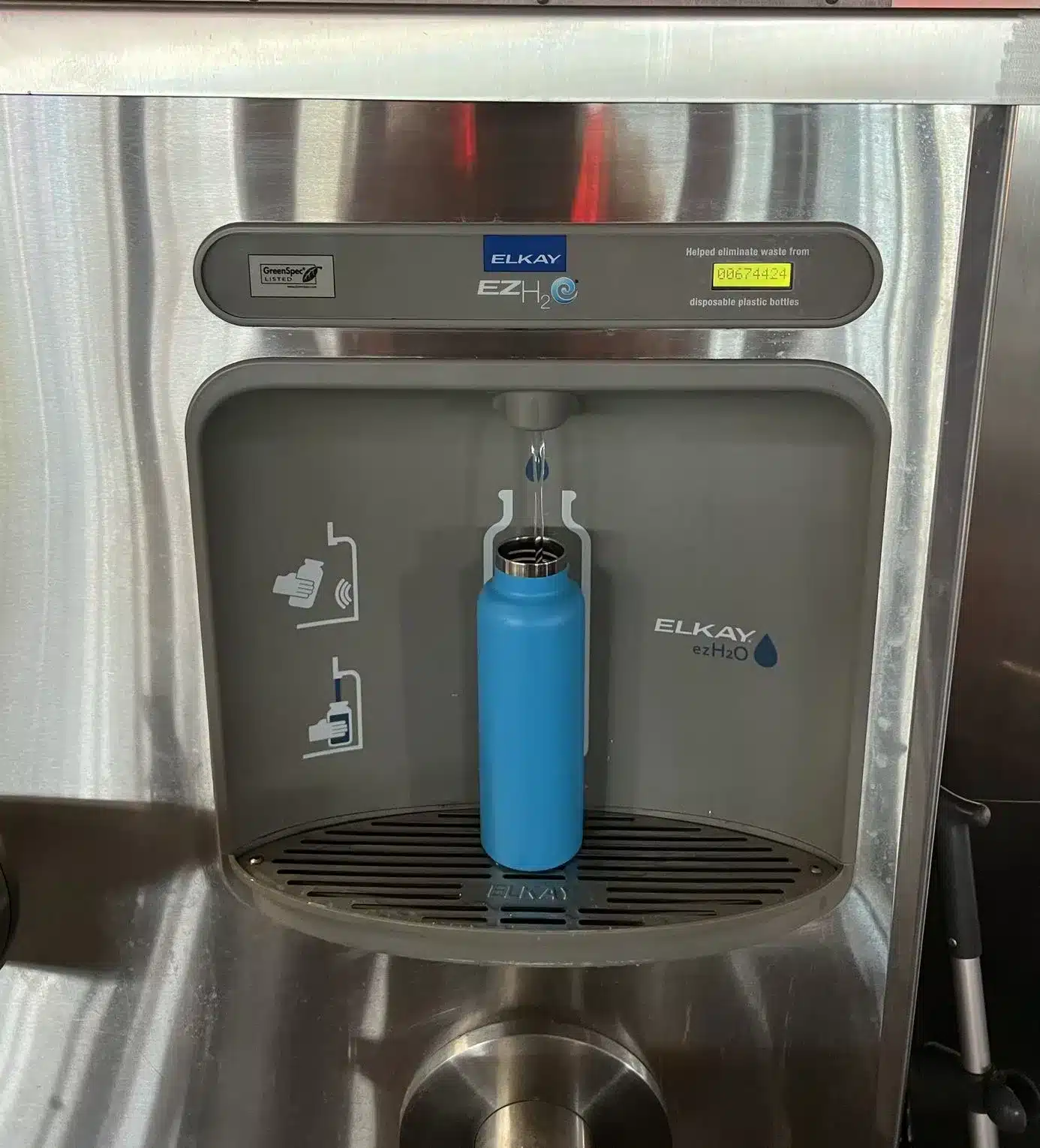 Staying hydrated while you tour the park is so important, so don't miss out on this tip.
10) Bring your own drinks and snacks into the parks
You can save a lot of money by bringing in your own snacks and beverages. Other than alcohol, dry ice, or loose ice (which are all banned), you're allowed to bring in whatever food or beverage you want. Really the only limitation is how much you want to carry around during the day. You could pack a whole sack lunch for your family and keep it in a lightweight collapsable cooler with a reusable ice pack that you keep on your stroller or put into a rented locker. That would be a lot of savings that you could put towards the other meals of the day. If that sounds like a good solution for you, here's a couple of items that will work great.
Collapsable Travel Cooler
Reusable Ice Pack – Allowed in Disney Parks
Or you could just bring a Ziplock bag of pretzels or chips so you're not tempted to shell out $3.50 for a bag of Lays once the mid-afternoon hits. Personally, I like to bring in a bottle of Gatorade to stay hydrated and a couple of Kind bars. This is lightweight enough that it fits in my daypack, but it will keep me tided over between meals.
Bonus Tip: If you have a car during your stay at WDW, it's a good idea to make a run to the grocery story early in your trip. You can stock up on essentials, and it will help to not have to eat out for every single meal. Alternatively, you can use a grocery delivery service like Instacart or Amazon Prime to get food delivered to your room.
11) Get discounts on bottled beverages and snacks at retail shops
It's a hot day in Orlando, and that bottle of ice cold Coca Cola at the popcorn stand looks so enticing. But wait! Think twice before you buy bottled beverages or snacks from the snack cart. Most snack kiosks don't offer any sort of Annual Passholder or DVC discount. However, all retail stores offer great discounts for APs and DVC members, and many of them sell the same bottled Coke products and a selection of snacks. So instead of shelling out for the full priced Powerade at a kiosk, you can save 20% by buying it in a nearby gift shop if you have one of these memberships. The candy shop on Main Street is technically a retail location, so you can stock up on candies and snacks at a discount.
We want to hear from you!
There you have it: 11 ways to save money on food at Disney World. Most guests don't know about these Disney World dining hacks, so if you know someone who is about to go to Disney World, please share this with them. And let us know in the comments below: What's your favorite way to save money at Disney World?
---
James is a lifelong Disney Parks fan. While at the parks, he loves finding new details, learning more about Disney World history, and taking pictures. His favorite WDW attractions include Rise of the Resistance, Spaceship Earth, and Tower of Terror.
James is a filmmaker and writer based in Atlanta, GA.
All author posts