While getting to Magic Kingdom can be surprisingly tricky, fortunately, Epcot has a lot of different straightforward options on how to get to the park. In fact, it's the only park at Disney World that has an entrance both at the front and the back of the park, which is a good thing, because Epcot is huge! Whether its by car, ride share, monorail, Skyliner, or by foot, you will have your choice of how to get into Epcot.
In this entry of our Guide 2 Disney World Transportation, we will break down how to get to Epcot in every way possible.
Update 7-6-2022: Minnie Vans have returned to Disney World. This article has been updated to include information on EPCOT's drop off and pickup location for Minnie Vans.
What Is Epcot's Address?
200 Epcot Center Dr, Lake Buena Vista, FL 32830
Wait, Epcot has two entrances?
Yes, you can enter Epcot through the main entrance that leads into World Celebration by Spaceship Earth, or the International Gateway, which is also known as Epcot's "back entrance." Epcot's International Gateway is located between France and the United Kingdom in the World Showcase.
The parking lot, buses, and monorail will lead you to the main entrance, while the Epcot resorts, Friendship Boats, and Skyliner will let you enter through the International Gateway.
How to Get to Epcot if You're Driving
If you are driving to Epcot, the fastest way is to park in Epcot's parking lot. Epcot technically has 7 different lots:
Wonder Parking Lot
Imagine Parking Lot
Journey Parking Lot
Discover Parking Lot
Create Parking Lot
Amaze Parking Lot
Explore Parking Lot
These different lots are actually different sections of one massive uncovered parking lot that sits in front of the entrance into World Celebration by Spaceship Earth. The Journey, Amaze, and Imagine Parking Lots sit closest to the park's entrance, but the entire lot fills up first come, first serve, so the first guests will be able to park closest to the entrance. If you arrive later in the day, you might get lucky with a closer spot, since some of the guests who arrived in the morning will have left.
So if you're driving to Epcot, set your GPS for 200 Epcot Center Dr, Lake Buena Vista, FL 32830. Once you get into Disney World, you'll be able to get into Epcot from World Drive, just follow the sign that points toward the Epcot exit. You'll pass through the Epcot Toll Plaza Visitor Entrance and then enter the parking lot. After parking, walk toward Spaceship Earth – the giant sphere that's the icon of the park. From there, you'll be able to enter the park.
How to Get to Epcot by Walking
How can you walk to Epcot? You can actually walk to Epcot from any of the Epcot area resorts and even Hollywood Studios. There is a long waterside pathway that stretches all the way from Hollywood Studios to Epcot's International Gateway Entrance.
From closest proximity to Epcot to furthest, here's everywhere you can walk to Epcot from.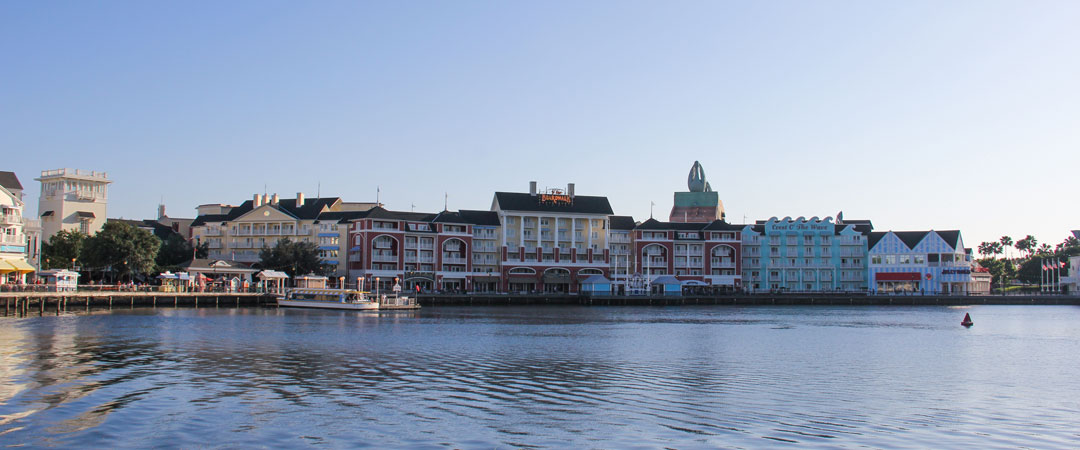 Disney's Boardwalk Resort
Disney's Yacht Club Resort
Disney's Beach Club Resort
Walt Disney World Swan Hotel
Walt Disney World Dolphin Hotel
The Swan Reserve
Disney's Hollywood Studios
If you are walking from Hollywood Studios, leave the park and veer toward the right near the parking lot. There's a walkway that follows along the water. As you walk past the Boardwalk Resort, veer right and walk along the Boardwalk. Then veer right again after the bridge to walk to the International Gateway.
Here is a map highlighting the walking paths from Hollywood Studios through the Epcot area resorts to Epcot's International Gateway entrance.

How to Get to Epcot by Boat
If you don't feel like walking, you can also take a boat from any of the locations mentioned in the walking section. Disney World has Friendship Boats that runs the following route to Epcot:
Disney's Hollywood Studios
Walt Disney World Swan and Dolphin Hotels
Disney's Beach and Yacht Club Resorts
Disney's Boardwalk
Epcot International Gateway Entrance
Most routes run on a 15-30 minute interval. Just look for the signs that say "Friendship Boats to Epcot." The Friendship Boats also run the opposite route toward Hollywood Studios, so be sure to make sure you are in the line for Epcot.
How to Get to Epcot by Skyliner
Disney World has a relatively new suspended gondola system called the Skyliner. Depending on your origin and your destination, a Skyliner trip can take anywhere from 3 to 15 minutes. The Skyliner goes pretty high above Disney World, which offers great views but you might want to avoid it if you are afraid of heights. The Skyliner runs until 1.5 hours after Epcot closes.
The Epcot Skyliner station is located outside the International Gateway entrance.
The Disney Skyliner has stations at the following locations:
Epcot International Gateway (End of Line)
Disney's Hollywood Studios
Disney's Caribbean Beach Resort (The Skyliner Hub / Transfer Station)
Disney's Riviera Resort
Disney's Pop Century Resort / Disney's Art of Animation Resort (Shared Station – End of Line)
How to Get to Epcot by Monorail
Guests can use the Epcot Monorail line that runs from the Transportation and Ticket Center (TTC) to Epcot and back. If you are at the TTC, look for the Epcot Monorail sign. If you are at Magic Kingdom or one of the monorail resorts (Contemporary, Polynesian Village Resort, and Grand Floridian), your quickest option for getting to Epcot will be to take a monorail to the TTC. You will need to exit your monorail at the TTC and walk to the Epcot Monorail. There is no monorail that goes directly from Magic Kingdom to Epcot.
The Epcot monorail station is located just outside the main entrance that enters into World Celebration.
How to Get to Epcot by Bus
Epcot has a bus station located near the monorail station, just outside the main entrance. If you want to get to Epcot from the following locations, the Disney World bus system is your best bet:
Disney's Animal Kingdom
Disney Resorts (non-monorail, non-Skyliner, and non-Epcot Area resorts)
Disney Good Neighbor Hotels
How to Get to Epcot
 

If You're Coming from Magic Kingdom

Exit Magic Kingdom. Go to the TTC either by monorail or by boat. At the TTC, board the Epcot Monorail, and take that to the Epcot entrance.
How to Get to Epcot If You're Coming from Hollywood Studios
Exit Hollywood Studios, and take one of the following options:
Take the Friendship Boat to Epcot's International Gateway Entrance
Take the Skyliner to Epcot's International Gateway Entrance
Walk the walkway through the Boardwalk to Epcot's International Gateway Entrance
How to Get to Epcot If You're Coming from Animal Kingdom
Exit Animal Kingdom and take the Epcot bus to Epcot's main entrance.
How to Get to Epcot If You're Coming from Disney Springs
Take the bus to either the Boardwalk or Yacht/Beach Club. From there, walk to Epcot's International Gateway Entrance.
How to Get to Epcot If You're Staying at a Disney Resort or a Good Neighbor Resort
You will have a few different options depending on where you're staying. Here are the best ways depending on which resort you're at:
Epcot Area Resorts – Boardwalk, Yacht and Beach Clubs, Swan, Dolphin, and Swan Reserve: Use the walkway or Friendship Boats
Skyliner Resorts – Riviera, Caribbean Beach, Pop Century, Art of Animation: Use the Skyliner or bus
Monorail Resorts – Contemporary, Grand Floridian, Polynesian: Take the monorail to the TTC and then transfer to the Epcot monorail. Or take the bus.
All other resorts – Use the bus
Minnie Van Drop Off and Pickup Location
Minnie Vans are Disney World's official on-demand ride share vehicles that service official WDW properties. They cost more than a typical Uber or Lyft, but one of the big advantages is that they can drop you off and pick you up closer to the theme park entrances.
The EPCOT Minnie Van drop off is a little closer to the park entrance than the regular ride share drop off location. The Minnie Van drop off zone is near where the Disney busses drop off, near the World Celebration main entrance. The ride share drop off zone is a little bit further into the parking lot.
Minnie Vans service official Disney World hotels, theme parks, and Disney Springs. You can summon a Minnie Van through the Lyft app. Find out more about how to ride in a Minnie Van in our guide.
Can I take an Uber or Lyft to get to Epcot?
Yes! It will drop you off at the designated ride share drop-off and pickup outside the main entrance.
If you found this helpful, be sure to check out our other entries in the Guide 2 Disney World Transportation.
---
James is a lifelong Disney Parks fan. While at the parks, he loves finding new details, learning more about Disney World history, and taking pictures. His favorite WDW attractions include Rise of the Resistance, Spaceship Earth, and Tower of Terror.
James is a filmmaker and writer based in Atlanta, GA.
All author posts