If you want to avoid the tricks and enjoy the treats this Halloween at Disney World, Guide2WDW is here with 13 tips for Mickey's Not So Scary Halloween Party. Magic Kingdom's spooky celebration is one of our favorite events at WDW. However, it can be overwhelming to know how to make the most of your time at MNSSHP.
First of all, Mickey's Not So Scary is a premium party, meaning that you have to buy a separate ticket for this event. Tickets for this five hour party can cost up to $200 per person.
With a high ticket price and a short amount of time, the stakes can feel really high. I've definitely felt the pressure to maximize the value of my ticket when I've gone to the party.
But you don't need to feel that same type of pressure.
Guide2WDW is known for our helpful and fun Disney World tips, and today we are sharing our 13 best tips for Mickey's Not So Scary. These tips will help you get more time in the park, avoid lengthy waits, and pick the right priorities to have a delightfully spooky evening.
Update September 8, 2023 – We just added a video version of these MNSSHP tips to the Guide2WDW YouTube channel, which you can watch below.
13 Tricky Tips for Mickey's Not So Scary Halloween Party – Video
For more Disney World videos, subscribe to Guide2WDW on YouTube.
#1 – Arrive early to Mickey's Not So Scary Halloween Party
One of the best ways to make the most of your party ticket is to get into Magic Kingdom as early as possible. You may not realize this, but you can enter the park significantly earlier than the party start time.
Mickey's Not So Scary Halloween Party runs from 7 PM – 12 AM. However, party guests can start getting into Magic Kingdom starting at 4 PM.
That's 3 extra hours where you can go and enjoy all of Magic Kingdom park!
Some of the party character meet and greets even start before the party begins, such as meeting Jack and Sally at Town Square Theater.
#2 – Avoid traffic getting to the party
Traffic getting to Magic Kingdom might be the biggest nightmare of the Halloween party. The toll plaza can get jammed with hundreds of cars, especially between 4-7 pm, when most party guests arrive.
Avoid getting delayed by planning ahead. Taking Disney transportation like the busses is a good way to circumvent the traffic.
Our favorite strategy is to get lunch at one of the monorail resorts: The Grand Floridian, Polynesian Village Resort, or the Contemporary. You can park at the TTC well before the party begins and take the monorail over.
Once your lunch is done, just hop on the monorail around 3:30 to head over to Magic Kingdom.
You can also walk from the Contemporary or Grand Floridian.
#3 – Don't try to do everything at the party
Even by showing up as early as you can, it's still impossible to do everything at Mickey's Not So Scary. Some of the rare meet and greets like Jack and Sally or The Seven Dwarfs can have multi-hour waits.
Pick your priorities. Personally, I would consider the following must-do's.
The Boo To You Parade
The Not-So-Spooky Spectacular Fireworks
The Hocus Pocus show
I would build my plan around those three shows, adding character meet and greets, specialty food, or trick or treating when the opportunities arise.
Your list might be slightly different, such as meeting the Seven Dwarfs or seeing the Cadaver Dans. But having a smaller list of priorities that you plan around will help you avoid the party FOMO and pressure to do every single thing.
#4 – The second showing of the Boo to You parade is less crowded
I made this mistake the first time I went to MNSSHP. I had heard that Boo to You was Disney's best parade, and it lived up to the hype.
However, I was so nervous to get a good spot that I lined up a full hour before the parade started.
I got a great spot, and it was worth it. But I didn't need to spend quite that much time waiting, because the second showing of the parade is significantly less crowded than the first one.
I'd recommend making the second parade your priority, since you don't have to wait quite so long to get a good viewing spot.
If you really want to boo it up, you could also grab a last minute spot for the first parade, and then get a good spot for the second parade by lining up 15-30 minutes early.
#5 – Skip table service meals during the party
Both Cinderella's Royal Table and Be Our Guest are open during Mickey's Not So Scary Halloween Party. They are two of the most popular restaurants at Disney World.
Do not eat there during the party.
It can be tempting to grab an ADR for either of these restaurants, because they can be so hard to get normally.
However, you are paying a ton of money for a premium party ticket. Do not do an activity that you can do during regular park hours that will take up 1-2 hours of your time.
#6 – Skip the Jack & Sally meet and greet
In 2023 so far, the line for the Nightmare Before Christmas meet and greet with Jack & Sally has been astronomical. As soon as the party starts, the line for this charmingly creepy pair jumps up to well over an hour. The longest wait I've seen during the party was well north of 3 hours.
That's too long of a wait for one activity while your time is so limited.
If you really want to meet Jack and Sally, line up at Town Square Theater before the meet and greet starts at 4 PM. You might still have to wait a long time ahead of this meet and greet starting, but you'll have more time during the party for other activities.
#7 – Trick or Treat at the end
One of the most fun perks of MNSSHP is the free candy! You can get a ton of candy at the trick or treat stations and trick or treat trails.
In 2023, cast members are now dispensing candy with scoops instead of just grabbing it with their hands. This is resulting in even more candy being given out.
And you could already get a ridiculous amount of candy.
You should do most of your trick or treating at the end of the party. You do not want to be weighed down by 20 pounds of M&Ms and Snickers as you explore the park.
If you want a sweet treat, do one stop at the beginning of the party. But wait to do the bulk of your candy gathering until before you head out of the park.
#8 – Skip the fireworks dessert party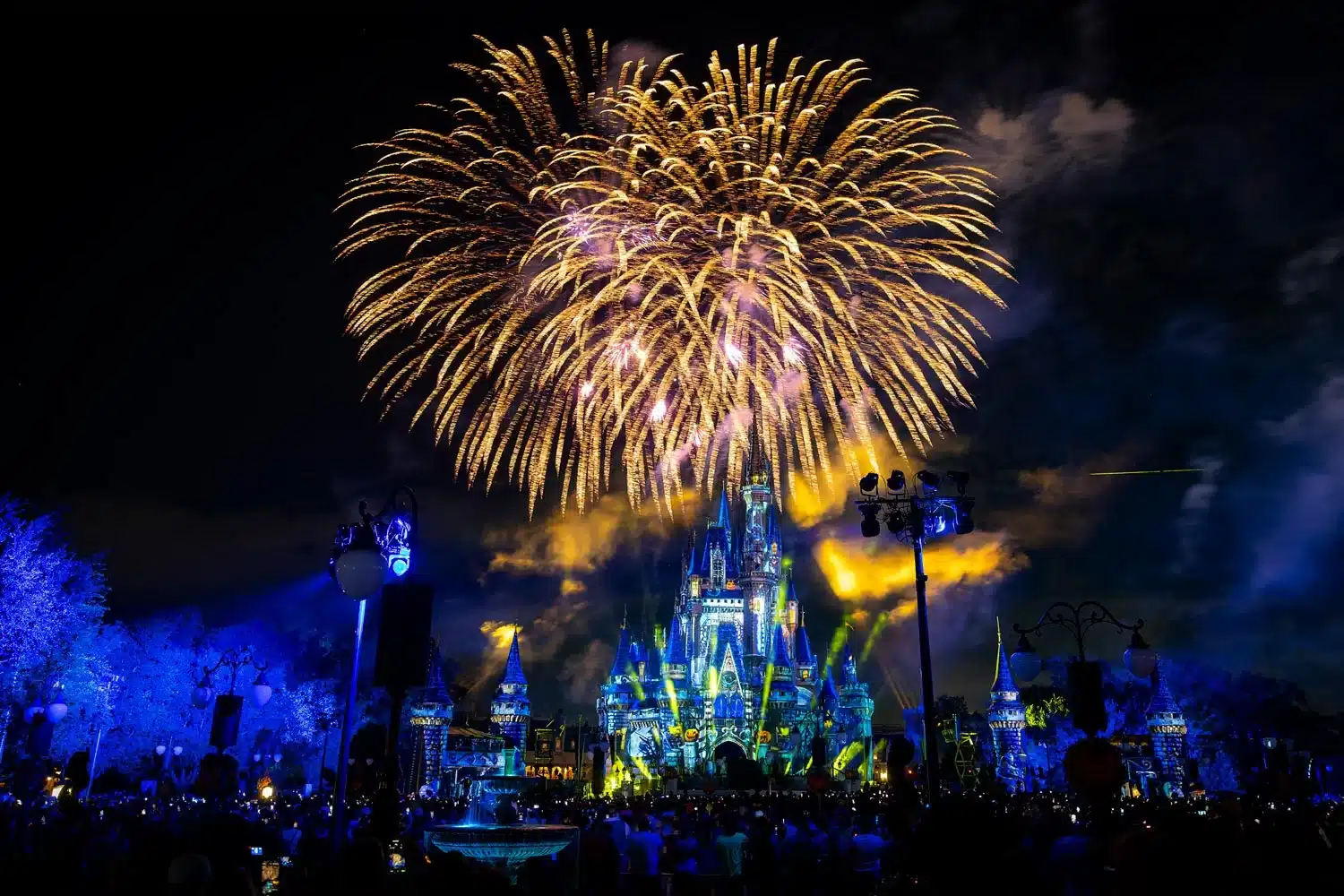 On one hand, the fireworks show is one of the best parts of Mickey's Not So Scary Halloween party. There's a certain logic to paying extra money to enjoy a premium viewing area, plus get some extra desserts.
I don't believe this is a great use of your money.
First of all, it presents the same problem as the table service meals. Going to the dessert party at Tomorrowland Terrace will take up a significant amount of time from a limited time event.
Secondly, it's very expensive. The price this year is $114 plus tax per person for guests 10 and up. Children 3 – 9 cost $69.
Thirdly, while it gives you a good view of the fireworks, it doesn't provide the best view, which is more centered in the hub toward Main Street.
#9 – Know the Tron Virtual Queue opening
If you want to ride Magic Kingdom's newest and fastest roller coaster during the party, you have to join the Tron Virtual Queue. It opens for party guests at 6 PM.
The queue fills up quickly, so be sure to check out our Virtual Queue guide to know the quickest way to join the VQ.
#10 – Don't focus on rides
While one of the benefits of Mickey's Not So Scary Halloween Party is lower than average wait times, you shouldn't focus on rides. Some rides like Seven Dwarfs Mine Train can still have lengthy waits, and the experience is the same as regular park hours.
That doesn't mean you shouldn't go on rides altogether. If there's a short wait time for something, go for it! But you should focus on the activities that are exclusive to the party, which actually does include certain rides.
#11 – Know which rides have special overlays
Magic Kingdom features some light attraction overlays that are exclusive to the Halloween party. If you want to go on the rides that will make you scream "This is Halloween!," here's where you should head.
Space Mountain – Halloween music and lighting
Mad Tea Party – Halloween music and lighting
Monsters Inc Laugh Floor – Halloween themed jokes
Haunted Mansion – Enhanced atmosphere and characters outside the ride. The inside of the ride remains the same.
Note that the Pirates of the Caribbean queue overlay is no longer happening in 2023. Instead, you can see a Pirate Band roaming around Adventureland.
#12 – Pick your costume wisely
The party is not so scary, but the forecast can be downright frightening.
Mickey's Not So Scary Halloween Party runs August through October. Most likely, the temperatures will be extremely hot, especially during the first two months. But things can get pretty sweaty even in October if you don't pick the right costume.
I've made this mistake before while wearing a Star Lord costume. I ended the night as the sweatiest Avenger in history.
When you put your costume together, try to figure out what you can wear that will let you stay cool. Are there any great characters that wear shorts or a skirt? Could you wear tights and shorts rather than pants?
#13 – Ask for a PhotoPass magic shot
The party also features exclusive PhotoPass magic shots, which are photographs that are augmented with special effects. There are tons of special photo ops for your to remember your night throughout the park.
Here are a few of our favorites to look out for:
Hitchhiking Ghosts – In Liberty Square near Hall of Presidents
Poison Apple – Most PhotoPass locations
Huey, Dewey, and Louis – Main Street
Lantern prop – Haunted Mansion
You can find the full list on Disney Parks Blog.
Mickey's Not So Scary Halloween Party Tips Recap
There you have it! 13 tips to help you make sure that you have some silly spooky fun at Mickey's Not So Scary Halloween Party. Be sure to show up early, pick your priorities, and avoid the biggest time wasters. That will help you focus on having fun and make sure you get the most out of your party ticket! Don't miss our other Magic Kingdom tips for the rest of your visit. If you have any questions or tips for MNSSHP, leave them in the comments below!
---
James is a lifelong Disney Parks fan. While at the parks, he loves finding new details, learning more about Disney World history, and taking pictures. His favorite WDW attractions include Rise of the Resistance, Spaceship Earth, and Tower of Terror.
James is a filmmaker and writer based in Atlanta, GA.
All author posts