Why should you stay at an official Disney World Resort? With many great options just off property, that is a great question for anyone planning a Disney World vacation. Staying on property usually will cost more than staying off property, but there are many Disney World Resort perks that could make the extra price justified.
Here's every reason why you would want to choose to stay at a Disney World Resort.
Update January 11, 2023: Disney World has brought back free self parking at their resorts. This guide has been updated to reflect that, as well as a note about free theme park parking.
Proximity to the Parks
Being closer to the parks is the number one advantage some Disney World Resorts have over off property hotels. Being closer to one of the theme parks will save you a ton of time during your WDW vacation. As we've pointed out in our Guide 2 Disney World Transportation, there are several resorts that are within walking distance of three of the parks.
Resorts within Walking Distance to Magic Kingdom
The Contemporary
Polynesian Village Resort
Grand Floridian
Resorts within Walking Distance to EPCOT and Hollywood Studios
Boardwalk Resort
Beach Club
Yacht Club
Swan Resort
Dolphin Resort
Swan Reserve
Even if you're not going to walk to the parks, there are extra benefits, like being able to see the fireworks or Electrical Water Pageant from your hotel. These are little extra bits of magic that make staying at a Disney resort feel worth it.
Free Theme Park Parking
Disney World Resort guests park for free at Magic Kingdom, EPCOT, Hollywood Studios, and Animal Kingdom. Just mention that you are a resort guest at the toll plaza, and be ready to scan your ticket or Magic Band that's linked to your reservation. This resort perk applies to standard parking.
Guest staying at the Swan, Swan Reserve, and Dolphin resorts also receive the free standard theme park parking perk.
More Consistent Free Transportation
Disney World Resorts have a much more robust transportation infrastructure than other hotels in the area. While Good Neighbor hotels (third party hotels that have a special status with Disney) share a lot of the same perks as on property Disney resorts, they usually have much less frequent busses. While a Disney World hotel will have busses that run to the parks around every 20 minutes, the off property hotels usually have busses once an hour. This makes a huge difference if you miss your bus to the park you want to go to.
Plus, certain Disney World Resorts have access to the monorail or Skyliner. If you don't have a car, staying on property will give you many more options for getting to the parks. Three exceptions are the Swan, Swan Reserve, and Dolphin Resorts, as they are the only non-Disney Resorts to have the same level of bus and boat transportation as official Disney Resorts.
Extra Park Hours
One Disney World Resort perk that Good Neighbor Hotels share is access to extra park hours. Formerly known as Extra Magic Hours, the rules for extra park hours have changed throughout the years. Here's the most up to date version of Disney World extra hours for resort guests:
Early Theme Park Entry: Every day at all four parks, resort guests can start enjoying rides 30 minutes before park opening. The park won't be fully open, but the lineup of participating attractions includes the major rides in each park.
Extended Evening Hours: Access to this perk is limited to Disney Deluxe Hotels, Disney Deluxe Villas, Swan, Dolphin, and Shades of Green. On select nights, one theme park will have 2 hours of extended operation for guests at the previously listed resorts. This is currently only running at Magic Kingdom, EPCOT, and Hollywood Studios. For the full Extended Evening Hours calendar, check out Disney World's website.
Earlier Access to Dining Reservations
Disney World Resort guests have a huge leg up when it comes to hard to get dining reservations at WDW.
As I explained in How Early Can You Make Disney World Dining Reservations, dining reservations open up 60 days ahead of time. However, Disney World Resort guests can make dining reservations for their entire trip starting 60 days ahead of the first day of their vacation. So if you're staying at Disney World for 7 days, you can actually make dining reservations for your final day 66 days ahead of time.
Also, being able to make all of your dining reservations at once is a nice quality of life benefit, rather than having to get up at 5:45 am every day 60 days ahead of each day of your trip.
Disney World Resort Tip: Make your dining reservations working backwards from the last day of your trip to the first day of your trip. You'll have an easier time finding reservations for hard to get restaurants like Space 220 for the dates that are beyond 60 days out.
Early Individual Lightning Lane Access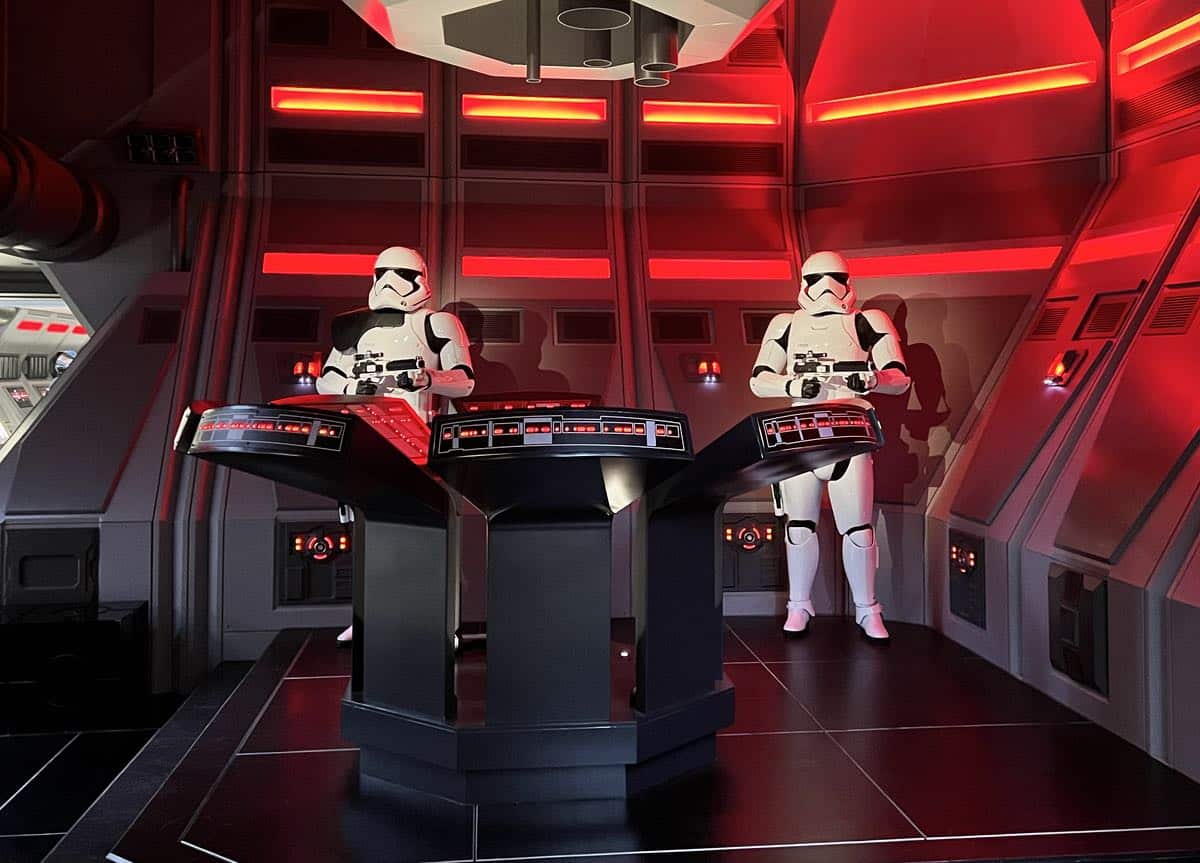 As we explain in our Guide 2 Disney Genie, access to Disney Genie Lightning Lane selections opens up for all guests at 7 am. However, access for Individual Lightning Lane purchases (aka a la carte Lightning Lane) opens at 7 am only for Disney World resort guests. Regular guests get access to Individual Lightning Lane at park opening.
This has proven to be a huge advantage for purchasing Lightning Lane for Rise of the Resistance, which can sometimes sell out by the time the Hollywood Studios opens.
Click here for a full explainer of the difference of Genie Lightning Lane and Individual Lighting Lane.
Free Luggage Tag
Disney World Resort guests used to get a pre-vacation package with Magic Bands and a Luggage Tag. Unfortunately, Disney World has stopped giving away free Magic Bands (although resort guests can still purchase a Magic Band to be shipped to them prior to their trip). While Disney does not send out this package anymore, the free perk isn't entirely gone.
If you go to the front desk at your Disney World resort, you can ask for a free luggage tag as a souvenir for your vacation.
Free Self-Parking at Your Resort
As of January 10, 2023, Disney World brought back free parking at their resorts. This means that you will no longer be charged a per-night fee just to park your car at the resort. Considering that many hotels charge for parking, this is a perk that we're happy to see return.
On Site Amenities and Activities
Every Disney World Resort has a ton of amenities for guests to enjoy whenever they're not in the parks. From incredible pools to outdoor movie nights and even to character appearances, each Disney World resort has a unique lineup of activities that guests should take advantage of.
Best-in-Class Theming
This is my personal favorite Disney World Resort perk. There's a reason why resort hopping has been one of our favorite activities to do outside the parks over the years. There's so much to see in every resort. The real difference between a great Disney World resort and a great hotel somewhere else is the level of theming. When a Disney hotel delivers, the theming is apparent in the entrance, the lobby, the background music, the restaurants, and inside the rooms. This is why people love staying at the Grand Floridian, the Polynesian Village Resort, or Disney's Riviera Resort. These hotels deliver an experience that is not easily had somewhere else.
Should you stay at a Disney World Resort?
This is a difficult question to answer. On one hand, these perks can make for a magical vacation, and staying at Disney can be an awesome experience. On the other hand, you could save money and still get some of these perks at the Swan, Dolphin, or a Good Neighbor resort. Personally, if it fits my budget, I'll always try to stay on property for the convenience. However, I've had many trips where I've stayed at a Good Neighbor Resort and had a blast while spending a fraction of the money.
If you're debating between staying on-property and off-property, reach out to our friends at Vacationeer. Their expert travel agents will have great advice, plus they can help you book everything from your hotel to your dining reservations with no extra cost to you.
We want to hear from you!
What are your favorite Disney World Resort perks? Why do you choose to stay on-property? Let me know in the comments below!
---
James is a lifelong Disney Parks fan. While at the parks, he loves finding new details, learning more about Disney World history, and taking pictures. His favorite WDW attractions include Rise of the Resistance, Spaceship Earth, and Tower of Terror.
James is a filmmaker and writer based in Atlanta, GA.
All author posts