So, you hate planning, but you want to go to Disney World. I have some bad news and some good news for you.
The bad news: It's now impossible to go to Disney World without some planning.
The good news: it's possible to minimize the amount of planning you need to do for your Disney World vacation. If you prefer to wing it and have a trip with a lot of flexibility, this is the guide for you.
This article will include our best tips and advice for planning a Disney World vacation — with the minimum amount of vacation possible.
Work with an Authorized Disney World Travel Agent
Did you know that it doesn't cost anything extra to you to use a travel agent to plan your Disney World vacation? In fact, you probably will save money, as a good Disney World travel agent will have access to all the latest deals on hotels and vacation packages.
Disney Travel Agents like our friends at Vacationeer can do all the planning for you. They can book your hotel, help you buy tickets, make park pass reservations, reserve Advanced Dining Reservations, and give you advice on what to do each day. They're Disney World experts, specializing in doing all the heavy lifting so all you need to do is arrive to WDW ready to have fun.
As I mentioned above, Disney Travel Agents earn their commission directly from Disney, so you do not have to pay them for their services. This is the best option for someone who hates planning: let someone who knows all the ins and outs of Disney World do it for you.
Reach out to Vacationeer here for free vacation planning.
The bare minimum of planning at Disney World vacation
If you are planning to visit Disney World, here is the minimum that you must have purchased and booked before arriving to Orlando.
Purchase Tickets
Book Park Pass Reservations – Tickets are required for this, and you must have Park Pass Reservations in order to enter the theme parks. You can sometimes get Park Pass Reservations on the same day, but your options will be limited, with parks like Magic Kingdom and Hollywood Studios often running out. We recommend making Park Pass Reservations at least a month before your trip. Read about how to make Disney World Park Pass reservations here.
Book your hotel – You'll need a place to stay during your vacation.
Book your flight (if flying)
Book dining reservations (optional) – If you want to dine at Disney World's table service restaurants, reservations are highly recommended and sometimes required. How early can you make Disney World dining reservations? 60 days in advance. Read more about how to make Advanced Dining Reservations here.
Do more counter service meals
As I just mentioned, table service meals at Disney World pretty much require reservations. Some restaurants have a virtual wait list, as well as same day reservations. However, in general, table service meals require a bit more planning, and having a reservation can really make your day feel like you're working around a set schedule.
For the most amount of flexibility, dine more at counter service restaurants. These do not require reservations, and many of them have really good food, such as Satuli Canteen at Animal Kingdom.
I definitely recommend taking advantage of mobile order when available, which can save you time waiting in line at the restaurant.
Choose easier to reserve (but still great) Disney World restaurants
Okay, so what if you do want to make dining reservations?
Waking up at 5:45 am 60 days ahead of time to make dining reservations probably sounds like insanity to a non-planner. This is not required to make good dining reservations at Disney World. For Disney World's hardest-to-get reservations like Be Our Guest and Space 220, you really should try to compete with the super planners waking up early weeks ahead of time.
However, there are a ton of great restaurants that have much more availability for dining reservations. For these restaurants, you can easily snag a reservation a week ahead of time, a day ahead of time, or even on the same day.
This can give you a bit more flexibility to make dining reservations while your at Disney World, rather than having to figure out what you'll be in the mood for 60 days ahead of time.
Here are a few of our favorite easy to get dining reservations.
Check out our full list here: The Easiest Dining Reservations Worth Getting at Disney World
Embrace last minute checking for in-demand dining reservations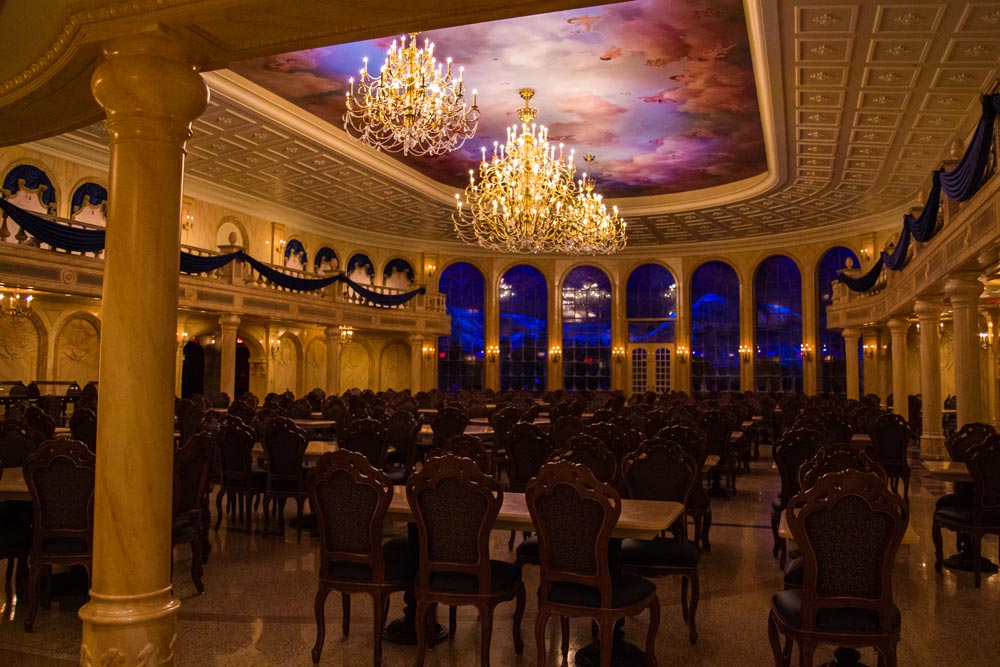 But what if you do want to get a reservation at Space 220 or Be Our Guest? This method isn't guaranteed, but I've personally had a lot of luck checking for reservations 24-48 hours ahead of time.
Why is that? Disney World has a 24-hour cancellation policy for dining reservations. So the day before, you'll start to see availability at those in-demand restaurants, as people cancel their reservations to avoid paying the no show fee.
Pick a couple of must-dos per day – optional
Now, you can go into the parks and completely wing it. However, I personally recommend figuring out one or two must-dos for each day of your trip. Because you have to make Park Reservations ahead of time, you'll know which park you're visiting each day. Pick a ride or experience that you think you'll really want to do. One way to figure this out is to check out our list of the best rides and attractions in each Disney World park.
Having a small list of things you want to do over your vacation can help make sure you fill your vacation with things you'll really enjoy. Trust me, you do not want to go to Disney World and miss rides like Star Wars: Rise of the Resistance or Avatar: Flight of Passage.
However, it won't come anywhere close to being something non-planners absolutely hate: an itinerary.
Cover Photo by Joel Sutherland on Unsplash
We want to hear from you!
What do you think about our tips for planning a Disney World vacation if you hate planning? Are you a non-planner? What advice would you give to someone who would rather wing it at Disney World?
---
James is a lifelong Disney Parks fan. While at the parks, he loves finding new details, learning more about Disney World history, and taking pictures. His favorite WDW attractions include Rise of the Resistance, Spaceship Earth, and Tower of Terror.
James is a filmmaker and writer based in Atlanta, GA.
All author posts