There are good opinions. There are bad opinions. And then there are the worst opinions of all: the ones that are preventing you from having a good Disney World vacation.
It's a terrible thing. But I'm here to help.
I'm James Grosch. As a self-certified Disney World expert on the internet, I actually hear a ton of bad information about Disney all the time. Whether it's Instagram comments or articles in the main stream media, there is a lot of bad information out there about Disney World. My family started Guide2WDW in 1999, so I've pretty much seen it all over the past 24 years.
Everyone is entitled to their opinions, but the problem is that these hot takes add unnecessary stress, make people miss out on some great experiences, and completely misunderstand what Walt Disney was trying to do with these parks in the first place.
Because Guide2WDW is all about helping you have the best vacation possible, I'm going to tackle the most common falsehoods that make it harder or even impossible for you to have fun on vacation.
These are the things that people get absolutely wrong about a Disney World vacation.
What People Get Wrong about Disney World – Video
For more Disney World videos, subscribe to Guide2WDW on YouTube.
1) Disney World is just for kids
There's a key moment in the lore of the creation of Disneyland. Walt Disney took his daughters to Griffith Park. He sat on a bench while they had fun on a merry-go-round, and thought, "This is sooooooo boring. I wish I could get back to my train set at home."
Ok, the Disney documentaries don't exactly put those words in his head, but as a fellow dad, I know what he was really thinking.
But as Walt tells it, as he sat on that bench eating peanuts, he thought to himself,
"There should be something build, some kind of an amusement enterprise built where that the parents and the children could have fun together."
This thought served as one of the big inspirations for creating Disneyland. Disney didn't design a place just for kids. The parks do appeal to the kid at heart – your less serious, more fun side. I think that can make adults feel uncomfortable for some reason.
But because this is about Disney World and not psychology, let's breeze right past that.
Even if you don't have kids, Disney can be a great time. There are a ton of experiences that are geared just toward adults. Disney World has some incredible fine dining, amazing spas, incredible bars, including one of the best tiki bars in the country.
Before I had kids, I loved going to Disney World, as much for those grown-up experiences as the rides I loved when I was growing up. Now as an adult, there's so much more that I appreciate: Like the craftsmanship and the detail that go into the themed environments.
Disney World isn't just for kids. It's for everyone.
2) I'm not going to take my kids to Disney World until they'll remember it.
On one hand, I get it. Disney World is an investment, and people want to get the most out of it by waiting until their kids are a bit older and will have memories of going on this magical vacation.
But you don't hear people saying "I won't take my kids to the zoo or the beach until they'll remember it."
The best argument for taking a really little kid to Disney World is that it's a ton of fun for them. There are playgrounds, an aquarium, a petting zoo, tons of kid friendly rides, plus the characters. And kids under 3 get into the parks for free, and eat for free at certain restaurants. You should check out our toddler guides for the best rides and activities for little ones at Disney World.
For me personally, I have to admit it's a little selfish: It is more for me than for my son, Griffin. No, that doesn't mean we just spend the whole time in Trader Sam's, although a man can dream.
I just really love seeing him have fun.
Seeing the parks through his eyes has given me a deeper level of appreciation for Disney World. Plus, it's created a lot of fun outside the vacation. My son still talks about the Figment ride and Tiki birds, and we listen to the ride music all the time.
When my son first met Mickey Mouse, he had just turned two. He freaked out like he was meeting a celebrity. He giggled and then played peek-a-boo with Mickey. It was one of the most pure moments I've ever experienced.
I know he won't remember it, but I will never forget that.
So if a Disney World vacation is a once in a lifetime thing for you, I get it, you want to pick the best age, and probably around 6 to 8 years old is a sweet spot for core childhood memories and Disney Magic.
But if the only thing holding you back is that you're worried your kids won't remember it, I definitely think you should reconsider.
3) I can just wing it at Disney World.
I see this mistake a lot.
Going to Disney World without some planning can be a disaster, like not realizing you have to make park reservations and then getting turned away at the gate. Or you might not know a ride is too intense and spend most of your day feeling sick.
Or you could just missing out on the best things the parks have to offer.
True story: I've actually heard from two different parents that they went to Magic Kingdom and didn't realize that there was anything more than Fantasyland. So they just spent all their time in that one section of the park.
So a bit of research ahead of time can make a huge difference.
You can find out the best rides, best places to eat, where to stay, and just how to make the most of your time at Disney.
However, since you've found Guide2WDW, you probably won't have a problem with just winging it. You're more likely to have something in the realm of the next falsehood
4) Disney World requires too much planning.
You might think "Ugh, I have to have every minute of every day," or if you enjoy planning "I get to plan every minute of every day!"
Look, there is definitely some truth to this. Disney World requires some planning ahead. For example, you have to make some dining reservations 60+ days ahead of time for the most in-demand restaurants.
But let's approach this falsehood from both sides of the spectrum.
First, to the people like me who love figuring out the most optimal plan to navigate the parks and get the most things done.
You can definitely overplan your Disney vacation.
I love a spreadsheet as much as the next person (Check out our free Disney World pocket planner). But there's a tipping point, where it becomes less helpful and more stressful. Like having three dining reservations in a day or sprinting across the park to get to your next Lightning Lane in time.
Things will not go according to plan. Rides will break down. People will get hangry. A thunderstorm will blow through.
Having some flexibility can make sure your plan to have fun doesn't get in the way of actually having fun.
Now to the "there's no room for spontaneity" crowd, you can actually have a very spontaneous Disney World vacation. There's just a minimal amount of planning that you need to do beforehand. Buy your tickets and make your hotel and theme park reservations ahead of time.
Then I would encourage you to go into EPCOT's World Showcase in the morning and explore each country, or take things slow at Animal Kingdom and really soak in the details. Don't want to worry about dining reservations? Use the walk-up list in the app, or go to one of the great counter service restaurants.
Spontaneity is a mindset.
Look, If you're allergic to planning, like the word plan makes you break out in hives, well, if that's the case, I'm so sorry I've been saying it so much. (And you should see a doctor about that).
If you just hate planning, then you should work with the official travel agency of Guide2WDW. They are Disney experts who do all the planning for you, like making reservations, so you can just show up and have fun.
And the best part is that there's no extra cost to you. You can learn more in our list of the best Travel Agencies for Disney World.
5) You have to spend the whole time on your phone
Once again, there is a kernel of truth to this. The My Disney Experience app has become a crucial tool for navigating Disney World.
It has wait times, dining reservations, mobile order, Virtual Queue, Lightning Lane, and more. It's a lot, and I get comments all the time that Disney is taking away the fun of vacation by forcing you to be on your phone all the time.
But let's unpack this a little bit, because when I go to Disney I don't feel glued to my phone.
You need the app to join the Virtual Queue. But the Virtual Queue is only used on two rides right now, and at most you'll need to be on your phone for 5-10 minutes on a day when you want to go on one of those rides.
Genie+ is probably the biggest culprit of this idea. Because you have to spend extra money on it, there's a feeling that you need to maximize the value by constantly checking to see if you can get a Lightning Lane.
However, you can take a more chill approach to it.
With Genie+, once you make a Lightning Lane reservation, you can't make another one until either you use that reservation or two hours have passed, whichever is sooner. So, don't spend all day checking to see what's available. Make a reservation, and then check again either when you get in line for that Lightning Lane, or set a timer for two hours if the timeslot is later than that.
If you take this approach, you'll spend way less time looking at Genie+ than you do looking at Instagram. Or just skip Genie+ altogether and maximize your time by showing up early for rope drop.
Dining is the other big use for the MyDisneyExperience app that can suck up time. But if you don't want to spend time on your phone, you can make reservations ahead of time, or eat at off-peak dining hours so you don't need to mobile order.
Think of the phone features as a convenience and not a requirement.
6) There's nothing for kids at EPCOT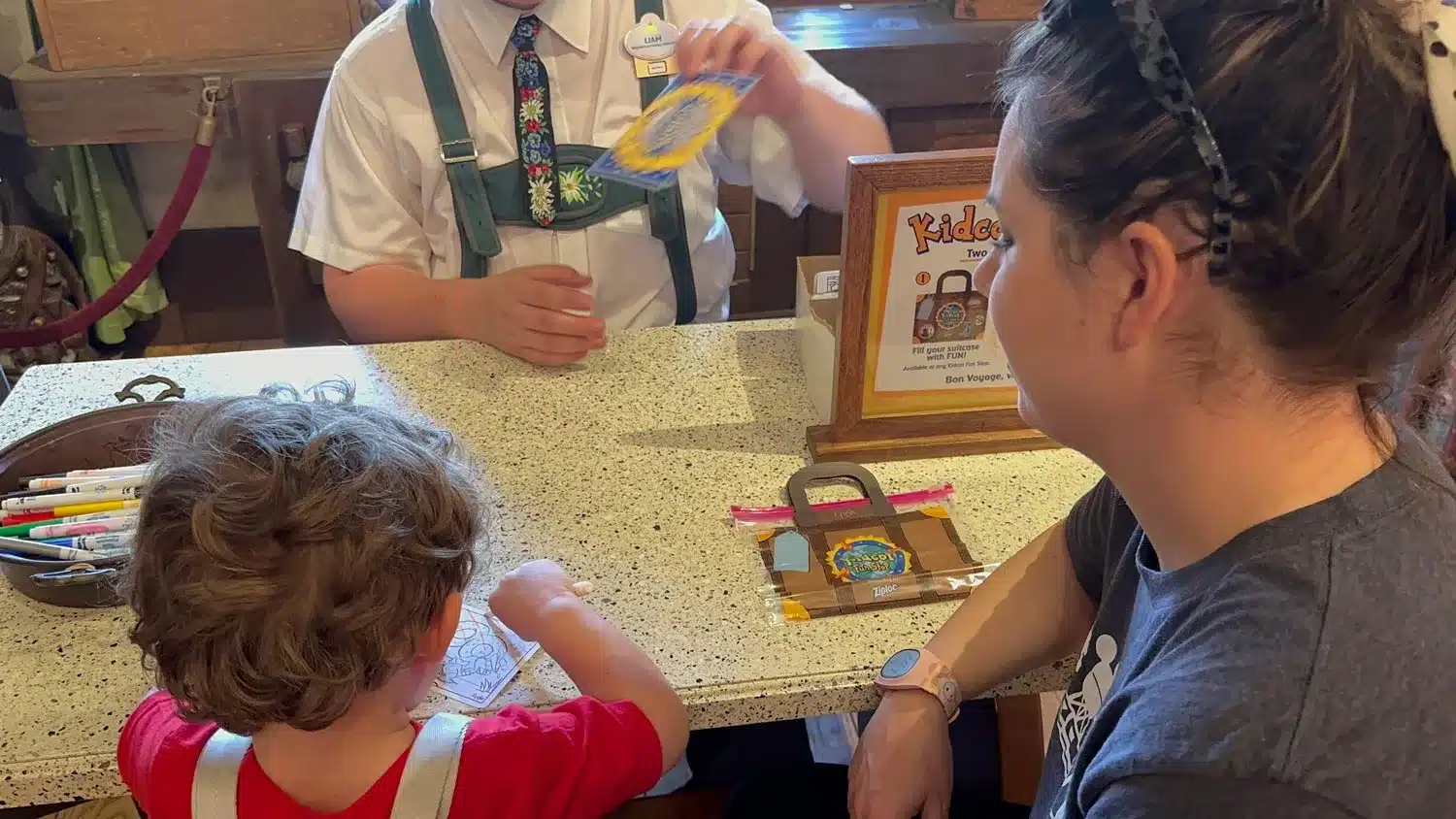 EPCOT has a reputation as Disney World's adult theme park. There's a good reason, but I can drink of it right now.
But EPCOT is actually an incredible park for kids.
There are kid friendly attractions like Frozen Ever After, Gran Fiesta Tour, The Seas with Nemo and Friends Living with the Land, Journey Into Imagination with Figment, Ratatouille, and Journey of Water – Inspired by Moana. My son even loves Spaceship Earth.
EPCOT has some great play areas for kids, like the Green Landing Family Play Zone in World Discovery, and the interactive play areas in the post-ride areas for Journey into Imagination and Mission: SPACE.
Plus, there's Kidcot stations located in each pavilion in the World Showcase, which have coloring kits and collectible cards. These are some of our favorite freebies at Disney World.
Inside The Seas Pavilion, you'll find an extremely impressive aquarium. In fact, this is the second-largest aquarium in the United States. SeaBase features over 60 different species, from manatees to dolphins.
EPCOT is awesome for kids, even toddlers!
7) Animal Kingdom is just a zoo.
Since it opened in 1998, there's been a complaint that Animal Kingdom is a lesser theme park.
It's just a zoo.
It's a half day park.
Some of this has dissipated since the opening of Pandora – The World of Avatar, but this notion still lingers.
And it is so wrong.
Animal Kingdom is incredible as a theme park, with some of the most elaborately themed areas in all of Disney World. Yes, there are things in common with zoos: you can see wild animals and learn something new about nature.
But Animal Kingdom has a transportive quality that you don't find at your typical zoo. I've been to the famed San Diego Zoo, which is a great zoo, but it doesn't touch Animal Kingdom.
Plus, Animal Kingdom has fantastic food, two of the best shows at Disney World, and three of the top ten rides, including a full blown safari that will never get old no matter how many times you ride it.
Animal Kingdom is amazing. And if you skip it because "it's just a zoo," you're missing out.
8) February is the best month to go
It's become somewhat conventional wisdom that February is a great month to go to Disney World for lower crowds.
It's just plain wrong.
February is packed with Valentines Day, President's Day Weekend, and the runDisney Princess Half Marathon.
Last year, February had the third highest wait times, and two out of the ten most crowded weeks.
Now, that doesn't mean to avoid the entire month: February has great weather, plus there's the EPCOT Festival of the Arts. The first half of the month isn't too bad.
But if you've heard that February is a slam dunk for cool weather and low crowds: that's just wrong.
We want to hear from you!
Let me know in the comments: What's the worst piece of advice you've heard about Disney World
---
James is a lifelong Disney Parks fan. While at the parks, he loves finding new details, learning more about Disney World history, and taking pictures. His favorite WDW attractions include Rise of the Resistance, Spaceship Earth, and Tower of Terror.
James is a filmmaker and writer based in Atlanta, GA.
All author posts