Alert, Users: Your entry into the Disney World's digital frontier is arriving sooner than expected. Today, Disney announced that the highly-anticipated Tron Lightcycle Run, Tomorrowland's newest roller coaster, is about to have a soft opening period ahead of its April 4th debut. That means that Magic Kingdom guests are going to have an opportunity to get on Disney World's fastest roller coaster a bit early.
Guide2WDW is here to provide you with all the essential information you need to know, including how to ride during this exclusive period and important dates to remember. Read on for the best Disney World tips to make the most of your Tron Lightcycle Run experience!
Tron Lightcycle Run Soft Opening Dates: March 20 – April 2, 2023
Mark your calendars, because the Tron Lightcycle Run soft opening period is happening between March 20th, 2023, and April 2nd, 2023. During this exclusive time, guests will have the opportunity to experience the futuristic, high-speed roller coaster before its official opening on April 4th, 2023.
Tron is not scheduled to be open on April 3.
Be warned, users – this is a soft opening, meaning that the attraction may not be running at all times during these dates. Disney will be using this period to make any final adjustments and ensure that the ride is perfect for its grand debut. Because Tron has been running fairly smoothly during its Cast Member and Passholder preview periods, we would expect the attraction to be running fairly consistently during these dates, but you never know when unexpected bugs or rogue programs can cause issues.
But before you hop on your Lightcycle, there are a few important things you need to know. The only way to access the attraction will be through Disney World's Virtual Queue system or by purchasing an Individual Lightning Lane reservation.
Accessing the Soft Opening Virtual Queue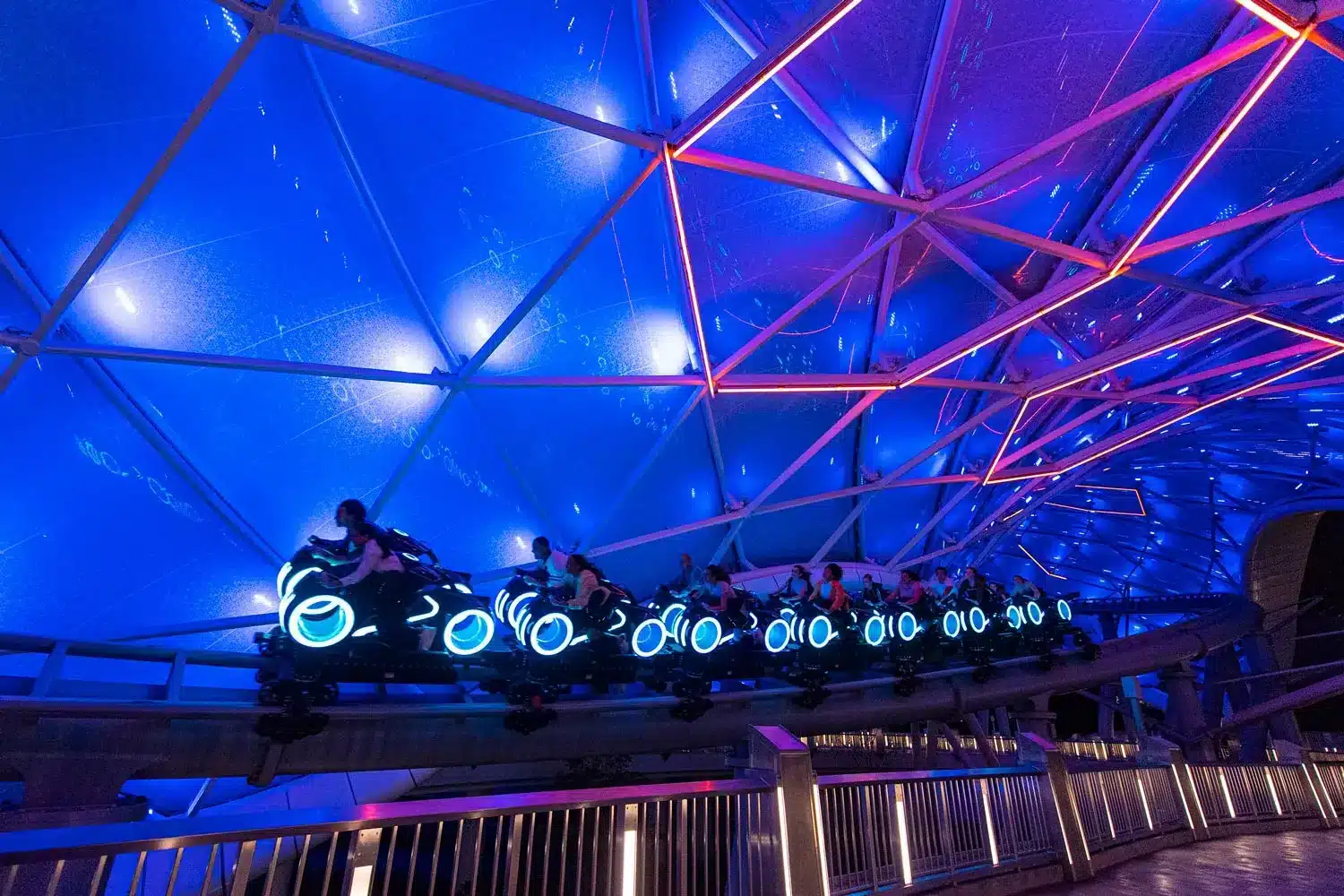 During Tron's soft opening period, Disney World will be running a virtual queue for the ride. Disney previously announced that Tron will be implementing the boarding group system used at Guardians of the Galaxy for its debut.
We have full details on how to join the Virtual Queue in this in-depth guide, but here's a quick refresher of the program.
Before you go: Make sure you have a My Disney Experience account and your tickets linked to your account. Download the My Disney Experience account to your phone and log in.
The first chance to join the Virtual Queue opens each day at 7 am. Make sure you are ready at exactly 7 am to join the queue by having the app open and navigating to the Virtual Queues section in the app. You must have a Magic Kingdom reservation to join the 7 am opening, but you can join from anywhere.
You'll have a second chance to join the queue at 1 pm. You must be inside Magic Kingdom to join this opening.
On days with Extended Evening Hours, eligible guests can join the virtual queue from anywhere at 6 pm.
If you are successful in joining the Virtual Queue, you'll receive a boarding group number.
Once your group number is called, you'll have one hour to get to the attraction.
Individual Lighting Lane at Tron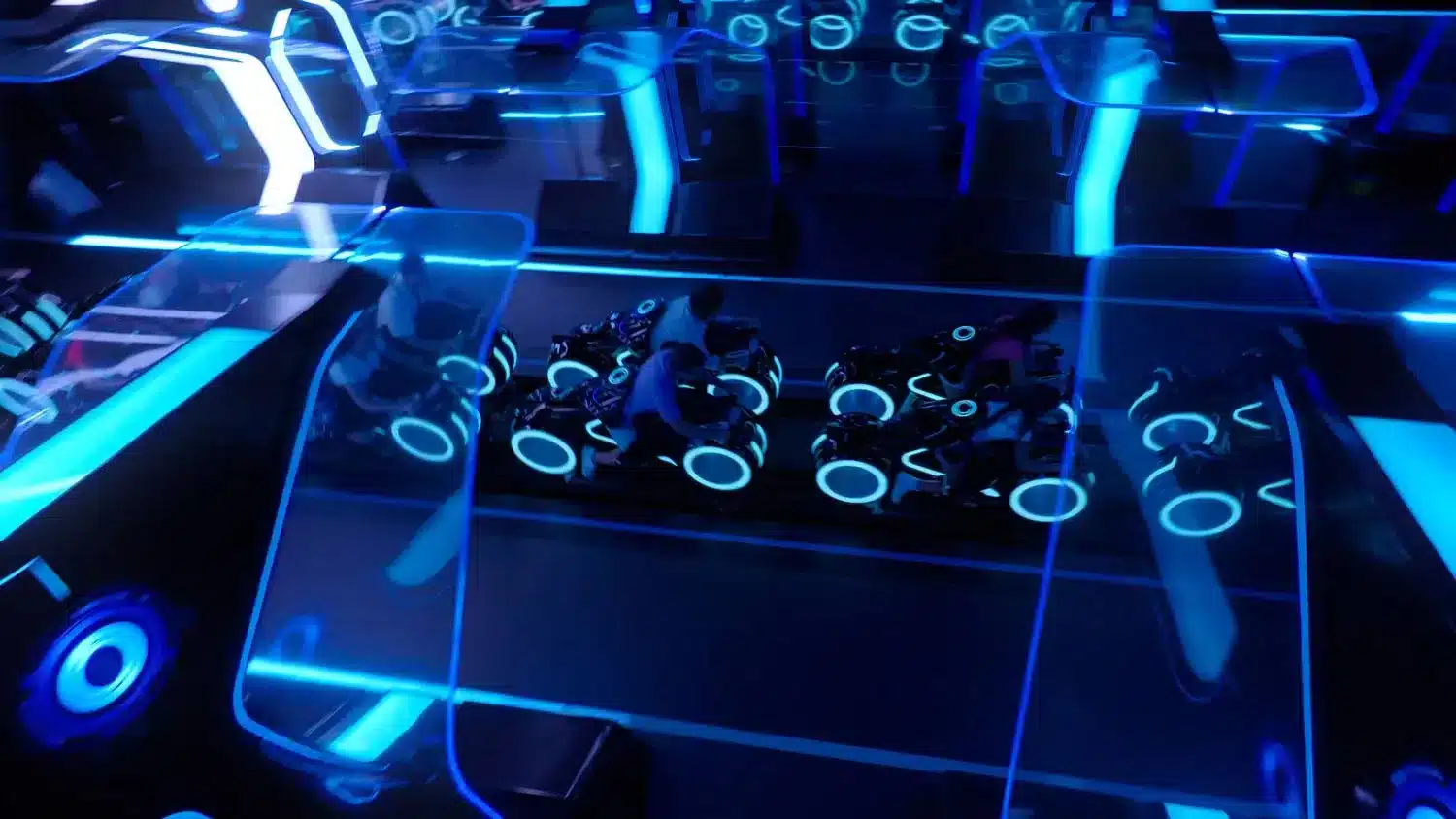 You can bypass the Virtual Queue by purchasing an Individual Lightning Lane. This paid reservation gets you a much shorter wait time, and you'll be able to choose the hour you want to go on the ride. We don't yet know how much a Lightning Lane for Tron will cost, but we expect it to be anywhere from $10-$25 per guest based on Disney World's other Individual Lightning Lane attractions.
For Disney World Resort guests, you can purchase your Individual Lightning Lane starting at 7 am.
For all other guests, you can purchase Individual Lightning Lane passes starting at park opening.
Check out our step-by-step instructions on how to purchase Individual Lightning Lanes at Disney World.
Quick Tips for Your Tron Adventure
To ensure you have the best possible experience during the soft opening of Tron Lightcycle Run, keep these quick tips in mind:
The ride is short and smooth, but very fast. If you have issues with motion sickness on high speed roller coasters, it's possible this ride may be too intense. Read more in our Tron Motion Sickness Guide.
Fuel Up: One of our best tips for motion sickness is to not go on the ride on an empty stomach. Try to eat at least a small portion of something somewhat bland / filling: think bread or bananas. Maybe hold off on getting some Digital Dumplings at Energy Bytes until after your ride.
Tron has a unique motorbike-style seat, which may be an issue for some guests. Specifically, some guests have reported having issues having the safety bar lock in place if they have large thighs and calves. You can read more about fitting in Tron Lightcycle Run in our accessibility guide.
Tron also features regular-style seating in the last two rows of some of their roller coaster trains.
Be ready for the Virtual Queue: You'll want to be logged in and ready to join at least 3 minutes before the queue opens. Keep refreshing until the Join Virtual Queue button becomes clickable.
For more on how to make the most of your Disney World day, check out these Magic Kingdom tips.
End of Line
That's it for today's Tron Soft Opening Update. Hopefully with these information and tips will help you program a perfect day at Magic Kingdom.
As a reminder, Tron Lightcycle Run will soft open between March 20 – April 2. It will be operating with a Virtual Queue and Lightning Lane. Because it's a soft opening, it will not be guaranteed to be open during this time.
Let us know in the comments: Will you be riding Tron Lightcycle Run during the soft opening?
---
James is a lifelong Disney Parks fan. While at the parks, he loves finding new details, learning more about Disney World history, and taking pictures. His favorite WDW attractions include Rise of the Resistance, Spaceship Earth, and Tower of Terror.
James is a filmmaker and writer based in Atlanta, GA.
All author posts